These day trips from Rome would never have crossed my mind if I hadn't been put in a position to have to do them. Unexpected errands had me organizing long-haul day trips, which at the end of the day, were exhausting but enjoyable.
Day trip from Rome to Bologna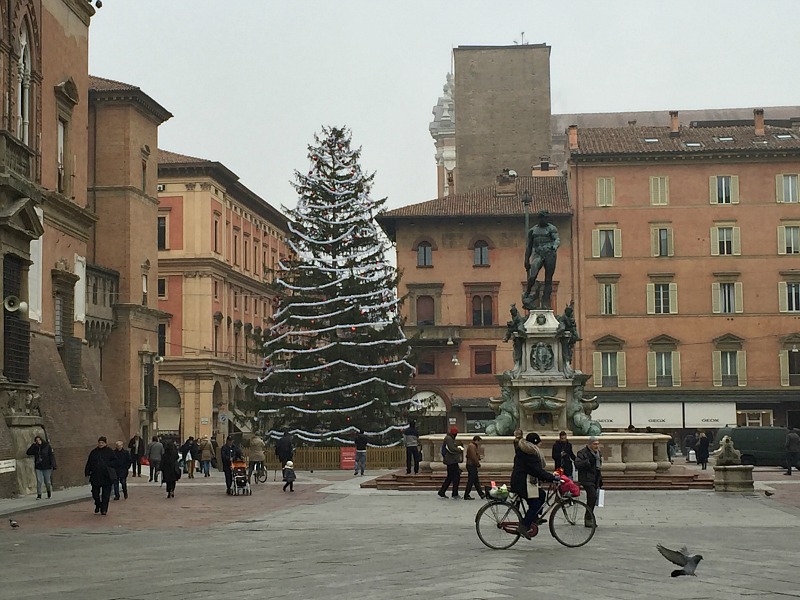 An errand long overdue and with attempts to get it resolved without resorting to a day trip, it finally came down to just getting it done. I figured since the errand would take very little time, it would be a good excuse to get a better feel for Bologna. I was in Bologna a few months earlier, but only saw glimpses of the town as I was whisked away to the lovely town Dozza after being picked up from the train station.
My plan was to climb the Asinelli tower and then reward myself with a hearty and sumptuous lunch after completing my errand. With nothing too ambitious planned, except for the 498 steps up the tower, I booked a train that left Rome at 8.30am, a decent hour, and would get to Bologna before 11am.
When the train crawled into Bologna, I knew my plans were foiled. Fog shrouded the city and the second I stepped out on to the platform, the chill in the air pierced through my bones. With such conditions, I debated if it even made sense to plod all the way up Asinelli Tower without the reward of a view.
It didn't take me long to complete my errand and as the fog was determined to hang around, I strolled through Piazza del Nettuno and Piazza Maggiore hoping it would eventually clear. I aimlessly wandered around Bologna, all decorated and lit for the holidays, and basked in the festive atmosphere. It was only when I came to an intersection that I found myself standing at the foot of Torre Asinelli and Garisenda.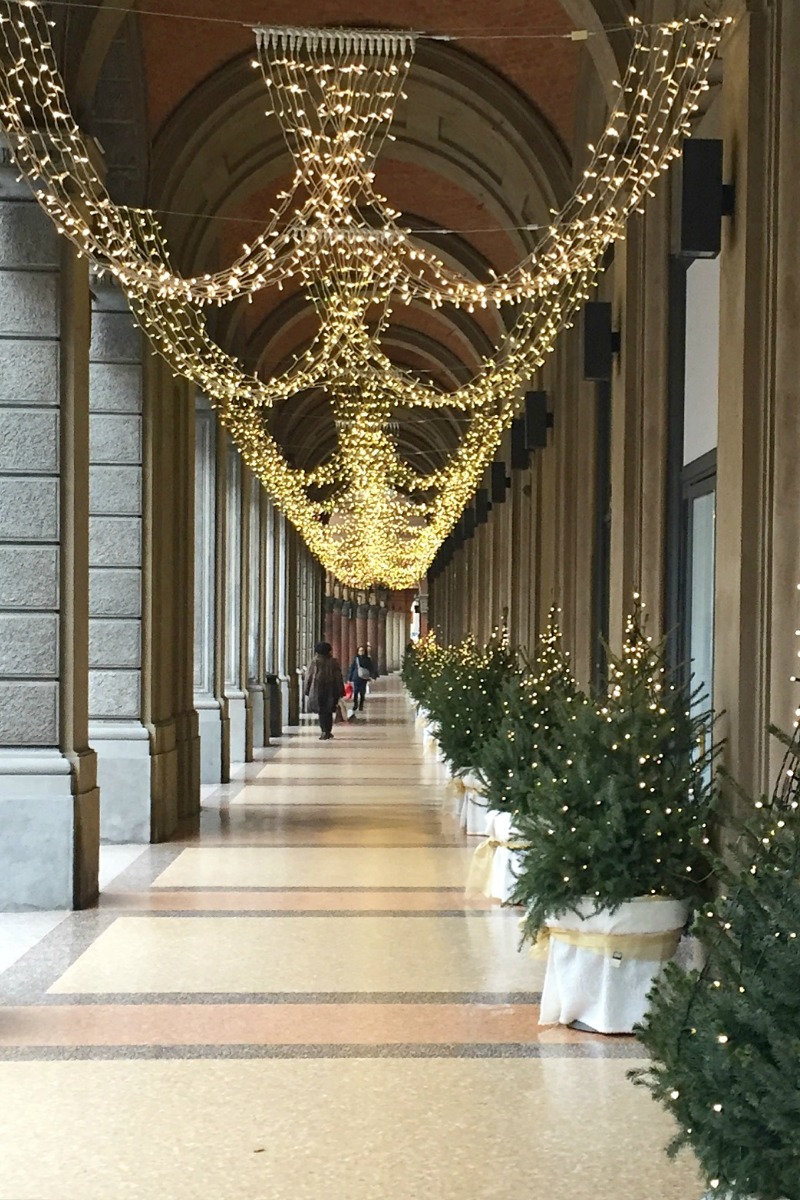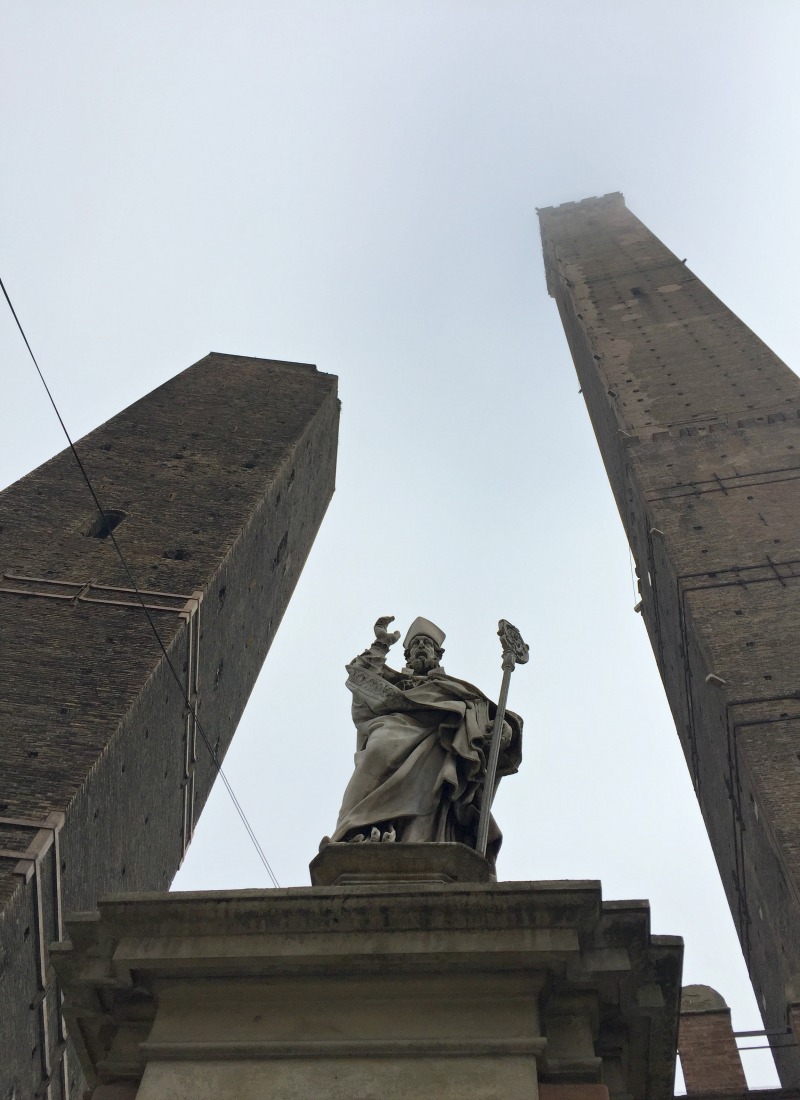 Looking up at the soaring towers, I contemplated again, and was mentally calculating the pros and cons of trekking up. The cons: 498 steep steps, narrow staircase, 97 meters high, and €3 (least of my concern), and the pros: the sweeping view – well, that almost felt like it was out of the equation due to the poor visibility.
Leaning more towards scraping the idea of climbing up, there was still this indecisive sensation that I couldn't shake off. But first things first. Nature's call and a grumbling stomach could no longer be ignored, so I put off making the decision to deal with these two pressing issues.
A restaurant would kill two birds with a stone. I had some ideas of places to eat in Bologna but a 15-minute walk would have been too punishing. Hastily, I searched for a restaurant on my phone that's in the vicinity. Osteria dell' Orso popped up and after reading a few reviews, I felt it would be an acceptable alternative.  A simple hole-in-the wall, it served the remedy I needed for a cold, crisp day: tortellini in brodo.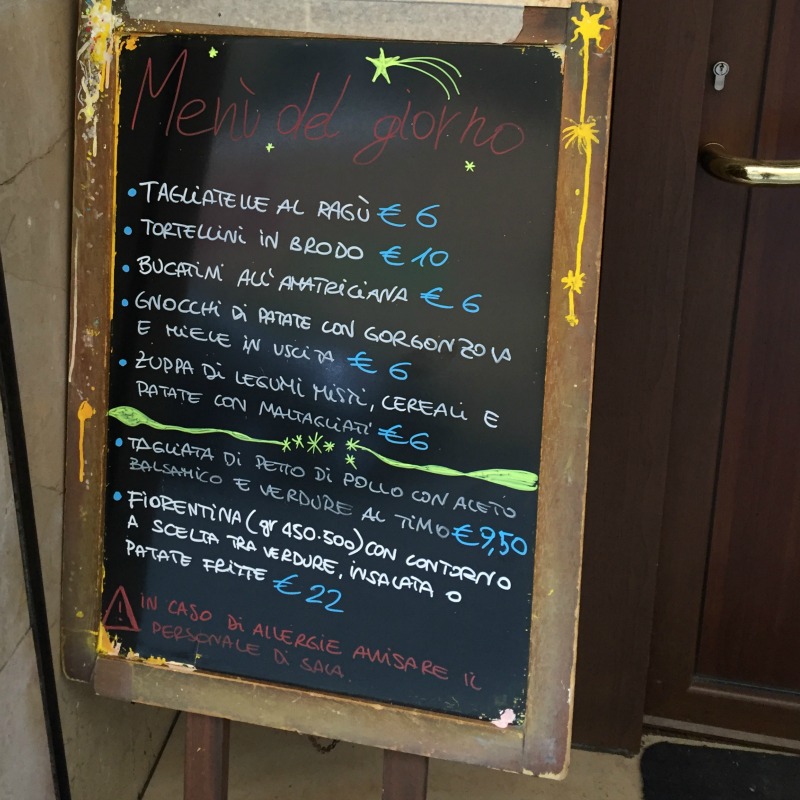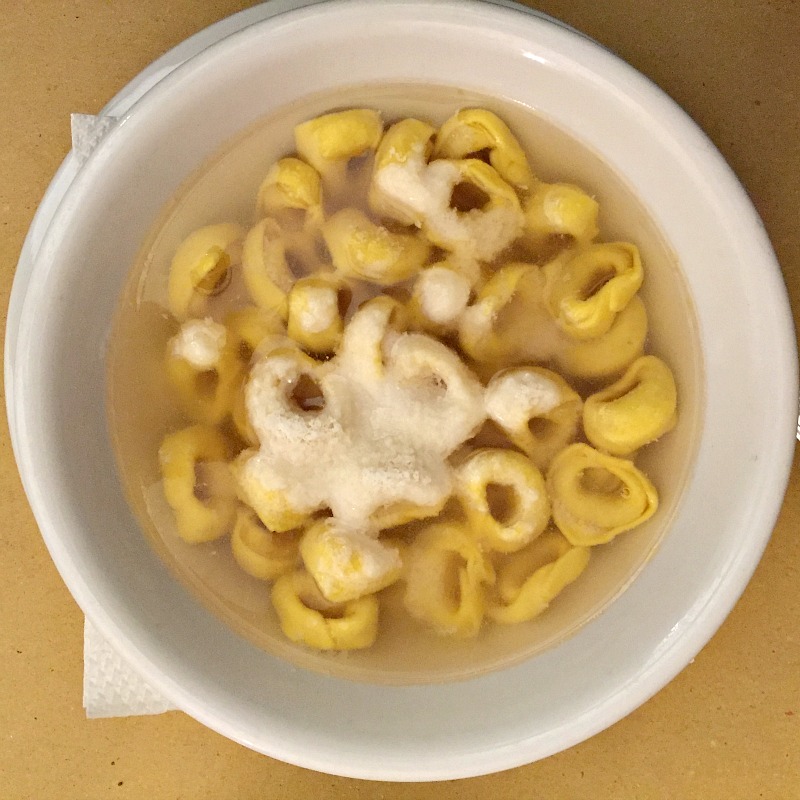 Just when lunch was about to begin, I got a message from a friend I know on Instagram, Oriana, about meeting up. She suggested taking me to the temporary rooftop terrace of Basilica di S. Petronio for a view of the city by elevator and sent me a photo to entice me further. But she had me at elevator, even though she had warned me it was a temporary one for construction purposes. My mind was made up and Torre degli Asinelli would be for another visit.
Browsing Bologna with a local
With some time to spare before meeting Oriana in the afternoon, I picked up some gorgeous tortellini at Paolo Atti e figli to bring back to Rome and despite the cold weather, I was tempted by my friend Anna's description of Cremeria Funivia. The gelateria was perfectly heated, a relief from the cold outside, and provides you with the optimal setting for you to enjoy cold treats in winter. I had no regrets and when I mentioned this gelateria to Oriana, she confirmed I made a wise choice.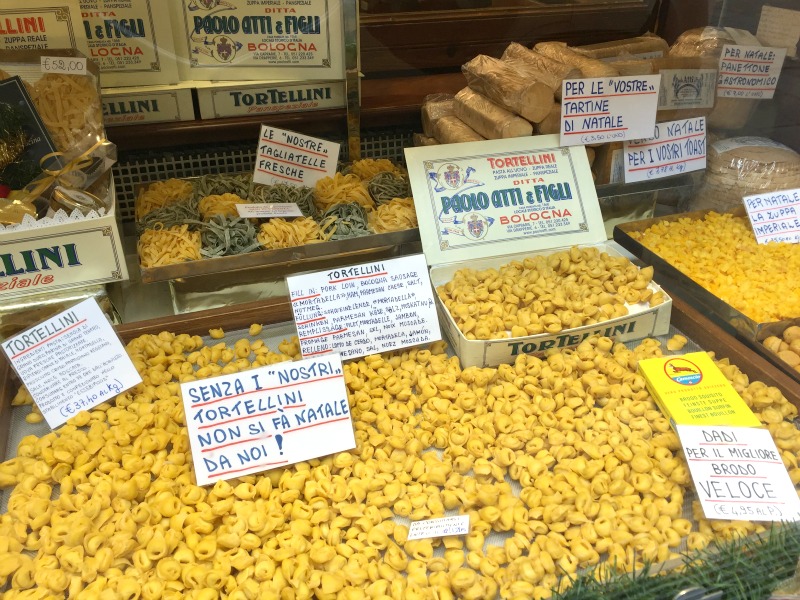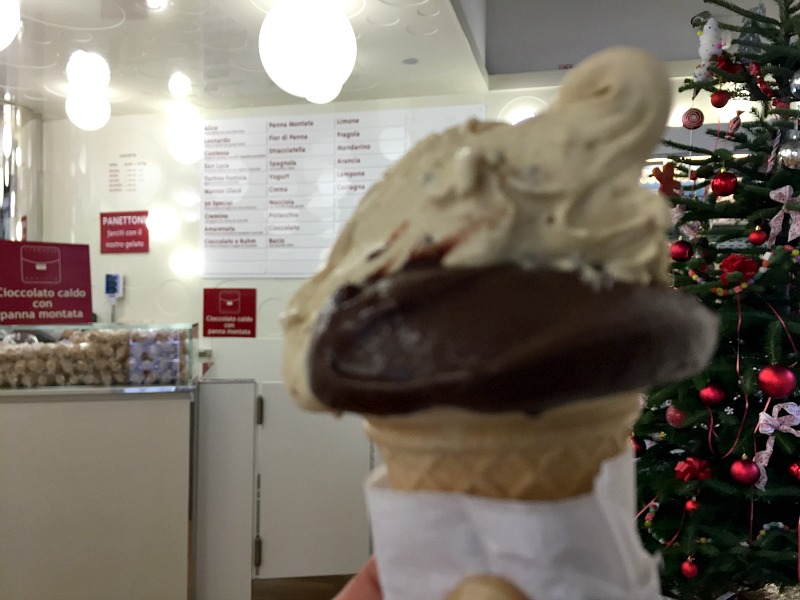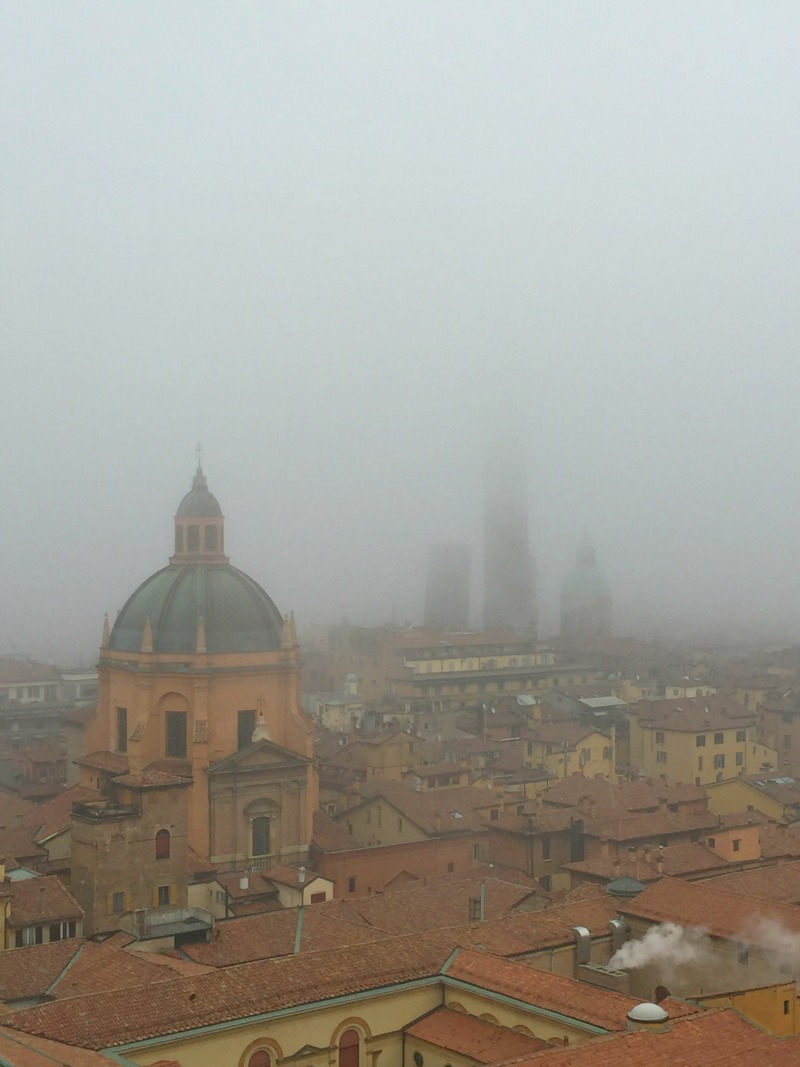 The rest of the afternoon was spent with Oriana showing me around the city, a real treat. We first stopped at the panoramic terrace and although fog still covered most of the city, the view was fairytale like.
From there, we made a quick stop at Palazzo del Podestà, at the dell'Arengo Tower where the four corners unfold an interesting secret. Oriana made me play it out with her so I stood at one corner facing the column, while she went to the column diagonally from me. I was amazed when I heard her voice loud and clear through the columns.
Our next stop was a hop across to SalaBorsa library housed in Palazzo d'Accursio and next to the Fontana del Nettuno. This modern library on several floors is an impressive multimedia and cultural space. Oriana also hinted that this is a good place for a restroom break.
Before making our way to the train station, Oriana had one more surprise up her sleeves. We turned the corner to a unassuming street and she abruptly stopped in front of a wall with a small square window that was closed. As she slowly opened it up, it brought to light an enchanting sight: a canal lined with houses and in keeping with the spirit of the holidays, a Santa trying to make this way up to a house.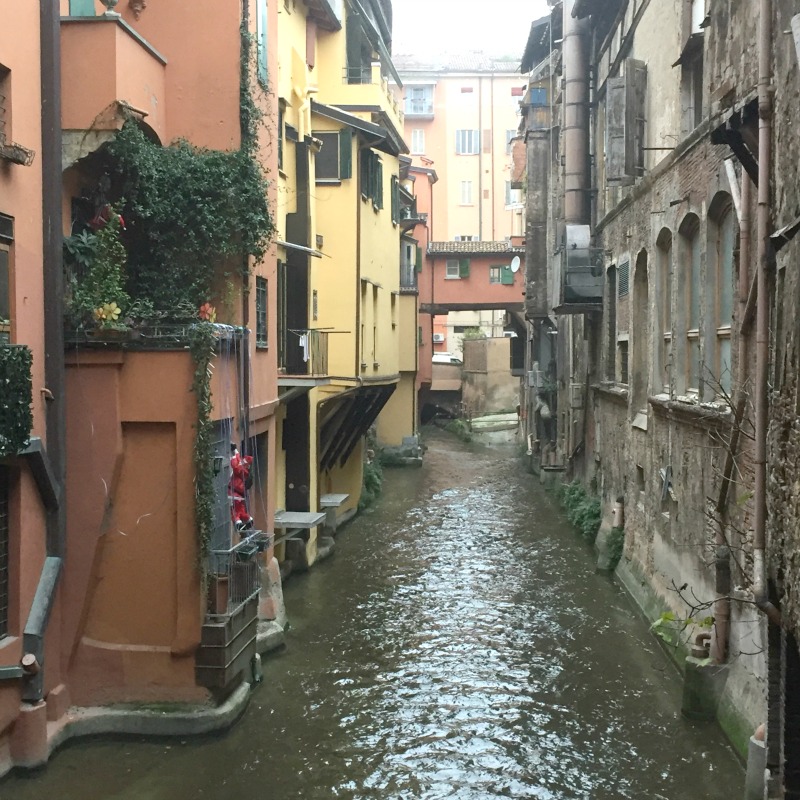 A day trip from Rome to run an errand in Bologna turned out to be a terrific experience. And one that is very doable, so much so that I'm already plotting a return in spring. If the weather plays along, I'll be taking on Asinelli tower on the next trip and Oriana has further tempted me with by suggesting we visit Basilica di San Luca, Archiginnasio, Piazza Santo Stefano, and le Sette Chiese. Thank you Oriana for taking the time to show me around Bologna, and I'll be back soon!
Day trip from Rome to Milan
A few weeks ago, our intention was to spend a weekend in Milan to finish up some pending paperwork. Conveniently (not!), the relevant office is open only on week days, which left us with not much option but to organize a day trip to Milan.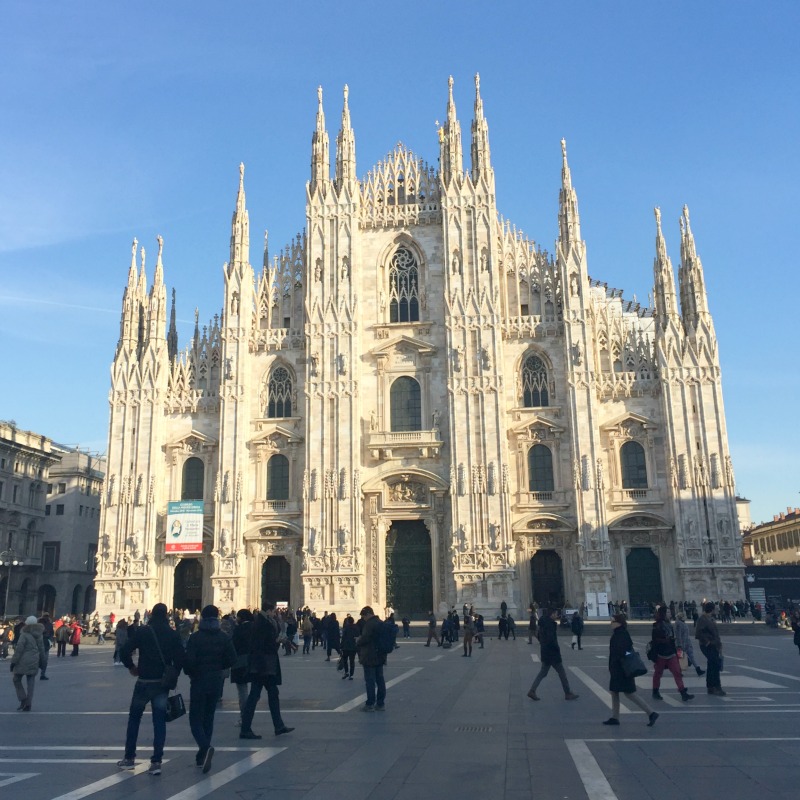 Hesitant to leave at an ungodly hour, we caught the train at 8am that would have us in Milan slightly after 11am, giving us time to get to the office before lunch – yes they close lunch hours too!
With the train running late due to a breakdown of another train, we scrambled through Milano Centrale and made a mad dash to the office, just in time to get our errand completed.
Relieved that was over and done with, lunch was next on the agenda. I pulled up the post on "Places to Eat in Italy" on my phone and picked Trattoria Milanese recommended by Heather Carlson.
Reservations made, we casually strolled to lunch, enjoying the beautiful weather (who says Milan is always grey and dull got it all wrong) and taking time to get a breather from the frenziness of the morning.
Lunch and visit to Milan Duomo
As the word "trattoria" is often associated with a casual and down-to-earth place for a meal, Trattoria Milanese is misleading. This place exudes old world charm and class all the way. Looking around, many of the tables were filled by working professionals and I would say we were probably the only ones not fitting that bill.
Service was friendly, quick and efficient. We ordered dishes which were as Milanese as they came – risotto alla milanese and cotoletta alla milanese, both excellent choices. While we skipped on dessert, the waiter along with our caffe' also brought us luscious, crunchy cookies and cantuccini that we relished without even leaving a crumb behind.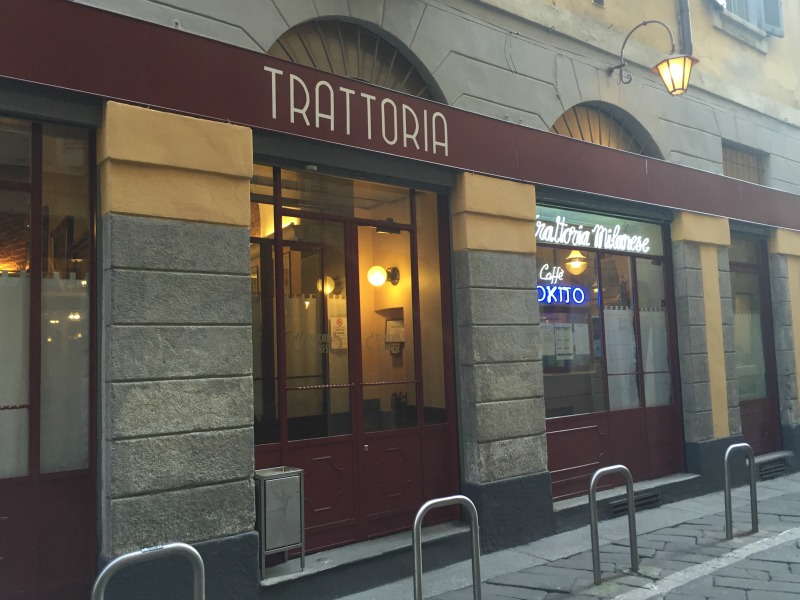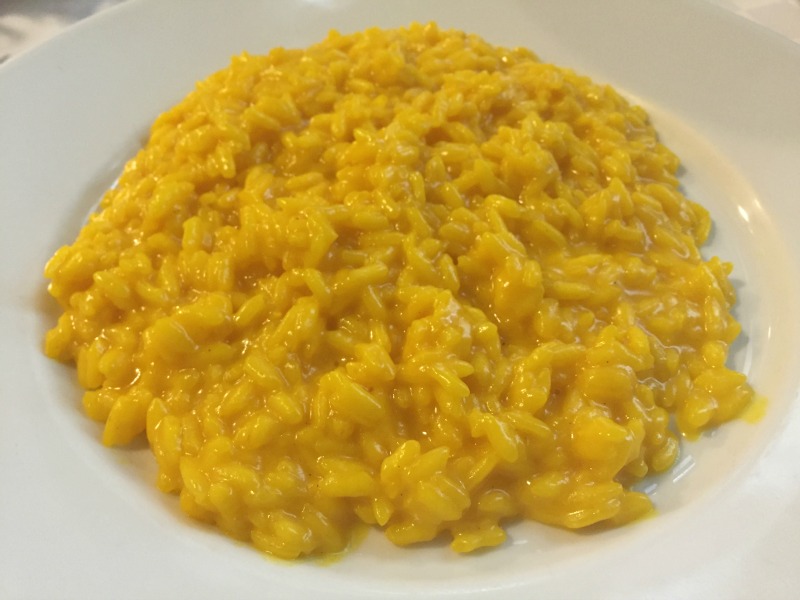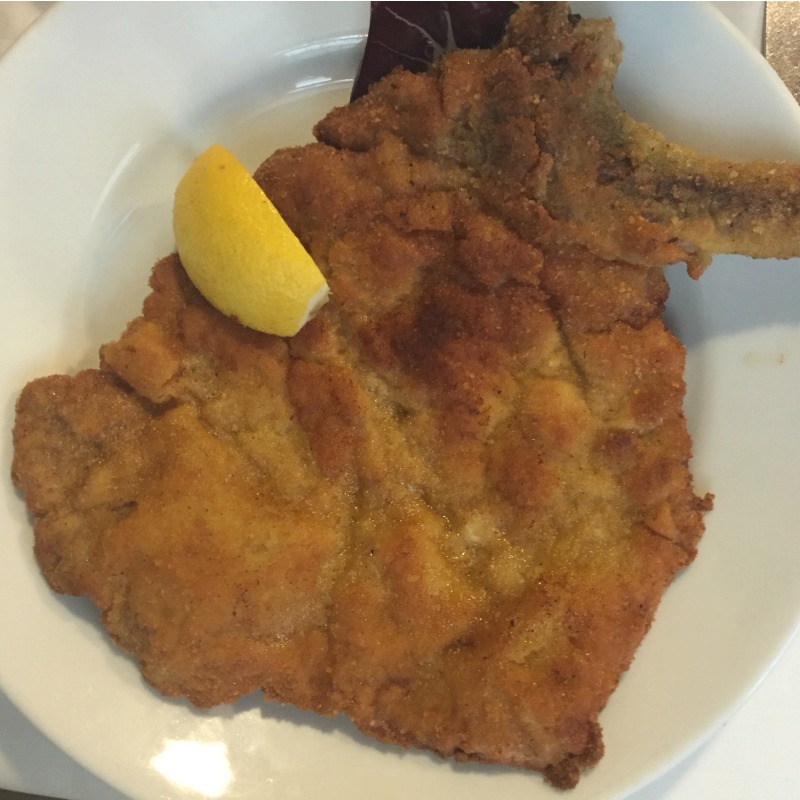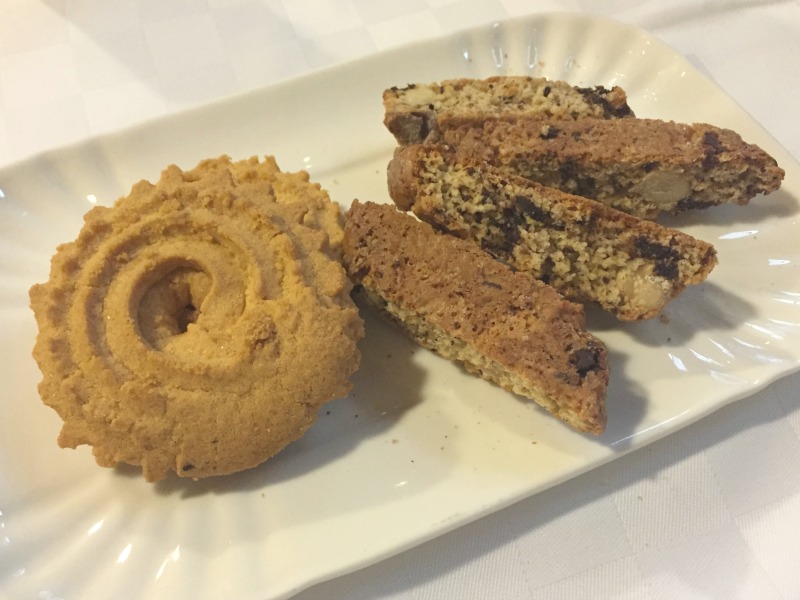 Working off lunch was the next thing we had in mind and with time to spare, the idea was to visit the Duomo and its roof terraces. The last two visits to Milan, one in spring and another in fall, we didn't even think about joining the snaking lines. Third time lucky, we saw there were only a few people ahead of us at the ticket counter and even with security checks, it was painless to visit the Duomo.
Winter is a wonderful time to visit Italy. You can still enjoy clear blue skies, crowds have dwindled and you get to fully appreciate the city or town without the chaos. The Duomo did not disappoint and we were stunned by its pure beauty. As we had just got from 10-day Baroque-filled holiday in south-eastern Sicily, this majestic Gothic cathedral was a striking contrast.
While I had known about the terraces, what came as a pleasant surprised was the visit to the archaeological area, which revealed fascinating ruins, including that Basilica Vetus and the Baptistery of Santo Stefano.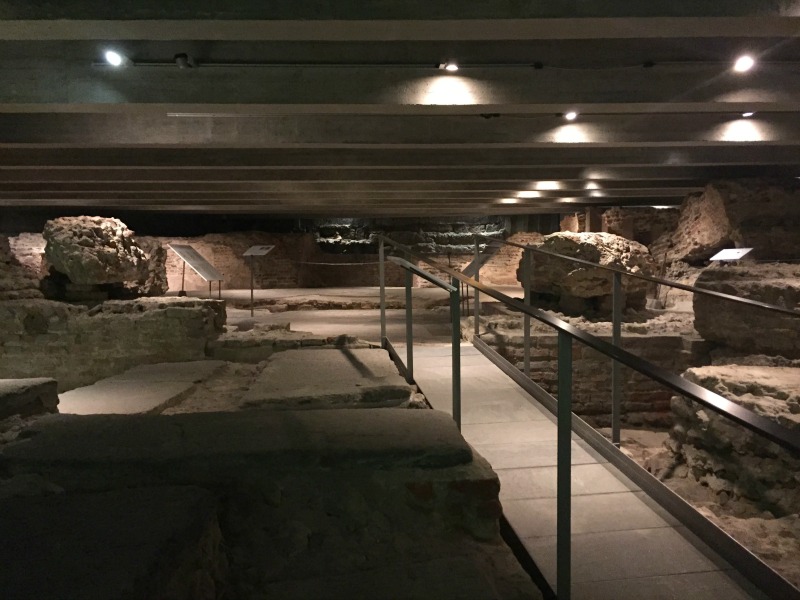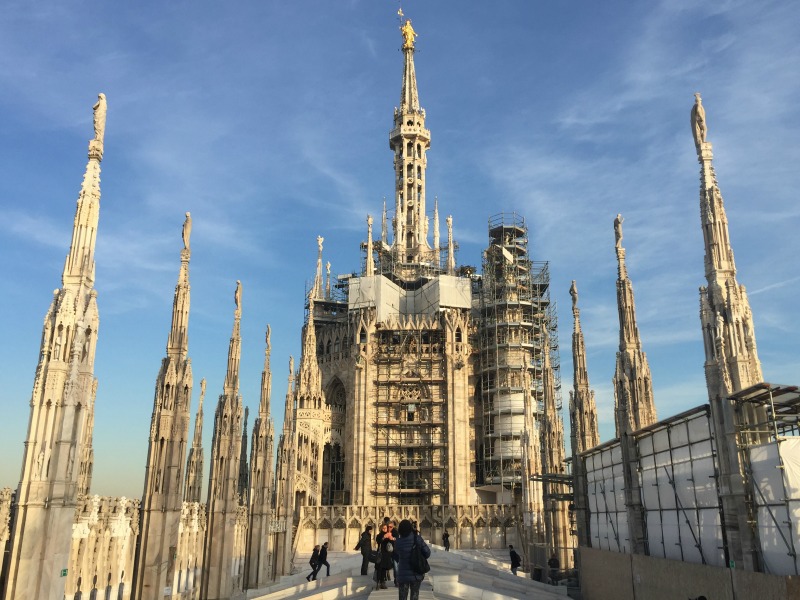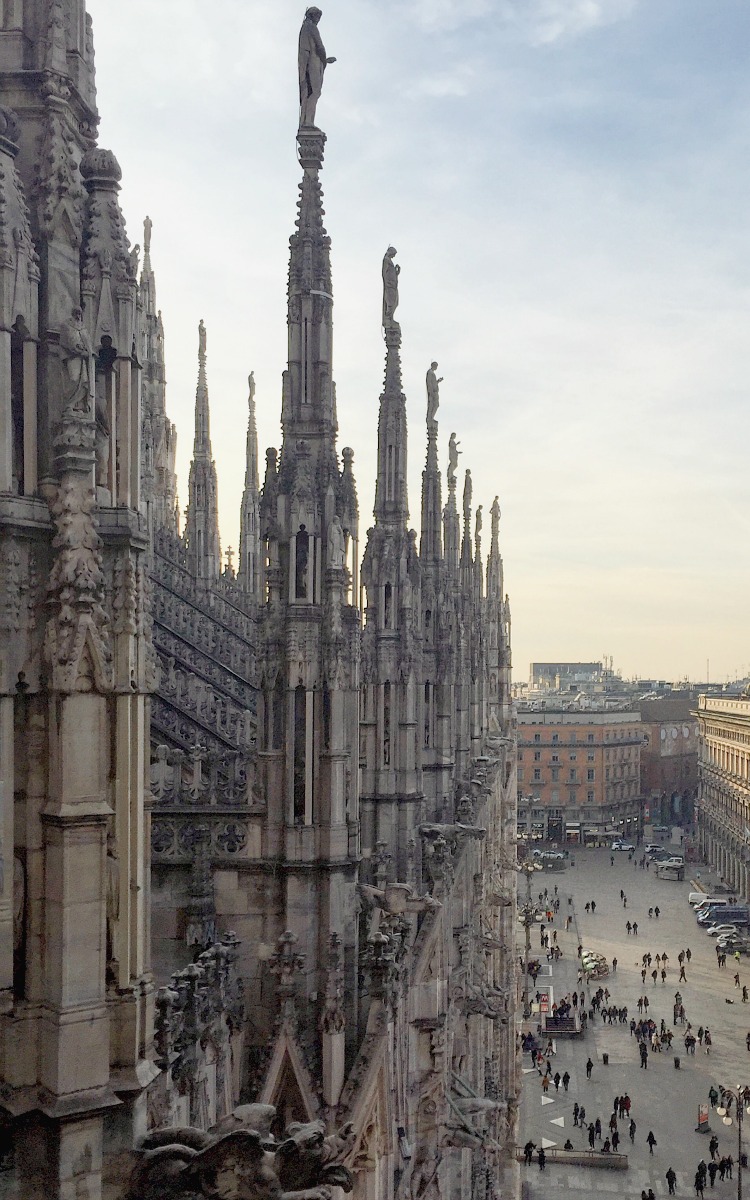 Needless to say, a visit to the terraces is an experience that shouldn't be missed. Even with restoration work taking place at the moment, the elaborate details, the 135 soaring spires and pinnacles, the sweeping views, and the monumental copper Madonnina all make you lightheaded and giddy in amazement.
We took our time on the terraces and still with time to spare before our train at 5.20pm, we dropped by some shops as it was sales time – another reason to visit in winter – though we came out empty-handed.
We got back into Rome at 8.30pm, just in time for dinner and have already booked another day trip to Milan next week to finally complete our errand.
Tips for Milan Duomo: 
There are several ticket options for the Milan Duomo and we decided to just go for it all by purchasing the Duomo Pass A for €15, which got us up to terraces with an elevator (you can also go up on foot for €13) – so much for the idea of working lunch off!
The accesses to the terraces, both on foot and by elevator, are outside the Duomo – on your right as you exit. You will need to go through security again.
With your ticket you can supposedly unlock Interactive Guide of the Official App of the Duomo di Milano free of charge but it didn't quite work out for us.
Updated 11 Feb, 2016
Another day trip to Milan
Last week we went on another day trip to Milan, taking the train from Rome and then a five and a half hours drive back. The plan was to stop for lunch at Antica Osteria di Borghetto near Piacenza and hour or so from Rome before the long drive back.
However, due to a few delays, we were running late but went ahead to call the restaurant to book a late lunch at 2.30pm. Unfortunately, we were told that they closed at 2pm. I guess they do eat much earlier up north.
As lunch turned out to be a quick stop at an Autogrill, we had some time to spare and approaching Florence, an idea came to mind. I've heard so much about Fiesole, just 30 minutes from Florence and seen photos of the sweeping views from the town.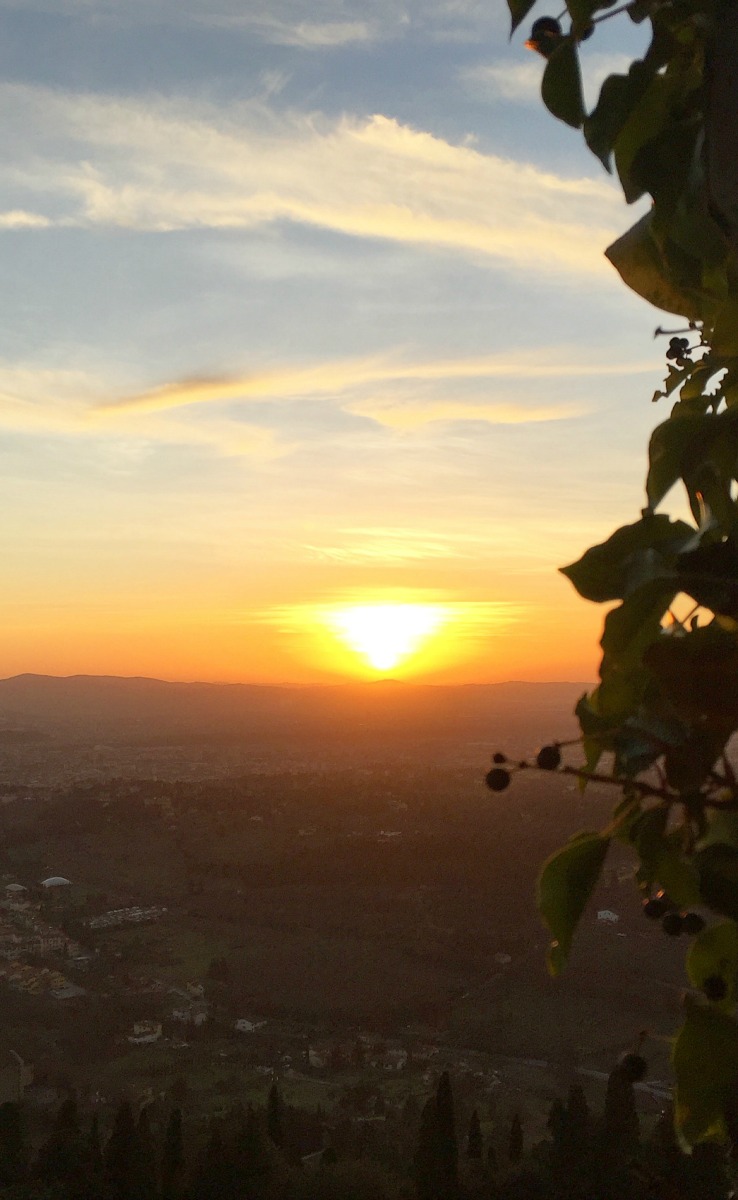 With the sun slowly setting, I thought it would be an opportunity to finally stop here and enjoy the sunset. And it sure didn't disappoint. I didn't have the chance to explore this lovely town and hope to get the chance to do so in future.
Day trip from Rome to Positano
Day trips from Rome to Positano is not uncommon for us as having a house there we often have to hop over to get things fixed up. Yesterday was one of those days. We left Rome at 7am, with the obligatory stop for coffee at the Autogrill, and got into Positano by 10.30am.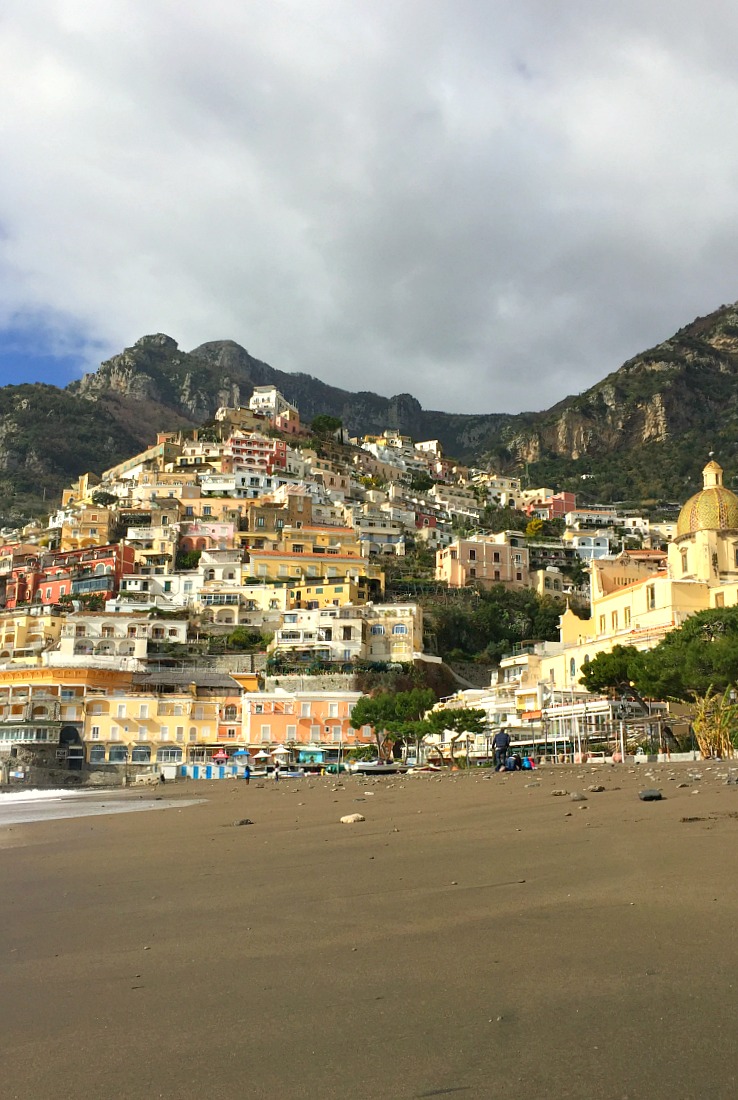 During the off-season, you can park your car in the paid parking areas marked by blue lines for €1 an hour or €3 for the day (more during the peak season). You would think that with few visitors in town, you'd have to plenty of parking spaces to choose but that would have been to good to be true.
We finally ended up parking in Gennaro garage near Mulini for €18, which isn't cheap but made things a lot more convenient. Although rain was forecasted, we were delighted to see the patches of clear blue skies. The gusty winds whipped up the waves and as the sea is generally calm in summer, I was entertained by huge waves crashing onto the main pier (video here).
Once we finished taking care of things for the house, we decided to have lunch in Positano. Not many places to eat nor shops are open in this period and as you can't go wrong with pizza, we sat outdoors at Capricci to enjoy a leisurely hour before driving back to Rome.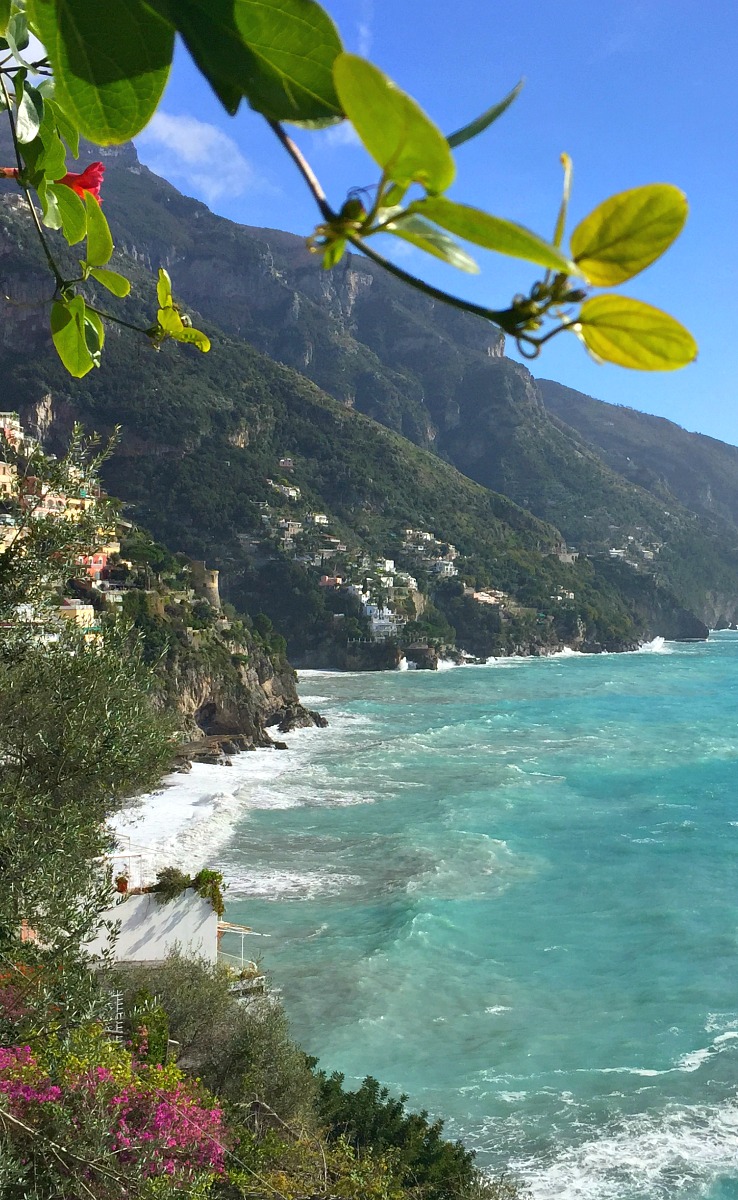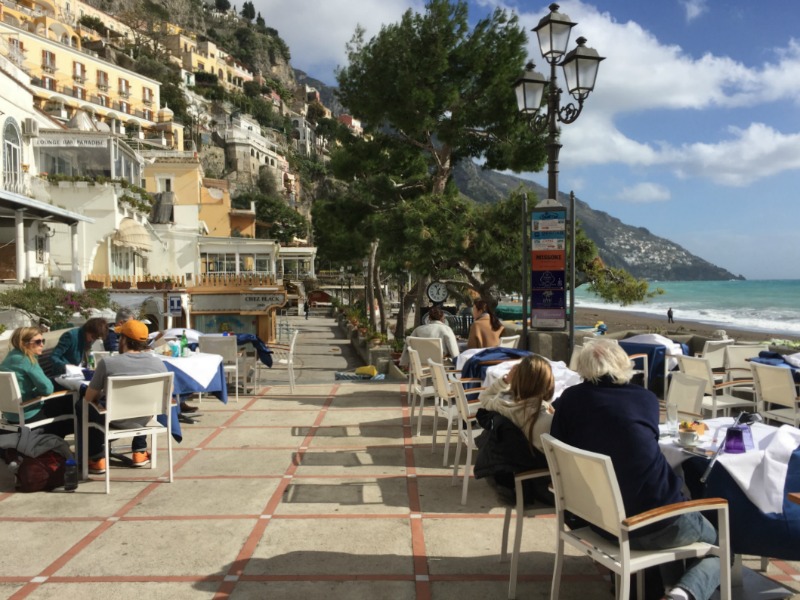 Disclaimer: Some links in this article are affiliate links, meaning we get a small commission if you end up buying something from the links on this page. It doesn't cost you anything extra and we really appreciate the support!