We tried once, we tried twice, and only on our third visit to Milan did we finally get tickets to see The Last Supper.
The moral of this story is that tickets to Da Vinci's The Last Supper  sell out months in advance. If you're planning a trip to Milan and intend to see The Last Supper on your visit, you've got to book way ahead of time.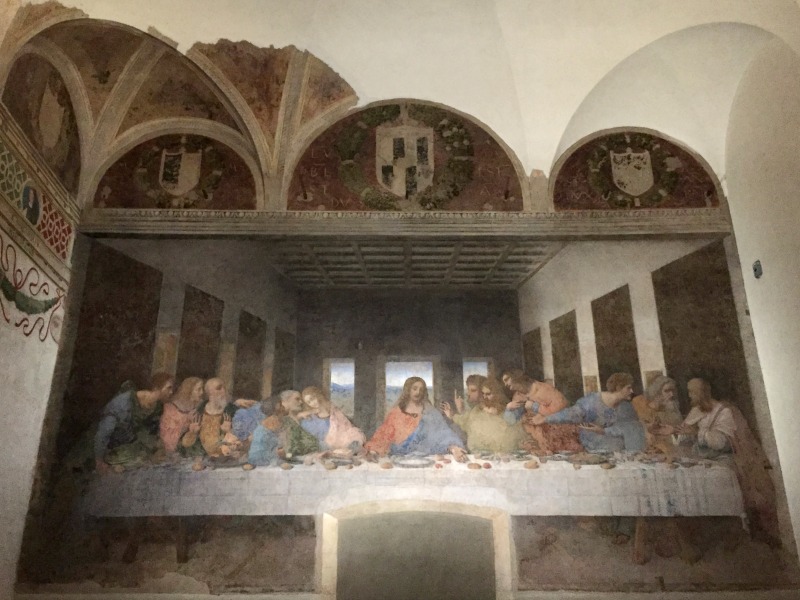 We're lucky that Milan is only a 3-hour train ride from Rome and we can easily hop over for a weekend. And it was after two trips that we understood that tickets to The Last Supper is like finding the Golden Ticket in Charlie and the Chocolate Factory.
We frustratingly searched several websites, without much success, until we eventually found availability on Musement for Da Vinci's Last Supper: skip-the-line tickets and guided tour. The only timing still available was for the 8.15am time slot and the meeting time was 30 minutes before the start of the tour.
If you know me, I'm no early bird, but then again, this is The Last Supper. And since we've been trying to see this masterpiece, I was willing to crawl out of bed early on a Sunday morning.
Visit to The Last Supper
We're one of the first to arrive at the meeting place, Piazza Santa Maria delle Grazie, which is easy to reach as it's a short walk from the Conciliazione metro stop. If your tour starts this early, and you need a coffee fix, you'll be glad to know there is a cafe right across from the meeting place.
In order to preserve this masterpiece, only a group of no more than 25 people is allowed in at the same time. And only for 15 minutes.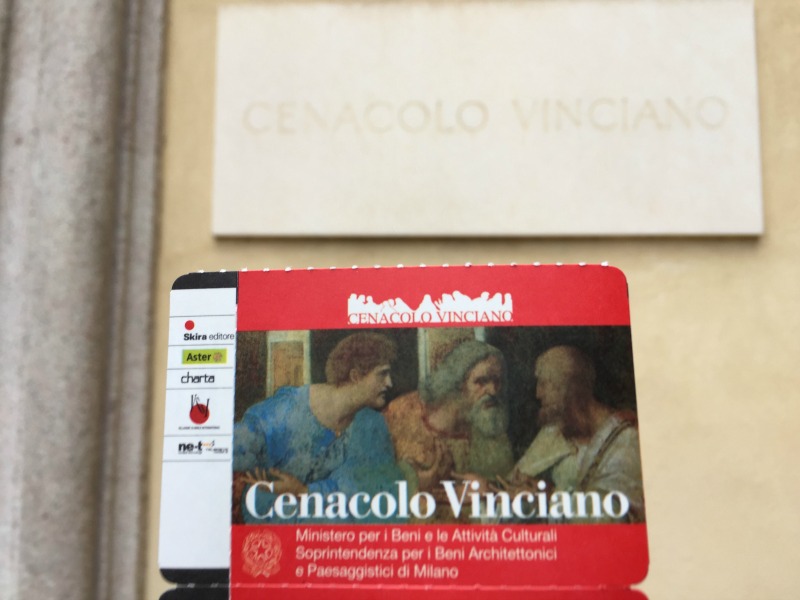 On this tour with Musement, we were given a headset. Invaluable so you could easily hear the detailed insights the guide was sharing about this 460 cm × 880 cm (180 in × 350 in) painting on the wall of dining hall at the monastery of Santa Maria delle Grazie that was completed in 1498. Note: Photos are allowed but without flash.
As it is a painting and not a fresco, The Last Supper has suffered considerable damage due to exposure to varying temperatures, humidity and moisture. To protect it from further deterioration, it is now housed in a temperature-controlled room and access is limited to a number of visitors.
Over the years, many restoration efforts have taken place, the last in 1999, and we we're told that little of the original painting is what you see today.
Regardless, it's as awe-inspiring sight and having a guide makes all the difference. She pointed out details we would have otherwise missed, such as how the apostles were grouped in threes, their reaction to the news as seen from their facial expressions, gestures and movement, and how Judas is holding the money bag and painted in the shadow.
Our guide also mentioned an amusing note: since Da Vinci had differences with the prior of the monastery, he used the prior's face to represent Judas.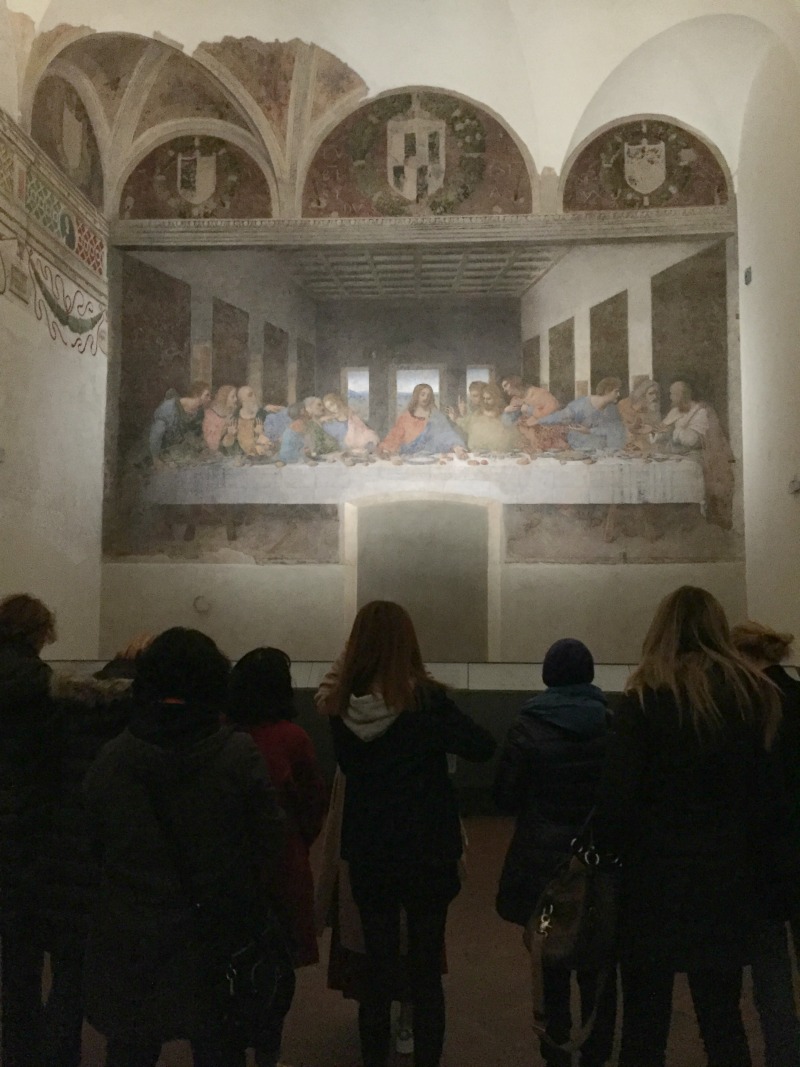 Although we only had 15 minutes to take in this magnificent masterpiece, our guide continued to provide details after we had been shuffled out to another room.
What I discovered from the guide was that there are two other exact copies that exist. Believed to be painted by Da Vinci's assistants, one is in the Royal Academy of Arts in London and the other in the Church of St. Ambrogio in Ponte Capriasca in Switzerland.
While the highlight of this 45-minute tour is unmistakably The Last Supper, our guide also shared the background history of the Basilica Santa Maria delle Grazie and its architecture. The Renaissance architecture with red bricks and the impressive sixteen-sided polygon dome with a border of colonnades, said to be attributed to Bramante make this Church unique.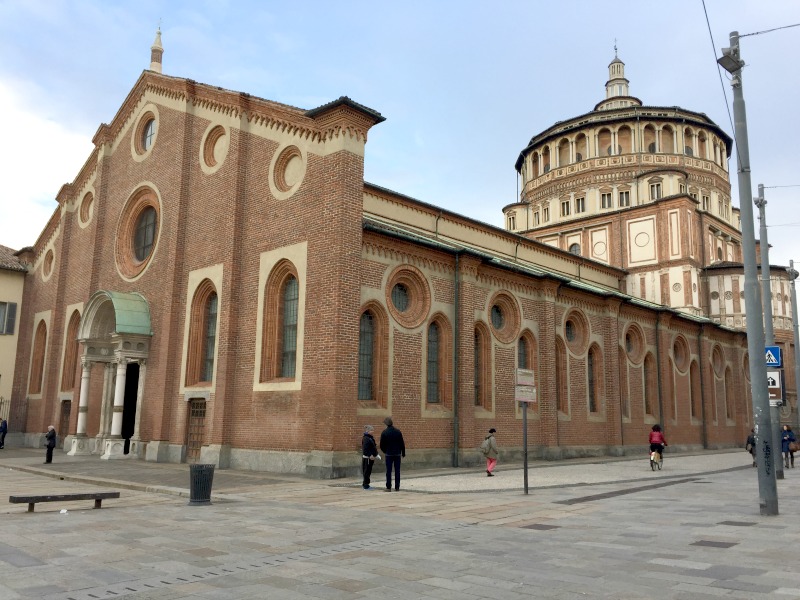 And if you don't already know, the Church and Dominican Convent of Santa Maria delle Grazie with "The Last Supper" by Leonardo da Vinci has been listed as a UNESCO World Heritage since 1980.
Well worth waking up early for and definitely a must-see on your trip to Milan.
Disclosure: We had reached out to Musement to see if we could be guests on this tour and they kindly agreed. As always, the opinions are my own and I'm happy to write about products or services that I would personally recommend to family and friends.