If you are traveling to Italy, and planning to vist the main cities, you wouldn't want to leave home without this list, especially if you intend to eat well. We reached out to friends with inside knowledge on each city and they have generously shared their favorite places to eat.
(Note: As most places to eat in Italy are closed at least one day during the week, visit the respective website/Facebook pages or call ahead to check when they are open).
Click here to download this extensive list in pdf and receive our entertaining weekly newsletter.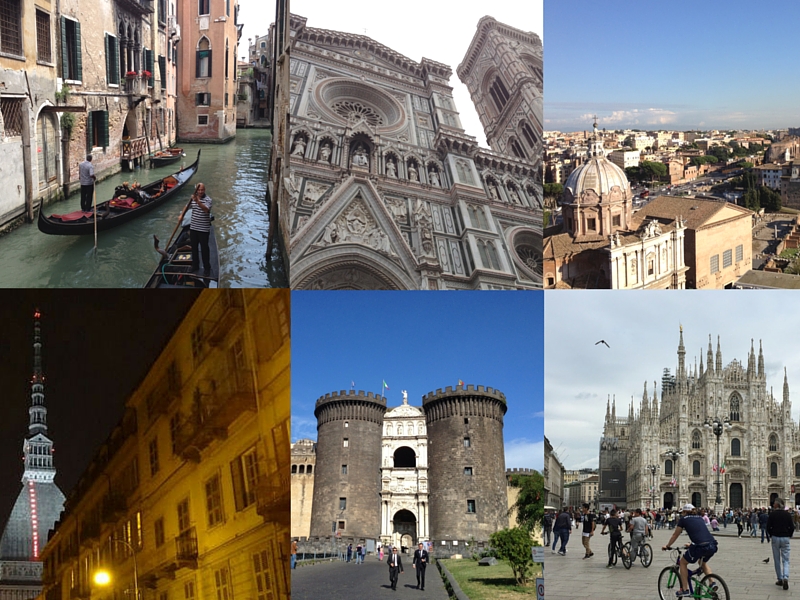 BOLOGNA
Osteria La Bottega
When you want cucina Bolognese with a twist, this is just the spot. First of all, don't skip on the affettati, they have some of the best in the city. Bologna, or "La Grassa" (the Fat One), is famous for it's fresh pasta tradition and this place will not let you down. They have all the essential primi dishes on offer (lasagna, tagliattelle al ragù, tortellini) and their secondi are consistently good. I recommend the cotolette bolognese or the wood pigeon cooked in 2 ways. All washed down with a good bottle of Lambrusco, of course.
Via Santa Caterina, 51 | Tel: +39 051 585111
Bar Il Duca D'Amalfi
Located in a picturesque piazza, this is my go-to bar for breakfast. Not only do they do a mean cappuccino, but it's an excellent place to people watch. They've always got a large selection of delicious cornetti on offer, including my favourite in the whole city: a carrot cream and almond affair. Their other mouthwatering sweets are mostly of Neapolitan descent; in fact the sfogliatelle (a satisfyingly crispy shell-shaped pastry filled with ricotta and candied citron peel) are simply magnificent.
Piazza de' Celestini, 2 | Tel:+39 051 265146
Cremeria Funivia
During the summer season the line at this gelateria spills out into one of those famous porticoes that Bologna is so well-known for. The gelato is excellent and the seasonal granitas, – made with fresh fruit – are phenomenal (especially if you pair it with a scoop of gelato on top, strawberry granita with fior di panna gelato anyone?).
Their pistachio gelato is a particular favourite of mine, as is the flavour they're most famous for: Alice, which is essentially a marscapone gelato served with a gooey chocolate sauce. Top tip: If you happen to see the seasonal castagna (chestnut) gelato on the menu, try it!  I mourn the passing of winter mostly because it means that I'll have to wait a full year before I can eat it again.
Piazza Cavour 1/d | Tel: +39 051 6569365
FLORENCE 
Trattoria Sabatino
For something casual and casareccia and totally Tuscan/family-run, check out Trattoria Sabatino. One of the few blue collar eateries left in Florence where locals still go. Great for simple fresh pastas, roast meats and hearty comfort food.
Via Pisana, 2/red | Tel: +39 055 225955 | http://www.trattoriasabatino.it/
Coquinarious
For something a little more gourmet with a genuinely solid wine selection, check out Coquinarious. Mainstays are the decadent, rich pastas, tartares, tagliere boards and big salads. One of the greatest parts is that it's a stone's throw away from the Duomo!
Via delle Oche, 11R | Tel: +39 055 230 2153 | http://coquinarius.it/
Perseus
To feel like you're apart of a Florentine spettacolo while having a big fat steak, hit up Perseus which is outside of the beaten historical center grounds off of Piazza della Liberta.
Viale Don Giovanni Minzoni, 10/R | Tel: +39 055 588226 | http://www.casatrattoria.com/ristorante-perseus-firenze/
Osteria Il Magazzino
Get some grit and eat some guts at Florence's only offal-centric osteria Il Magazzino. Luca Cai changes the menu seasonally and was recently featured at the Milan Expo for this unique offal-based creations such as lampredotto filled ravioli. One of the few places in town with quaffable house wine as well which does not smell (nor taste) of acetone.
Piazza della Passera, 2-3 | Tel: +39 055 215969 | https://www.facebook.com/Osteria-Tripperia-Il-magazzino-88415125746/
Trattoria Cibreo
To get a taste of Florence's culinary hall of fame without needing to visit a Michelin star restaurant, dine at the Trattoria Cibreo (aka Cibreino) which is next door to the Ristorante but at more humane prices. Although what you exchange in cost, you get in ambiance and availability.
They don't take reservations and the menu is slightly limiting compared to it's Ristorante counterpart. Fabio Picchi and his penchant for reviving obscure regional recipes and revisiting Tuscan classics, is worth experiencing at least once if you're a die-hard Florence fan, gastronome visitor, expat, or resident.
Via Andrea del Verrocchio, 8r | Tel: +39 055 234 1100
Tip: If you are looking for an unforgettable foodie experience in Florence, Coral organizes extraordinary unique tasting tours in Florence. Check her out! 

Georgette Jupe, Girl in Florence
Gilda's Bistro 
Situated in the Sant'Ambrogio neighborhood, walking in is like entering an art nouveau home away from home – think mis-matched glasses and lace tablecloths in the quirky (tiny) dining area, with the bar dating back to the 1920's, when it was part of a bank in Turin Gilda herself is quite a commanding presence with her bright red hair and infectious smile.
Naturally though, the reason for loving a place is the food and Gilda's never disappoints. Tuscan and hearty, rabbit, wild boar and white ragu are platters that I typically go for when having lunch here – ending with a rum baba cake that will take your breath away. Make reservations, as it often gets crowded with hungry locals
Piazza Lorenzo Ghiberti | Tel: + 39 055 2343885 | http://www.gildabistrot.it/
Tip: Nearby in Sant'Ambrogio, you also have the excellent Semel panineria (lunch only), Teatro del Sale, Cibreo Cafe and Il Frittino). This is a gold mind for food in Florence. 
I'Brindellone
My go-to no frills Tuscan favorite is definitely I'Brindellone, plastered with calcio storico memorabilia and filled with laughing Italian men, it's the kind of place you go for the quintessential bistecca fiorentina, ribollita, fried zucchini flowers and the delicious tagliatelle al tartufo.
You don't need to spend an arm or a leg on good food in Florence, you just need to know where to go. If you appreciate Florentine irony and an authentic environment, Brindellone is where it's at. Also it is close to Carmine church, which houses the beautiful Brancacci chapel with frescoes by artist Masaccio.
Piazza Piattellina, 10 | Tel: +39 055 217879, reservations are necessary. Closed Monday, Open Tue – Sun 12:30 am – 1:45 pm, 7:30 pm – 9:45 pm
Pescheria San Pietro
It may be hard to believe, but we actually have a decent seafood restaurant directly in front of the train station! I am a fan of the restaurant, which might have a dubious location but makes excellent seafood dishes and fresh pasta and bread. Additionally it is a rather large, attractive space that can house big groups. Some of my favorite dishes include the squid ink pasta, fish & chips and of course their business lunch which is a unique platter an antipasto and primo for around 14 euros.
Via Luigi Alamanni, 7 | Tel:+39 055 2382749 | http://www.pescheriasanpietro.it/eng
Trattoria del Fagioli
Family run traditional Trattoria in Santa Croce that only opens weekdays (weekends is for family time) so be sure to you book your table in advance for traditional pastas and succulent meats including Bistecca alla Fiorentina, the thick T-bone Florentine steak, which comes only one way, bloody.
Corso dei Tintori, 47r | Tel: + 39 055 244285
Caffè Cibrèo
The perfect pit stop for café and cornetto enroute to the quaint food market of Sant'Ambrogio, in the summer months take a seat outside on the sunny terrace for perfect people watching or come winter, cosy up in a red velvet chair inside the wood panelled dining room
Via Andrea del Verrocchio, 5r | Tel: +39 055 2345853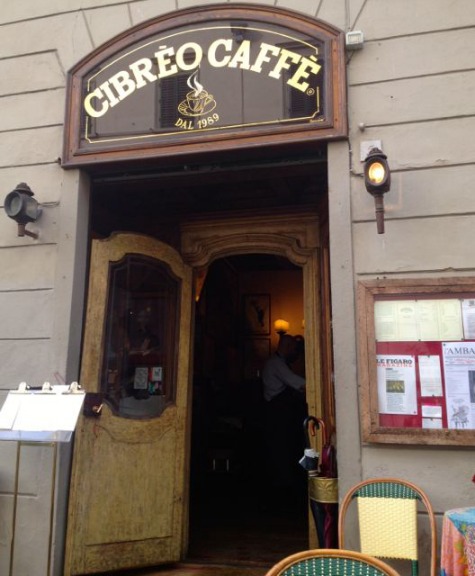 Trattoria dell' Orto
This local San Frediano restaurant looks innocuous from the outside yet come inside for arguably the best pappardelle con cinghiale (wild boar pasta) in Florence. In the summer, their back garden dining room is a "Mid-Summer Nights Dream" experience all washed down with fine house wine
Via dell'Orto, 35 | Tel: +39 055 224148  | http://www.trattoriadellorto.com/
MILAN
Jackie DeGiorgio and Sara Porro, Sauce Milan
Ratanà 
Milan born chef Cesare Battisti adds a modern twist to the traditional flavors of Milan and its Lombard surroundings. Located in the rejuvenated Isola neighborhood inside an exquisite converted 19th-century train station, Ratanà features a vast garden inside which the team grows its own produce. Don't miss the risotto alla Milanese, arguably the city's best. In the warm weather months, opt for outdoor seating.
Via Gaetano de Castillia 28| Tel: +39 02 8712 8855 | ratana.it 
Un Posto a Milano
Situated in a converted 17th-century farmhouse, Un Posto a Milano serves unpretentious local farm-to-table fare from chef Nicola Cavallaro, whose menu highlights the bounty grown in the stunning onsite garden. Drop by for an apertivo, lunch or dinner any time of the year. During the warm weather months, Un Posto a Milano's al fresco courtyard lets you temporarily forget you're in the heart of a major city.
Via Privata Cuccagna 2 | Tel: +39 02 545 7785 | unpostoamilano.it 
Dry
Usually places to see-and-be-seen fail to deliver on quality but Dry, which serves Milan's best pizza, is an exception. Couple your pie with one of the innovative Prohibition Era cocktails such as the Funky Rooster Cobbler and you're all set. For dinner, reservations are crucial. If you're planning to hit up the bar only, arrive by the 7pm opening to secure a seat as Dry usually fills up quickly.
Via Solferino 33 | Tel: +39 02 6379 3414 | drymilano.it
Trattoria Masuelli San Marco
Every Italian city boasts at least one great trattoria that showcases typical preparations and for authentic La Cucina Milanese, it's Trattoria Masuelli San Marco. Founded in 1921, the elderly Pino Masuelli oversees the restaurant today. Particularly of note is any dish accompanied by the smooth creamy polenta, either served with meat or topped with raw egg yolk and Raschera cheese fondue.
Viale Umbria, 80 | Tel: +39 02 5518 4138 | http://www.masuellitrattoria.com/
Trippa
Chef Diego Rossi and Pietro Caroli opened Trippa this past summer and the trattoria quickly became one of Milan's most sought-after reservations. The creative simple flavorful fare has Northern Italian roots, particularly in Rossi's native Veneto. The two-fold name means tripe and substance, and standouts include Rossi's take on two classics: baccalà mantecato and vitello tonnato.
Via Giorgio Vasari, 3 | Tel: +39 327 668 7908 | http://www.trippamilano.it/
Essenza
Chef Eugenio Boer's Essenza taps into his Dutch-Italian heritage at Essenza to put forth a menu that's just as innovative conceptually as it is visually. Expect preparations like "risotto all cenere" with Mountain trout and its eggs or the "reindeer and its history", venison with raspberry mustard coulis, foie gras mousse and licorice powder.
Via Marghera, 34 | Tel: +39 02 498 6865 | http://essenzaristorante.it/
Il Luogo di Aimo e Nadia
Today, this 53-year-old mainstay opened by Tuscan chef Aimo Moroni and his wife Nadia holds two Michelin stars. Moroni, an affable octogenarian is a regular presence in the dining room while his daughter Stefania runs the front-of-house show and chefs Fabio Pisani and Alessandro Negrini oversee the kitchen. You'd be remiss to overlook the spring onion spaghetti and Etruscan soup.
Via Privata Raimondo Montecuccoli 6 | Tel: +39 02 416886 | http://www.aimoenadia.com/
LadyBù
Chef Nico Rizzi serves crave-worthy cheese-centric dishes at LadyBù, a collaboration between the chefs of the aforementioned Il Luogo di Aimo e Nadia and Anteo, a mozzarella producer in Lazio. The restaurant offers excellent value with generously portioned pastas that don't exceed €12. Start with the stracciatella- and prosciutto-topped house-made focaccia.
Via Michelangelo Buonarroti, 11; +39 02 3940 1487; http://ladybu.com/ )
Mangiari di Strada
Getting to this street-food paradise on the outskirts of Milan can seem like a day trip in and of itself, but once you have arrived, you'll be happy you made the schlep. Chef Giuseppe Zen's glorious array of street-food specialties spans all of il bel paese. Open for lunch only, it's best to arrive early as seating can be sparse—especially when the outdoor patio is closed. The panino con lampredotto, a Florentine street food staple made with the cow's fourth and final stomach, is a must. (Via Lorenteggio, 269; + 39 02 415 0556; http://www.mangiaridistrada.com/ )
Tip: Researching the best places to eat in Milan? You can't go wrong with Sauce Milan, a food tour company and English-language website dedicated to Milan's food and beverage culture.

Taglio
Beautifully unique space in the Navigli area with exposed brick walls.  Part café, part bar, + gourmet store. Good anytime of day! They have great lunch specials, and I love sitting in the back dining area with a view to the open kitchen.
Via Vigevano, 10  (Metro: Porta Genova) | Tel: + 39 02 36534294 | http://www.taglio.me/
Mercato Metropolitano
A newcomer to Milan in the Porta Genova/Navigli area, this urban farmers market is perfect for coffee, lunch, dinner, or soaking in the buzz of the crowd for aperitivo + live music every evening. "Small is Beautiful" is the theme here with beautiful local produce, artisans and tasty street food. A really great place to explore and hang out – I can't recommend it enough!
Via Valenza 2, Milano (Metro: Porta Genova) | http://www.mercatometropolitano.com/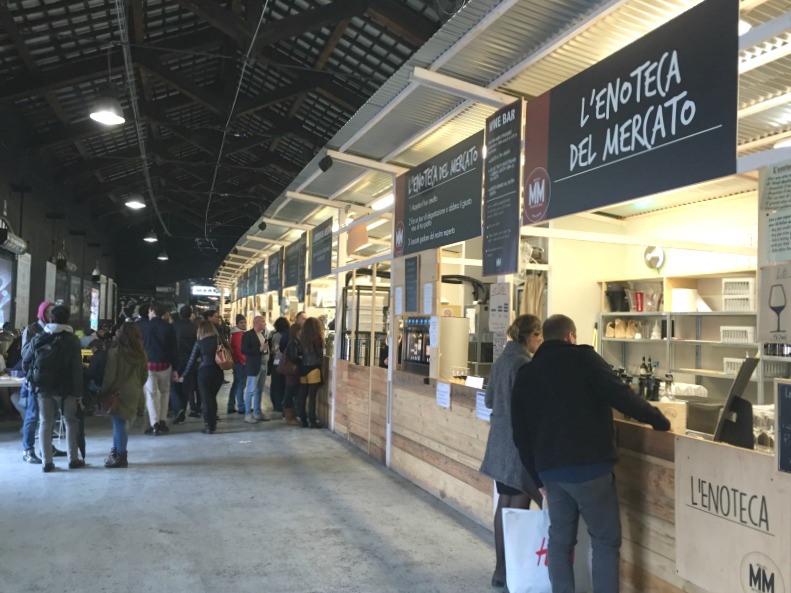 La Vecchia Latteria
Family owned vegetarian and vegan restaurant. A tiny cozy place, you'll want to arrive early to get a table. This restaurant is delightful with a huge menu that changes daily. We love their mixed plate with small portions of the specials of the day, a great way to try many things – which is my favorite!
Via dell'Unione, 6 (Metro: Duomo) | Tel: +39 02 874401
https://www.facebook.com/la.vecchia.latteria 
Un Posto a Milano
A farmstead + restaurant in the heart of the city with locally sourced food from over 100 family run farms. Serving lunch and dinner- it's such a special place! Check out their website for hours + special events (such as themed nights), markets and workshops, which they have frequently.
Via Privata Cuccagna, 2 (Metro: Porta Romana) | Tel: +39 02 5457785
http://www.unpostoamilano.it/cucina_home_eng.php
Trattoria Milanese
Small, elegant & delicious. This is a traditional Milanese restaurant in the center of Milan, loved by locals and foodies wanting a classic, authentic Milanese meal. It's hidden on a small side street, a short walk from the Duomo.
Famous for their risotto alla Milanese, as well as the ossobuco and cotolette Milanese (breaded veal chops). I am also particularly fond of their seasonal contorni selections. The staff are happy to give input on what you should order, and will match a wine to your selections.
‪Via Santa Marta 11 (Metro: Duomo) | Tel: +39 02 86 451991 https://plus.google.com/+TrattoriaMilaneseMilano/
NAPLES
Antica Latteria
Cozy trattoria in the chic Chiaia quarter of Napoli, this trattoria serves up classic Neapolitan dishes in a funky, eclectic and welcoming dining room. The staff is friendly and the Pasta with Genovese sauce is my go-to dish here. The pasta con patate e provola, the eggplant parmigiano, polpette, and the fried antipasti are also very good.
Vico II Alabardieri, 30 | Tel: +39 081 012 8775 | www.anticalatteria.it
Palazzo Petrucci
Fine dining, Neapolitan-style, this Michelin-starred restaurant deliciously delivers both modern dishes and revisited classics from the region. The restaurant is set in the heart of the historic center but the ambiance inside is modern and minimalistic. The 5-course tasting menu is both approachable and a good value.
Palazzo San Domenico Maggiore 4 | Tel: +39 081 552 40 68 | www.palazzopetrucci.it
Trattoria da Cicciotto
This is the place to go for seafood and a spectacular view of the Bay of Naples. It is a little out of the center, in the fishing area of Marechiaro, but the trattoria delivers delicious seafood dishes in a casual and magnificent setting.
Calata Ponticello a Marechiaro, 32 | Tel: +39 081 575 1165 | www.trattoriadacicciotto.it
Ristorante Umberto
The third generation of this family-owned restaurant continues to serve up Neapolitan classics and certified "Vera Pizza Napoletana" pizza in the Chiaia quarter of Naples. Nonna Ermalinda's polpettjne are the house specialty, as is the bacala alla napoletana, the eggplant parmigiana, Neapolitan lasagna and pizza.
Via Alabardieri, 30 | Phone: +39 081 418555 | www.umberto.it
For the love of pizza!
There are many great and certified VPN (Vera Pizza Napoletana) pizzerie along Via Tribunali in the heart of the historic center, like Gino Sorbillo, Di Matteo, and Da Michele. At lunchtime, and during dinner too, they are packed with wait times sometimes­­ even longer than 2 hours.
My suggestion is to get a little out of the way. The pizza is just as great, maybe even better, and because these are away from the congestion of both locals and tourists, your wait time will be a lot less. Here are my 3 favorite pizzerie just outside the busy historic center:
Pizzeria Starita (a Marterdei)
Just a short walk from the Marterdei metro station (two stops from the Dante metro station), this is an historic Neapolitan spot that creates some of the tastiest pizza in town. It is the pizzeria where Sophia Loren played the pizzaiaola in L'Oro di Napoli. Be sure to order some of the fried antipasti, like the crocche di patate, the angioletti (fried pizza dough) or the zucchini flowers. And the 4 euros you'll spend on the classic Margherita pizza will be the best 4 euros ever spent!
Via Materdei, 27-28 | Phone: +39 081 544 1485 | www.pizzeriastarita.com
Pizzaria La Notizia
Farther afield from the center, this is an easy cab ride away, but the pizza created by the passionate pizzaiolo Enzo Coccia is well worth the trip. They're open only for dinner service from 7:30pm to 12:30am and do not accept reservations.
Via Michelangelo da Caravaggio | Tel: +39 081 7142155 | www.pizzarialanotizia.com

Centrale del Caffè
Check out one of Centrale del Caffè three locations for a tiramisu (pick me up). This modern designed coffee bar not only cranks out artfully decorated cappuccinos and perfectly pulled caffè (espresso) but has three small batch roasted blends available by the kilo. I always take a kilo of the "Espresso Napoletano" and  of the "Santos". 
Via Benedetto Croce, 16 | Via Porta di Massa, 21 | Piazza Garibaldi Giuseppe, 134
http://www.centraledelcaffe.it
Pizzeria 50 Kalò di Ciro Salvo
Visiting Naples without eating pizza is a crime. Located in the seafront Mergellina neighborhood, Pizzeria 50 Kalò di Ciro Salvo is the result of Ciro's research, study and experimentation. From the flour selection -low in protein/high hydration-to a long rising time, the dough is light and easily digestible. Go classic with the mouthwatering margherita or marinara or order pizza with scarola, Gaeta olives, piennolo tomatoes along with a local craft-beer.
Piazza Sannazzaro, 201/B | Tel: +39 081 19204667 | www.50kalo.it
Osteria La Mattonella
An elevator ride from the fashionable Chiaia district takes you to Quartieri Spagnoli which doesn't deserve its unsavory reputation. Take the minuscule lift at Ponte di Chiaia and exit onto the narrow bassi lined street – Via Giovanni Nicòtera. Here you'll find the warm and inviting Osteria La Mattonella where the Marangio family serves simple classics. Order the fried starter, pasta alla genovese (pasta with a beef and three onion – white, yellow and tropea – sauce) and meatballs
Via Giovanni Nicòtera 13 | Tel: +39 081 416541 – maxmarangio@hotmail.it
ROME
Thanks to local and Rome-based insiders, we have a list of over 30 places to eat in Rome at BrowsingRome.com
TURIN
Lucia, is a Turin native and also the producer and organizer of Turin Epicurean Capital, a yearly food literature event with bloggers, authors and culinary professionals to share her region with the world. She shares a mix of her favorite Italian and International restaurants in Turin:
Il Vicolo
This place is famous for its 20ish seasonal risottos and huge savory and sweet crêpes. It is conveniently located in the Porta Nuova area very close to Bar Gelateria Miretti (Corso Matteotti 5) where you can get an amazing gelato cones for 2€ or a bathtub size hot chocolate sitting indoors!
Just be warned that the Il Vicolo portions are huge and the half portions equal 2 Italian regular portions; their crêpes are deliciously huge too. Always make a reservation or you won't find a table as it is uber popular, high quality and miraculously cheap.
Via Melchiorre Gioia 3 | Tel: +39 011 535233
For the Spanish speakers here's an article about both Il Vicolo and Bar Gelateria Miretti
Cantina Torino
This is a tiny cozy bistro, Signor Carlo is the owner and will welcome you as if you were his friend! Here you'll find over 200 labels of Piedmontese wines paired with regional cheeses and cured meats; traditional Langhe specialties and vegetarian options. They have a/c in the summer and it's nicely warm in the humid winter. Always better to reserve if you are more than two. They serve food all day long!
Via Monte di Pietà 15/B | Tel: +39 011 197 15833 | http://www.cantinatorino.it/en/
La Smarrita
One of the most glam and historical restaurants in Turin, it used to be the office of Mr Camillo Benso Count of Cavour, Italy's very first PM, in fact, Palazzo Carignano – Italy's very first Parliament is just 2 minutes away. The menu offers the traditional Piedmontese flavors but served in a more contemporary style. If you like fairy tales, crystal chandeliers, 18th century Versailles-like mirrors you MUST have dinner or at least lunch (cheaper menu) there! Here's a post about Marco Giachello, La Smarrita's chef.
Via Cesare Battisti 17 | Tel: +39 011 836 628 | http://drupal.lasmarrita.it/drupal6/
Sibiriaki: Piedmontese and Russian thrill
If you feel like eating Russian and local, this is the restaurant for you. Located between pedestrian streets Via Garibaldi and the Porta Palazzo market, in the heart of the Quadrilatero neighborhood, it is an shabby chic place where you can choose to go fully Russian with bilinis and Vodka marinated prawns, fully Piedmontese with plins and braised beef, or mix and match both!
Via Bellezia 8G | Tel: +39 011 436 0738 | http://www.sibir.it/
Daiichi: Thai and Japanese
Location in Via IV Marzo, it is near the Porta Palazzo market and Turin's Roman ruins: Palatine Towers
Very high quality, best tuna sushi in town, one of the very few Thai restaurants in Turin and for all these reasons, it is always crowded, so make sure to reserve! Definitely worth it if you are craving Japanese and/or Thai food!
Via IVMarzo 5 | Tel: +39 011 436 8472 | http://www.daiichi.it/
Chen Lon: Chinese
Located near the Porta Susa train station and very close to the D'Acaja subway station, according to Asian expats and Asian food aficionados: the BEST Chinese restaurant in Turin! Prepare for a real food experience with a menu designed with dishes you won't find in other restaurants (chicken stuffed with banana, mushroom and sausage dumplings, ginger seabass, taro, etc…) an elegant atmosphere, a very welcoming and helpful staff who can also speak English and an international clientele!
Via Principi D'Acaja 35/H | Tel: +39 011 434 5441
https://www.facebook.com/RISTORANTECHENLON/

VENICE
Al Gatto Nero
The best risotto in all of Venice: Ruggero Bovo has been running this fantastic authentic Venetian restaurant since 1965. His speciality is the famous Risotto di Go, a fish risotto made with a special fish which lives only in the lagoon of Venice – a must try for all fodies!
Via Giudecca, 88 – 30142 Burano | Tel. +39.041.730120 | http://www.gattonero.com/en/index.html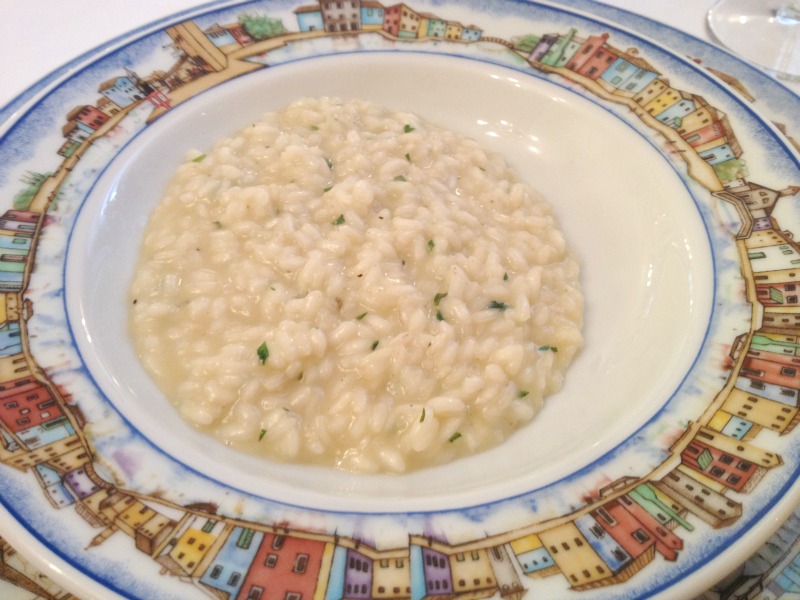 Corte Sconta
This is the place in Venice to try some of the best fish dishes that the lagoon can offer. One of the oldest restaurants in the city, their courtyard is covered with an old grapevine and you can eat your lunch or dinner in there during the summer. Try their 5 course starter platter-amazing!
Calle del Pestrin, Castello, 3886 | Tel: +39 041 522 7024 | http://www.cortescontavenezia.it/
Enoteca da Roberto
Roberto and his sister Sabrina have been running this lovely little osteria/bacaro for over 35 years. Their specialities are the famous Venetian Cicchetti (try their pumpkin and bacon fried balls), but they also offer home cooked lunch and dinners, with typical Venetian recipes at very very reasanoble prices.
Rio Terà Farsetti, 1847 | https://www.facebook.com/enotecadaroberto
Vineria All'Amarone
Alfredo, one of the oldest restauranteurs in Venice, has managed to turn this little corner of Venice into a true gem of wine and food, offering some of the best Veneto and Italian wines on the market, coupled with high quality simple food, like cicchetti, selection of charcuterie and cheeses as well as the best tiramisù in town.
Calle Sbianchesini, San Polo 1131 | Tel: +39 041 5231184 | http://www.allamarone.com/
Vini da Gigio
Paolo and his family have been running this little osteria near Strada Nova for many years and they always strive to offer the best selection and quality of Venetian food: try their risottos and their fresh fish. And the selection of wines is probably the biggest in the city.
Calle Della Stua, Cannaregio 3628/A  | Tel: +39 041 5285140 | http://www.vinidagigio.com/