Step on board and you'll be warped back into the past. The wooden panels, the black and white photos hanging above the benched seats, classic curtains framing the side of the windows all create an atmosphere that allows you to relive a ride on the historic Transiberiana d'Italia.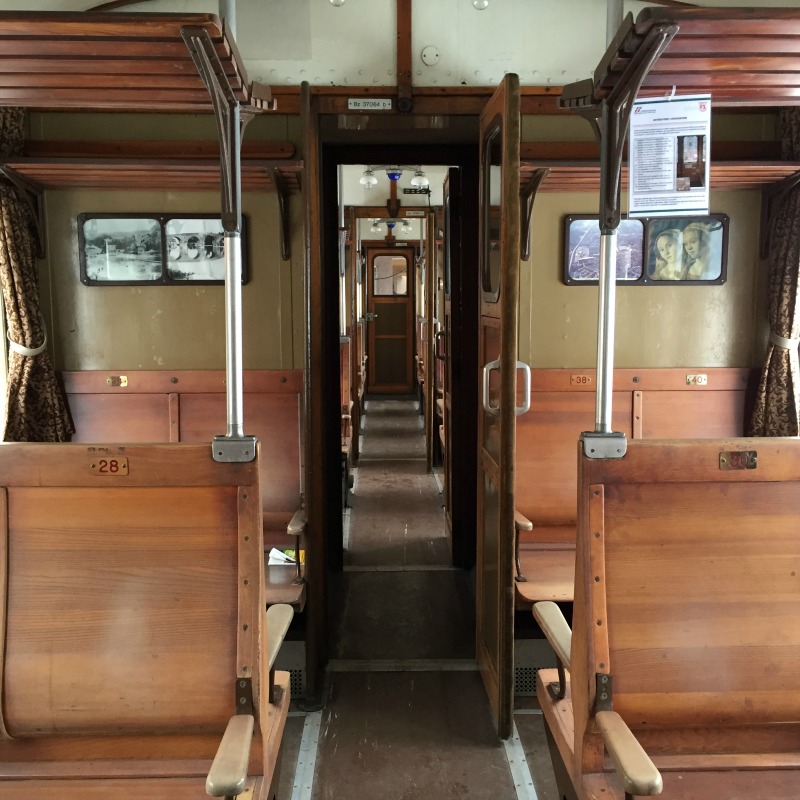 Considered one of the oldest and most beautiful train route in Italy, it is also one of the highest, taking you to Rivisondoli-Pescocostanzo at 1,268m above sea level. Inaugurated in 1897, it was part of the project that crossed the Apennines mountains connecting Naples to Pescara.
Citing economic reasons, the train service was suspended in 2011 and it was not until March 2014, thanks to the non-profit association Le Rotaie and with the cooperation of Fondazione FS, that this historic route was revived as a tourist train offering the public the chance to journey into the past.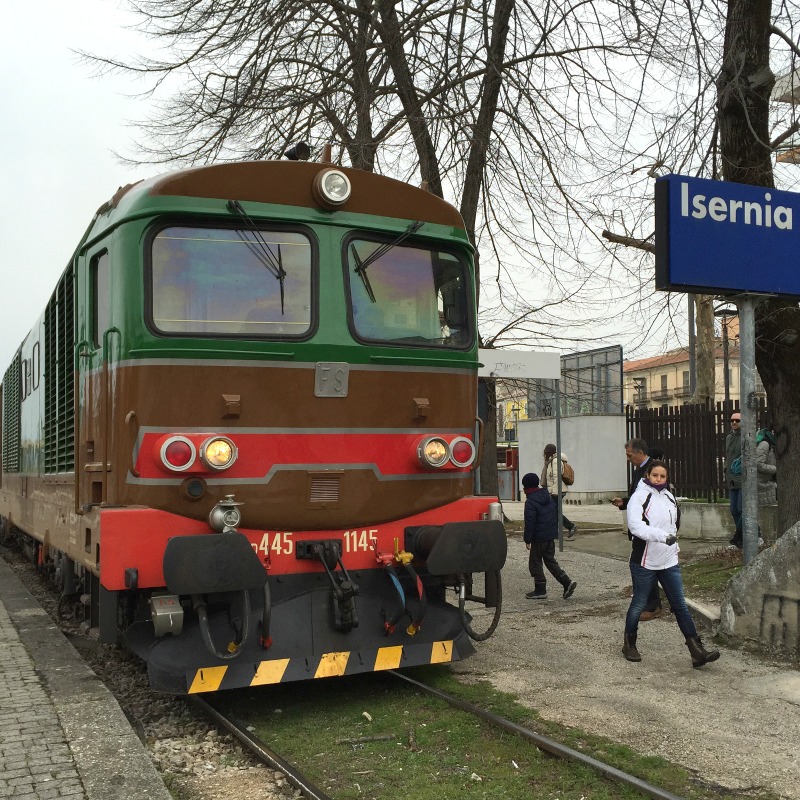 I can't precisely remember how I had heard about Transiberinana d'Italia but I when read about it, I was immediately sold. With various events organized thoughout the year, we had wanted to join the event "Treno delle neve" that went from Sulmona to Roccarasso in February. However, with both dates sold out, the next event was from Isernia, Molise to Sulmona, Abruzzo, held to commemerate the 8th edition of Giornata Nazionale delle Ferrovie Dimenticate (National Day of Forgotten Railways) on March 8, 2015.
I was eager to not only experience a ride on a historic train that takes you through some spectacular scenery, but also to have a glimpse of Molise, a region we haven't had the chance to visit yet. However, I had concerns as the week leading to March 8 a snowstorm hit the area wrecking havoc with power outages in many towns, and brought a record snowfall to one town in a 24-hour period. I reached out to the organizers and were given updates as to the situation.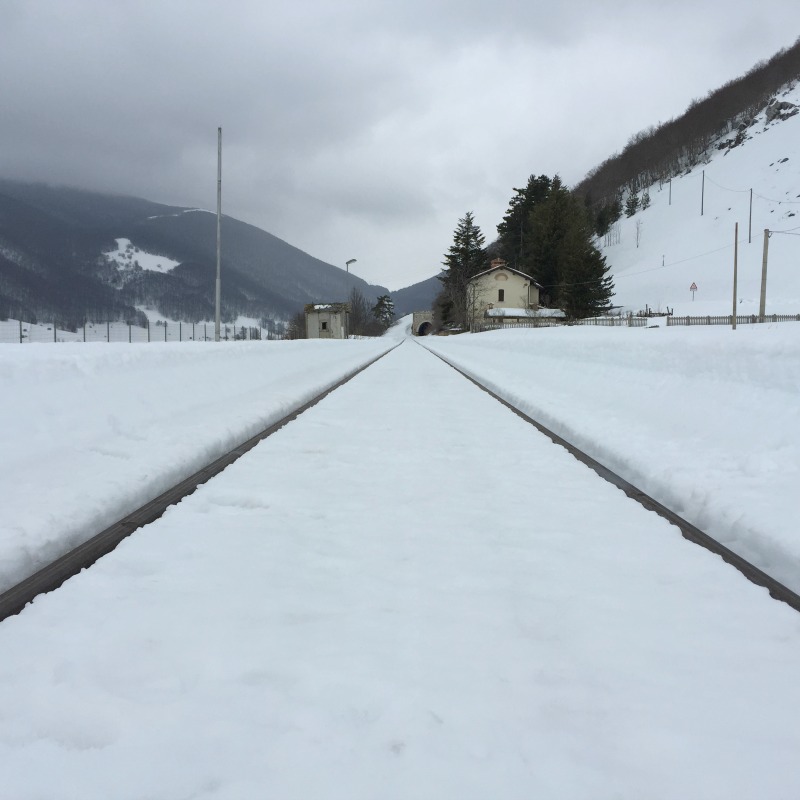 Apart from having to clear an insane amount of snow from the tracks and stations, what proved challenging for the team was removing the debris, especially fallen trees. While they worked frantically around the clock to ensure the event went on, they eventually had to make the tough decision to call off the event the day before due to the precarious situation. After all, it's Mother Nature who has the last say.
Fast forward to the following week. Although gray skies accompanied us as we drove to Isernia, it was far from the extreme conditions the area had experienced. On the way to Carovilli from Isernia, where we had booked a night at Masseria Monte Pizzi, there were still piles of snow along the road.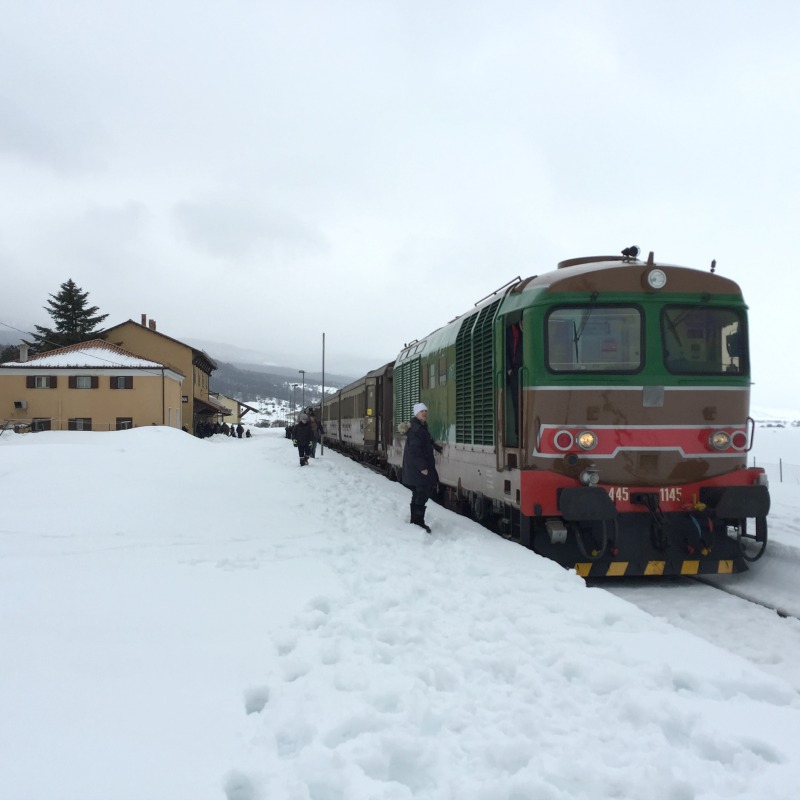 Transiberiana d'Italia: Isernia to Sulmona
Our host at Masseria Monte Pizzi, Nadia, also volunteers for Le Rotaie, had mentioned that after the cancellation of last week's event, about 100 people pulled out but in 4 days, they were able to fill up those places. This event, like the others before, was sold out. It's an event that has garnered much attention, often selling out in a couple of days.
When we got to Isernia station we still had to pick-up the tickets with assigned seating. This caused some confusion as passengers struggled to find the carriage and seat. Some already onboard but in the wrong carriage couldn't really bother and resorted to just sitting wherever they pleased.
This caused a lot drama as those who eventually found their assigned seats meant that others occupying them had to move out. It wasn't that difficult really and I found it entertaining how much commotion was taking place even after an hour into the journey.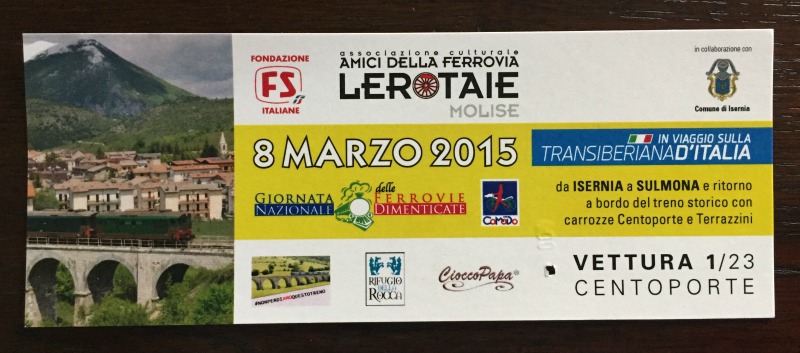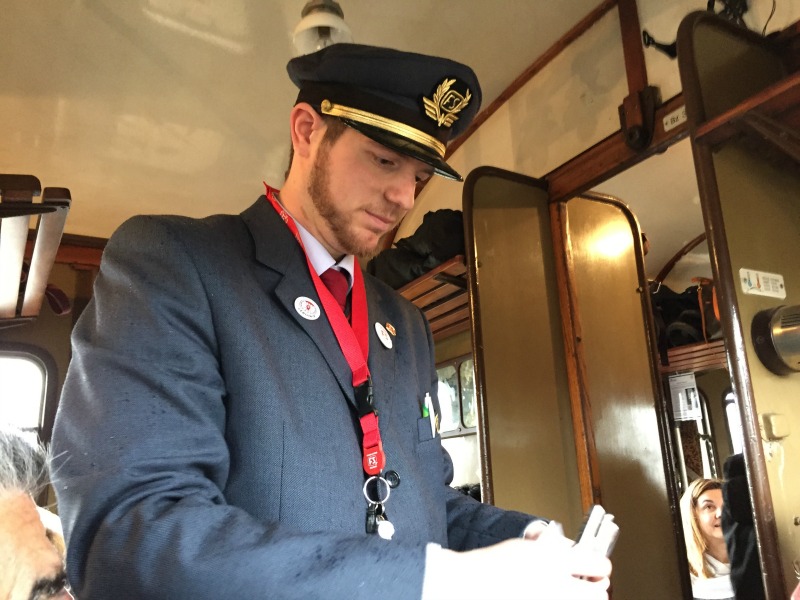 The route from Isernia to Sulmona covers about 130km, with a brief stop at Rivisondoli-Pescocostanzo followed by a lunch stop at Palena. With the breathtaking scenery and entertainment on board, live music, staff of the Le Rotaie providing historical background on the train, and the handing out of packets of chocolates to the ladies, which they had prepared for Woman's Day (March 8), there was never a dull moment.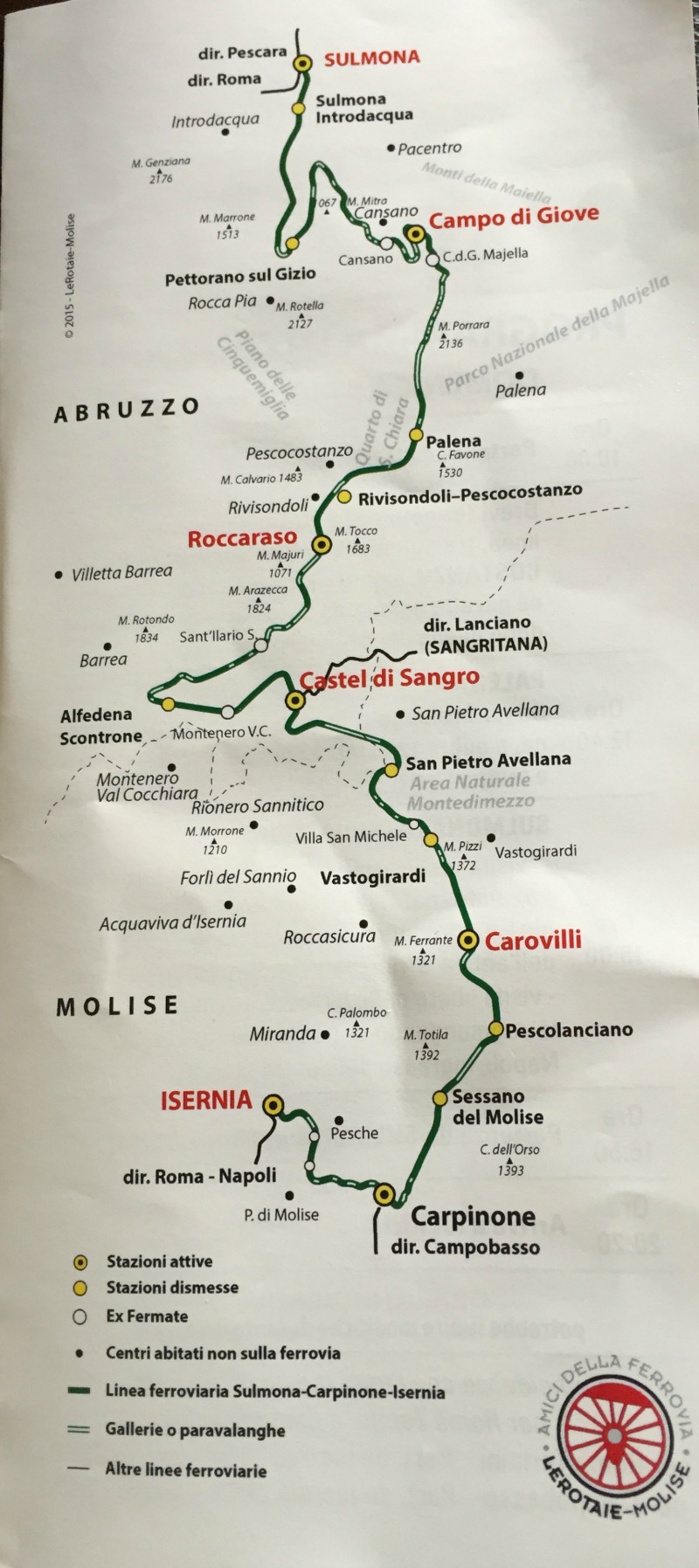 One of the most exciting moments that had the whole train in frenzy was when it started snowing as we approached Roccarasso, providing an even more magical atmosphere. With a brief stopped planned in Rivisondoli-Pescocostando, everyone on board was eager to get off to have a few minutes of fun in the snow.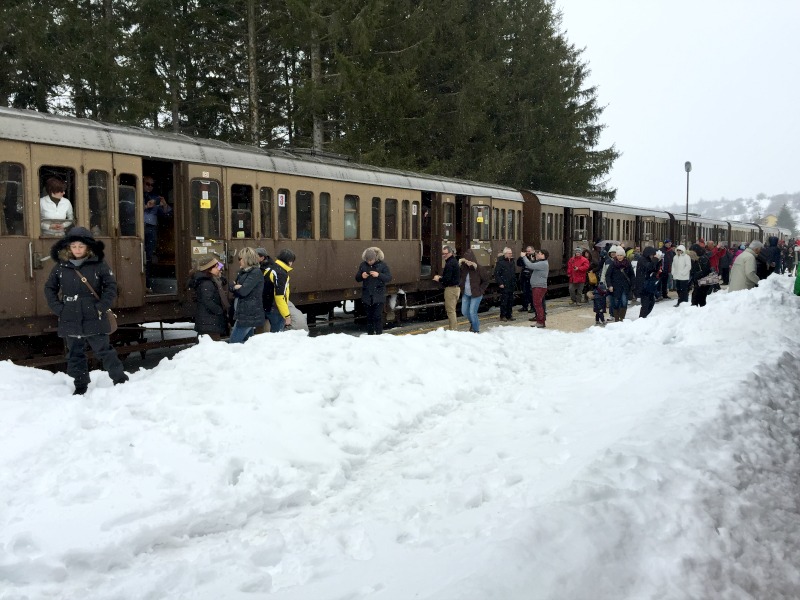 Along the route I couldn't tear my eyes away from the window as the landscape was constantly changing as we made our way past unspoilt countryside to winter wonderland to majestic mountains. One particular segment that was astounding was from Pescocostanzo to Palena, where it was all blanketed in white wherever you looked and with a glare so intense, I had to put on my sunglasses. It was exaggeratingly beautiful, and only then can you understand why this train route is called Transiberiana d'Italia.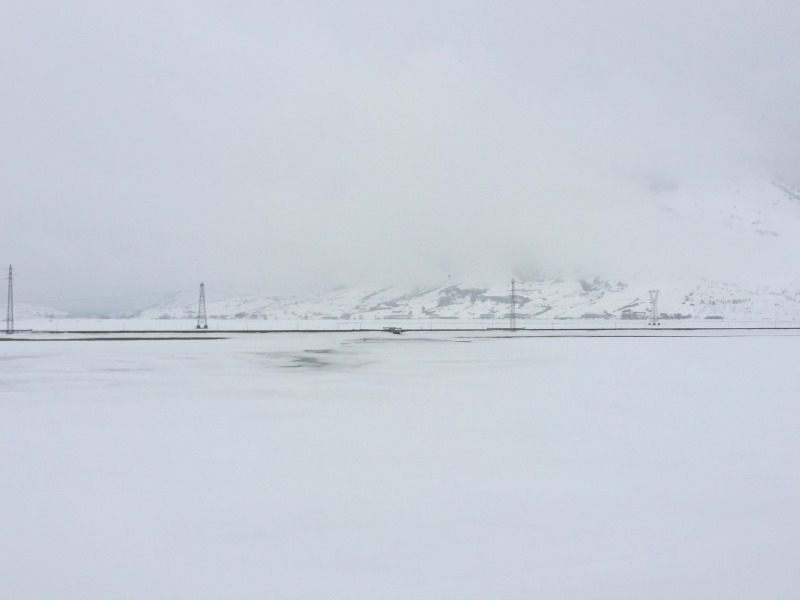 When we got to Palena, lunch was setup in the parking lot of the train station together with some tents selling local products. We I wish I could have shared what we had for lunch, which we prepaid for, but that didn't happen as it was shockingly disorganized and the most disappointing part of the trip. We got a refund and this was one time we wished we hadn't made lunch plans in advanced.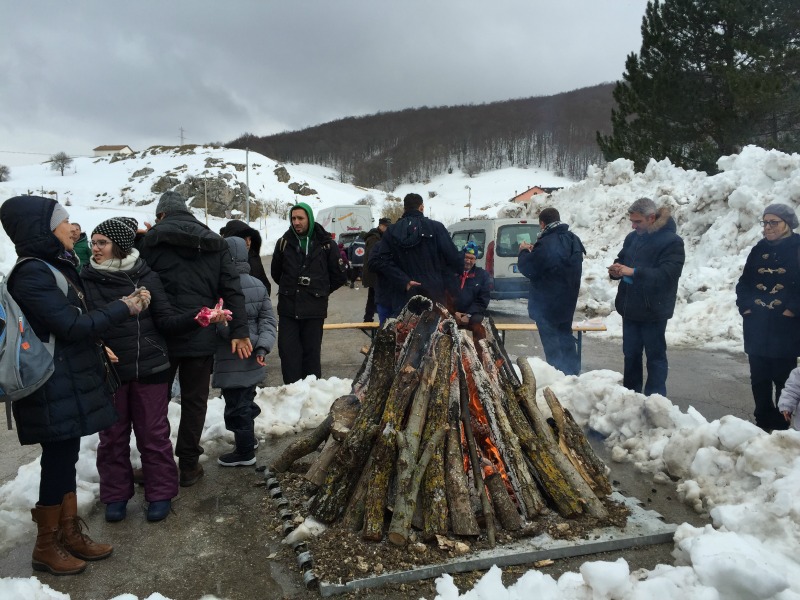 As a result of the slow lunch service, the train left for Sulmona about 30 minutes late. Arrangements had been made to visit Pelino, a company producing confetti since 1783, as well as the adjacent confetti museum. Due to the delay, we barely had an hour to explore Sulmona on our own before our train departed directly for Isernia.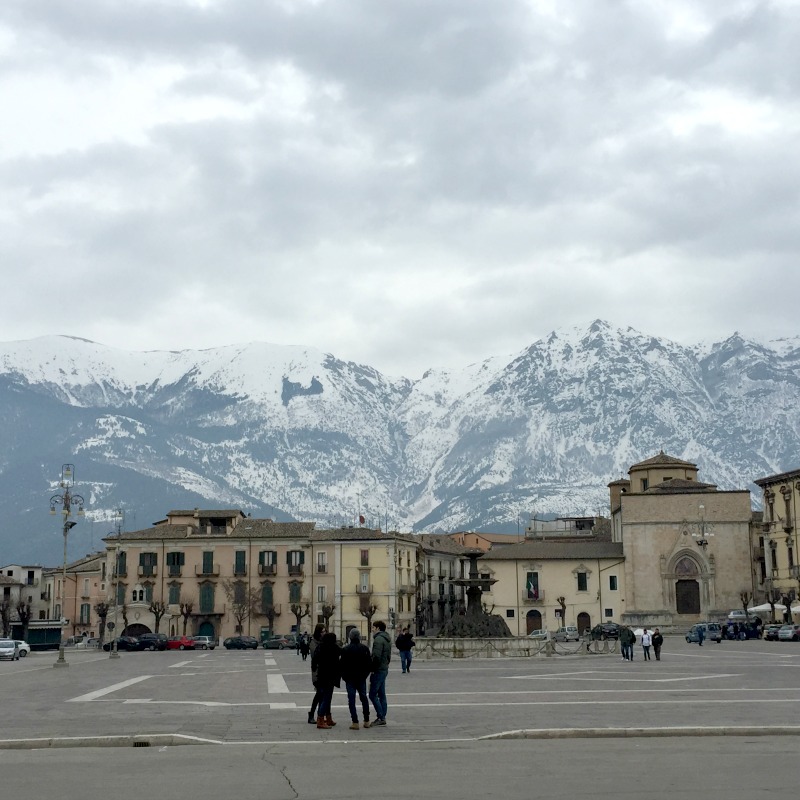 It was a long day out and as we headed back to Isernia, with technical stops at a few stations, most faces showed signs of contentment. It was one of the most unforgettable experience I've had and the perfect adventure for all ages.
We saw extended families: grandparents, parents and young chldren on board all having a jovial time and in great spirits throughout the ride. If you are interested, Le Rotaie has their next event scheduled for the Easter weekend on April 4, 2015 from Sulmona to Barrea.
To book you'll have to email them indicating your name, last name, number of people as well as number of kids under 10 (they can join for free). You will then get a confirmation email and be asked to wire transfer the payment. And if you are wondering, yes, that is the only way to reserve your spot. They sell out fast so if this sounds like your kind of fun, #nonperdiamoquestotreno!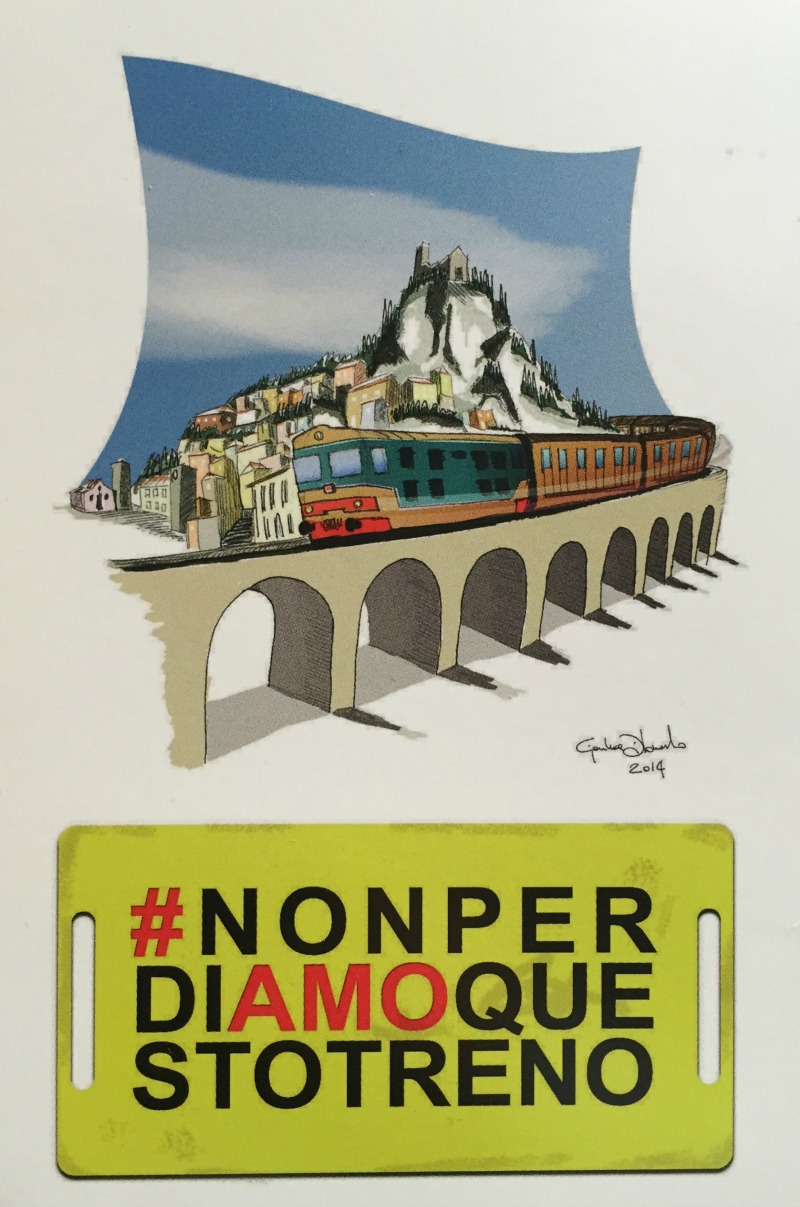 Note: This was not a sponsored trip. Dinner the night before was kindly offered by Nadia from Masseria Monte Pizzi but we paid for all related expenses from train tickets to accommodation.