30 hours in Ferrara. That was all the time we had. And it was a foolish mistake.
While Ferrara is not a big city like Florence or Bologna, it's packed with things to see and do. After all, Ferrara, City of the Renaissance, and its Po Delta are UNESCO World Heritage sites. When planning your trip, at least double the 30 hours to even come close to scratching the surface.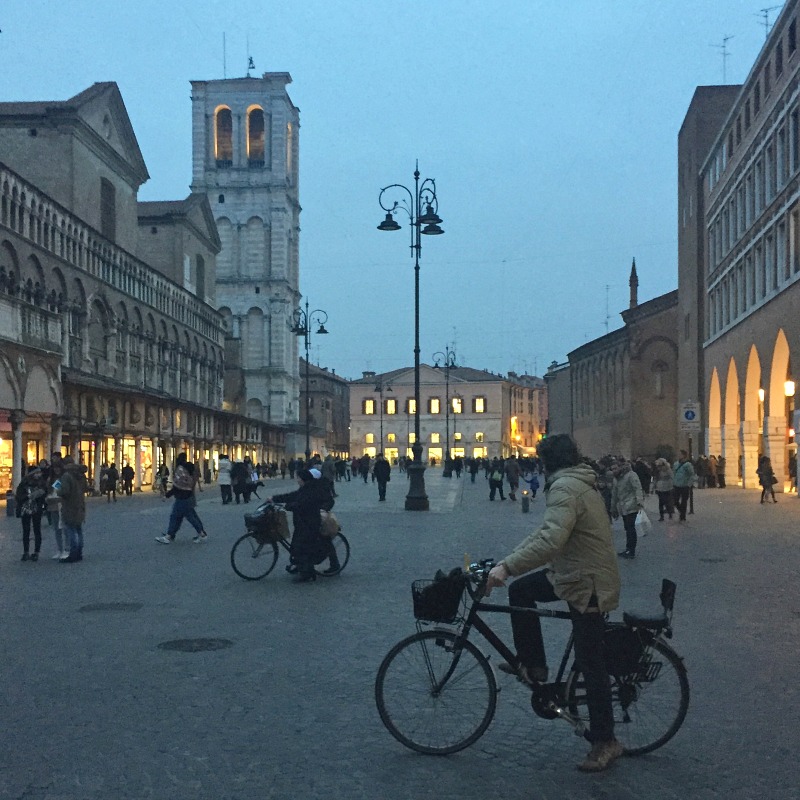 The idea of a trip to Ferrara came about end of last year when we received an email offer from Italo. They were adding Ferrara as a new destination, and as we had never been to Ferrara, we decided to book the trip for a weekend in January 2017.
It took slightly over 2.5 hours to get to Ferrara from Rome by train with stops in Florence, and Bologna. Here's how we spent our 30 hours in Ferrara and a tip at the end of how we would have made better use of our time.
30 Hours in Ferrara 
Day 1 
13.00
We got into Ferrara and walked to our Hotel Touring, an easy 10 minutes from the train station. The hotel is situated in the heart of the historic centre only steps from Este Castle (Castello Estense).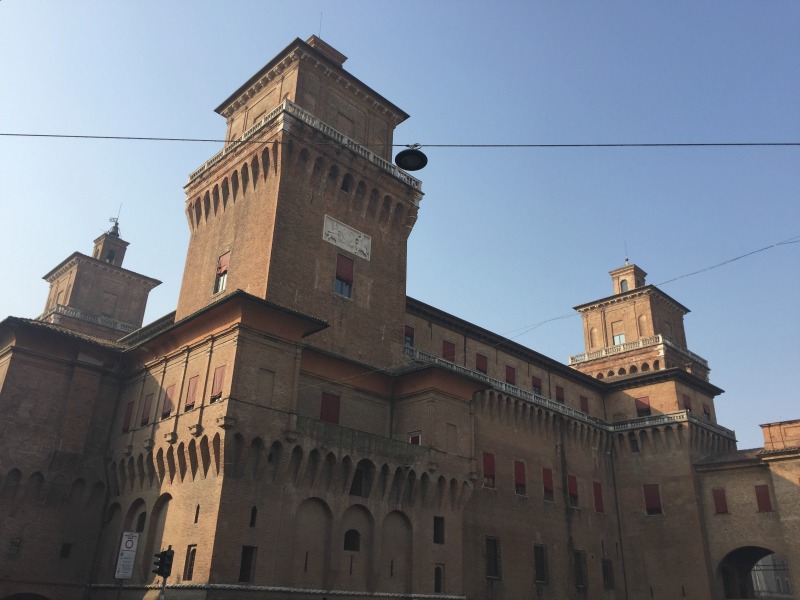 We couldn't have asked for a better location as it was ideal for exploring both the Medieval and Renaissance addition of the city. Hotel staff are friendly and the rooms are clean, comfortable and a good size.
13.30
Once check in was completed, we made a dash to lunch at Osteria La Compagnia, a 5 minutes walk from the hotel. We were hungry when we got to the osteria, but when we saw the sign outside that the kitchen would close at 13.40, we feared the worst. They close early by Italian standards and we figured why later.
As we stepped in, our fear came to fruition. The waiter told us that the kitchen was closing and they wouldn't be able to seat us. Fortunately, an older man interrupted and told us that if we ordered the same dishes as the last order taken, an appetizer of zia ferrarese and pappardelle with ragu, he could accommodate us.
I asked "Could we then make reservations for dinner?"
He replied with a shake of his head, "We are booked tonight and lunch tomorrow, and closed for dinner on Sunday".
That didn't leave us with much option.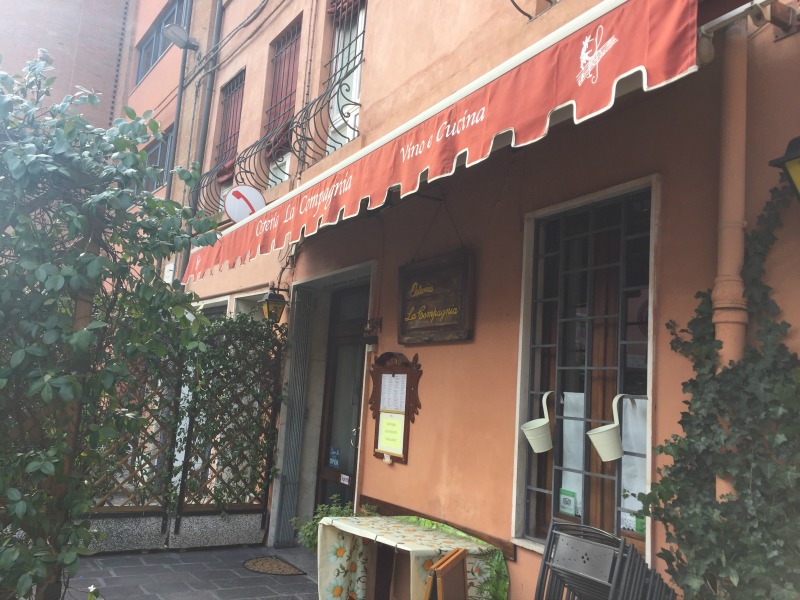 My husband was fine with those dishes but with a slight protest I mentioned that it's a pity as I was in Ferrara for the cappellacci alla zucca. On hearing this, the older man thought for a second and told us to wait. He made his way to the kitchen. A couple of minutes later, he came out.
I couldn't tell from his face whether it was good or bad news. And then he delivered the verdict "being the owner of the restaurant doesn't count for much…" and at that point my husband was convinced we wouldn't be dining here.
The owner continued "…but the kitchen agreed to prepare cappellaci alla zucca". I was elated and have to admit that if they couldn't, I would have settled for the pappardelle.  The owner explained that they have a small kitchen and it would take a while to prepare the dishes. The reason why they close early. We were sure grateful to the owner for being so accommodating and I'm glad I asked.
We knew it would be wait and on top of that, my husband saw a sign saying that said the dishes are made only when ordered. However, lunch turned out to be much longer than we had expected.
Service was friendly and the waiter immediately brought out the breadbasket. Lo and behold, the coppia ferrarese. At least one half of it.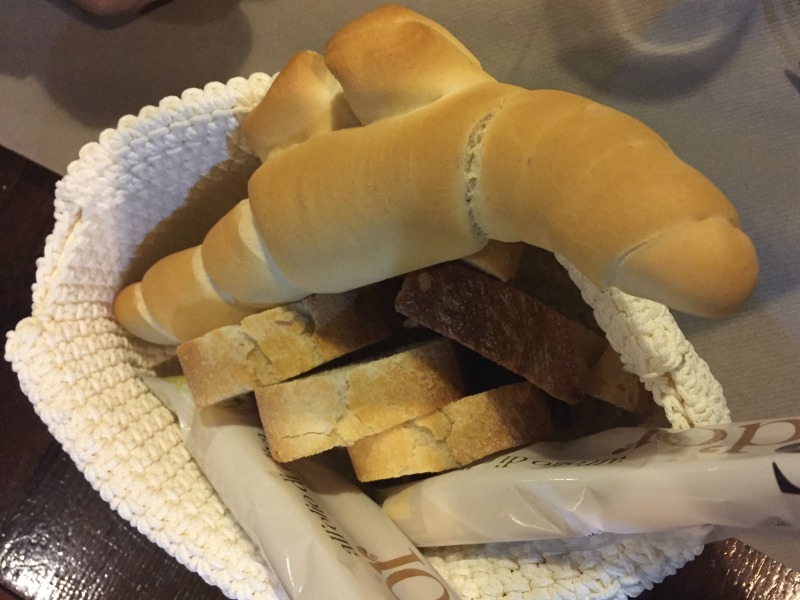 Prior to our visit to Ferrara, I had done some research on the typical food from the city and their bread, coppia ferrarese, got my interest. It's unique and peculiar shape looks like two breadsticks joined in middle.
Our appetizer came soon after: zia ferrarese, a typical salami from Ferrara that has a garlic flavor which is then slightly grilled and served with balsamic vinegar. Together with the bread, coppia ferrarese, and cappellacci alla zucca, they are just a few of the 17 PGI (Protected Geographical Identification) products from Ferrara and its province.
However, the wait for the cappellaci all zucca served with ragu sauce took close to an hour. And it was worth the wait despite our limited time in Ferrara.
I can't be sure but I have a tinkling that they made the cappellacci from scratch. That is made the fresh pasta, filled it with pumpkin when we ordered it an hour earlier. I bring this up because we had cappellacci alla zucca at other restaurants and they were served in half the time and the cappellaci were no way as delicate and tender as the ones at Osteria La Compagnia.
15.00
Time to walk off lunch. We had plans to visit Este Castle (Castello Estense) in the afternoon but our walk to the historic centre brought us through the huge arch of Palazzo Municipale. One side was flanked by the statues of the Marquis Niccolo' III on horseback and the other by the Duke Borso of Este on the throne. Once the home of the Este family up to the 16th century, today it is the town hall.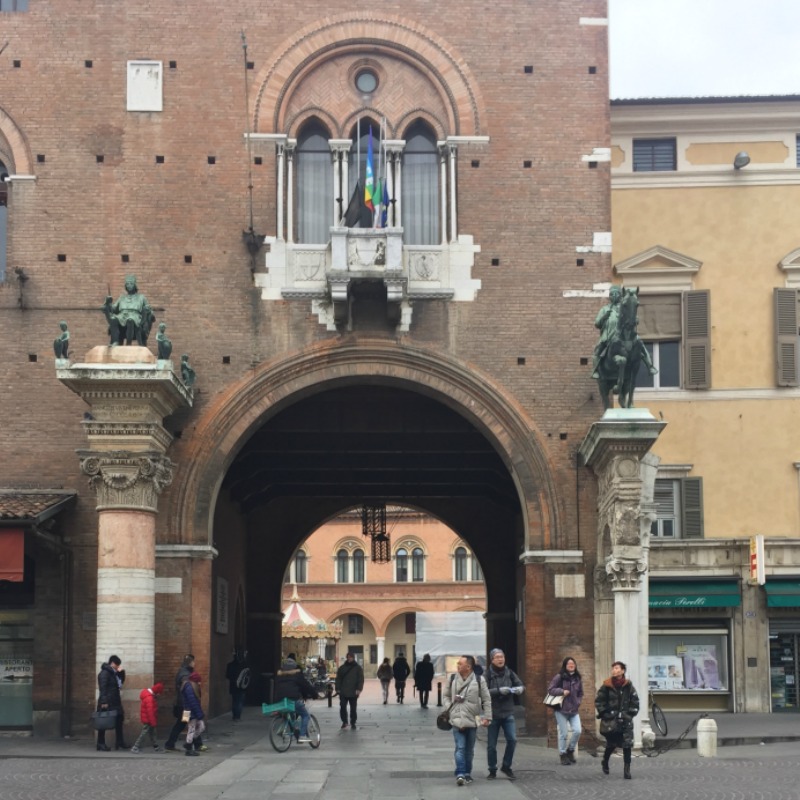 Opposite Palazzo Municipale stands the Romanesque-Gothic Cathedral of St. George from the 12th century. Much to my disappointment, the elaborate facade was covered for renovation work. We entered to see the interior, which had been completely redesigned over the centuries but nonetheless magnificent.
15.30
We got to Castello Estense later than we planned as the last admission to the Lion's Tower (additional fee) was 16.00. The staff told us not to rush as we had more than enough time. What I appreciate about Ferrara and evident in Castello Estense is that the city is very well prepared for visitors.
I've visited my share of castles but most of the time, there are very few signs as to guide you around and even less with panels of information. And that's when I would suggest you go with a guide. At Castello Estense, guided tours are available for a small additional fee. But honestly, you can visit the castle on your own as information panels are everywhere with detailed descriptions.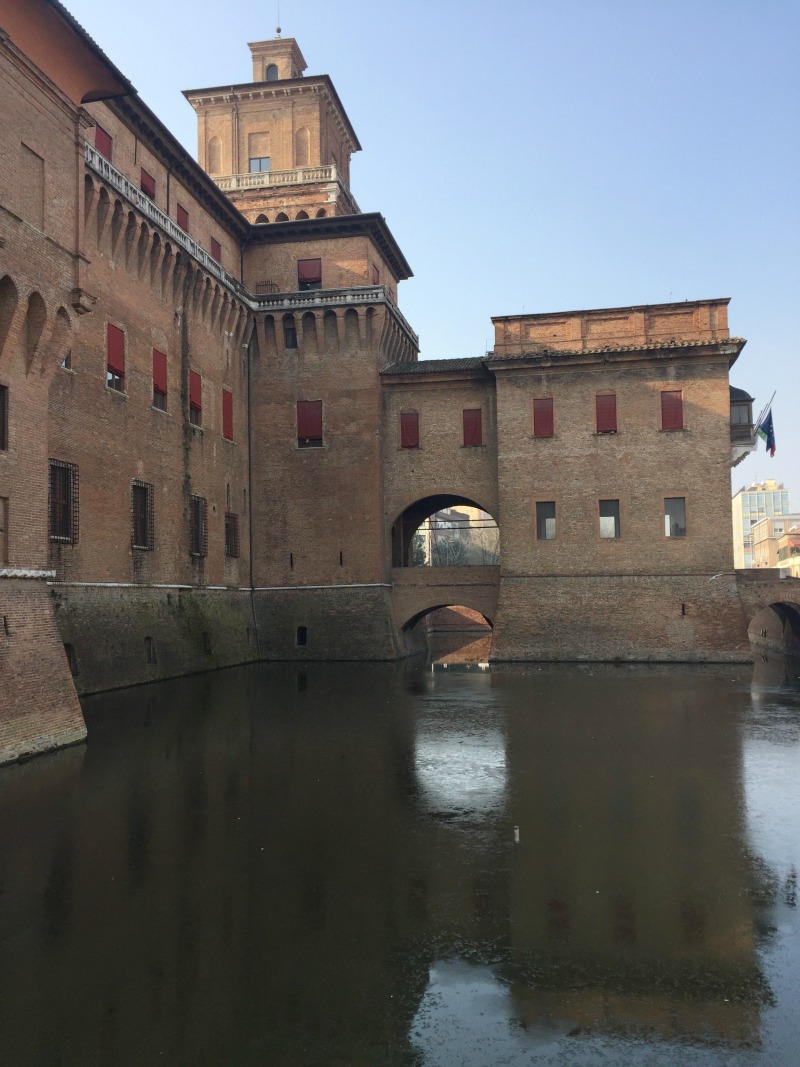 They have mapped out a route and signs lead you from one room to the next, without the feeling of getting lost. Plus there is always staff on hand to help. I am not going into the details of the visit to Castello Estense as it can be a post in itself. Instead I will share some highlights of the visit.
The first room we entered gave us an idea of the size of the castle, thanks to the building model. The castle was built after a dangerous revolt in 1385 that convinced Niccolo' II d'Este the need of a stronger defense for his family. As the risks of riots died down through the centuries, features such as roof terraces, marble balconies, the Renaissance- style courtyard and sumptuous apartments were added.
However, it was not all pretty here. One of the first places we visited were the prisons. Not the most appealing but its history is fascinating. These prisons, were not destined for ordinary prisoners, but "reserved" for high ranking individuals that the Este family wanted to keep a close eye on.
To get to the first prison, Don Giulio's prison, we had to go down a narrow corridor and low doorway. It was named for Prince Julius, the brother of Alfonso I, who was imprisoned here for having led a conspiracy. The other prison is that of Ugo's and Parisina's Prisons, a sad love tale under the rule of the Estes.
The handy and informative guide provided by Ferrara Tourism gives an excellent description of this tragic story:
"Parisina Malatesta was the second wife of the marquis Niccolo' III, who was a womanizer and much older than her. After 7 years of uneventful marriage, she fell in love with her stepson Ugo, whose mother, Stella dei Tolomei, was Niccolo's favorite. The two lovers were discovered, summarily judged and beheaded after a short and distressing period spent in the castle dungeons. It was the year 1425, Parisina was twenty, Ugo still nineteen."
However, it's not all gloom and doom. One of my favorite rooms in the castle is Chamber of Dawn with its magnificent ceiling depicting the four phases of the day: dawn, day, dusk, and night. In this room, I was surprised to see panels of mirrors and they were placed there to point out that this was once "The Apartment of the Mirror".
Before it got to late, we went up to the Torre dei Leoni (Lions Tower). There's no elevator and I didn't think about counting the number of stairs while going up. It's a relatively easy climb up but still, it's a climb. And when we thought we got to the top, there's still a small part before getting there. But the 360-degree view here is worth every step.
17.30
Even though it was getting cold, it was a beautiful evening in Ferrara. We wandered to charming Piazza Trento and Trieste, which for centuries served as the main town market. Today, there are retails shops and it sure looked like the meeting place for locals.
We walk past the piazza towards Via Mazzini, mingling with the locals and dodging bicycles whizzing by, to reach the Jewish neighborhood in Ferrara. Here you would find the Synagogue, and the Jewish Museum.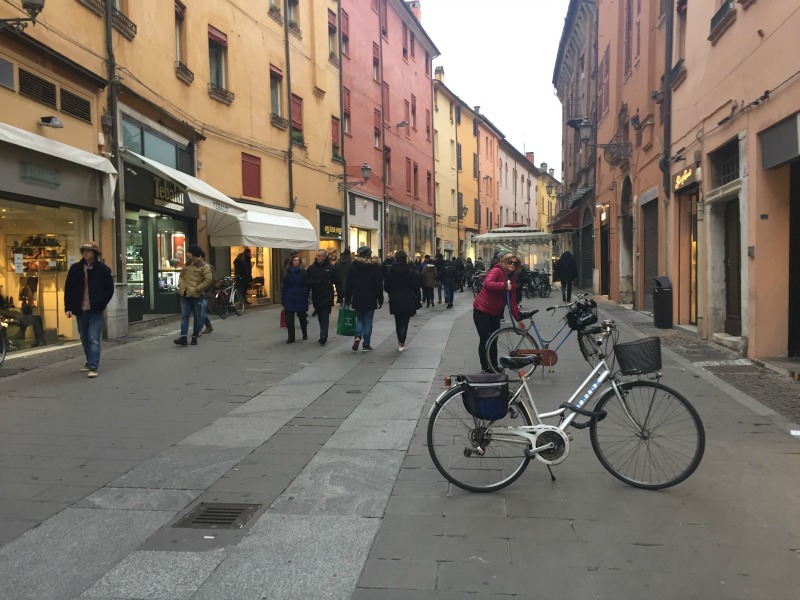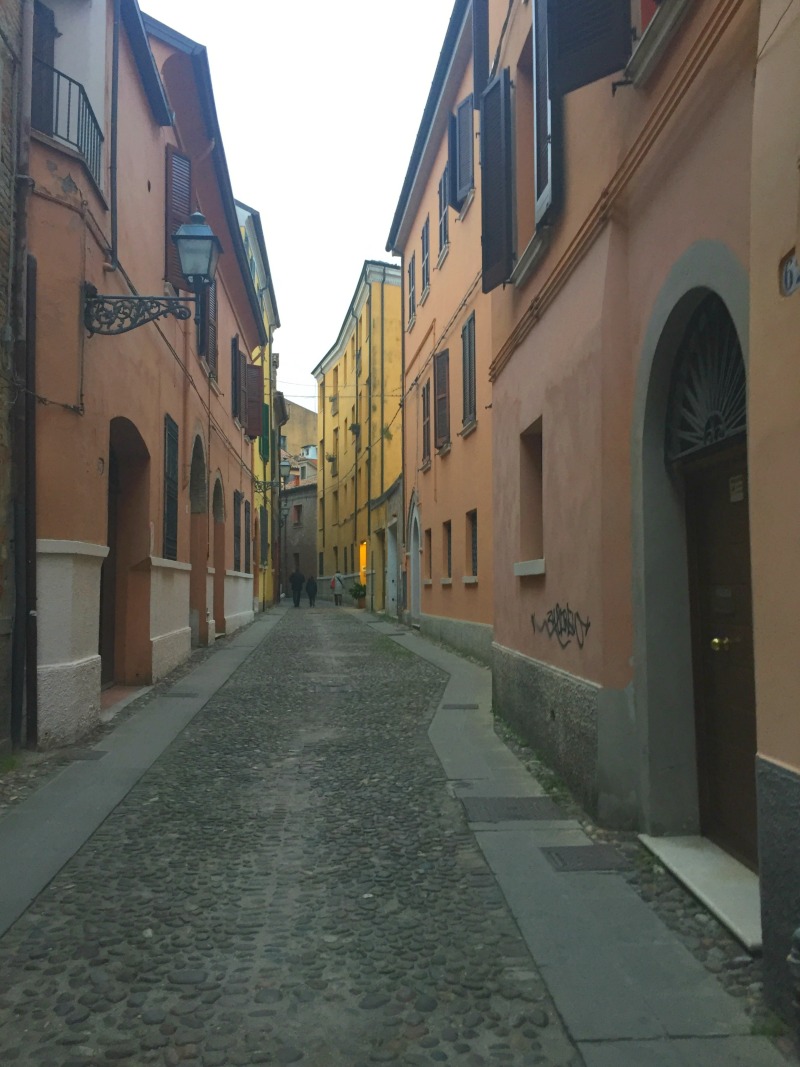 We strolled along the quiet streets of Via Vittoria and Via Vignatagliata as we made our way to Via delle Volte, a street so called because of its many elevated passages. Before getting there, we stumbled onto Forno Perdonati.
I thought the name of this place sounded familiar and I recalled that Silvia of Emilia Romagna Tourism had advised me to stop here when I mentioned that I was impressed by the coppia ferrarese. So I decided to pop in.
I browsed the display cases and when I saw a basket of coppia ferrarese, I asked if I could take a photo of them. A smiling lady, told me to go ahead. She later introduced herself as Silva, the wife of the Romano Perdonati, the owner.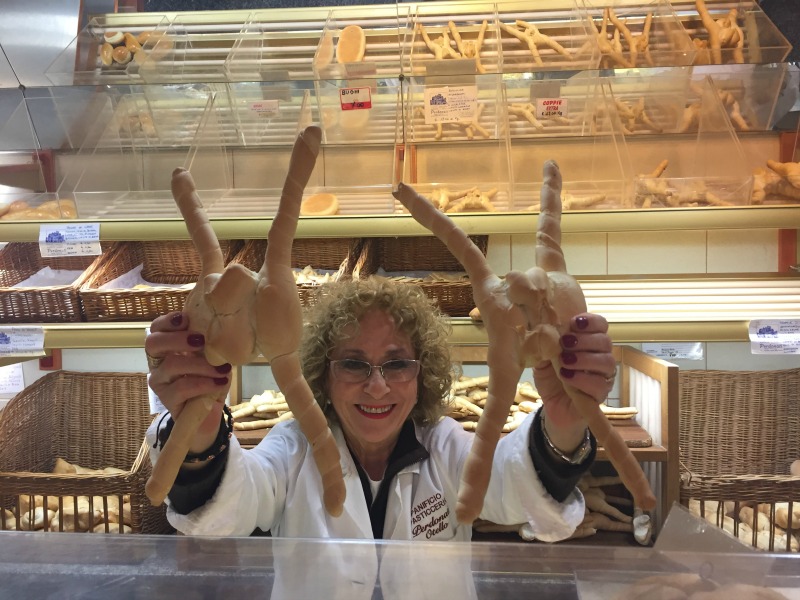 When I asked her about the process of making coppia ferrarese, her eyes lit up. She told me that the sourdough starter they use goes back 80 years from her father-in-law and you could see how proud she was of this tradition in the family.
As they close on Sundays, she invited me to come back Monday morning to see how they make the bread. Right there and then, I seriously thought about changing my train ticket back to Rome on Monday afternoon. The only consolation was the idea that I need to plan another trip back.
Getting back on track, we found our way to Via delle Volte. This long medieval stretch with passages were used to connect merchants' houses with the warehouses.
19.30
After all that walking, it was time for dinner and we found Osteria degli Angeli, situated on Via delle Volte 4. Here's an important advice when planning your trip to Ferrara, especially on weekends – make sure you make lunch and dinner reservations. It may not be a huge town but many of places we wanted to eat at were booked.
We got lucky with lunch and was frantically searching for a place for dinner. When we saw Osteria degli Angeli, we were told they had one last table. And they weren't kidding. The place was full and a few minutes later, there was a line of people waiting outside.
As you know, we had cappellacci alla zucca for lunch but with ragu'. And since I could have cappellacci alla zucca at every meal, I ordered it again – this time with butter and sage. Being courageous, I also order salama da sugo.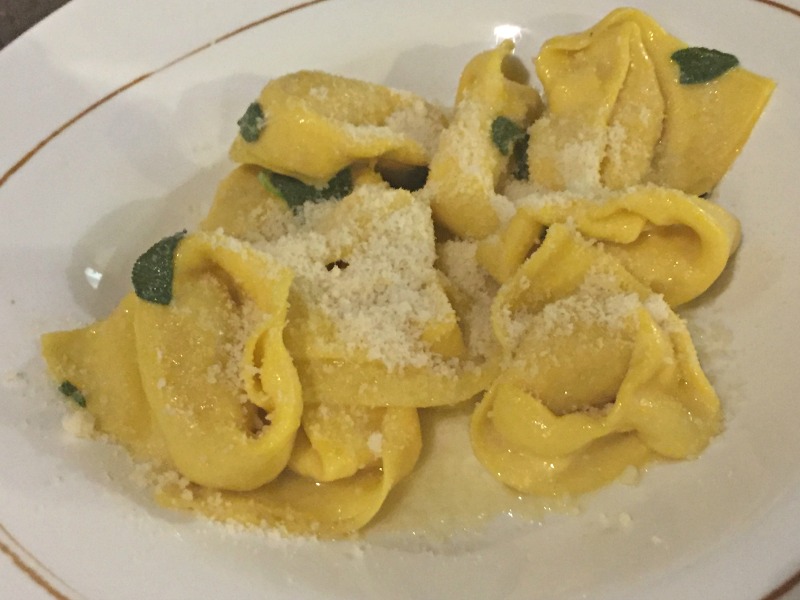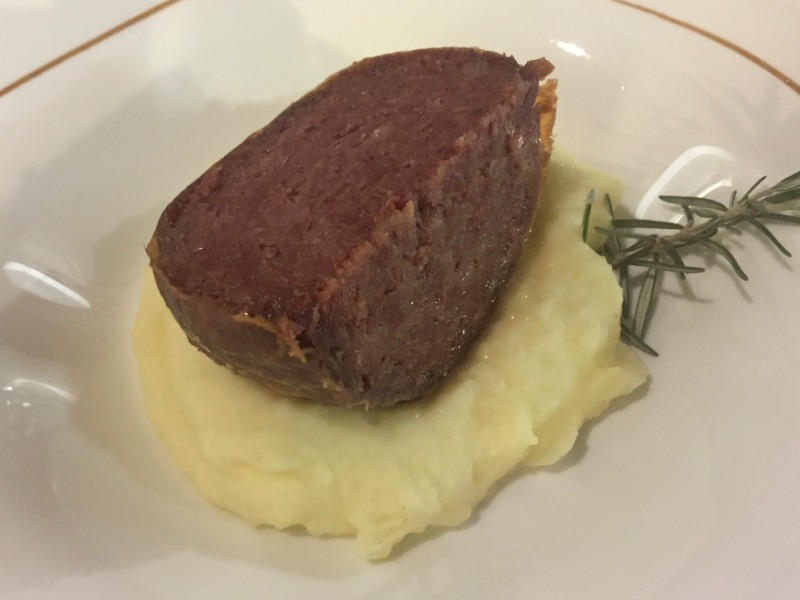 A typical dish from Ferrara that's similar to cotechino in its preparation. And I don't eat cotechino. But served with mash potatoes, which helps everything go down, it was surprisingly delicious.
For dessert, my options were the typical sweet treats of torta tenerina, a moist and fragile chocolate cake, or tagliatelle pie, filled with almond paste. If you don't already know, our family are serious chocoholics.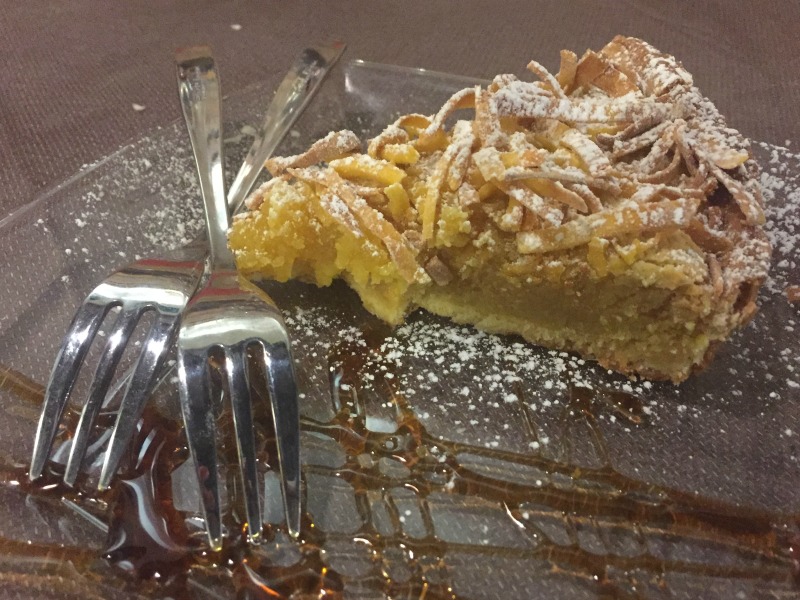 Since I'd already made lunch reservations at Hosteria Savonarola the next day, where I know they had torta tenerina, I opted for the tagliatelle pie. I love almond based cakes and this one didn't disappoint. Instead, my husband, the leader of the chocoholic pack, wasn't too impressed.
With all that walking and eating, it was time to call it a day. A much needed break as we had another full day ahead of us.
Day 2
9.30am
After breakfast at Hotel Touring, we crossed Viale Cavour to explore the Renaissance Addition to the city, also known as "Addizione Erculea" in honor of Ercole I who commissioned it in 1492. The architect, Biagio Rossetti – a name you will often come across in Ferrara, came up with a brilliant plan, which due to its original and rationale nature, made Ferrara " the first modern city in Europe".
As we walked along this area, you can feel the drastic difference from the medieval centre. Here you find wide boulevards lined with prestigious buildings.
Our intention was first to visit Palazzo dei Diamanti, again the brainchild of the architect Biagio Rossetti, and intended for the brother of the Duke Ercole I, Sigismondo d'Este. From the facade, with its 8500 stones cut to a diamond point, it distinctly exudes power and prestige.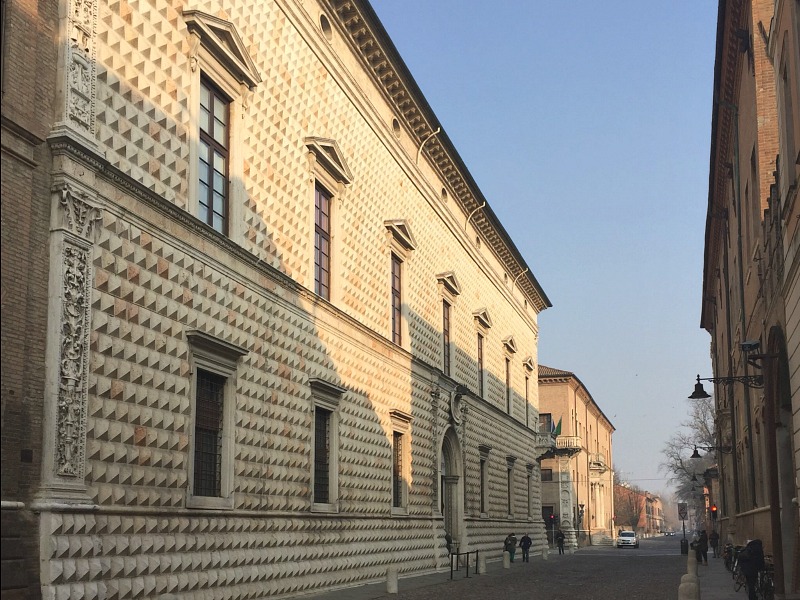 It was last day of the Orlando Furioso exhibition, an epic poem by Ludovico Ariosto, held in Palazzo dei Diamanti. However, as it was a lovely morning, we continued our walk along Corso Ercole I d'Este. We got to the city walls that surround the city but you don't see much of the wall from this part as they have become a large park. What we did find was a good number of people out for a run, walk or on bicycles.
On the subject of bicycles, you could easily rent out from the hotel and the prices are minimal for a day's use – especially if you are not up for all that walking. And for those who are looking for a more active holiday, here are some cycling itineraries.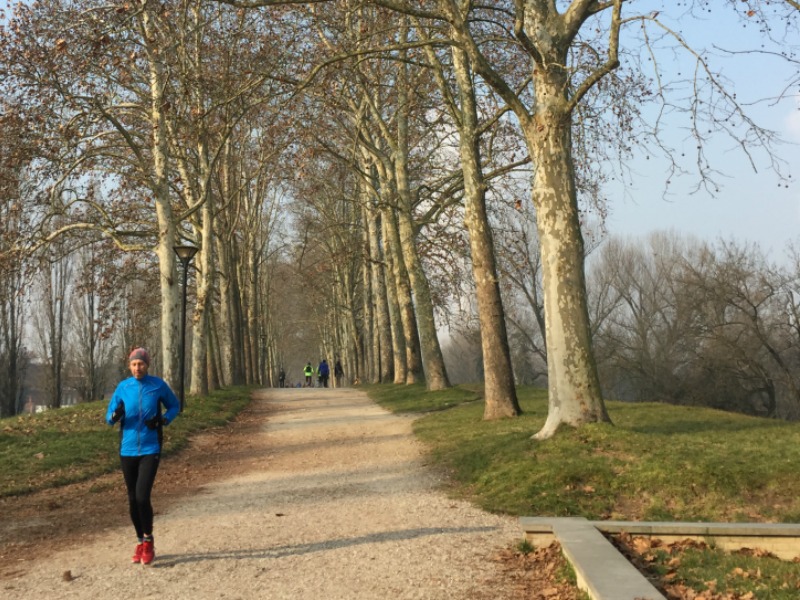 When we got back to Palazzo dei Diamanti, there was a line snaking out the entrance. What a mistake we made to not stop here first when there were only a handful of people earlier. Not wanting to waste time in line, we changed our plans to visiting it after lunch, just before heading to the train station. That would give us a good two hours for the exhibition.
We decided to have a leisurely walk around the area, stopping at Parco Massari and then Piazza Ariostea. The piazza was called Piazza Nuova to distinguish itself from the former market place but it never evolved into an important commerce hub. Today, you'll find the statue of Ludovico Ariosto in the centre of the piazza. Every last Sunday of May, the piazza is used for the Palio di San Giorgio, an ancient event that includes processions, and four races: for boy, girls, donkeys and horses.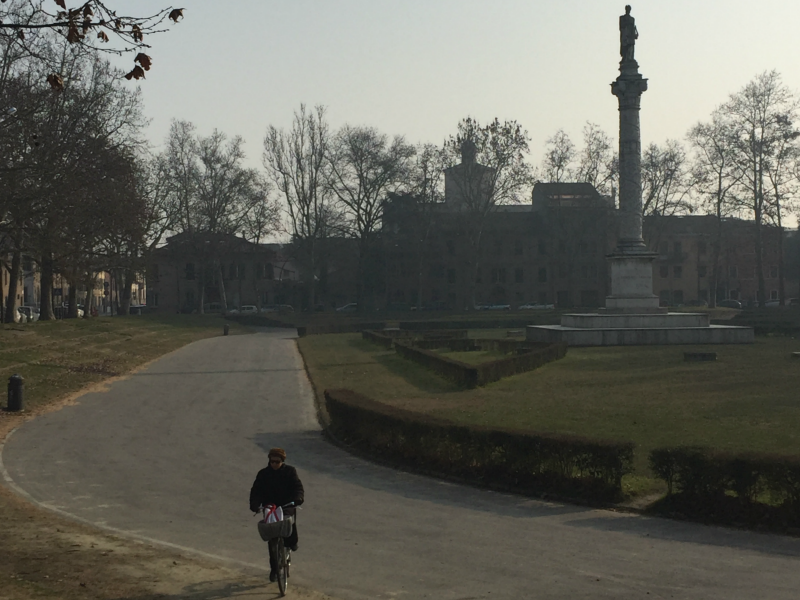 11.00am
With some time to spare before our early lunch reservation at Hosteria Savonarola because that was the only time they had availability, I wanted to see some of the Renaissance buildings and churches on an elegant street in the Medieval area. Called "Delizie", these dwellings were built by the court for amusement, and relaxation, far from the worries of governing.
One building I had in mind was Palazzo Schifanoia. The name got my attention. "Schifanoia" means a dislike for boredom and to chase it away. Built from 1385 onwards, the reason for my interest was the famous cycle of the Mesi (months) painted between 1469 and 1470, where only the months of March and September have survived.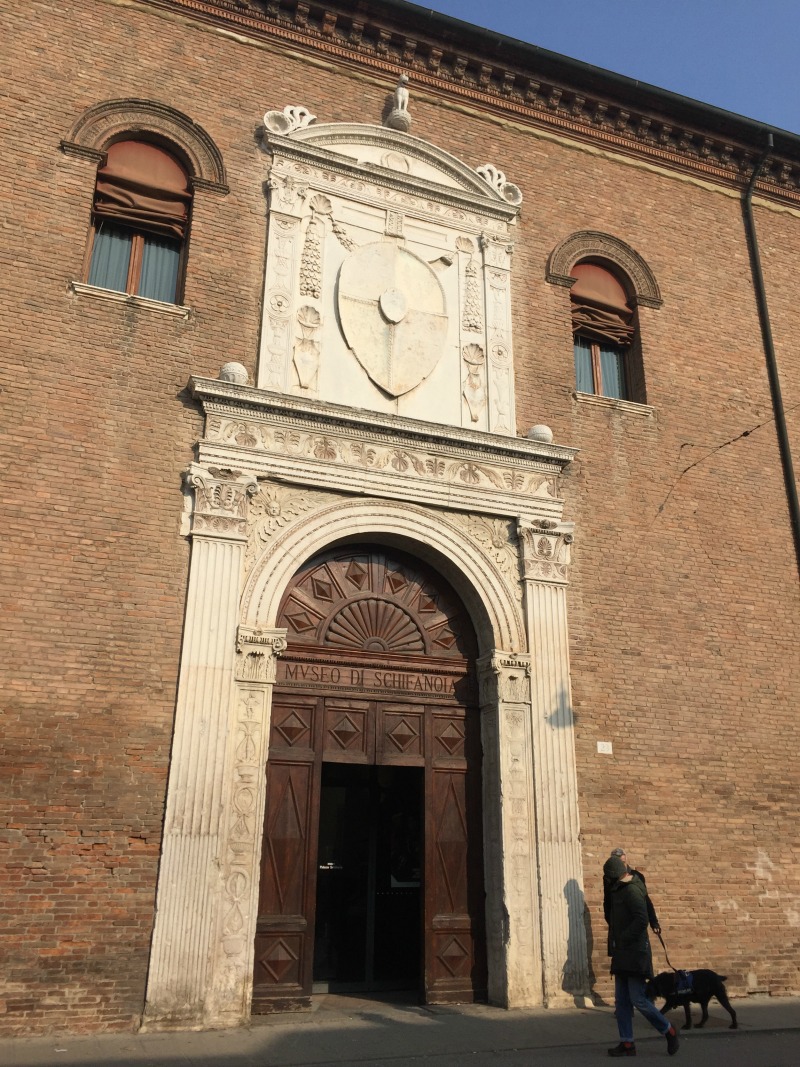 Due to time constraints, we walked by the building and I made a mental note to visit on our next trip. Also for a future visit, I would like to see the Monastero del Corpus Domini where the famous Lucrezia Borgia is buried, and Casa Romei, an aristocratic residence built in the 15th century for bankers.
We did have time to quickly take a peek at Chiesa di Santa Maria in Vado where we saw the Sanctuary of the Precious Blood, an ancient vault preserved with traces of the blood of a miracle which took place in 1171.
Since we weren't too far from the city walls, we made another attempt and walked to the walls on this side of the city. And we finally saw a section of the 9km walls that surround the city.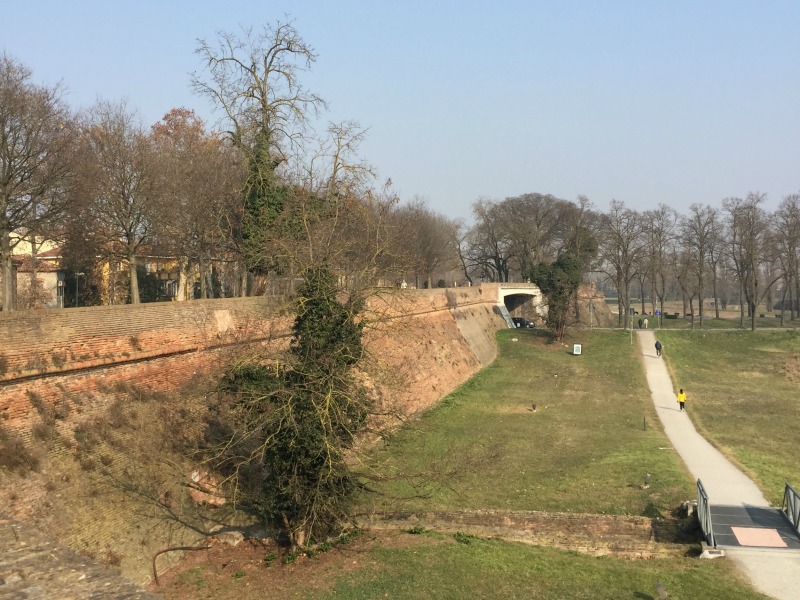 12.30pm
While we have been ordering cappellacci di zucca, this time around, I wanted to try yet another typical primo piatto – pasticcio di maccheroni. Developed under the Este rule this combination of sweet short pastry filled with maccheroni pasta, meat, bechamel, mushrooms and truffle is one hearty dish!
A perfect balance of sweet and savory, this delicious dish is not for those looking for something light. We didn't realize how huge the slice would be and had to tell the waiter to cancel one of the dishes we had ordered earlier.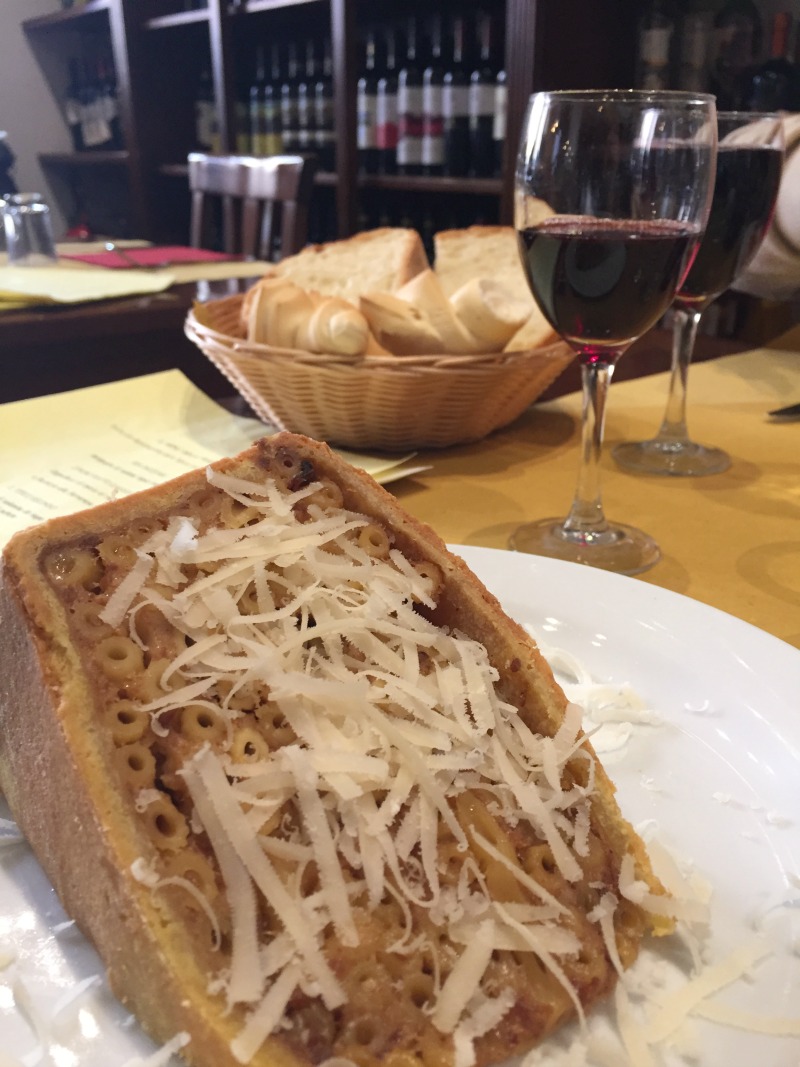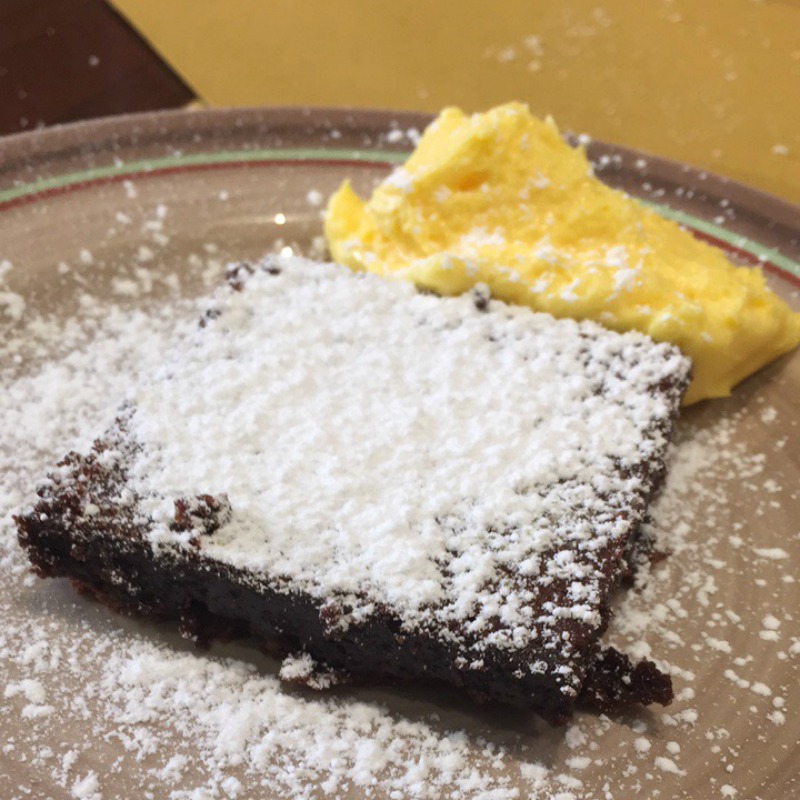 And as a had long been waiting, I ordered the torta tenerina, which was as moist and tender as I had imagine. So much so that I'd been craving this cake since and after most restraint, I decided to finally to bake the cake yesterday. It turned out pretty good for a first attempt but I'm going to try different recipes and share the one I like best shortly.
2.00pm
Even at lunch time, there was still a line outside Palazzo dei Diamanti. As we didn't have much of an option, we waited in line. It went pretty fast and within 15 minutes we had our audio guide and was in the exhibition.
I didn't know about the poem Orlando Furioso nor who wrote it, Ludovico Ariosto, but the exhibition was extremely well done that it sparked my interest in the poem. I learned that the poem, Orlando Furioso, was created 500 years ago in Ferrara and the exhibition is the first to reconstruct the poet's imagination, using paintings, sculptures, weaponry, and valuable artefacts to evoke the images in Ariosto's mind as he composed the poem.
4.30pm
Picked up our bag from Hotel Touring and walked to the train station to catch the 5pm train back to Rome.
We did see a lot in the 30 hours in Ferrara, we walked over 30 km (18 miles) during this short visit. When we got on the train we were exhausted but it had been a fabulous weekend.
So here's the tip I mentioned earlier. If I had to do it again and with limited time, I would probably have just followed one of the itineraries suggested by very helpful official website for Ferrara and its province.
Suggested places to eat
La Compagnia – Piazza Sacrati, 32 | Closed Sundays at dinner
Hosteria Savonarola – Piazza Savonarola, 18 | Closed Mondays
Osteria degli Angeli – Via delle Volte, 4 | Open daily
Trattoria da Noemi (it was full) – Via Ragno, 31 | Closed Tuesdays
Trattoria il Sorpasso (it was full) – Via Saraceno, 118 | Closed Mondays for dinner and all day Tuesdays
Trattoria il Mandolino (it was full) – Via C.Mayr,83 – via delle Volte, 52 | Closed Tuesdays
Forno Perdonati – Via S. Romano, 108 | Opening hours: 6.30am – 7.30pm | Closed Sundays
Disclosure: Emilia Romagna Tourism and the Ferrara Tourism provided accommodation, tickets to Castello Estense, and invaluable tips and suggestions. As always, everything written is our own opinion.