We've been to Naples a good number of times but our trips there are mainly to visit family.
This time around we decided to make the trip purely about exploring the historic center of Naples. Like many of our trips this year, we had booked our train tickets a few months earlier for our weekend getaways from Rome.
On the train my husband made an interesting comment: he can't remember the last time he had taken a train to Naples. And why we don't take the train more often, he can't fathom. It takes just a little over an hour to get to Naples from Rome by train and doing the math, it costs cheaper for two people to travel by train than by car.
Most travelers to Italy often overlook Naples. It's probably because the city gets a bad rap. That's unfortunate as it sure has a lot to offer visitors – fabulous food as well as incredible sights.
Weekend Getaway in Naples, Italy
Taking the 9.30am train from Rome, we got into Napoli Centrale shortly after 10.30am. With just less than 30 hours in Naples, we wasted no time in making our way to the first thing on our itinerary – sfogliatelle.
Sfogliatelle is a pastry filled with sweetened ricotta with a hint of citrus and cinnamon. It comes in two versions: crispy and flaky (riccia), and smooth and buttery crust (frolla). You can't go wrong with either one of them. And one of the best places to try sfogliatelle, if not the best, is at the legendary Attanasio, just steps from the station.
Maneuvering through people hawking their wares, we made our way Attanasio. It's not the prettiest welcome but like in every big city, be cautious and you'll have a grand time in Naples.
Sfogliatelle at Attanasio
You can't miss Attanasio. Spot a crowd outside a store and you're almost sure that's Attanasio.
You'll be surprised to know there's order in what looks like a chaotic situation. Make your way inside to the cashier to order and pay. You'll be given a number and wait for your turn to be served. Then enjoy the lusciously warm sfogliatelle.
Museo Cappella Sansevero
Fueled up, we walked along Spaccanapoli, so-called because it's a long stretch that splits the city, to Museo Cappella Sansevero. As a good friend has been raving about her visit here, I've been looking forward to this museum
I had high expectations and was still blown away. The masterpieces of the Veiled Christ, as well as the statues of Modesty and Disillusion are staggeringly beautiful. Staring at these statues, I was in awe how the sculptors could possibly to make them so life like.
No photos are allowed and staff are on hand to stop those who attempt to do so. That said no photos could do these masterpieces any justice. You have to see them for yourself to appreciate the surreal details and feel the intense emotions that they stir up in you.
Tip: To avoid the lines, get there early. Also I'd highly recommend getting the audio guide. It lasts 30 minutes and points out details that add to a much richer experience.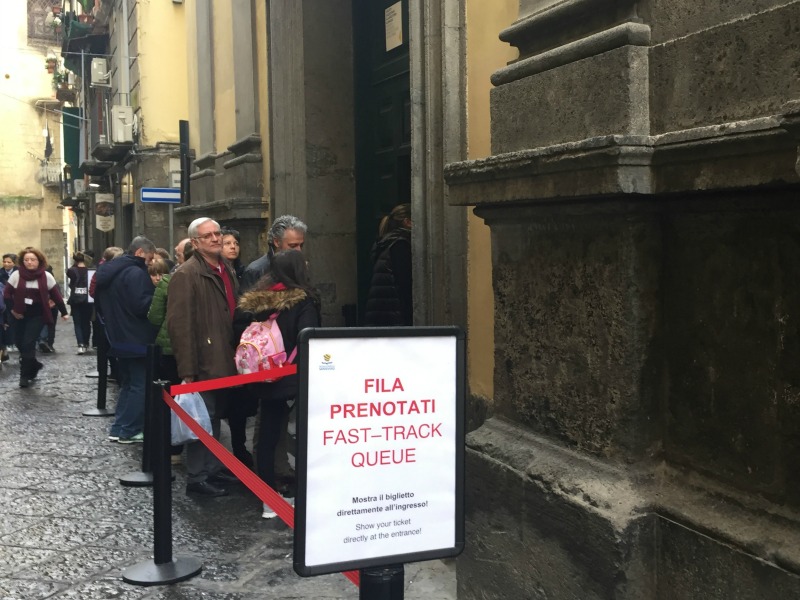 After an extraordinary visit, we saw it was noon and figured we would have an early lunch. And when in Naples, you've got to have pizza – Neapolitan style with its cushiony-soft, fluffy crust.
Pizza at Sorbillo
Since we were near via dei Tribunali, where you will find plenty of excellent pizzerias, we stopped at the closest one to Museo Cappella Sansevero – Sorbillo. It's been on my list for a while.
When we got there a few minutes past noon, the place had already filled up. We had to put our name on the waiting list and were the first on the list. Only after a 10-minute wait, we were seated. Tip: If you don't want to deal with a long wait, head there right when they open at 12pm.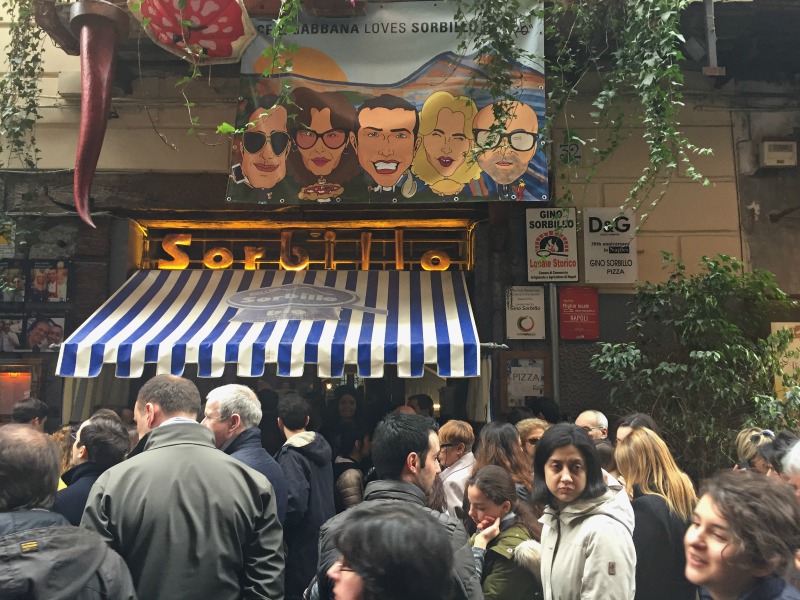 Before I tell you about lunch, let me share something that can only be seen and heard on the streets of Naples.
Only in Naples
The day before we visited, there was news of a man in Naples who had been singing from his balcony and causing a disturbance in the neighborhood – as well as a scene.
Walking to Sorbillo, we heard some loud, blaring music but couldn't figure out what was going. When saw a small group standing around a small alley, we knew something was up – only to discover that this was the man in the news.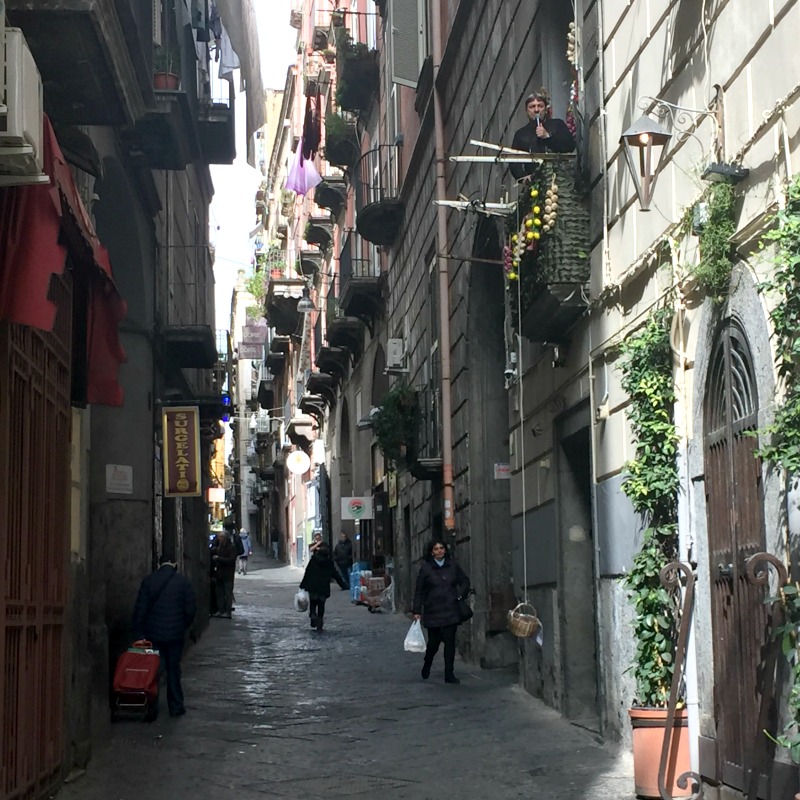 Standing in his balcony on the first floor he was "entertaining" passersby, hoping they would generously leave a tip in the dangling basket below – one he has lowered with a rope.
Police was there to keep the situation under control but throughout lunch, we heard him crooning away. Only in Naples.
Back to lunch at Sorbillo.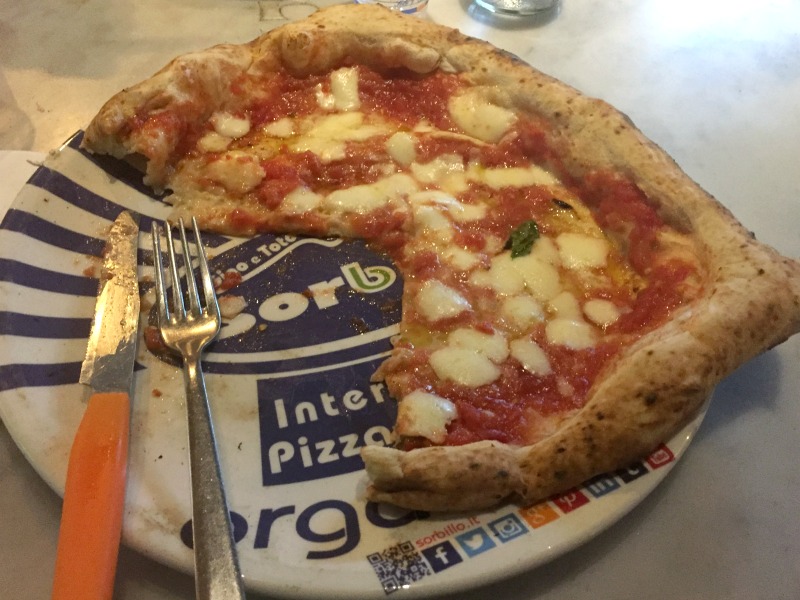 I ordered the classic Margherita and after patiently waiting for almost an hour, our pizzas finally arrived. Heavenly! And so worth the wait. My husband had his doubts about Sorbillo, as his take is that once a place gets media attention, it might have lost what made it great the first place.
He admitted he was wrong and the pizza here was exquisite. Living up to the expectations of an authentic Neapolitan pizza.
B&B in Naples
At lunch, we got a call from the B&B to confirm our check-in time and we informed that they we'll be right over once lunch was done. Just a 5 minutes walk, we chose B&B Neapolis Bellini as it was situated in the center, making it easy for us to visit the main sights on foot.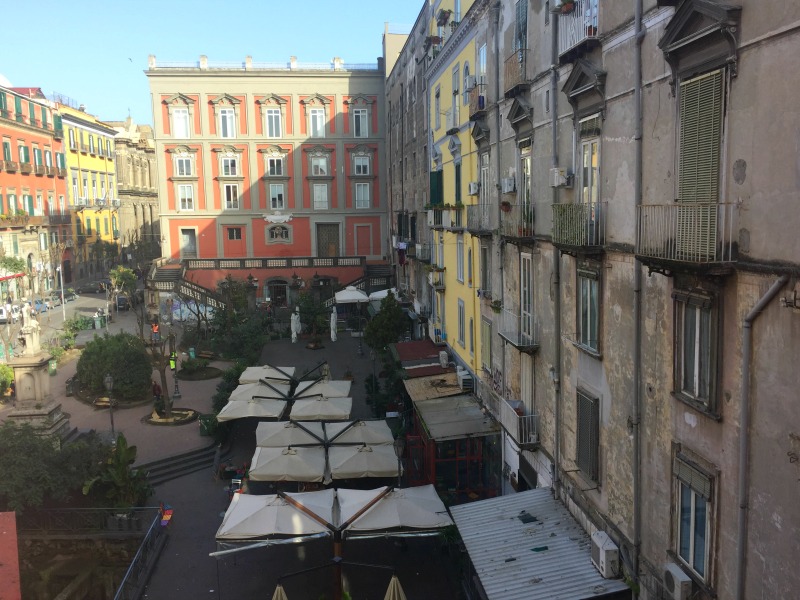 Warmly greeted by the staff and shown to our bright, spacious room with lofty ceilings, we dropped our bags for our next stop – Teatro San Carlo.
On my last visit here, together with my friend Kathy from Food Lover's Odyssey, I had wanted to see the theater on our day trip. However, the only plan we had that day was to eat pizza (we ate at Starita) and a stroll in the city, enjoying a warm and sunny autumn's day.
Teatro San Carlo 
Prior to this trip, I had done a bit of research for a visit to Teatro San Carlo and noted down the timing of when they would have guided tours of the theater. The 2.30pm tour fit our schedule perfectly. Tickets can be purchased online or in person (costs €7 per person). We did so in person and the tour lasts 45 minutes. It was fabulous and I would highly recommend a visit.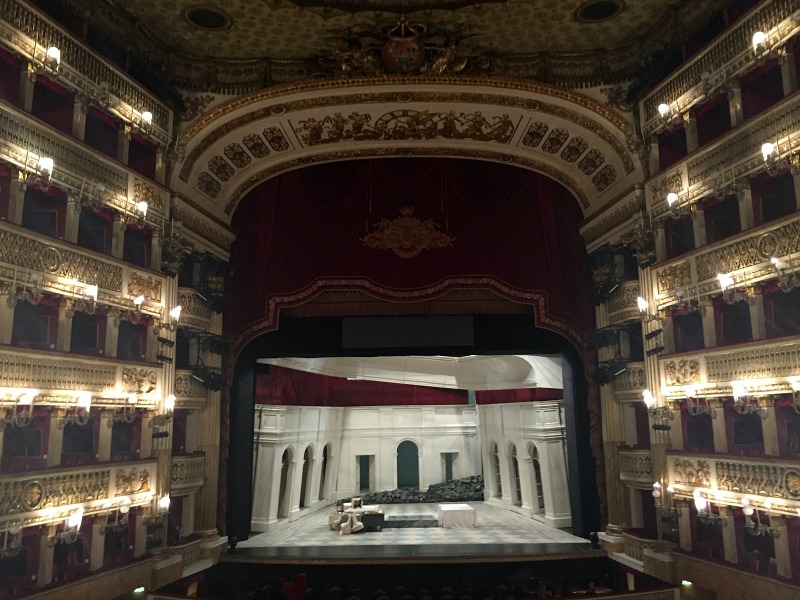 The oldest theater in Europe, Teatro San Carlo was inaugurated on November 4, 1737 coinciding with the king's name day (Charles VII of Naples). To give you an idea of its rich history, it preceded the Scala theatre in Milan by 41 years and the Fenice theatre in Venice by 55 years.
In February 13th 1816, a fire damaged the theater. In less than 9 months it was rebuilt and reopened again 12th January 1817. This is what Stendahl had to say about the opening night:
"here is nothing all over Europe that comes close to this theatre or even gives the faintest idea…Those who wish to be stoned need merely try to find a defect. As soon as you mention of Ferdinand, people will tell you: "He rebuilt San Carlo!"
With a group of over 20 people, we were divided into English and Italian groups. The guide did an excellent job in providing the details in both languages and showed passion for the theater. We also got the chance to step into the Royal Box, and learnt that the ceiling is actually painted frescoes on a canvas.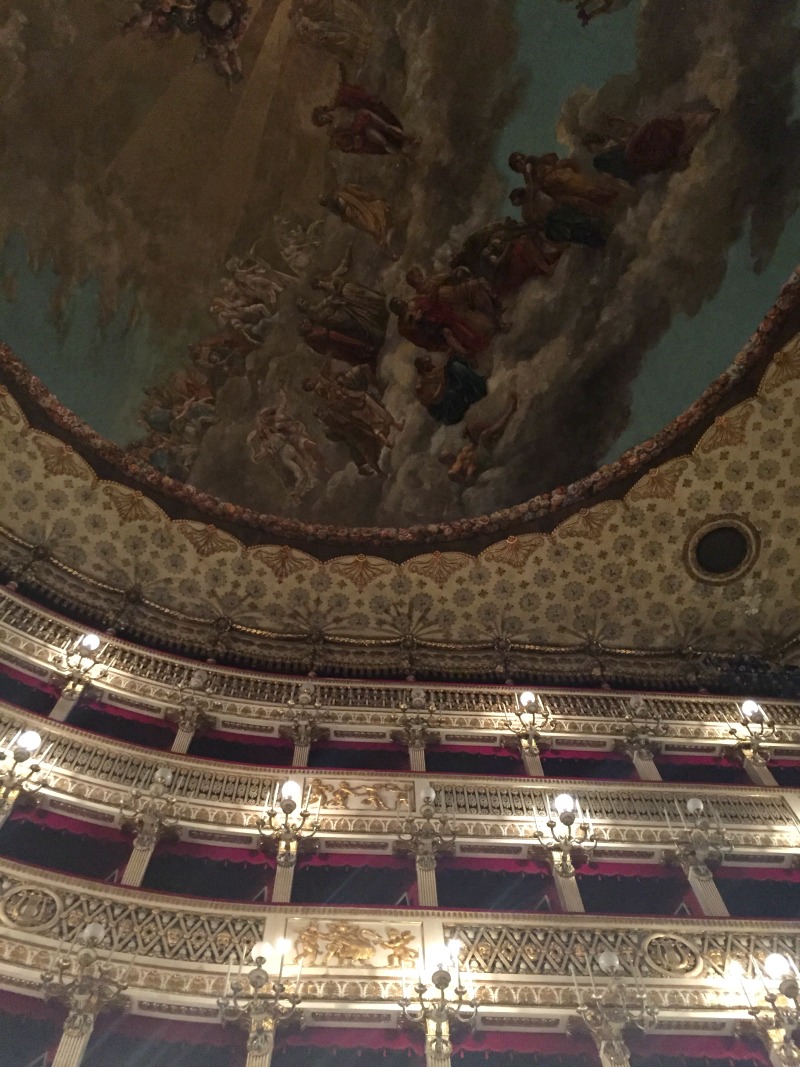 Why? To enhance the acoustics. To get all the incredible insights, book a visit.
Need a break after the guided visit? Enjoy a drink and a bite at Scaturchio inside the theater, where you will also find the theatre's shop selling exclusive merchandise. Tip: Scaturchio serves excellent sfogliatelle and baba'.
Palazzo Reale in Naples
One more place to visit before we called it a day – Palazzo Reale. We have visited the Palace in Caserta, which absolutely deserves a visit and rivals the Palace of Versailles.
While Palazzo Reale is not quite as grand as the Palace in Caserta, it's still regal by any standards. When you enter, majestic staircases will greet you. Ticket costs €4 and comes with an audio guide that will provide all the insights into the opulent rooms, its lavish decorations, furniture, and paintings.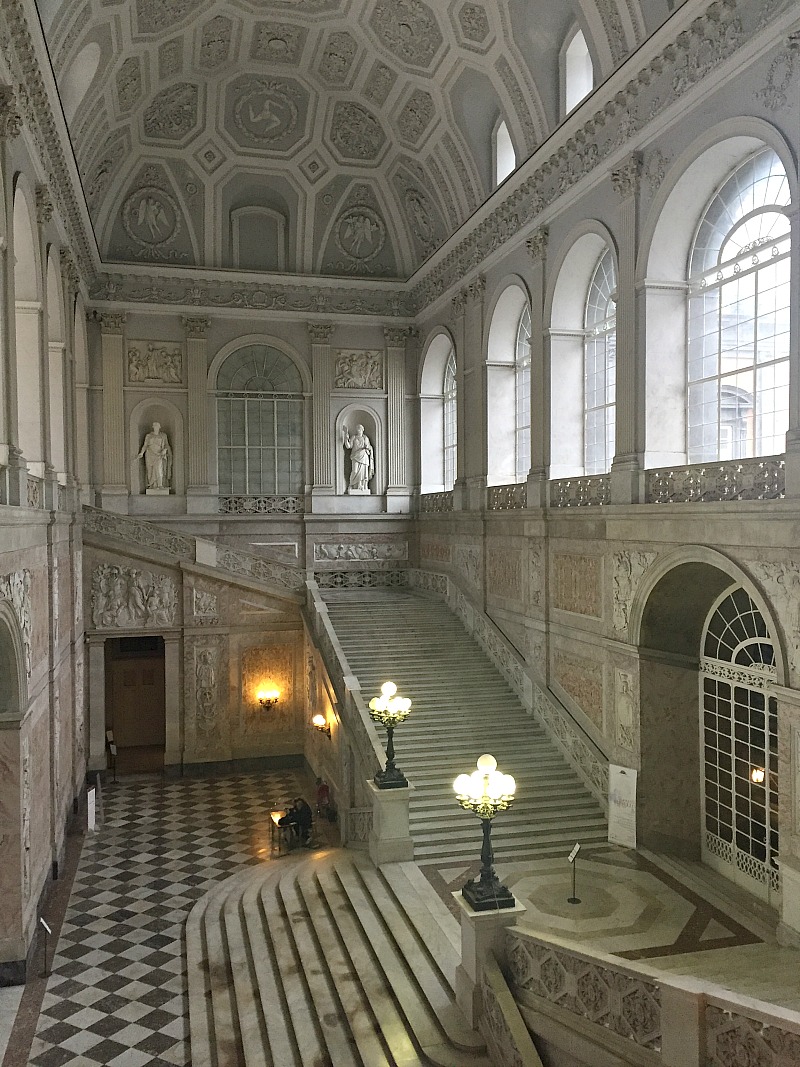 At the end of the visit, we were drained. But one thing kept us going. The idea of some crispy, deep-fried treats from Friggitoria Vomero. My husband has been coming to this hole-in-the-wall place since we was a kid. And it's been a while since he was last here.
We took the taxi to the funicular in Chiaia, to head up to the Vomero neighborhood since the funicular at Augusteo at Piazzetta Duca d'Aosta is closed until further notice.
Friggitoria Vomero – Street food in Naples
Just a short walk from the funicular station, we reached Friggitoria Vomero. As we were there at an odd hour (5pm), we were the only customers. Or maybe the rain had kept people indoors. My husband mentioned that every time he visited there was a line here.
There was not much in the display cases and we were told to wait 10 minutes as they were cooking up new batches. And I did happily as I got to see how they fried up pasta cresciuta (pizza dough).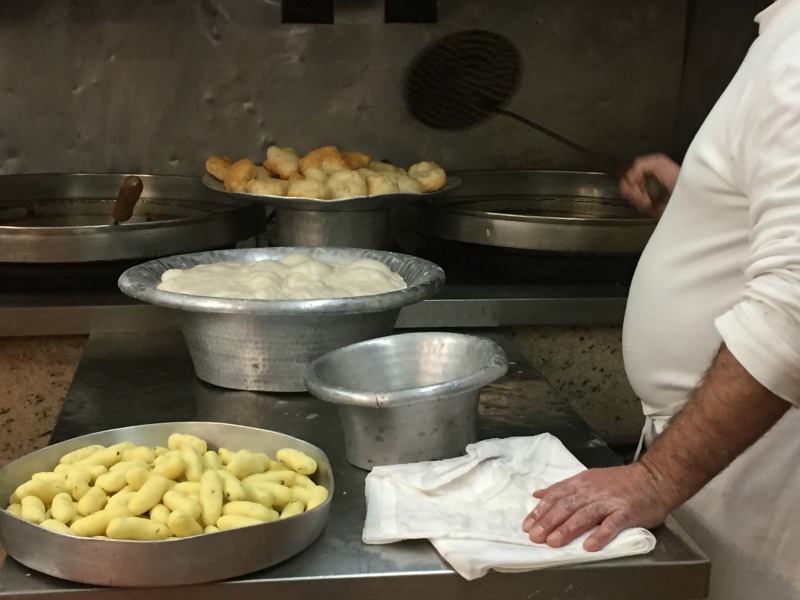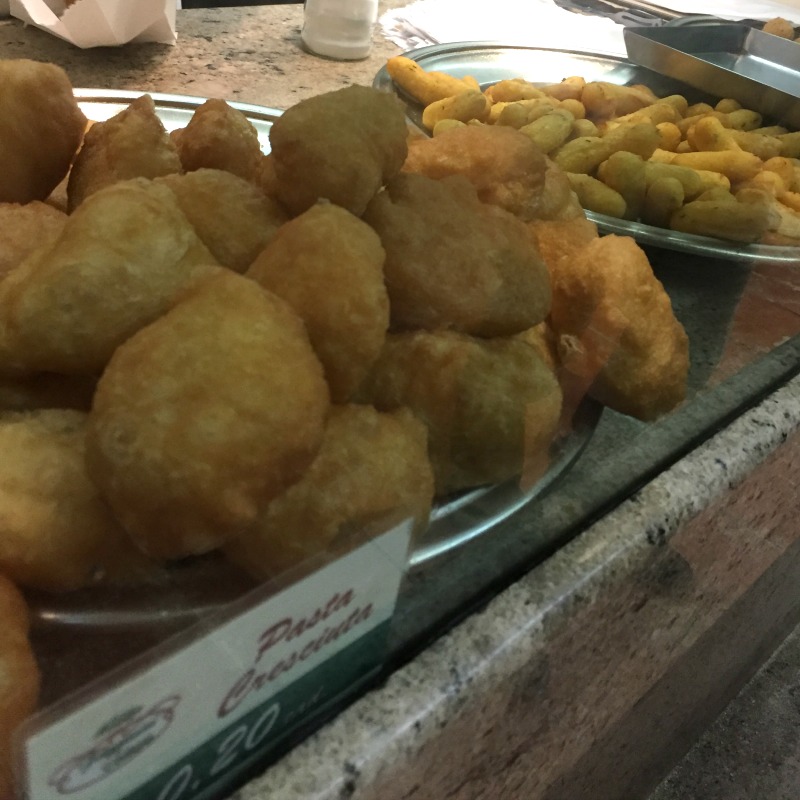 Those piping hot pasta cresciuta were addictive. At only €0.20 a piece, it's easy to get carried away. My husband remembered when they were sold in lira and equivalent to half a cent today – those bygone years! Besides pasta cresciuta we got the crocchette as well as the arancini. If they were open on Sundays, I would have happily made the trip up here again.
While forecast mentioned a cloudy day, the rain put a halt to our plans and we called it an early day. Getting ready for another full day on Sunday.
Church of Nuova Gesu'
The next morning was nothing like that night before. As I opened the window, from our room, I peeped out, and saw clear blue skies overhead. After breakfast, provided by the B&B Neapolis Bellini, we started with a visit to the Church of Nuova Gesu' – only a 5 minutes walk away.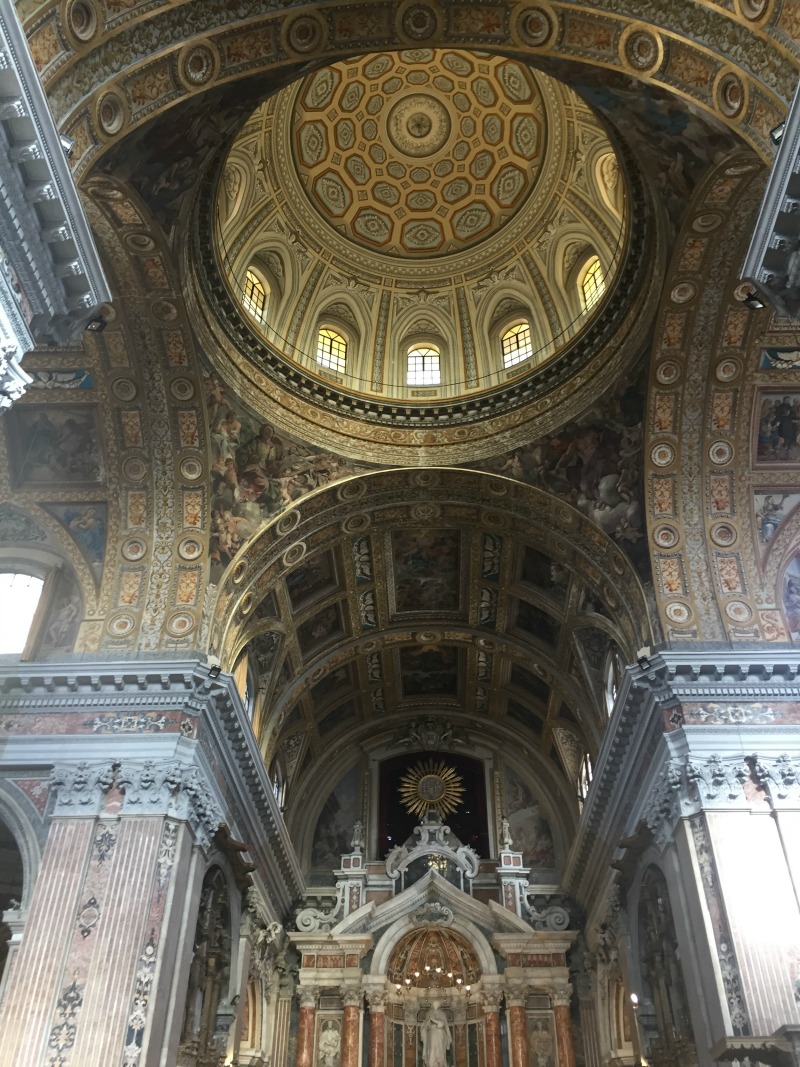 A church that was originally built as a palace, its unique façade will get your attention, but don't forget to step inside to see the stunning baroque interior. Also nearby is the Church of Santa Chiara. We had been here in the past and visited the lovely majolica cloister. A must-visit when in Naples.
National Archaeological Museum of Naples
For the morning, we our plan was to visit the National Archaeological Museum of Naples. This museum is massive! And on a Sunday, a huge crowd was here, mainly school groups. We got the audio guide but it didn't provide much value.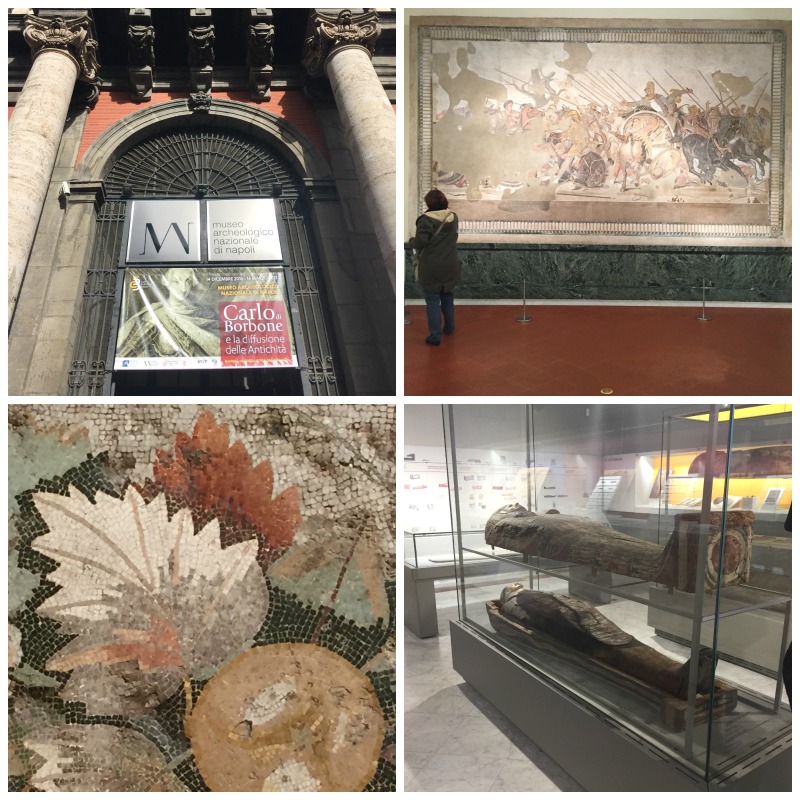 If I had to do it again, I would certainly have gone with a guide. From frescoes, mosaics, sculptures found in Pompeii to the Farnese collection of sculptures to the Egyptian collection, it's overwhelming. A guide would have pointed out the highlights and provided insights, making it a much more rewarding experience.
Before catching the train back to Rome in the evening, we had one more place to see. One that takes us 40 meters below ground. I've heard of tours exploring what lies beneath Naples and have always been curious.
Underground Naples
We joined the Napoli Sotterranea tour and tickets costs €10. It is guided tour that last about 90 minutes and English tours are held every hour. Fortunately, there were only 4 of us in the group. I saw another group that was finishing up and they had over 15 people.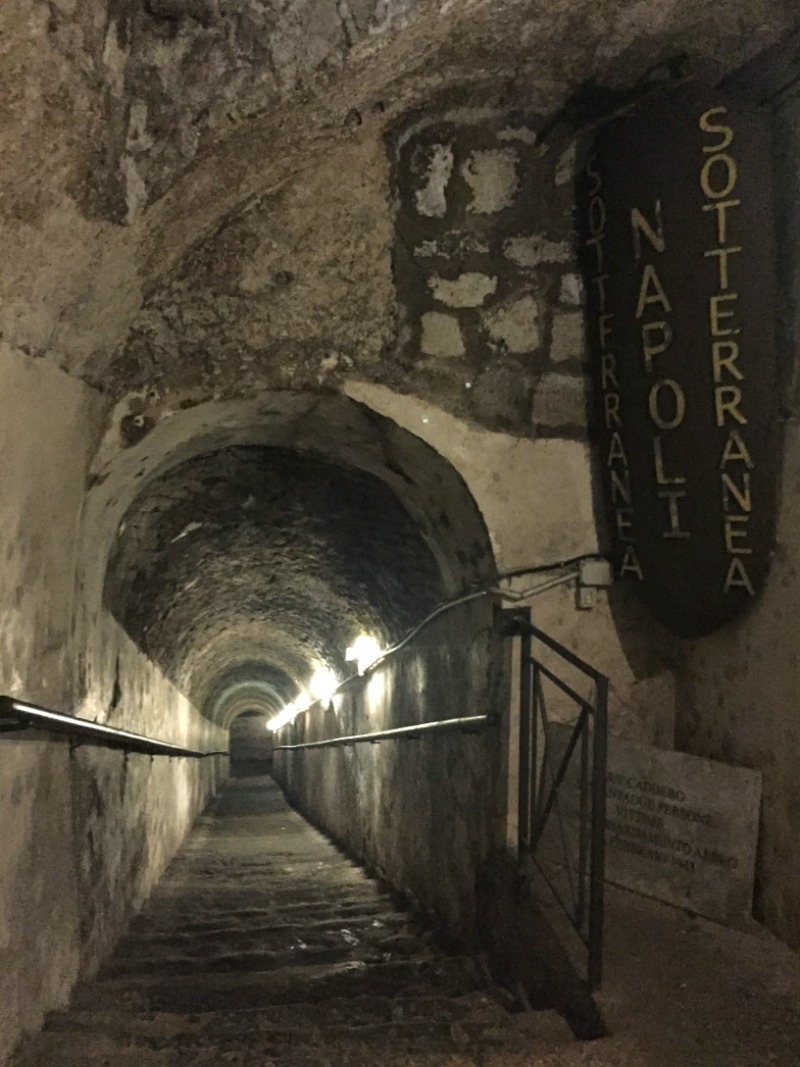 I said fortunately our group was small because I'm not one for closed spaces. Yet, curiosity got the best of me. As you head down the over 100 steps, I found the place well lit. When we got to the bottom, it was spacious and in no way felt claustrophobic.
Our guide gave us the history of the place, which dates back to Greek times when the place was used as cisterns and then as a bomb shelter during World War II. The most "adventurous" part of the tour, however, is not for everyone.
We were told that this part of the visit was optional and we could sit out if we didn't feel comfortable. The route would take us to several cisterns, inching along a once narrow water channel, so narrow you had to walk sideways. It's also pitch black and we were given a candle to illuminate the way. I was close to opting out but coming so far, I went for it.
It was tight for sure but never did I feel panicky. The ceilings were high so that made me felt more at ease. One of the person in the group sat out. After the visit to all three cisterns and an area where they grow basil, we meet up with her again.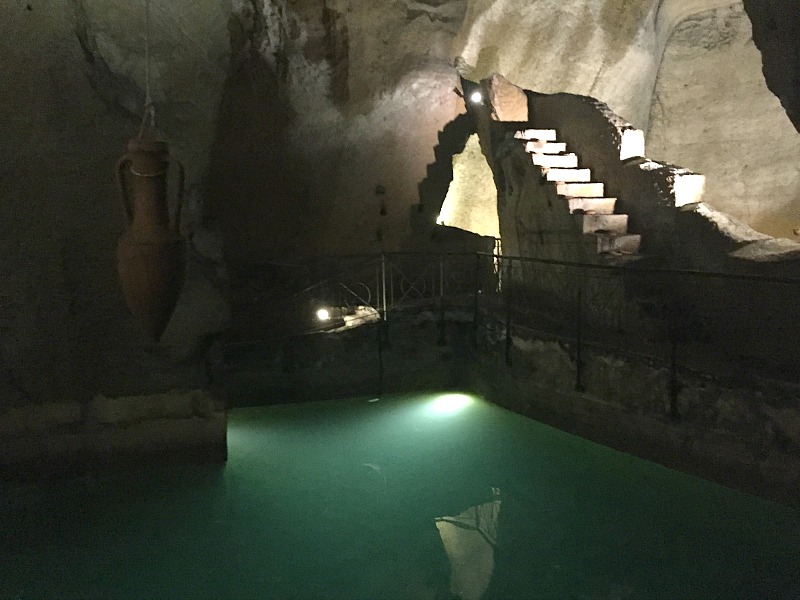 This was only the first part of the visit. We went back above ground. With the guide leading the way, it was a short walk to another building. To be specific, to an apartment on the ground floor to see the remains of a Roman Theater.
Pushing aside the bed, he revealed a secret trap and when he opened it, there were stairs leading down to what was once a cellar. We made our way down and found ourselves looking at part of the Roman Theater – one where Emperor Nero himself performed.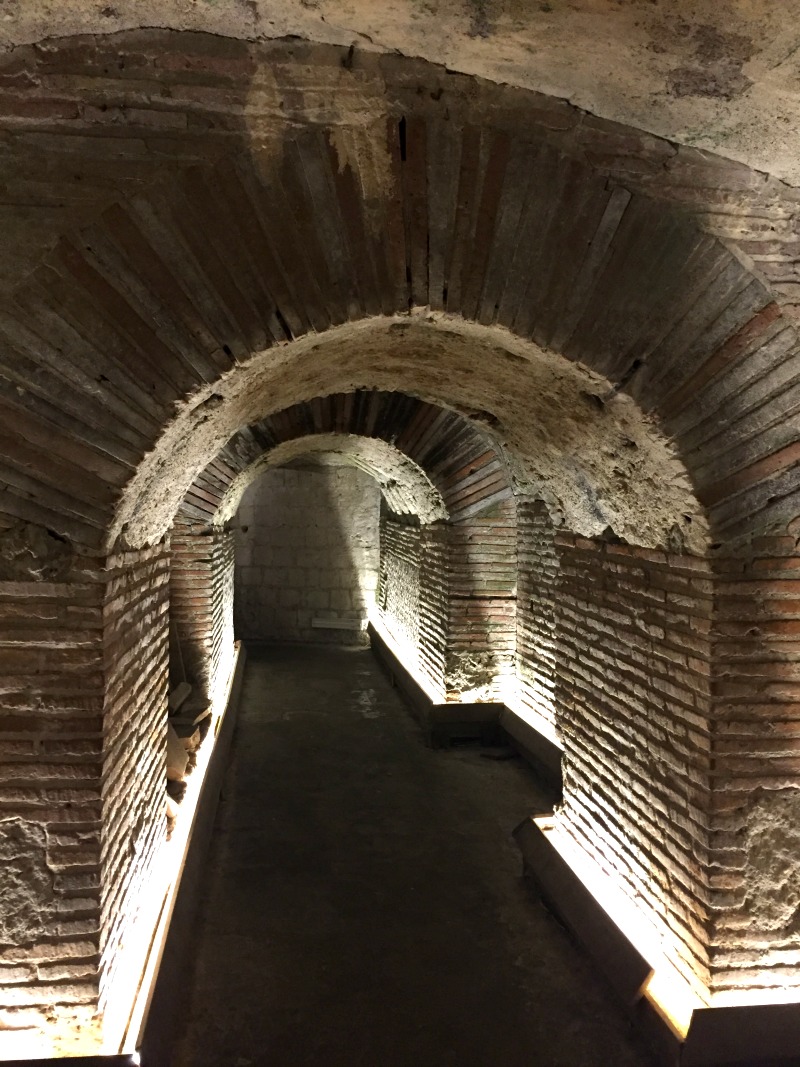 Following that visit, our guide led us back up to the streets, making our way to another apartment – a former carpentry shop. Here we saw another small section of the Roman theater and today, the place also has displays of nativity scenes.
Sweet treat in Vomero
With time left to spare, we had one last thing on our agenda. Heading up to Vomero again but to a pastry shop the family has been patronizing for ages. The specialty here is the fungo (mushroom), so-called because of its shape.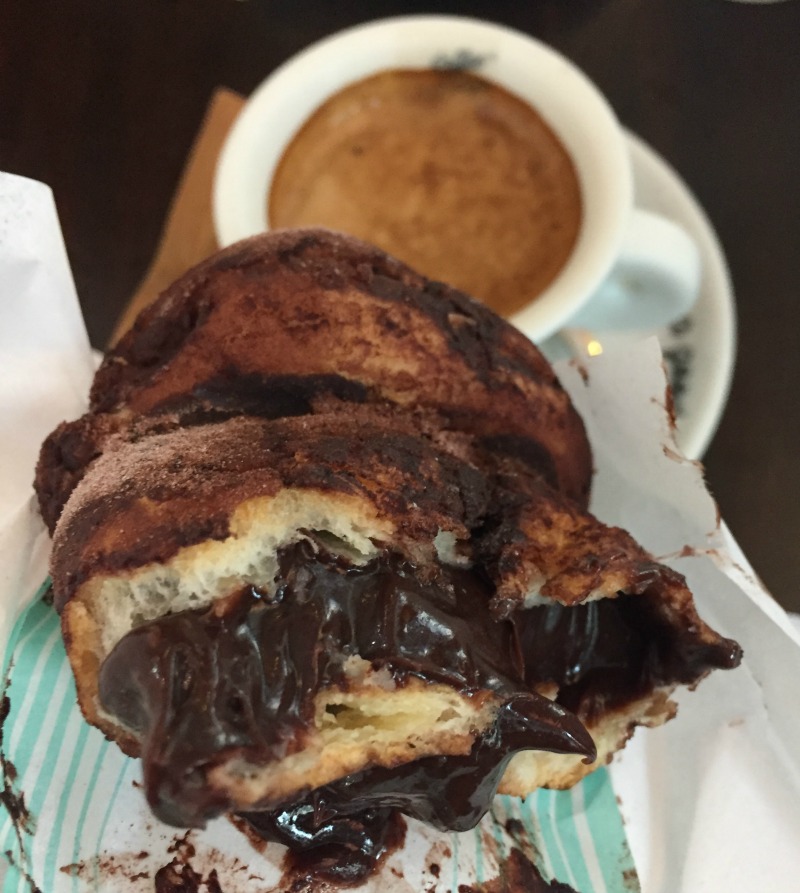 It's a pastry similar to a bigne, filled with intensely dark chocolate and crunchy bits of chocolate. If you don't already know, our family are chocoholics and we were planning to bring some back to Rome.
Unfortunately for them but fortunately for us, there were only two left. Oh well, it's the thought that counts. We took it easy in Vomero, a more upscale neighborhood, with a completely different atmosphere from the historic center of Naples. Vomero is easy to reach as you can take Metro Line 1 to Vanvitelli.
From Vanvitelli, we took the metro directly to Garibaldi metro stop, where we caught our train from Napoli Centrale back to Rome – in time for dinner.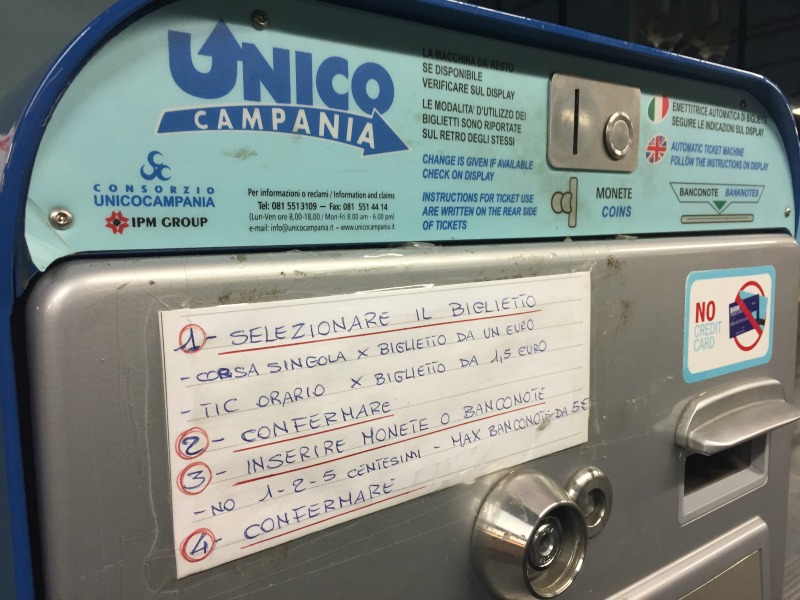 Tip: The cost of a metro ticket is €1 for a single journey or €1.50 for a ticket that lasts 90 minutes. With this timed ticket, you can use it also on buses, but it's valid for only one trip on the metro and the funicular. So we decided on purchasing the €1 tickets.
Have you been to Naples? Share your tips and recommendations with us.
Disclosure: This is a sponsored post by GoEuro.com for which we have received compensation. We were in no way influenced by the company and the idea of this post was from our recent trip to Naples.