Delicate and unique, Majolica Italian ceramics are world-renowned for their intricate hand painted motifs and lustrous glazes. The origin of this uniquely Italian artisan craft can be traced all the way back to the Middle Ages. Over the centuries, the sophisticated earthenware has graced the tables of the aristocracy of Europe and the rich and famous.
I wonder if the King of Italy owned a Rooster Pitcher?
The Rooster Pitcher (LaBrocca di Gallo) reminds me of that benevolent drunk uncle who sits at the dinner table with a silly grin on his face, red wine dribbling down his chin. I personally love pouring wine, juice or water through my rooster's beak into a glass, if for no other reason than it makes me smile. After all, wine drinking needn't be so serious!
A Rooster's Tale
The legend of the Rooster Pitcher goes something like this: The two dominant political families of Renaissance Florence, The Medici and The Pazzi, were in the midst of a serious power struggle. Things got out of hand when the Pazzi clan sent an assassin to murder the Medici, however the crowing of a rooster alerted guards and the plot was thwarted. Since then, "Il Buon Gallo" or "Good Rooster" has become a symbol of luck, abundance and prosperity.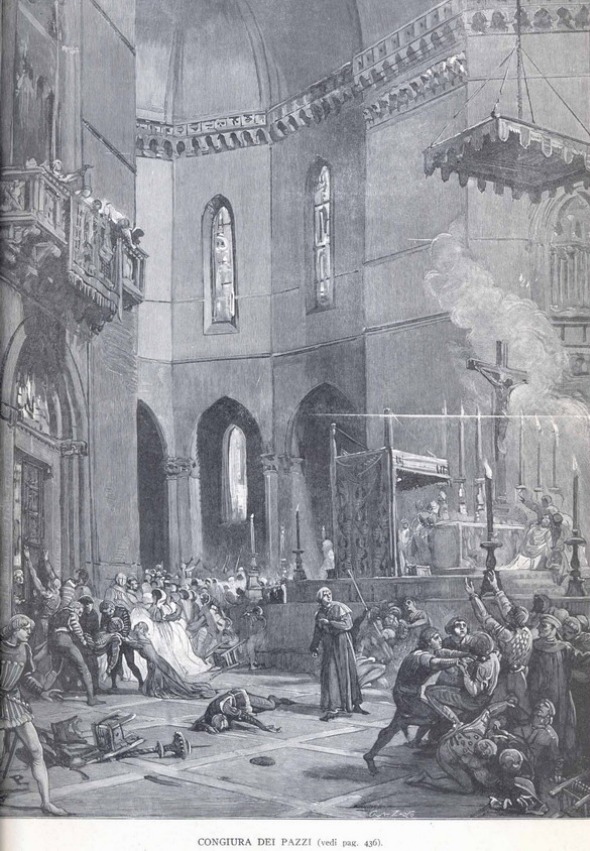 The Birth of a Pitcher: Orvieto (Umbria)
GianFranco Savio, owner of Biordi Art Imports in San Francisco (the first to bring authentic Italian ceramics to the US market) explains that the Etruscan-turned-Medieval town of Orvieto was once the original center for Majolica ceramics.
Created in the 13th century, the "Green Rooster of Orvieto" is one of the oldest dinnerware designs in Italy, but in the early part of the 20th century the design was introduced to ceramicists in Deruta where much of the pitchers are now produced.
Fortunately, there are still a few Orvieto ceramic artists hand making the Rooster Pitcher, such as family-owned Ceramiche Fusari, whose version comes in their signature floral design. Both Deruta and Orvieto pitchers can be found in many of the shops along Orvieto's Via del Duomo and Corso Cavour.
Something to Crow About
La Brocca di Gallo is both iconic and everyday – a household item that is deeply woven into the very fabric of Italian culture and tradition. It signifies home, family, good fortune and wine.
Where to buy Rooster Pitchers of Orvieto
In Orvieto
• Ceramiche Fusari, Corso Cavour, 431 – 05018 Orvieto – Tel: (+39) 0763.342921; Website: www.ceramichefusari.com
• Silvana Ceramiche – Via del Duomo 19, – Orvieto (TR) Italy – Tel. (+39) 0763.343603, Fax 0763-391702; The Artisan Workshop/Laboratorio Artigiano Ceramiche, Via Postierla, 6 0763-393151
• JOLANDA Artigianato, Via del Duomo 66-68, Orvieto – Tel: (+39) 0763.342420, Fax: 0763.391702
• Ceramiche Cecconi della Famiglia Fravolini – Via del Duomo 49/51 – Orvieto – Tel. (+39) 0763.341214
• Ceramiche Fravolini – Piazza Duomo 1/A – Orvieto (TR) Italy – Tel. (+39) 0763.343074
In the United States:
• Biordi Art Imports, 412 Columbus Avenue, San Francisco, CA 94133, Tel: 415.392.8096, Fax: 415.392.2608, Email: info@biordi.com, Website: www.biordi.com