Only an original 'viareggino' (read citizen of Viareggio) can give you invaluable insider tips on how to truly be part of the Carnival of Viareggio and make it an unforgettable experience. Thanks to the vibrant and lively atmosphere during this period, you will feel as if confetti are running through your veins and carnival music is your soundtrack!
And if you take part in more than 3 of the following activities, you'll win a 'carnevalaro' sash (Carnival lover), but if you get the chance to participate in all 5, you'll be coveted with the lifetime title of  'Carnevalaro doc'. So come join in the fun!
Carnival of Viareggio: 5 Can't Miss Experiences
1. Tour of the Citadel of Carnival
The Citadel of the Carnival of Viareggio is a modern complex of buildings, inaugurated in 2001, housing workshops for builders, and endowed with cranes and all sorts of aerial mechanisms able to lift and move pieces to construct the giant floats.
There are 16 hangars overlooking a huge elliptic square, which in summer becomes an arena for shows, each one meant to contain two floats, one for the 1st category and the other for the 2nd category, i.e. smaller in size.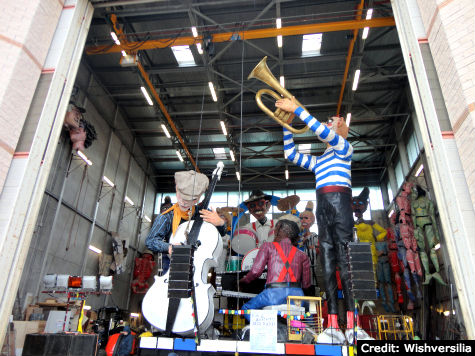 The citadel is very conveniently located in Viareggio, right at the motorway exit, so that it can be easily accessed. Two museums and the historical documentary center are located in the Citadel of Carnival.
I recommend that you visit during the week days to sneak inside the hangars and assist in the final touches. Alternatively, head there Sunday morning, before the floats are pulled by tractors to the seaside boardwalk for the parades, when you could assist with their departure from the Citadel, presumably around 10am.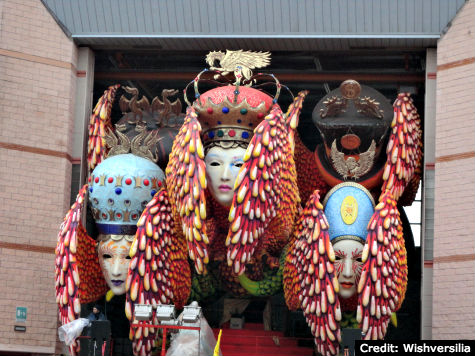 Floats emerges from hangars and sometimes, they still need to be assembled as due to their enormity, they don't always fit inside the hangar's space. During this time, engineers give out orders and manage the operations.
2. Paper-maché workshop
Getting to know the Carnival in Viareggio means knowing about the paper-maché technique, the mastery needed to build such huge floats, and the artistic value of faces and figures modelled with paper-machè.
Taking some lessons would allow you to understand that this job requires patience to make ensure all the elements are dried and fixed, creativity to prepare moulds, and artistic temperament to turn simple components such as glue and newspaper cuttings into masterpieces.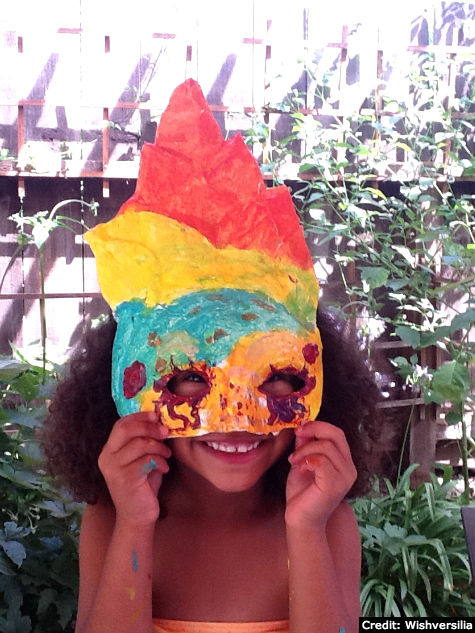 I recommend Le Botteghe della Cartapesta, a non-profit organization situated inside the Citadel of Carnival that arranges small group sessions for kids (from 3 years old) to adults. Daniela and Giovanna will be happy to show you the art behind paper-maché and you'll be able to get hands-on experience to create your own Carnival souvenir.
3. Sunday parades
Parades will take place on Sundays, February 16 and 23 , and then on March 2 and 9 plus the Mardi Gras show on March 4. One of the most important and 'moving' events for people from Viareggio, although not on a Sunday, is the opening ceremony when the Carnival flag is hoisted in Piazza G. Mazzini, inaugurating the Carnival festivities. This will take place on Saturday, February 15 at 6pm.
Parades take place along the famous Viareggio art déco promenade, a four kilometer-long avenue which serves as the circuit for the giant floats that almost scratches the roofs of the buildings.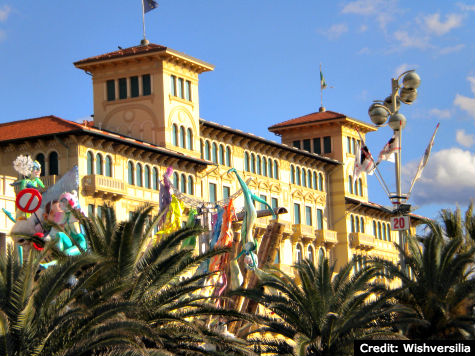 If you wish to see the floats, dancers and their choreographies, take a seat on the bleachers located in Piazza G. Mazzini or in front of the Royal Hotel. The ticket costs 30€, double the price of the basic one, but it is worth the spectacular view of the show.
I personally would walk around the promenade and admire floats on Sunday morning when you can easily wander around without the crowds and then stand in the area of Royal Hotel which offers a great view, yet is more spacious for kids to run and play.
In fact, the Carnival of Viareggio can be a perfect short getaway for families, where everyone can enjoy the different attractions.
4. Night festivals or so-called 'rioni'
Each weekend during the festivities, the different districts in Viareggio organize night festivals, closing several roads and where loud music fill the streets.
You will also taste some fabulous local treats, depending on the different 'rione', such as tordelli (fresh pasta with a meat-based filling and ragu sauce) in Marco Polo or seafood in Darsena. The latter is in fact the most popular and lively one. It takes place around the harbor area filling the air with music and the smell of 'fritto misto'.
My favorite menu in Darsena is risotto with swiss chard and calamari, marinated octopus and bomboloni (fried donuts coated with caster sugar). Yummy!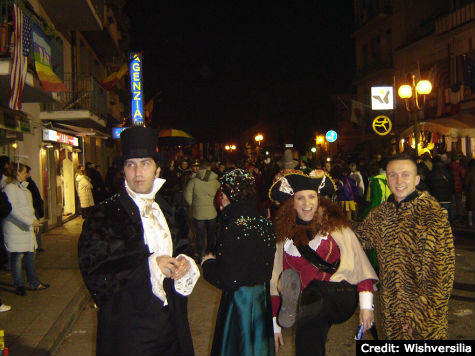 People will dance till late and while enjoying beer and alcoholic drinks, you can imagine some may get a bit tipsy. However, there's no harm done as the rule is 'everything is allowed at rionis…'. I recommend getting dressed and made up, and then head out for dinner to try some food specialties and eventually, be dragged along by the crowd to enjoy an evening of music and dancing.
5. The carnival treats: Cenci and frittelle
During Carnival time in Viareggio all bakeries and patisseries sell the typical treats: cenci and frittelle. The former are stripes of pastry, deep-fried in oil, dusted with confectioner's sugar and has a slight lemon taste. Fritelle are creamy rice balls deep-fried and rolled in caster sugar. No diet is allowed at Carnival time!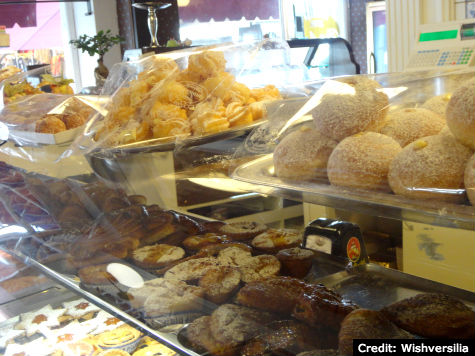 The recommended places to taste them are located in the Viareggio market area: Pasticceria Patalani and Pasticceria Gambalunga. Along the promenade, stop at Pasticceria Fauzia. The story about the owner of this little pasticceria is that she used to launch frittelles to people on the floats!
Sounds like a party? It sure is and there's still time to make plans to join us for the Carnival in Viareggio! Hope to see you here.
Author's Bio: Serena Giovannoni lives in Viareggio (she was born here) and is a Professional Travel Consultant. She works with incoming individuals and small group travellers to Tuscany and Versilia by customizing their travel plans. You can follow her on Twitter @WishVersilia.