On this week's "Show and Tell", I reached out to Valentina Dainelli, a 100% Tuscan, freelance travel writer, social media specialist, and mum based in Mugello to share her part of Tuscany with us. She loves her dolce vita in Tuscany and writes about it on TooMuchTuscany.
I'll confessed that while I've been to Tuscany many times, and driven through Mugello, I've never stopped to explore this area located north of Florence. I've thoroughly enjoyed seeing Mugello through Valentina's eye, and yes, another place to add to my ever-growing bucket list. Hope you enjoy the virtual trip to Mugello as much I did.
6 Favorite Photos from Mugello
1. Driving through Cafaggiolo you stumple upon the beautiful Medicean Villa of Cafaggiolo, which has just been listed in the UNESCO World Heritage List. Unfortunately, it is not open to the public yet and that's a shame. But two things are worth saying about it: there is supposedly a ghost inside the castle, and a huge sequoia in the garden!
2. It took me more than one year to discover this ghost village that I see every time I take the highway from Barberino. It's located on top of a hill but no sources citing its name. Finally, one Sunday I got lost and found the right road to reach it. I still don't know the name, but I called it Montebubbiano, same as the name of the street it's located on.
3. Every last Sunday of May Scarperia, listed as one of the most beautiful towns in Italy, hosts the Infiorata. It's a special event that covers the streets with flowered paintings. Every year they have different topics to be featured. Best time to visit is lunch time as it's less crowded.
4. What I like the most of living in Mugello are landscapes. Almost every corner reveals stunning views and seasons' colors change them into artworks. This photo was taken in the surroundings of Scarperia in early June.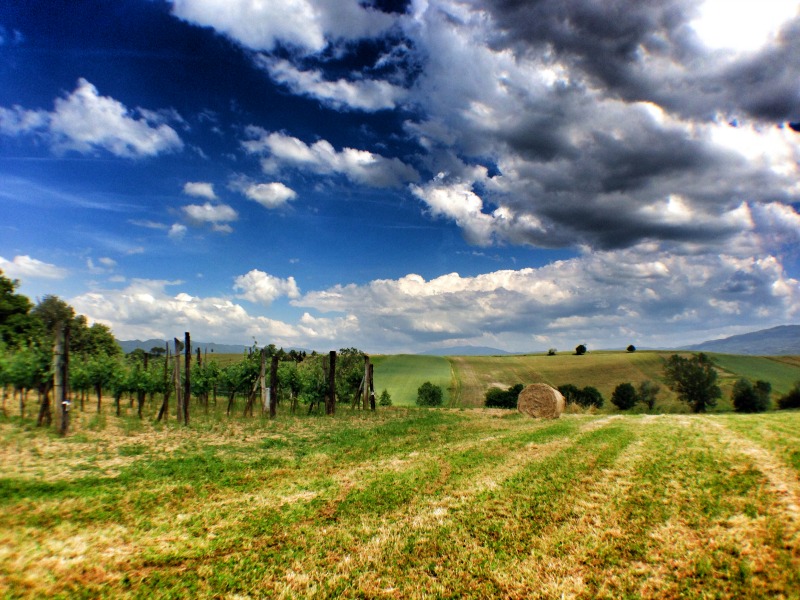 5. Barberino is my hometown. I moved here a couple of years ago and I'm in love with the public gardens. The perspective of the alleys is amazing, as well as natural colors. In autumn you have yellow leaves on the ground, in summer you have green trees, spring you have wisteria, and in winter may be white snow.
6. Well I love to take photos of windows and doors around Mugello. I love old wooden doors, flowered balconies and colored windows. This window is one of my favorites and I take a photo of it every season to see the changes of colors of the grapevines. It's located in San Giovanni in Petronio just above Bilancino Lake.
Thanks Valentina for sharing this wonderful photos of Mugello and for giving us a glance of this striking area. If you love these photos of Mugello, you'll find more pictures from Valentina on Instagram @toomuchtuscany.
Have you been to Mugello? Share your experience with us in the comments below.