It would be so wrong to turn down a Brunello wine experience. When Coral from The Curious Appetite extended the invitation to Taste Montalcino with a group coming from Florence, including my friends Georgette and Sasha, I scrambled to find how I could make my way from Rome to meet them in Montalcino.
Luck would have it that I had planned lunch with The Beehive family in Orvieto the day before the event, getting us half the way to Montalcino.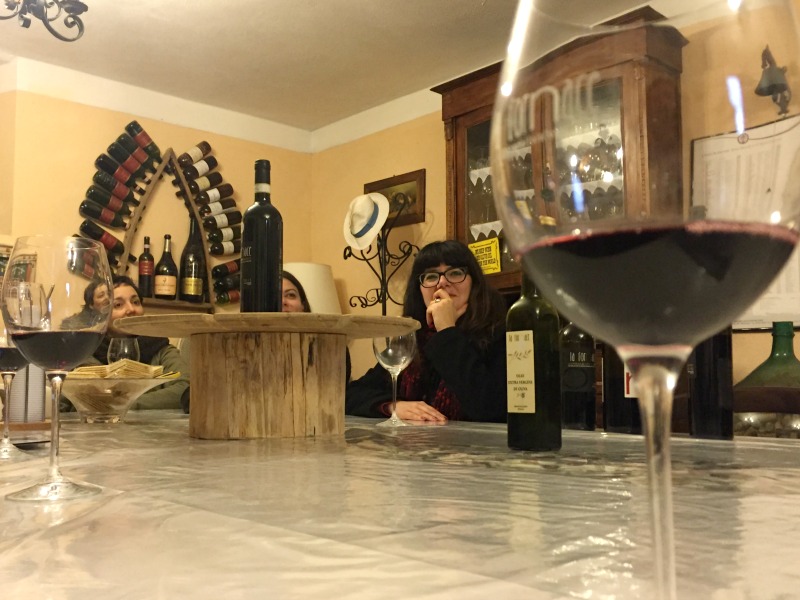 As it would be an early start the next morning, we decided to stay a night in Montalcino. After lunch in Orvieto, we made our way to Montalcino, and battling the lashing rain, we slowly drove past the blurry Tuscan landscape. You know the one where you feel like you are driving through a postcard with rolling hills and cypress trees.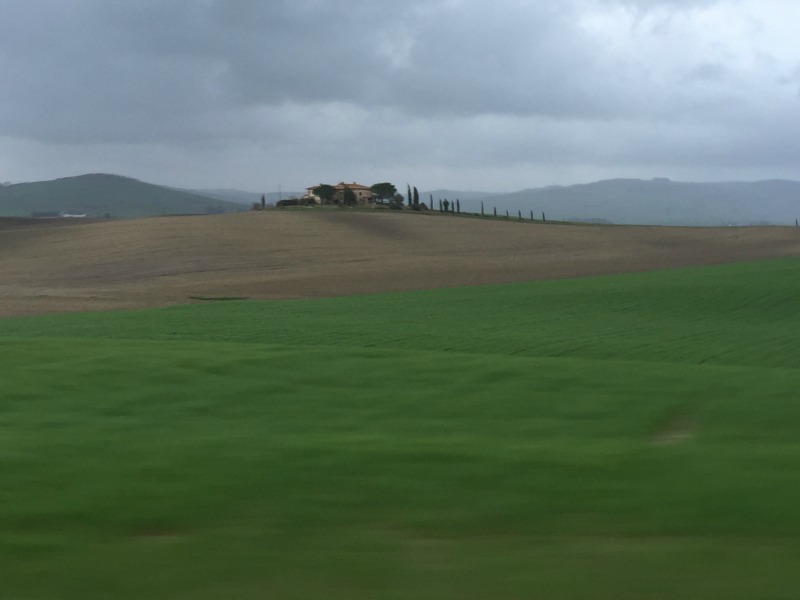 I've been to Montalcino before on a day trip from Rome, mainly to see the Sant'Antimo Abbey one autumn and I was excited to have the opportunity to be back, this time to taste the area's finest gift: Brunello di Montalcino.
While there are over 200 Brunello wine producers, Coral had chosen 3 producers and knowing Coral, I knew each one would be unique and offer that special something that made them stand out. That something that makes for an unforgettable experience. And I was right on about my hunch.
3 Exceptional Brunello Wine Producers
Casato Prime Donne
We couldn't have started the Brunello wine experience in a more inspiring way and it was truly an honor to meet Donatella Cinelli Colombini. Casato Prime Donne, headed by Donatella is a 16-hectare wine estate dedicated to Sangiovese grapes and is the first vineyard in Italy to be managed by entirely by a female team.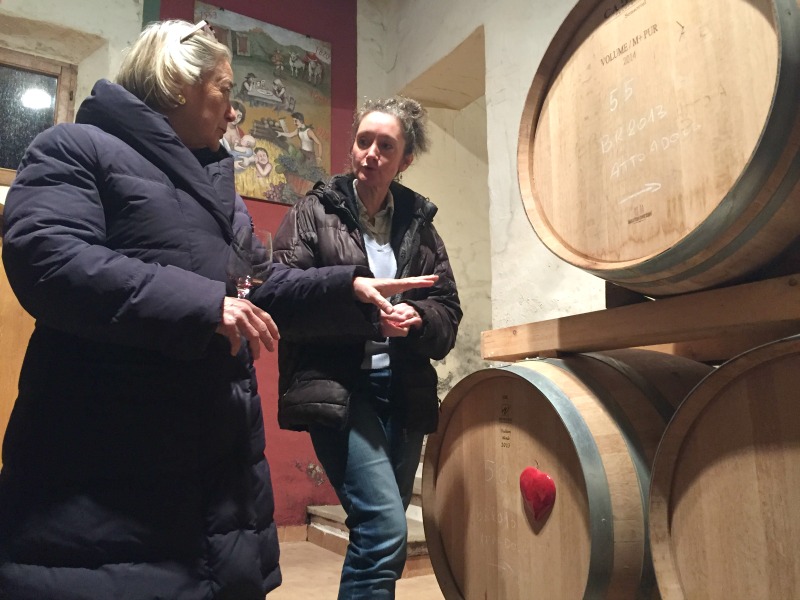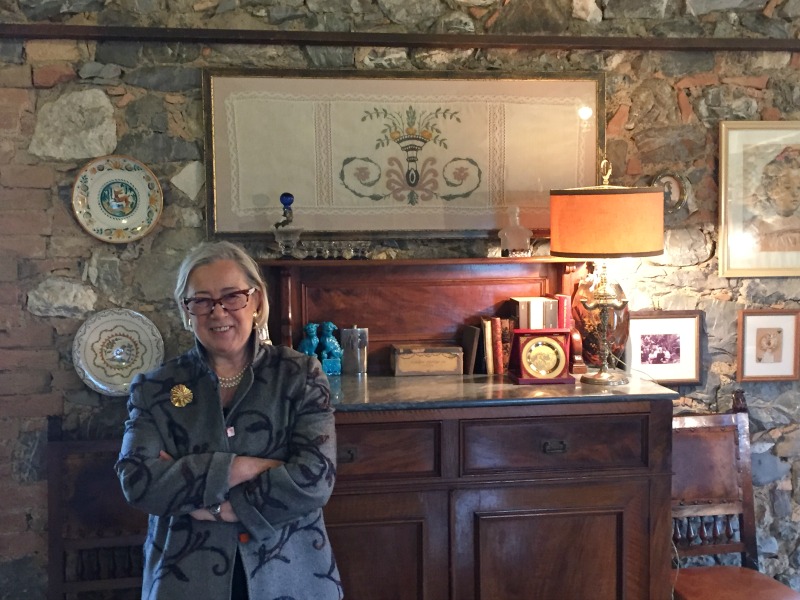 Huddled in the parking area, Donatella herself shared the background and philosophy of the vineyard. In a soft yet passionate voice, she recounted how she was given a desolated piece of land and in an industry dominated by men, she was determined to give women more opportunities.
I thought it was my imagination when I heard a soft hum of classical music while Donatella was speaking to us and it was only until we approached the tasting room that I realized I was not imagining things after all. As we entered, musical notes filled the air. This morning would start off like no other wine tasting I've ever been too – it would be a wine and music pairing experience.
We tasted four different wines in different areas of the vineyard starting with a Chianti Superiore DOCG, Rosso di Montalcino DOC, Brunello di Montalcino DOCG, and a sweet ending of Vin Santo del Chianti DOC.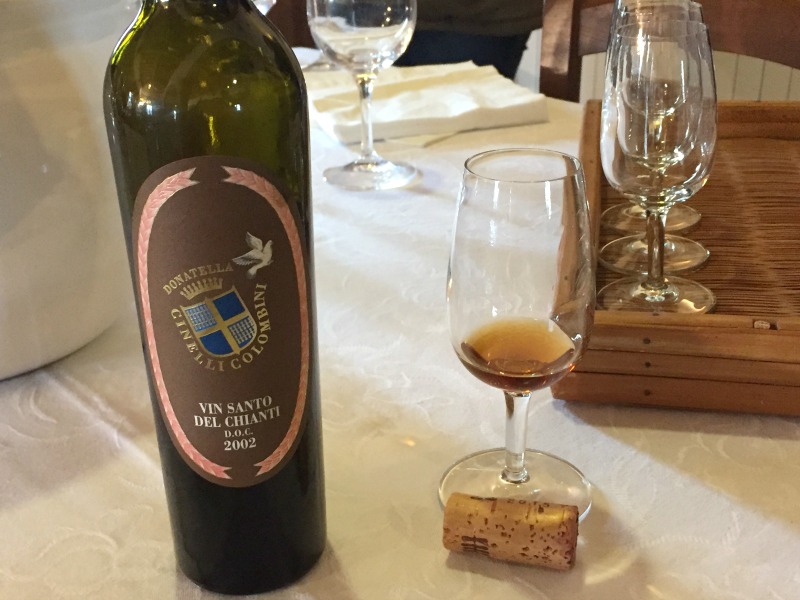 However, Casato Prime Donne goes beyond winemaking. Each year a panel selects "a female figure who is particularly distinguished for her courage and ethical values and whose commitment has enhanced the female presence in society and the working world" to receive the distinguished Casato Prime Donne Award.
Santa Giulia
Winding through the scenic roads in Tuscany, we found ourselves in a Santa Giulia, a 5-hectare family-run vineyard tucked amidst the verdant landscape. This would be our lunch stop where we were warmly welcomed into a cozy living and dining area by the Terzuoli family. There was a table all set for our lunch and much to our delight, a crackling fireplace in one corner as temperatures had dropped.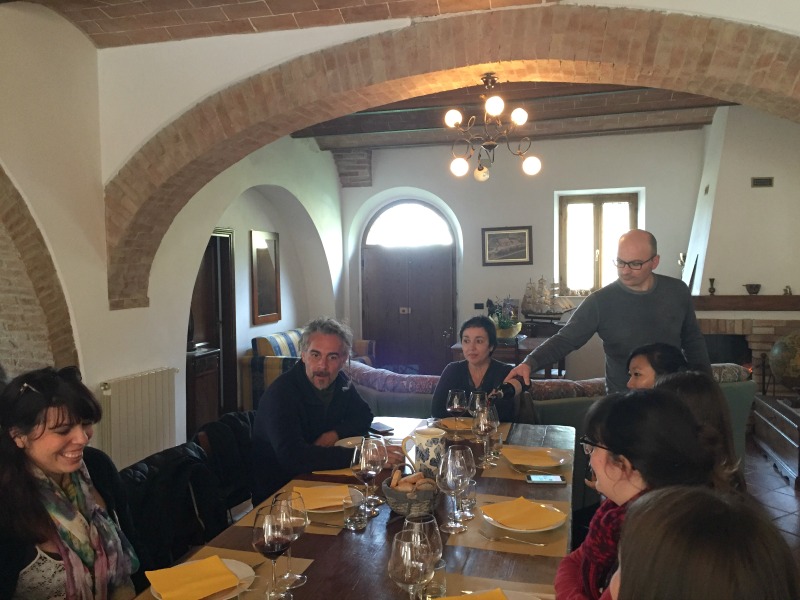 Before we sat down for lunch, Gianluca Terzuoli, who has now taken over the running of the vineyard from his father, led us to their cellar. This a 100% family-run estate, and it is only during the harvest period, which lasts a week, that they have additional help of 8-10 people.
In addition to wine, they also produce extra virgin oil and raise 8-10 cinta senese pigs, which are used for the salami they produce in-house and only available during the tastings on the premises. The salami were some of the best we have tasted and even pleaded, without much avail, if we could buy some.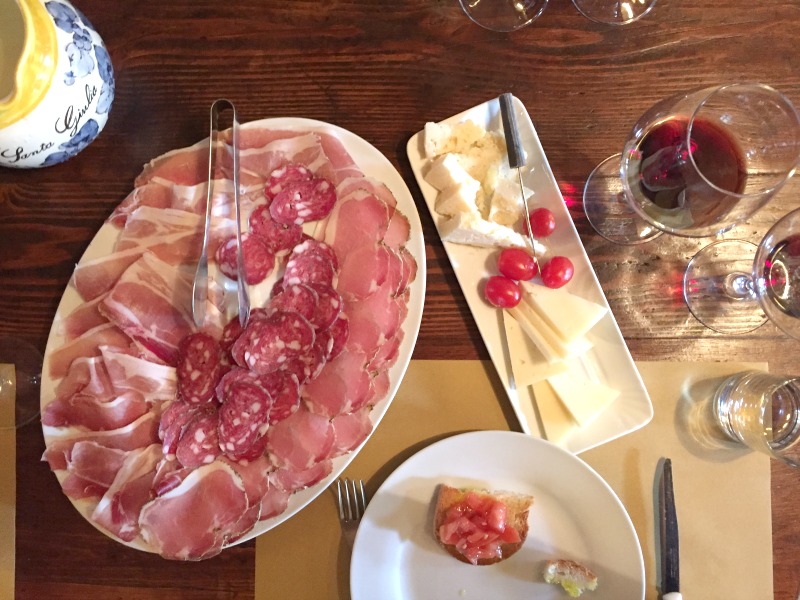 We were treated to a hearty homemade lunch, prepared by Gianluca's mother, of pici pasta served with ragu sauce, followed by trays filled with generous slices of cold cuts and cheeses and a never-ending flow of wines from Santa Giulia . We sure ate our share and after lunch, on the way to the next vineyard, we briefly stopped in the town of Montalcino for another round of much needed coffee.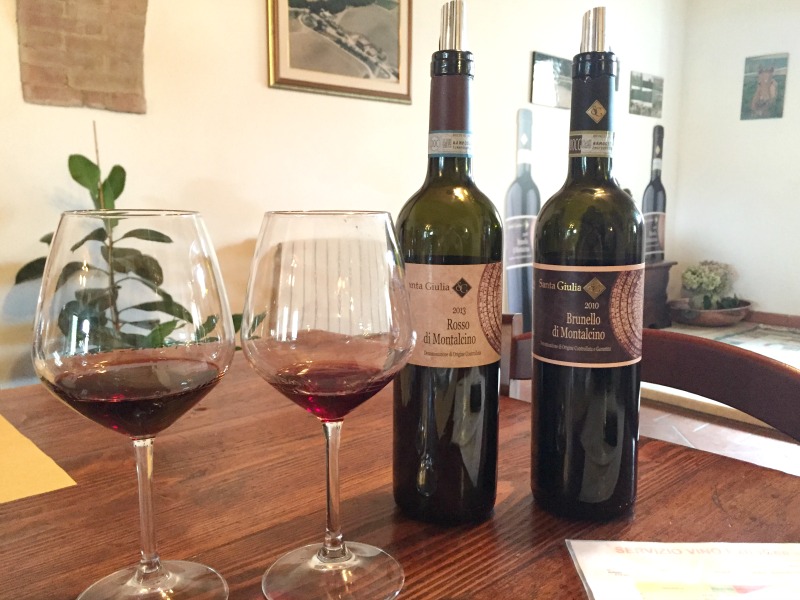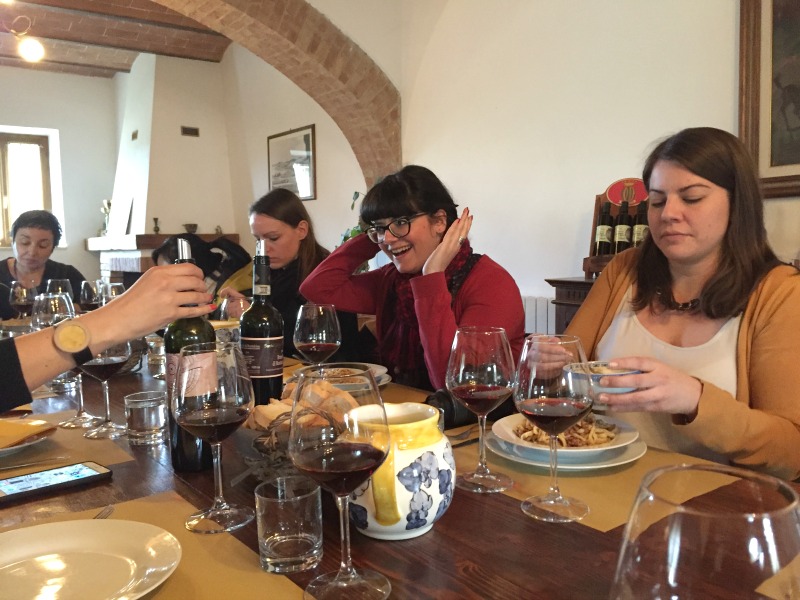 La Fornace
Passion and dedication runs deep in the veins of Montalcino producers and to ensure that this is the message we took home with us us, La Fornace was the perfect final stop. Fabio Giannetti, who took over the reins of the vineyard from his father in 1998, proudly shared the history of how his grandfather had bought the furnace in 1964, after having spent his life as a sharecropper of the church.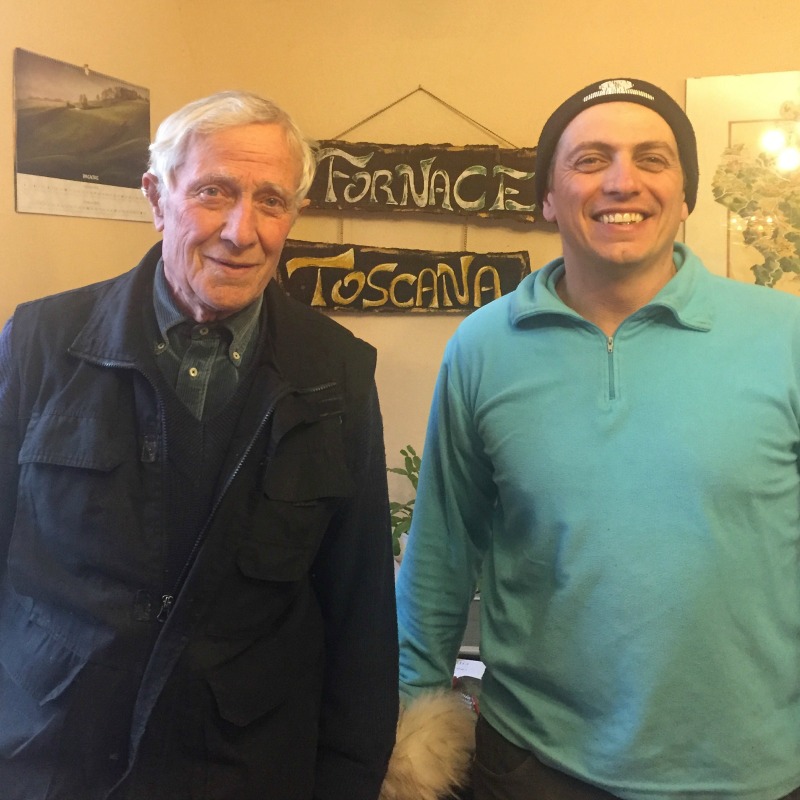 Starting with a small vineyard of only half a hectare his father, Franco, the face of La Fornace, purchased more land in 1975 and today the family owns and work the 4.5 hectares of vineyard. Their philosophy, as Fabio has repeatedly emphasized during our tasting session, is to seek the highest quality, and although they could produce 30,000 bottles per year, they choose to limit their production to 18,000 bottles.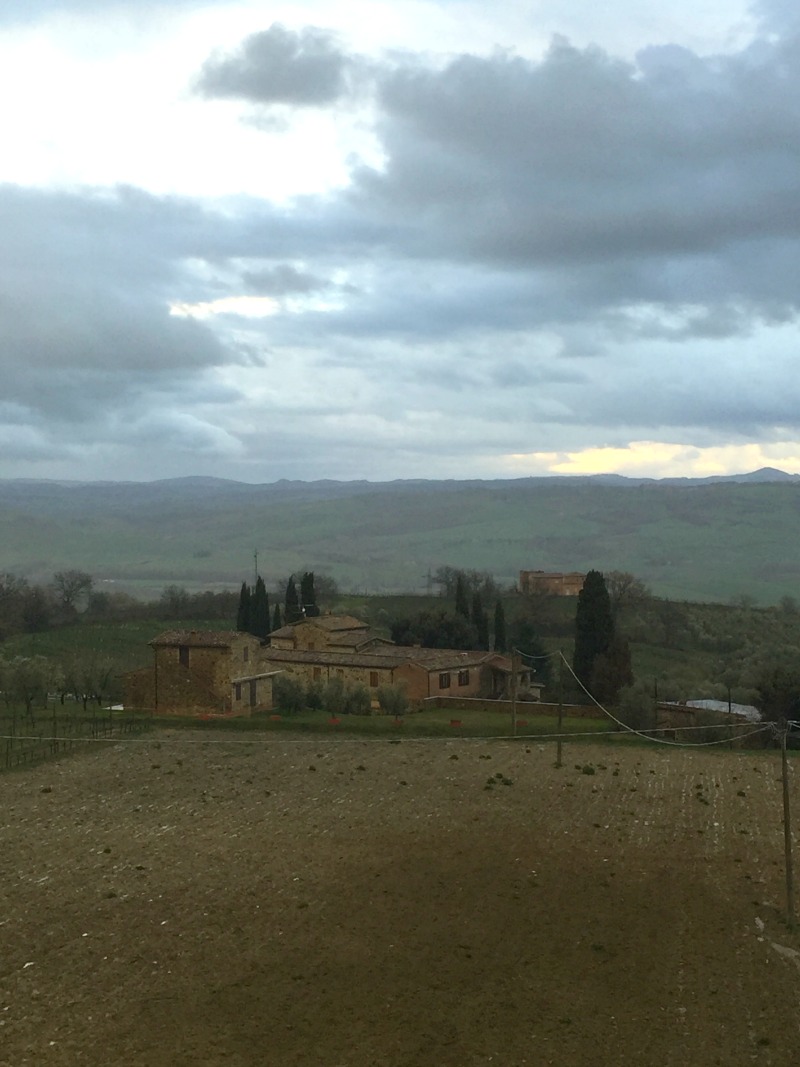 What stuck with me the most was Fabio's humility and his words that while most think that his profession is a luxurious one, he sees himself first and foremost as a farmer, one who toils the land, rain or shine. It's all about the heart.
Here's a 15-second video of our day Taste Montalcino experience:
P.S. And if you are wondering, yes, we came back with a nice haul of Brunello wines that day. Cheers!
Many thanks to Curious Appetite for this eye-opening Brunello wine experience. For more escorted, small group wine tours to boutique and family producers off the beaten path, check out Curious Appetite Travel, who collaborates with We Like Tuscany, a specialist in outdoor activities such as bike tours, vespa and 500 adventures.