Today we're interviewing Alexandra Korey, who says her goal in life is to make art accessible. Her blog, ArtTrav, has been around for almost a decade and now covers a range of topics about living in Italy, but it actually began with a more art-historical goal, to which she has recently returned by publishing an app and ebook called "Uffizi art history guide."
Tell us a little about you – your background and why you decided to launch this app (ebook)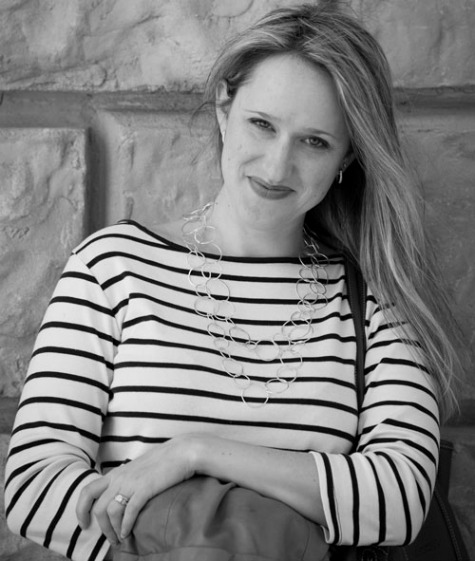 My first visit to the Uffizi was as a study abroad student in the summer of 1997. I had the good fortune of being accompanied by an art history professor who pointed out the most important works and put them into context. As a student of art history, both then and later as I continued on to my PhD, I had a lot of museum-going experience.
Later, I would often visit the museum with friends and family, and I would take them through the gallery much as my professor had done. Everyone said how useful this experience was because I literally guided them through, picking what works to focus on, and teaching something about the paintings.
I didn't realize how important or special this experience was until I started paying attention to the comments, online or off, of those who tried to visit the Uffizi alone. Too often, people came out simply confused and tired.
I wanted to help them, so I started by writing a blog post in which I listed the most important works and posed a few questions or points that people should consider in front of the paintings. Sometimes, readers actually commented on the blog from inside the gallery, saying this was useful! Over time, the blog post involved into a complete guide that I felt was good enough to sell.
How can people make the most of a visit to the Uffizi?
To make the most out of a visit to the Uffizi, I think you need to come to terms with the fact that you cannot see all of it. You have to focus on a few works and spend a little extra time with them.
If you're lucky, one day you'll come back, and you can focus on other works. But there's no point in running through and looking in the general direction of every painting for 8 seconds – the calculated average time museum visitors spend doing this (I didn't make that up!).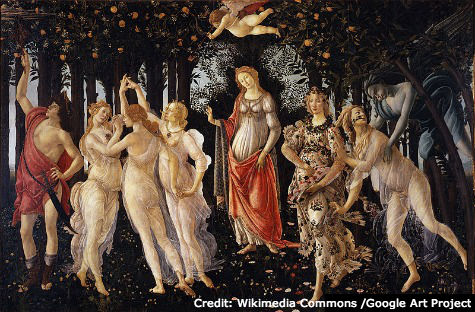 So, my method is based on experience teaching art history (and also learning it). As a professor, I focus on a few works that illustrate a period, or an artist's work, or a theme.
In the Uffizi, there's generally one or two particularly important works in every room. Take the time to stop and try to figure out what story the painter is trying to tell, and how he tells it. Then, try to see how this work differs from the other ones in the museum.
You really don't have to be an expert to think about art in this way. In fact, kids are particularly good at doing this, so if you have kids, get them to help you!
Tell us more about the app, how it's organized & how to use it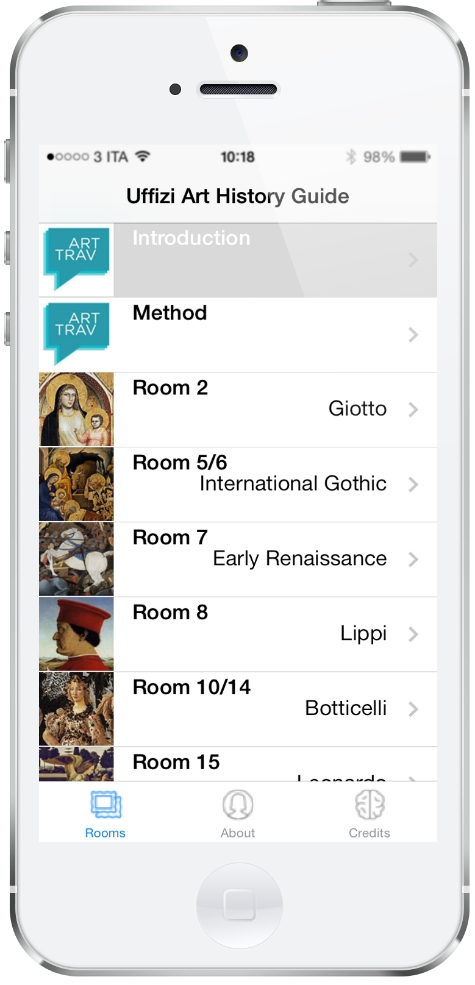 My Uffizi app applies the method and concept explained above. Just as I accompany friends through the gallery and select what works to show them, I have done the same in writing.
The app is organized in a very simple manner, without fancy technical stuff. I hope that makes it easy to use for people of all ages. You get a menu with the rooms organized in the order in which you come across them in the museum (the Uffizi has a very defined museum path, so you don't need a map – the flow takes you in one direction only).
Clicking on the room opens a simple page with text in which I introduce the period and works in that room. Due to this room by room organization, the app is best used inside the museum, though it wouldn't hurt to simply read it in advance of the visit.
The guide focuses on quality content. There are other apps for the Uffizi that look a lot more flashy, but when I actually read them, I was disappointed because they don't do what I think is necessary – make a selection, and help people learn how to look at art.
One thing I would like to do in a future release is record the text as audio so that people can listen to it while looking at the paintings, because it'd be better if people didn't have to look down at their phones so much while using the app. Since I programmed it myself, this wasn't something I was able to do just yet.
Other tips for visiting the Uffizi
Time is probably the most important thing when visiting this or any other large museum. You need to set aside a minimum of 2 hours just to walk through a space this large. 3 or 4 hours is the ideal amount of time to dedicate to the Uffizi.
In order to be sure to be able to dedicate this much time, make sure you book your tickets in advance, so you don't waste half your allotted hours waiting in line. And if you're like me, you'll want to wear running shoes so that sore feet don't distract you from the beautiful art.
Editor's Notes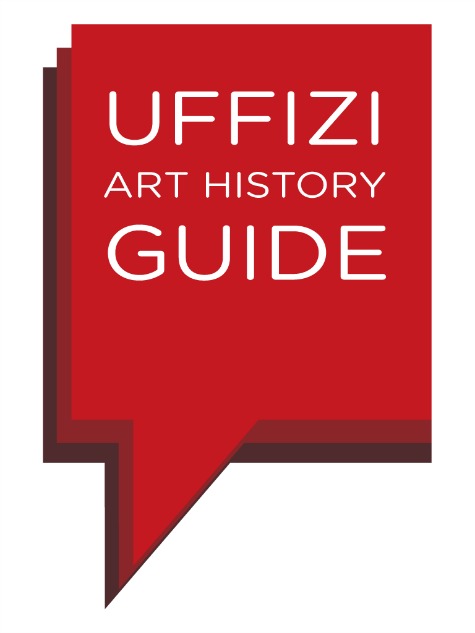 I've had the opportunity to download the Uffizi Art History Guide app and got an engaging lesson on art history. The information on each painting is fascinating and a real eye-opener. While I haven't been to the Uffizi yet, I already feel that I got a virtual tour thanks to the app.
It's easy to use and for those wanting to get a taste of art history, this is the perfect resource. I enjoyed it tremendously and spent an entire morning hooked on reading the text and attentively looking at the images of the paintings.
Thanks Alexandra for making art enjoyable and accessible.