With just a few days to go, don't miss the opportunity to be part of the history of Santa Croce in Florence. The #CrazyforPazzi campaign has been running for the past month and as it heads into the home stretch, if you haven't, we hope you will be inspired to back this project.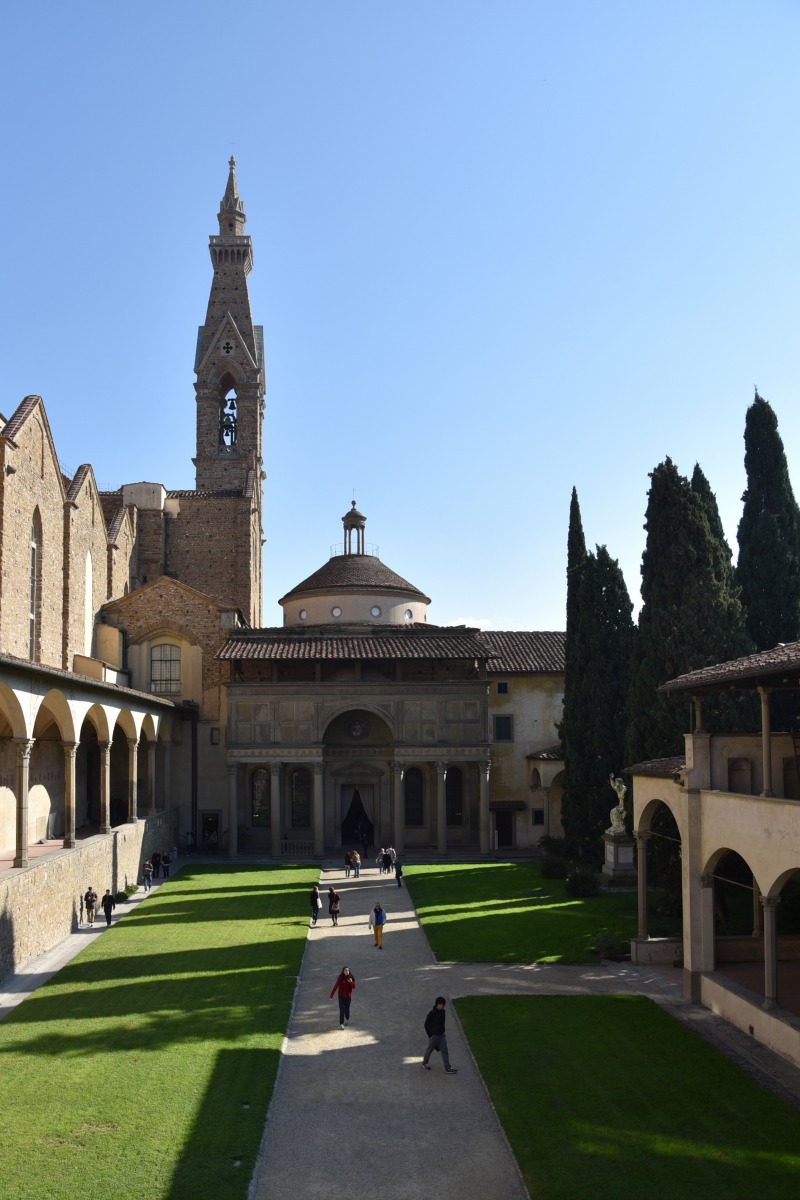 Opera di Santa Croce, the non-profit institution in charge of the church's administration, has raised 50% of the funds needed to carry out this restoration, slated to begin in early 2015. Your support of the loggia's restoration will help to raise the remaining amount. In so doing, you will become part of the 720-year-long history of Santa Croce.
About the Pazzi Chapel
The Pazzi Chapel is a landmark of Renaissance architecture in Florence, Italy. Located in the Santa Croce church complex, the structure was designed by Filippo Brunelleschi – the master architect who is most famous for engineering Florence's beloved cathedral dome.
The loggia in front of the Pazzi Chapel is a prime example of 15th-century architectural decoration in greypietra serena sandstone, colourful maiolica and terracotta. 550 years have taken their toll on this structure and its decoration. The loggia of the Pazzi Chapel requires urgent restoration to stop further deterioration.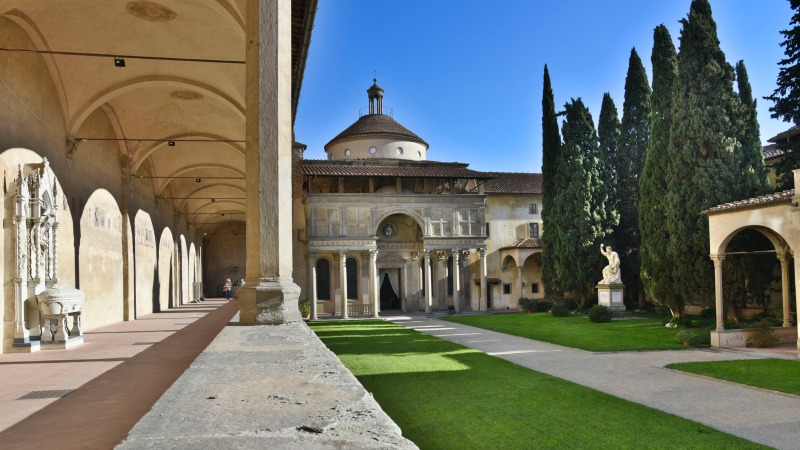 Need more inspiration?
On Thursday, December 4 at 4pm, Canadian-Italian mezzosoprano Diana Di Mauro burst into song in the Pazzi Chapel in the complex of Santa Croce, Florence, Italy. Inspired by the space, Di Mauro sang five operatic pieces and a Christmas carol.
Di Mauro sat down on the steps in front of the altar and mesmerized tourists who were drawn into the chapel by the sound of her voice. Upon entering the Pazzi Chapel, Di Mauro commented, "The beauty, serenity, light and resonance within the chapel left me stunned, yet peaceful.
It is a space that begs to be filled with music and art as it inspires by its vastness and harmony. It is a pleasure and honour to share my voice in this space." The Pazzi Chapel is in fact known for its harmonious architecture and unusual acoustics. People come from around the world to test a few notes in the building designed by Brunelleschi.
Di Mauro sang "Sposa, son disprezzata" set by Antonio Vivaldi for his pasticcio Bajazet; "Ah, se tu dormi, svegliati" from Giulietta e Romeo by Nicola Vaccai; "Lascia ch'io pianga" from Rinaldo by Georg Friedrich Handel; and "Nacht und Träume," a lied by Franz Schubert. She also treated onlookers to the more seasonal Schubert's "Ave Maria" and a Christmas carol.
While we were not there in person to see this spellbinding performance, check out this video of Diana Di Mauro singing Ave Maria in the Pazzi Chapel at Santa Croce. It is sure to move you.
Special endorsement
American actor, director and art historian Dr. Peter Weller endorses the #CrazyforPazzi international crowdfunding campaign for the restoration of the Pazzi Chapel loggia. He has appeared in more than 70 films and television series, including blockbuster hits RoboCop and RoboCop2 as well as cult classic The Adventures of Buckaroo Banzai Across the 8th Dimension.
Dr. Weller has a long-term love of Florence that he rendered official through his completion of a master's degree in Renaissance Art History at Syracuse University in Florence followed by a Ph.D. in Art History at UCLA in 2014 with a dissertation on Alberti and Florence. Connected to this love, he has hosted the show Engineering an Empire on the History Channel, and has taught courses in Roman and Renaissance art.
Having heard about the crowdfunding campaign to restore the loggia of the Pazzi Chapel at Santa Croce and possessing an in-depth knowledge of the historic importance of this structure, Dr. Weller offers his support by appearing in a video to explain to fellow Florence and Italy lovers why this structure needs saving.
He concludes: "This building is important, indigenous, organic and seminal to the entire development of Western architecture, and this loggia needs your money, time and grace to be restored so that future generations can come here and adore it, like I have for so many years."
With just a few days remaining to reach the goal of $95,000, over 600 backers have pledged so far. The first ever use of Kickstarter by a major cultural institution in Florence, Italy has been making the headlines in Italy and farther afield. The campaign's first backer came from New York City.
Small donation, huge difference
As with all projects on Kickstarter, if the campaign doesn't reach the target sum, they won't get ANY of the pledges. Even a small donation can make a huge difference, and your name will be linked to the preservation of history. We hope you will help make a difference and be part of the history of this historical landmark in Florence. Let's make it happen!