Only after a few hours with Arianna and Alessio of Km Zero Tours based in Chianti, Tuscany, I fully understood the essence of slow travel. While I've always believed that slow travel meant taking it slow and going with the rhythm of the place, what I learnt from our experience was that it also included taking the time to personally and profoundly connect with the locals and immerse yourself in their world.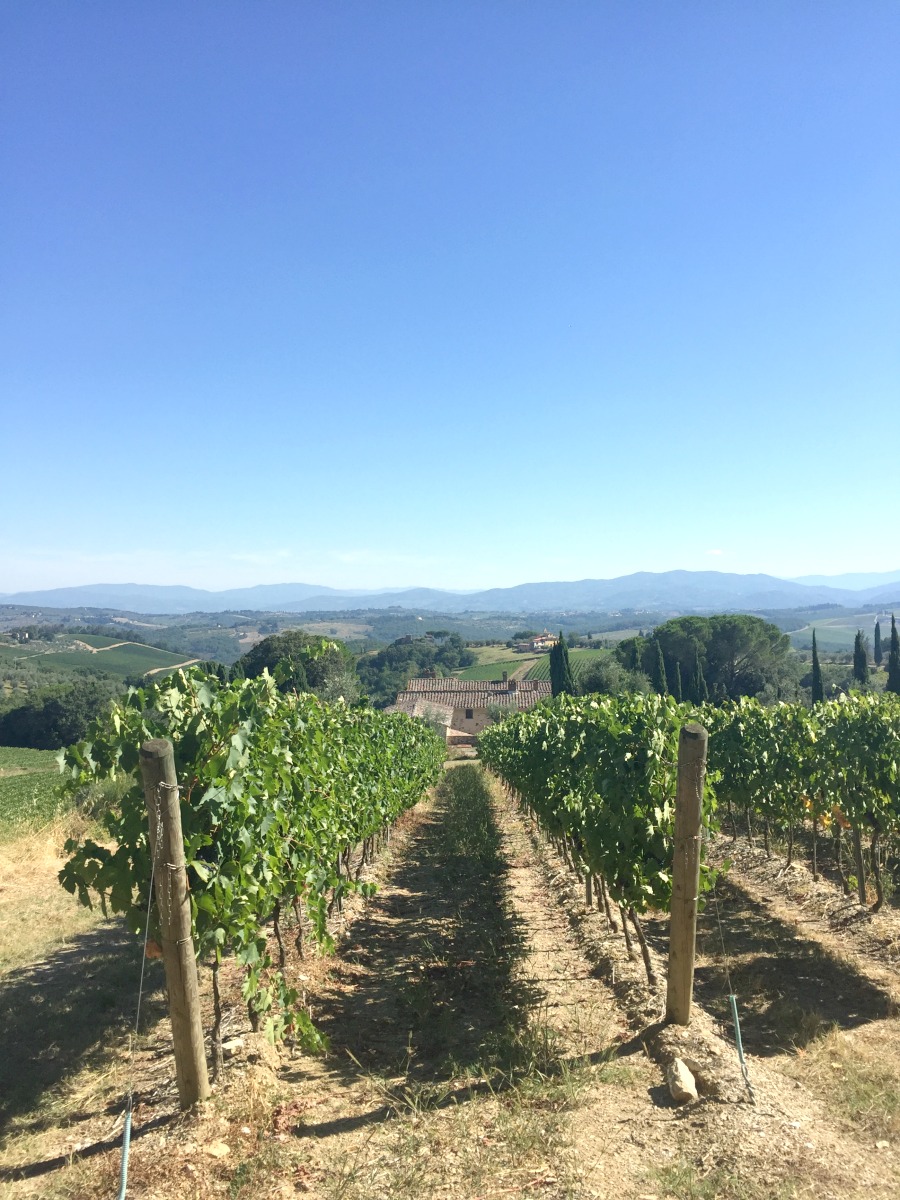 The evening we got in San Casciano in Val di Pesa, we were chauffered by Alessio to a nearby villa to meet the lovely Anna Maccaferri, who owns a vast 60-hectare estate boasting vineyards and olive trees just situated a few minutes from town. Anna, who is related to the Antinori family, inherited this 15th century villa when her mother, Eleonora Antinori, passed away in 2001. While she spent holidays at this villa, Anna's life was in Rome and in 2001, they decided to pack up and start a new life in the Tuscan countryside.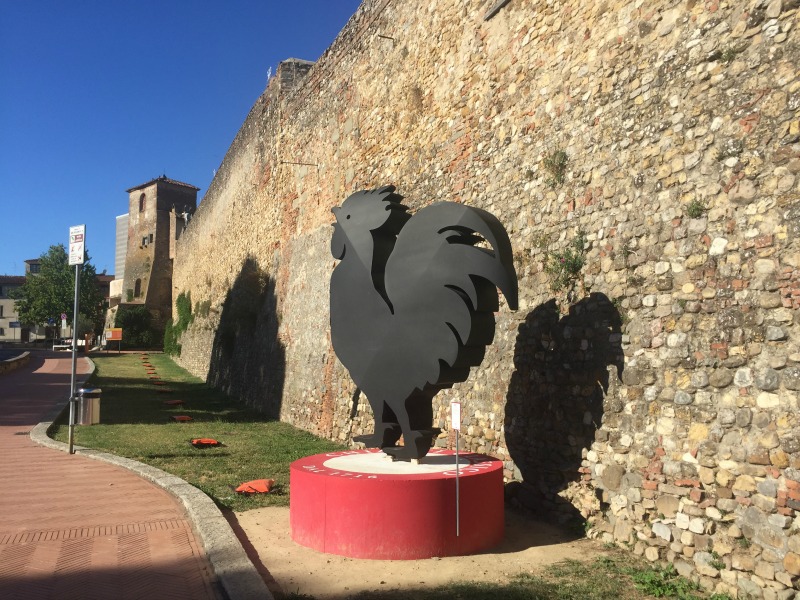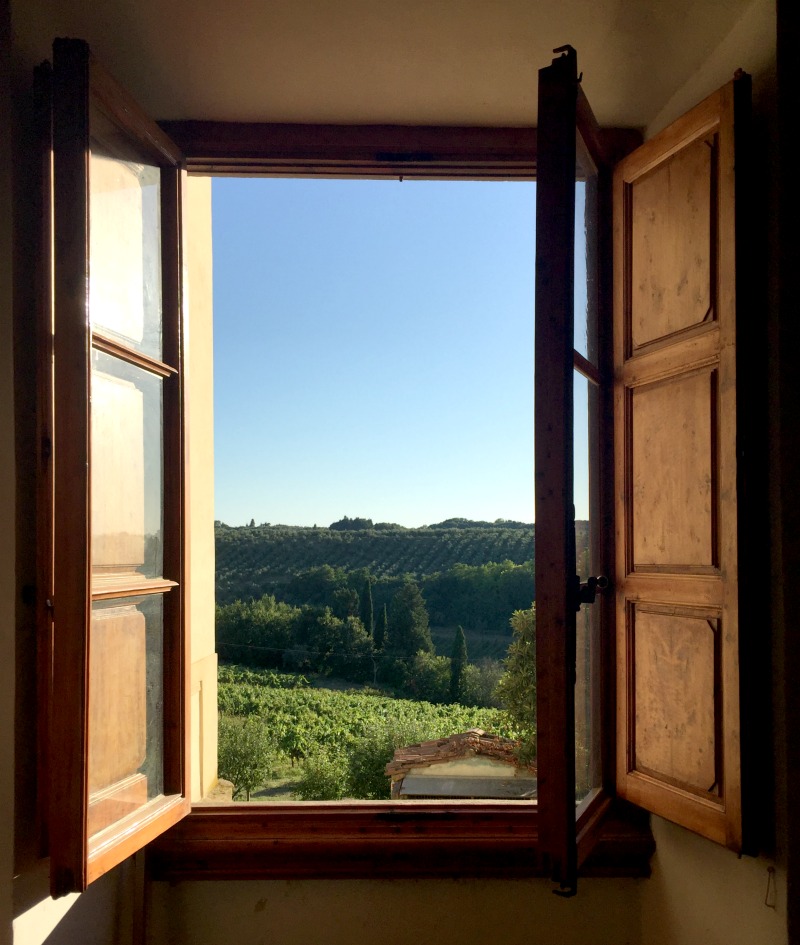 Today, her children are both involved in the business and the family-run estate produces Chianti Classico DOCG wines, Tuscan IGT Red and Rosé, vinsanto of the Chianti Classico DOC, and extra virgin olive oil. We got a peek at their wine cellar and discovered that this winery uses a cement tank for some of their wines prior to being aged in oak barrels and then again before bottling.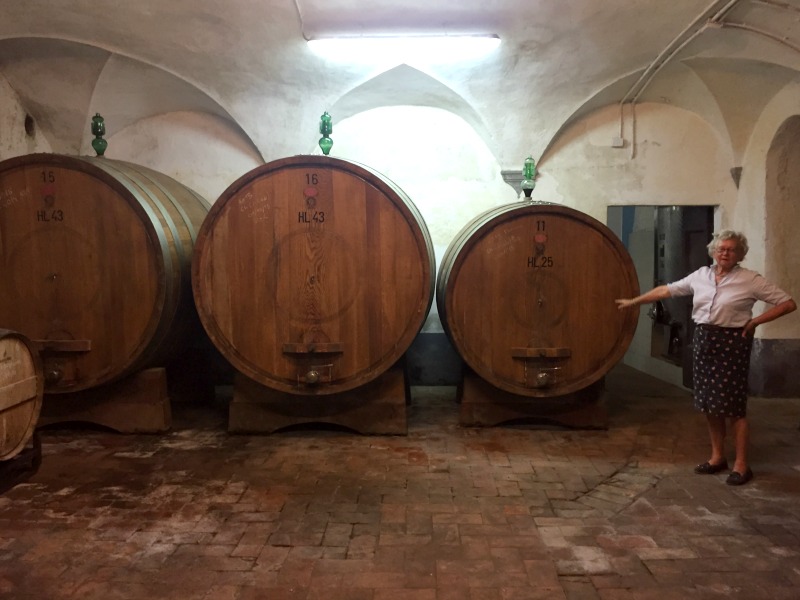 Anna explained that the use of the cement tank helps make the wine smoother and lighter and was often used in the past before the introduction of stainless steel tanks. In addition to the cellar, there's a room that houses terracotta jars that were once used to store olive oil. However, due to European regulations, terracotta jars are no longer allowed to be used for the storage of olive oil before they are bottled.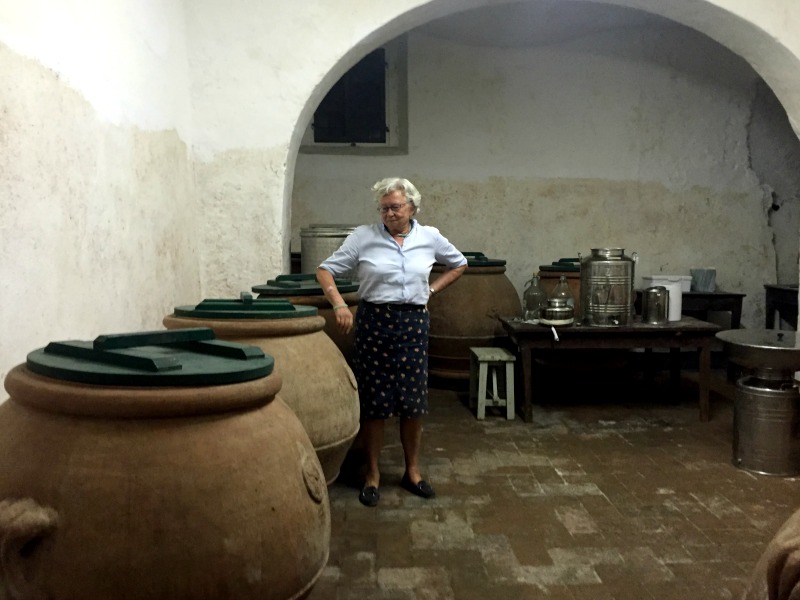 The vineyard, which covers 24 hectares of the estate, produce mainly Sangiovese grapes with the oldest vines about 40-50 years old and are harvested by hand in September. Meanwhile, the olive harvest of their 5000 trees takes place in November. We would have loved to walk through their vineyard but we were told that the gem here lies inside the villa.
Before entering the villa, Anna explained that the villa in Tuscan Renaissance style was purchased by the Alessandro di Niccolò Antinori in 1530. As we entered, we found ourselves in a courtyard where you'll still see the coat of arms of the Antinori and Tornabuoni families above the arches of the loggia, which is today enclosed.
Dinner at a Tuscan Renaissance Villa
From there, we made our way to another entrance on the right and it felt like we have just stepped back three centuries, into a grand living room boasting a enormous fireplace, thick volumes of books on the table, a grand Antinori family tree on one of the walls, and a splendid view of the countryside from the window. If you thought that was it, wait until you step into the Italian garden, and you know then and there why this place is so special.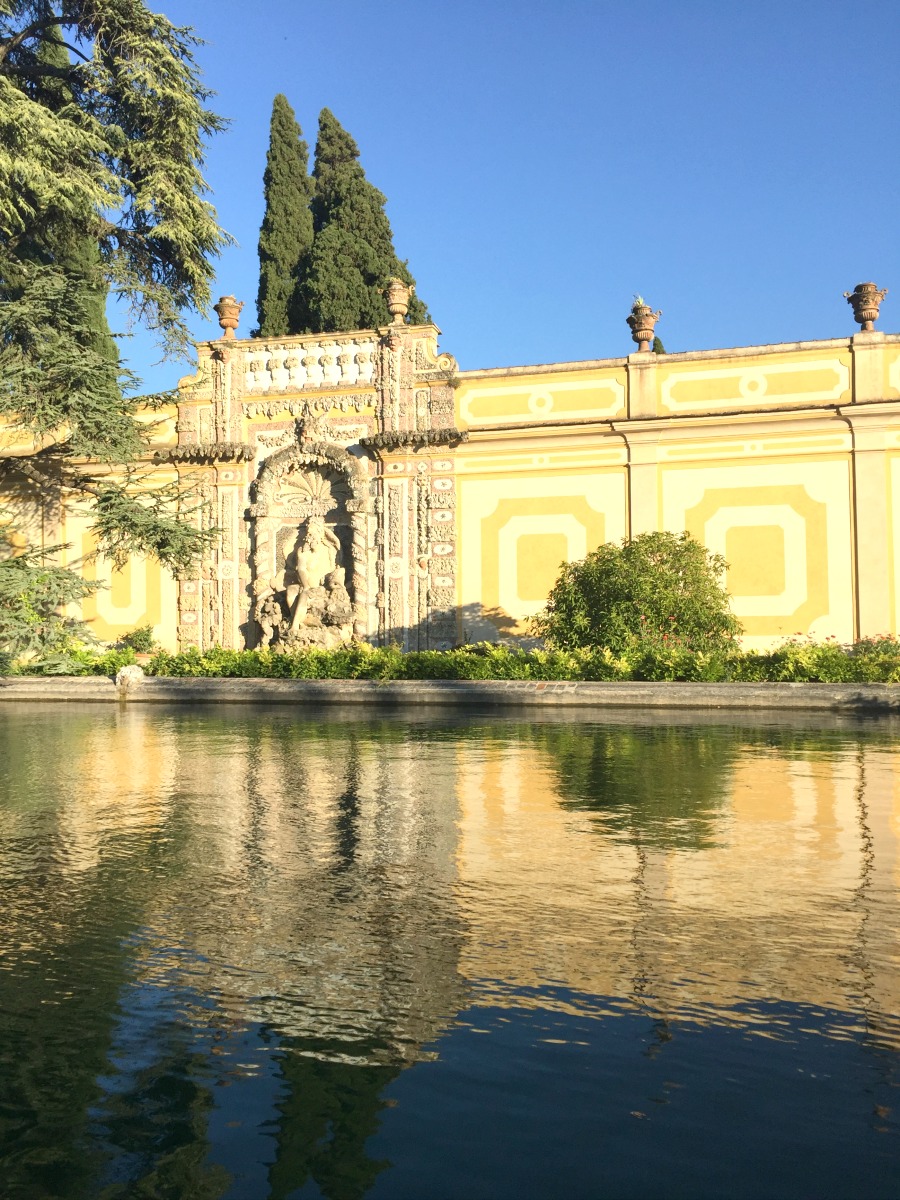 From the outside, it seems like a humble home but the wonders of this place lies inside the villa. The immense fish pond, which is 3 meters deep, serves as a reflecting pool of the facade of the villa as well as the spectacular grotto-like sculpture.
Anna also showed us their limonaia, a room where they keep their 30 lemon pots in winter and mentioned that the tradition of planting lemons in pots came from the Medici's as the lemon is not native of the area. The limonaia, as I have been told by Arianna, is spellbinding in fall as it's filled with grapes hang overhead for the production of vinsanto. Without knowing, Arianna just came us good excuse to be back again.
Our visit didn't end after a walk around the Italian garden. Anna had prepared a light dinner for us that we would enjoy under the pergola. It was during dinner, as we dined on wonderful summer dishes prepared by Anna, served with their Rose wine, that we got to hear Anna's life experiences as a child of a diplomat and in turn shared our own stories.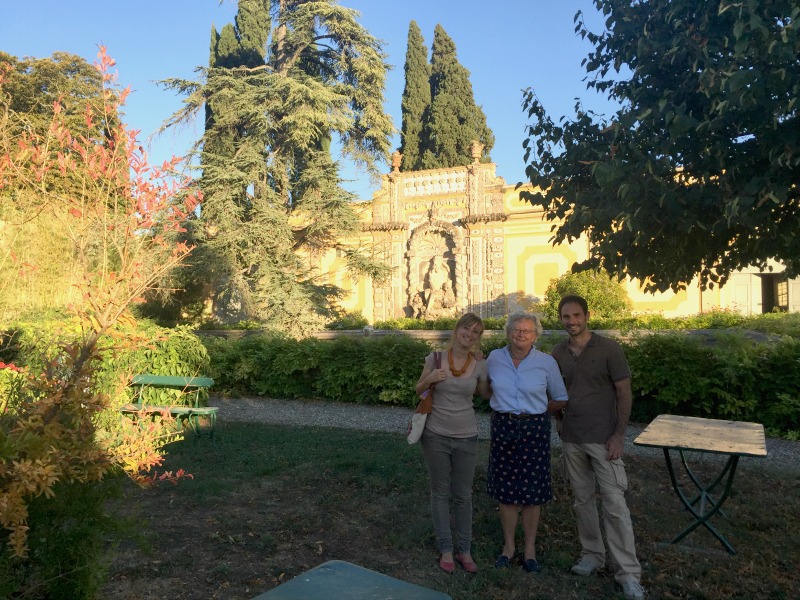 We felt like we were dining with a close friend as we openly discussed life in Rome, in the countryside, abroad and more, and found out we had many similar experiences. Having more than overstayed our welcome, I glanced at my watch and realized that we had been with Anna for over four hours.
Time just flies when you are in good company and it was here that I realized that this is what slow travel is all about: spending time with locals who openly and genuinely share their lives with you as if we were long time friends. This set the tone of the next couple of days in Chianti and Tuscany as Arianna and Alessio introduced us to their friends.
Cashmere Goat Farm
When I saw that we were going to visit a cashmere goat farm, I was curious and puzzled as I have always associated cashmere with the region in northern India, not quite Tuscany. Our drive to Radda in Chianti took us past some dreamy quintessential Tuscan scenery, so much so that Alessio had to pull over more than once for me to take some photos.
During the ride, Arianna also took the opportunity to share how they came up with Km Zero Tours and their philosophy of working with small producers who respected the land and in a sustainable way, giving us a better idea of the experiences one can expect.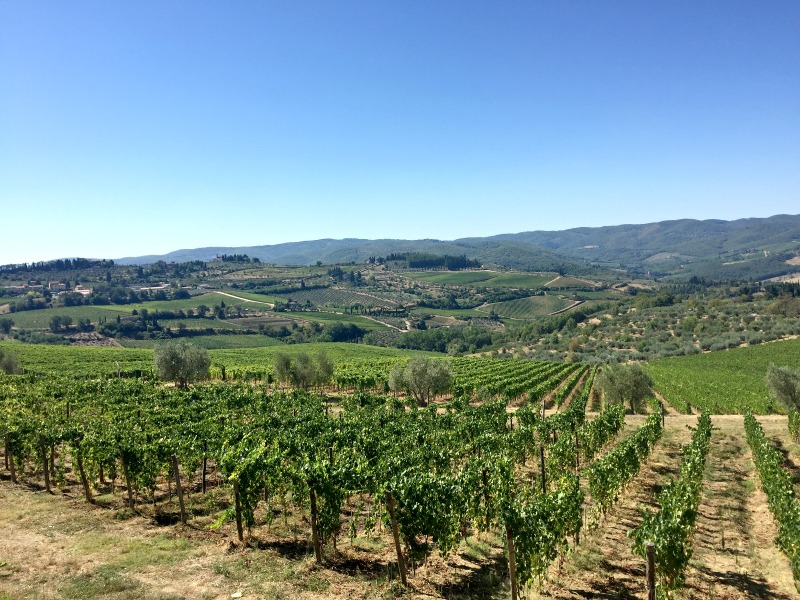 Once we got to the goat farm, we were greeted by Nora and immediately charmed by the female goats and kids. Nora's journey is a fascinating one that took her from Long Island, NY to an enchanting spot with a dilapidated farmhouse in Radda in Chianti in the early 1970s.
Stone by stone, she rebuilt the farmhouse and decided to start a new life here. She enrolled in Veterinary Medicine in the University of Pisa, and this place has been home for Nora for the past 30 years. It is truly an incredible story of passion and love for her work.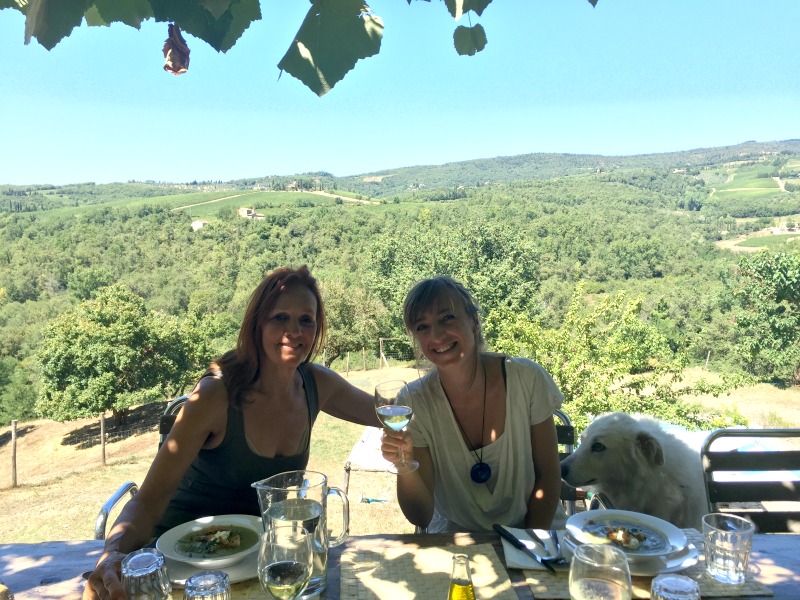 In 1995 she imported the first cashmere goats into Italy and today she has over 200 goats on the farm. What I found impressive is the amount of scientific analysis that takes place behind producing quality cashmere.
Nora described that she meticulously studies the fibers of the cashmere produced by the goats and then decides how to cross breed the goats to improve the quality of the cashmere. Today, she holds workshops, collaborates with universities, and participates in international conventions to share her knowledge of raising cashmere goats.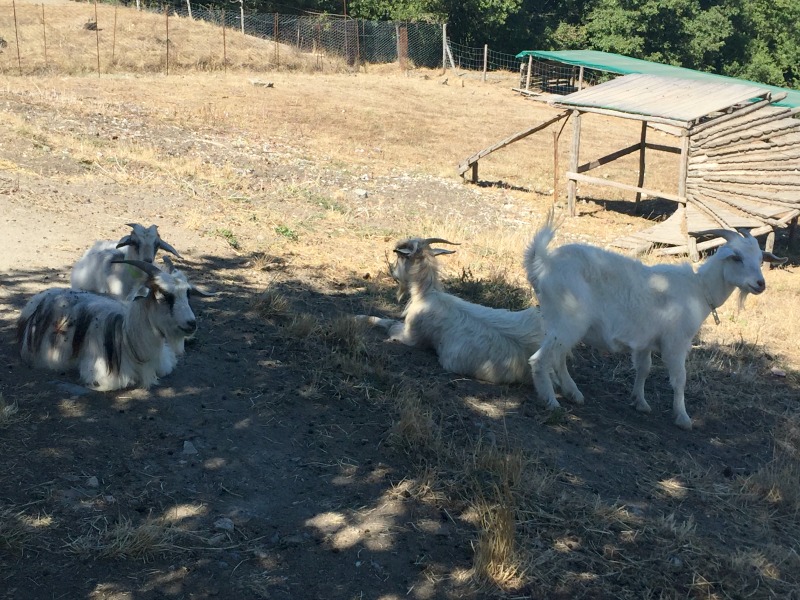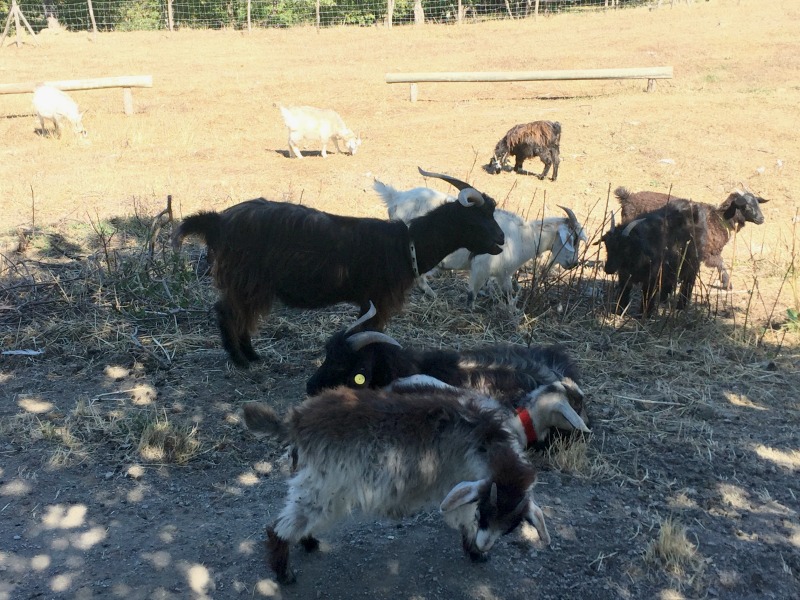 Together with an assistant and 10 plus Abruzzo shepherd dogs, she single-handedly looks after all the goats. She also works with a wolf expert and employing electric fences and the dogs, this is the first farm in Europe to receive the Wildlife Friendly Certification as they use non lethal methods against the local predators, the wolves.
One of the highlights of my experience in Chianti was feeding Jellybean, an adorable kid who was born on April 30, 2016. She was eagerly waiting to be fed and came dashing for the bottle that I held up for her, chugged it down and finally came up for air, slightly choking in the process. How cute was that!
It was then that I learnt from Nora that you can adopt a kid and on their website there is a list, along with photos of kids that are still up for adoption. Let me just warn you – when you see all the adorable kids, you can't help but want to adopt one of them!
Nora has many wonderful projects going on such as renting a goat, where she brings a group of goats and to graze on abandoned or unimproved farmland to naturally clear the land of weeds as well as thorny or prickly plants of all kinds. The teams of goats are often out grazing from June to November, accompanied by 2-3 guard dogs and to further ensure their safety, Nora also sets up electric fencing to keep the wolves away. 
Raising cashmere goats is a year-round activity. November is when mating season begins and Nora carefully decides how to crossbreed the goats based on the results of the scientific analysis. With a gestation period of 150, April sees the arrival new babies and goat camp follows next.
So what's goat camp all about?
From the end of May to first week of June, it's time to comb the goats for the raw cashmere and that's when Nora is keen to have people help out as she tries to harvest the cashmere fiber before they shed. So, if you are in the vicinity of Radda in Chianti during that period and want to be part of this experience, contact Nora. We were told that it takes about 15 minutes to comb a kid and for an adult goat, any where from half hour to two hours. 
Her shop is filled with beautifully finished cashmere products by local artisans and I could have bought everything in here. She showed us samples of how the fiber from the goat combing look liked and mentioned that she's able to get 250g-300g of fiber from a goat, only which half is cashmere. Basically, the cashmere fiber from one goat can make a scarf.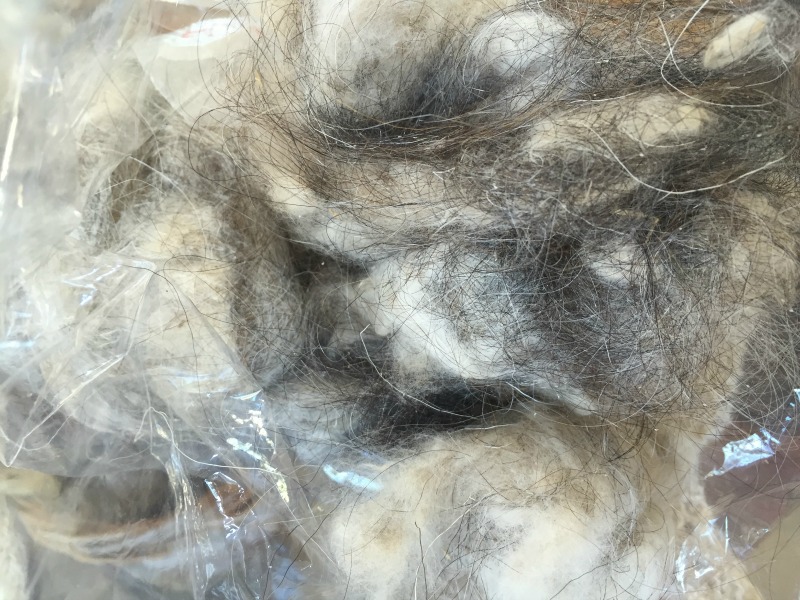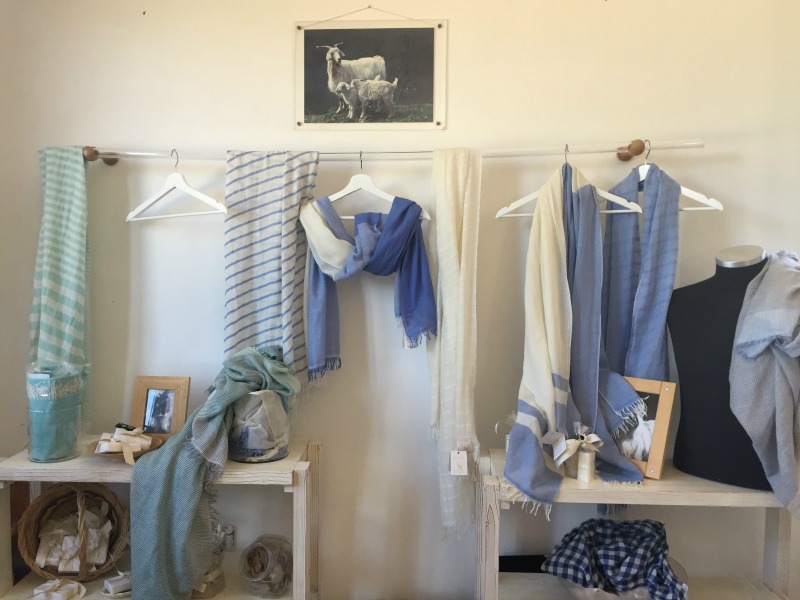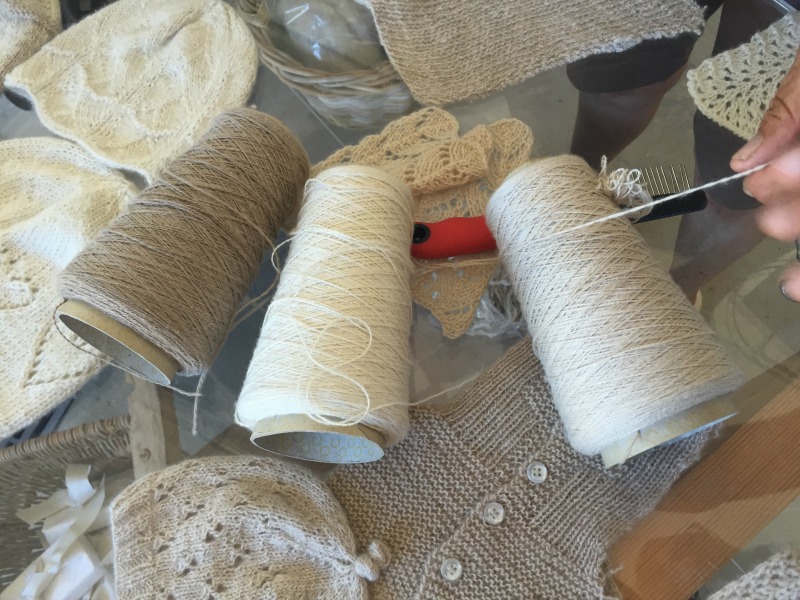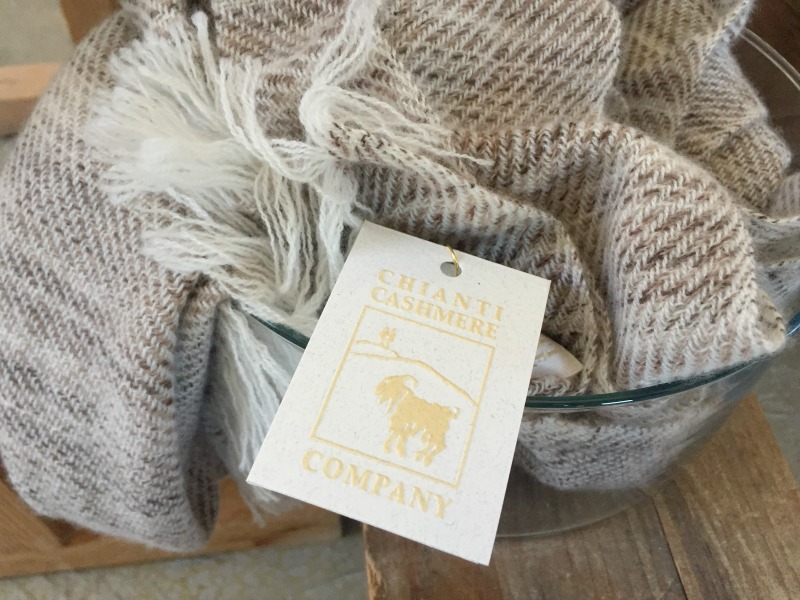 And we weren't done. Nora had prepared a fabulous feast, and we could have asked more for a dreamy spot to dine: under the pergola, boasting views of the valley that drew her here.
We started with a delicious and refreshing zucchine soup made from zucchine from the vegetable garden, followed by a plate of succulent cold cuts from Dario Cecchini served with a salad with juicy, sweet tomatoes just picked from the garden. Oh and dessert, a simple yet divine combination of peaches and blueberries with crumbled amaretti cookies and whipped cream.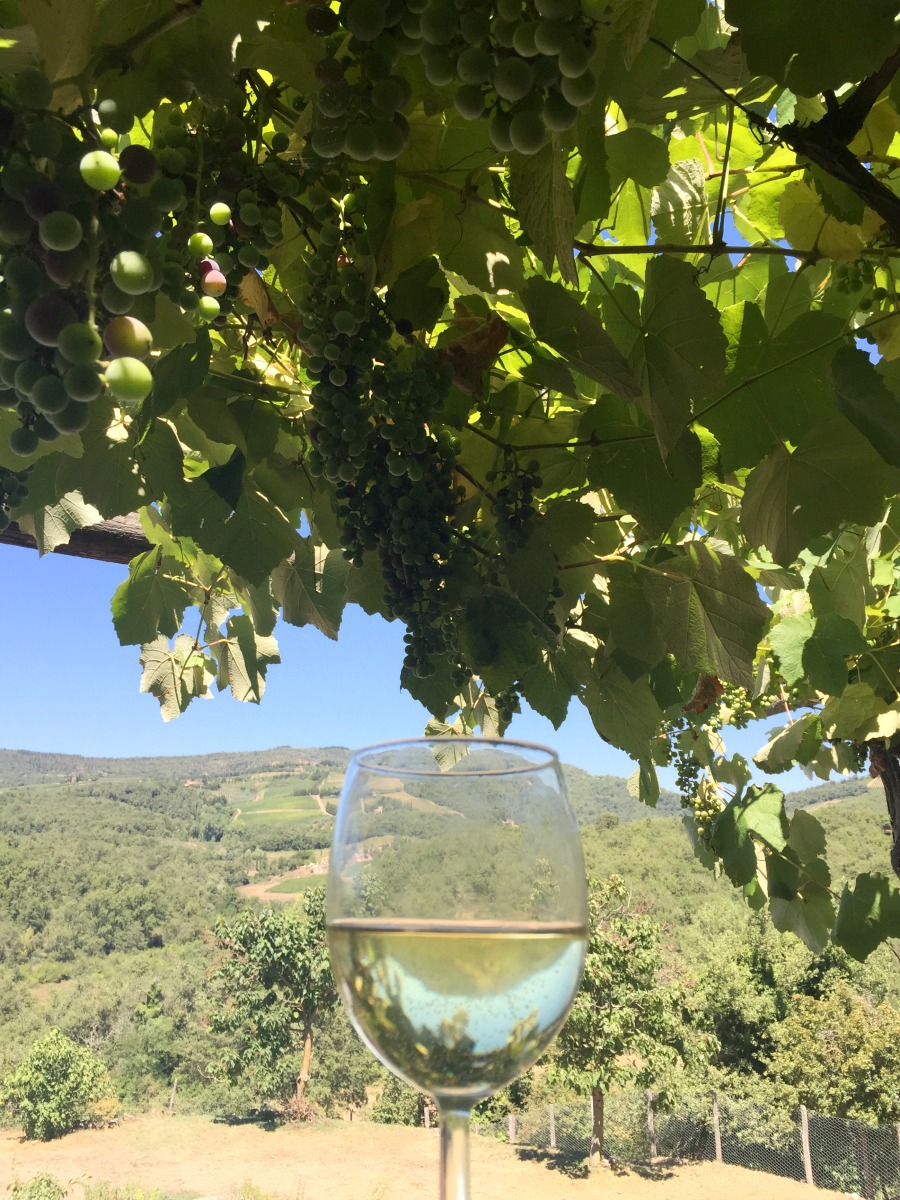 Il Bacio
Named after the valley, the scenery on the way to the farm was what you would expect of the Tuscan countryside. It was no surprise then to learn that Franco and his family were drawn to this area and it became a life changing moment. In 1990, they moved from Florence to farm as they chose to lead a simpler life and to be more in touch with nature.
The family has always used organic methods in the production of their wines and is one of the first few to start doing so in Tuscany. This gorgeous farm spreads over 13 hectares with only about 3.5 hectares for the vineyard that produces Sangiovese, Cabernet and Merlot grapes.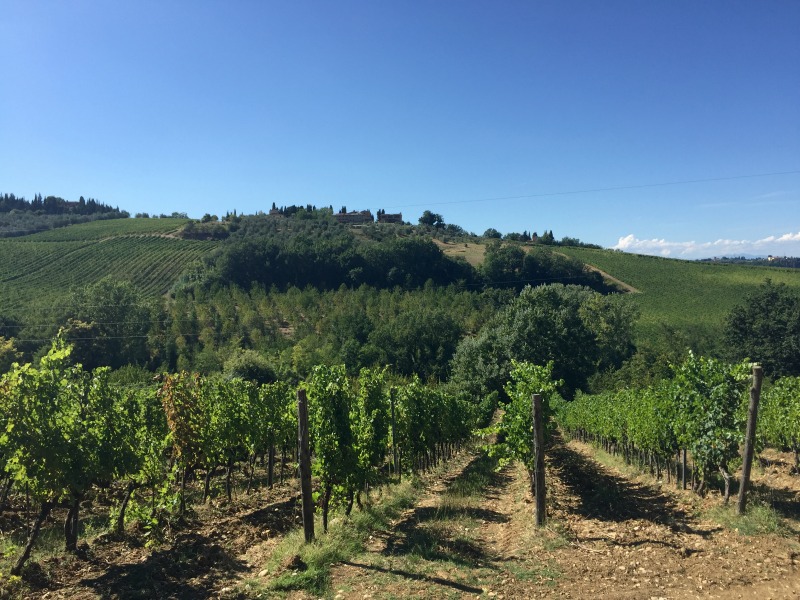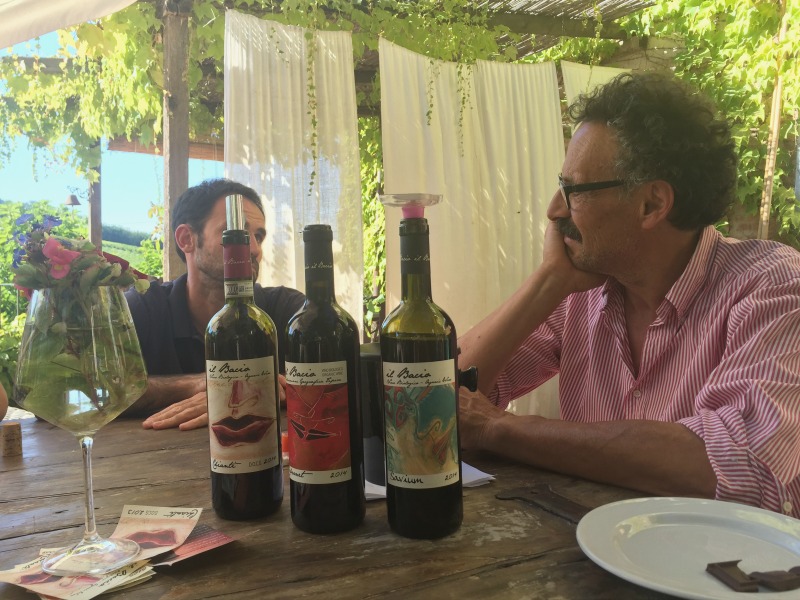 His son, Daniele, is also active in the business and when we were there, the day of Ferragosto, he was out in the tractor plowing the land. Talk about dedication.
Franco shared with us that prior to the harvest in September, a "green" harvest takes place, where they trim off immature grape bunches in order to produce the highest quality grapes. This ia a testament that their philosophy is one of quality and not quantity and during the harvest period, the grapes are hand-harvested and takes about 14 days to be completed. I also love how creative they are with their labels as they extend the idea of il bacio, which means " the kiss" in English.
As their farm is situated just outside the Chianti Classico area, they are, therefore only permitted to produce Chianti DOCG wines and not Chianti Classico DOCG wines, although Franco sticks to the procedures regulating the Chianti Classico DOCG wines.
Franco is humble man and his passion for his life's work shines through when he shares the details of the work involved in the vineyard to produce quality wines. We also visited his cellar and then sat down to taste and share stories in this beautiful farmhouse with ivy covering facade. I can only imagine how gorgeous this place will be in fall season with the varying colors of red, orange, yellow, brown and purple.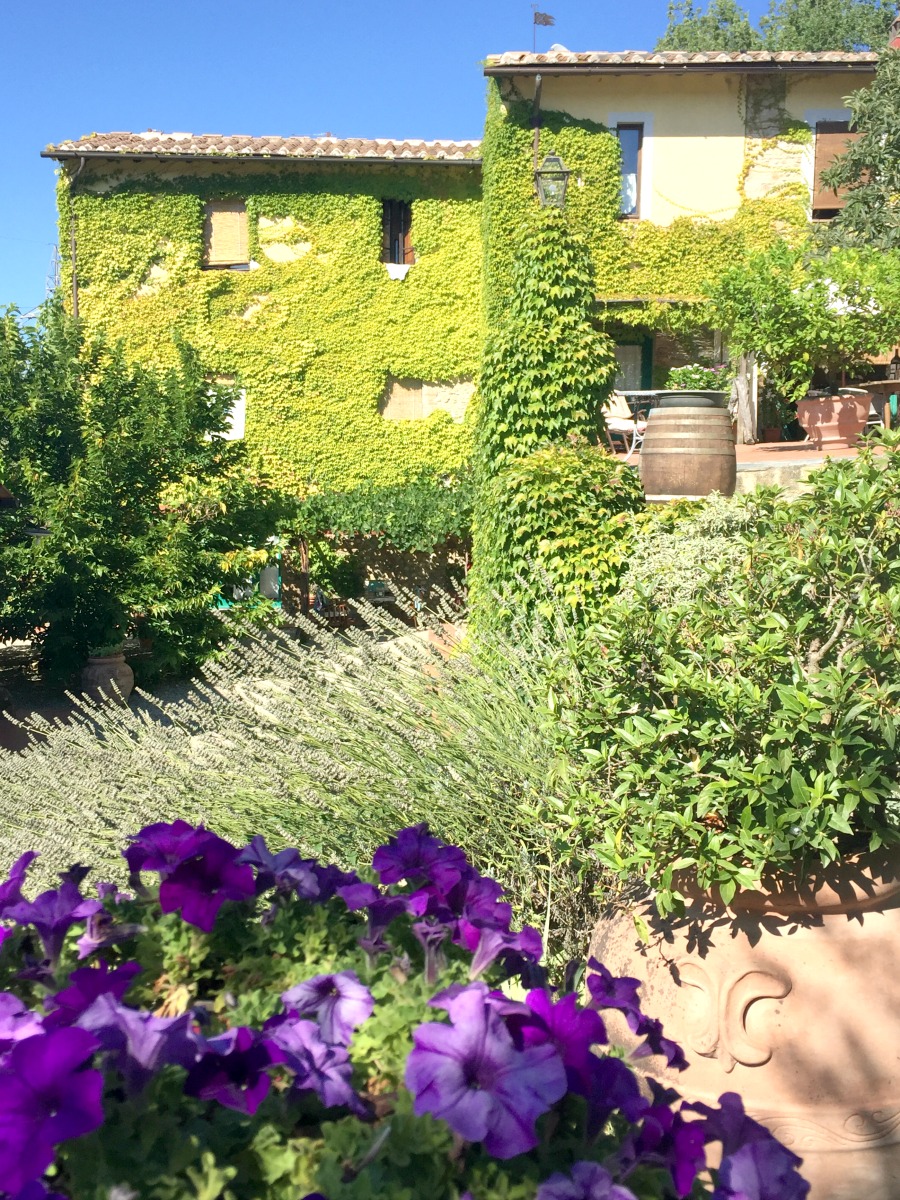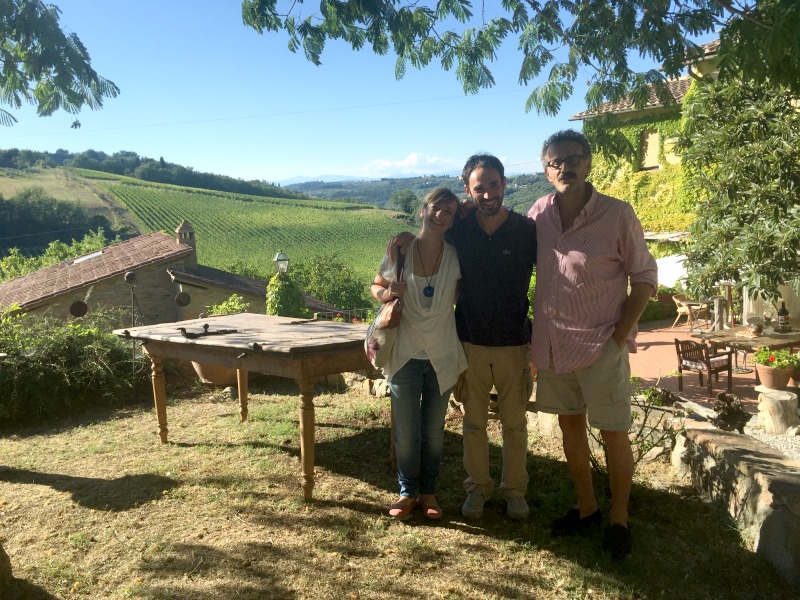 Taste of Tuscan classics
As it was Ferragosto, Arianna, who is super prepared, had already made arrangements for a light dinner at Vinile, situated outdoors in tranquil spot near a forest in Mercatale. Started by two young men, Mattia and Niccolo', with the concept of rigorously sourcing their ingredients locally, or km zero, this was the place that led to the idea of the Km Zero Tours project. When Arianna told us this story, it was touching to know that is was not just a place for dinner, but it was here that Km Zero Tours was born.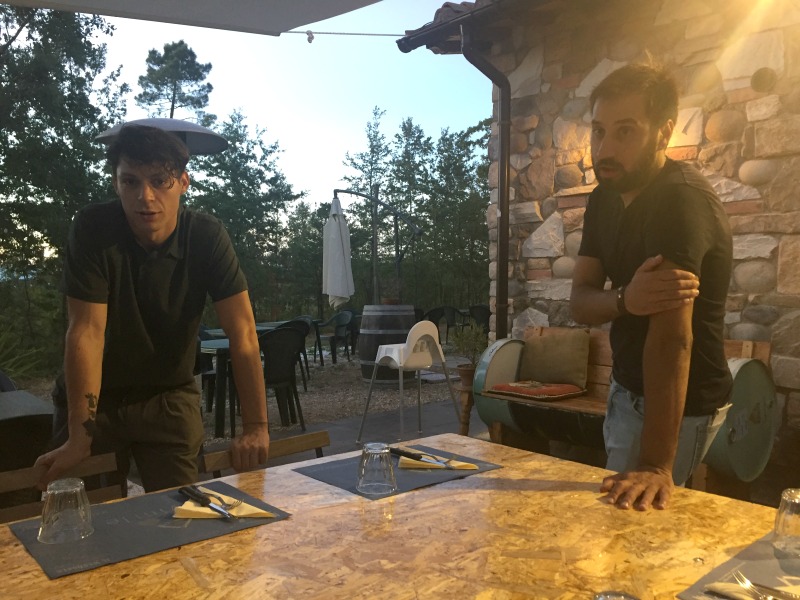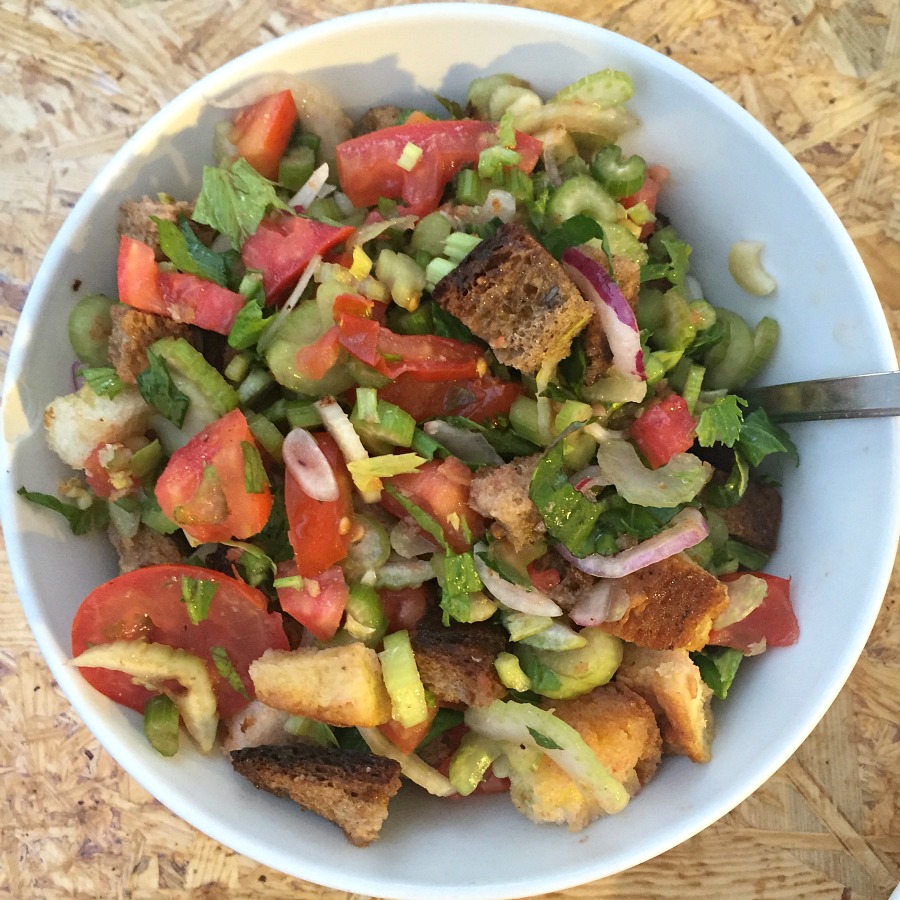 Arianna had arranged for us to taste typical Tuscan dishes such as panzanella and tonno del chianti, its name deceiving as it is made of pork that has been cooked for many hours. I had mentioned it was similar to that of kalua pork from Hawaii and we had the chance to discuss this with both Mattia and Niccolo. 
Like all the others we have met, their story is also one of courage and living life to its fullest. Both quantity surveyors with a passion for food, wine and good music, they decided to pursue their passion. And today, Vinile is a huge successs.
Silversmith in San Gimignano, Tuscany
The next morning we had an early start as we were headed to San Gimignano to meet a silversmith. Arianna is on the same wavelength as me as the reason for starting early is to beat the crowds and to be out before the day trippers swarmed in. Not one for crowds, we were more than happy to start early.
Walking through town to meet Matteo Macalle', we saw that San Gimignano was already bustling but still bearable. When we got to the workshop, we found Matteo completely focused on a piece and it was only when Arianna greeted him that it broke that intense concentration.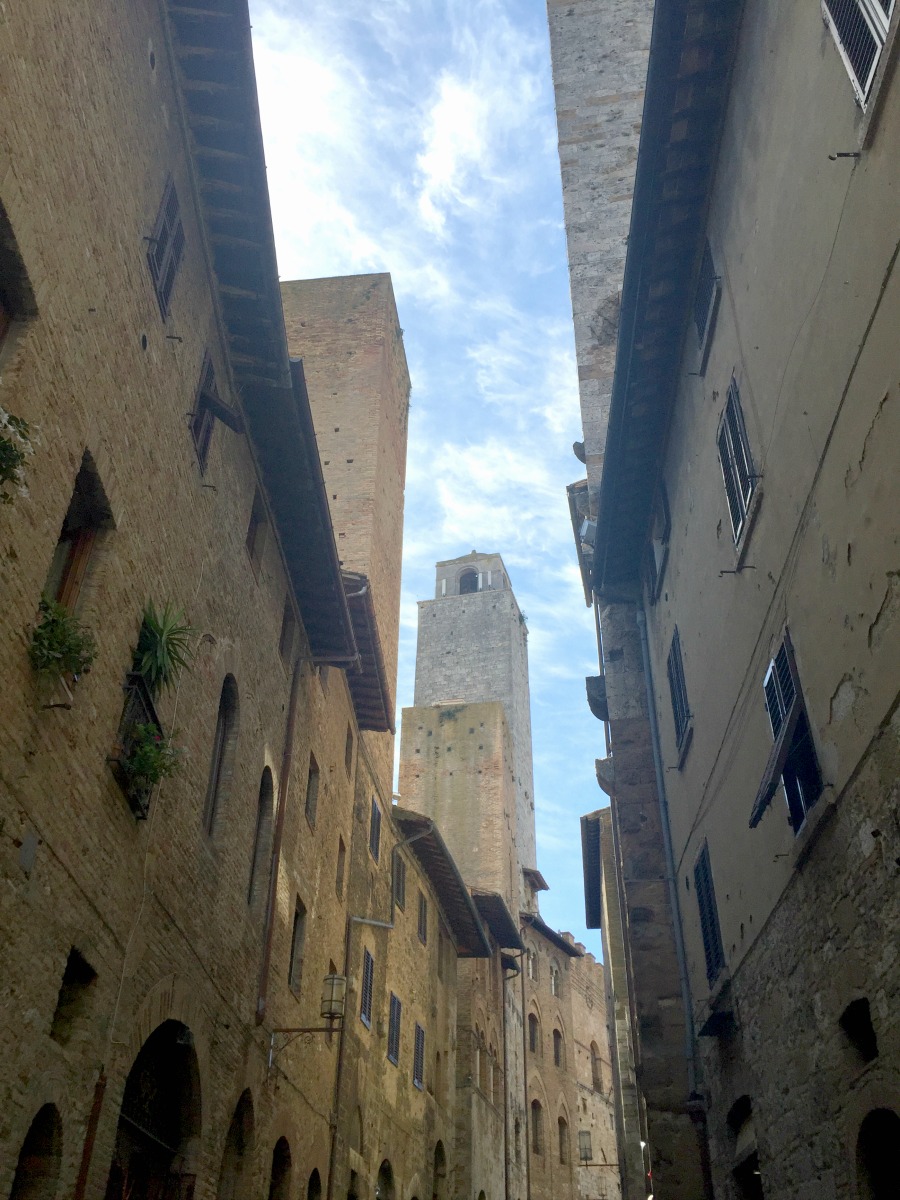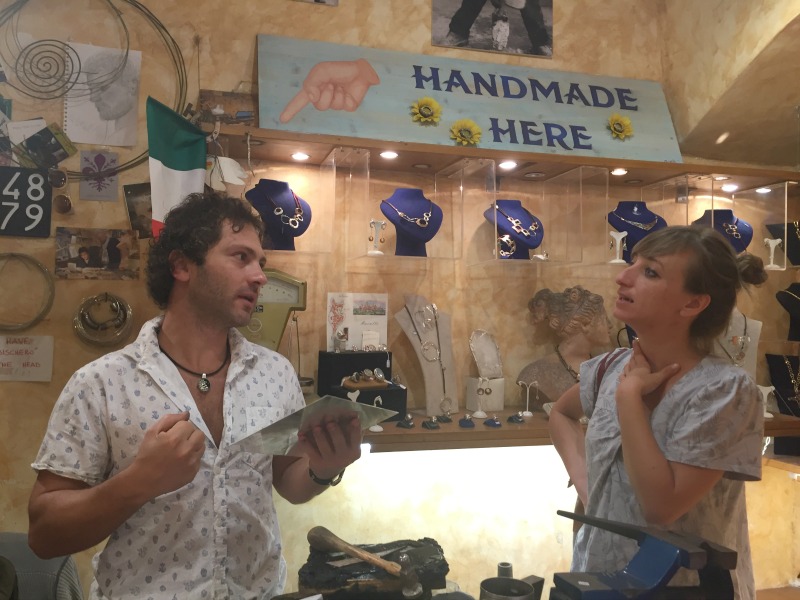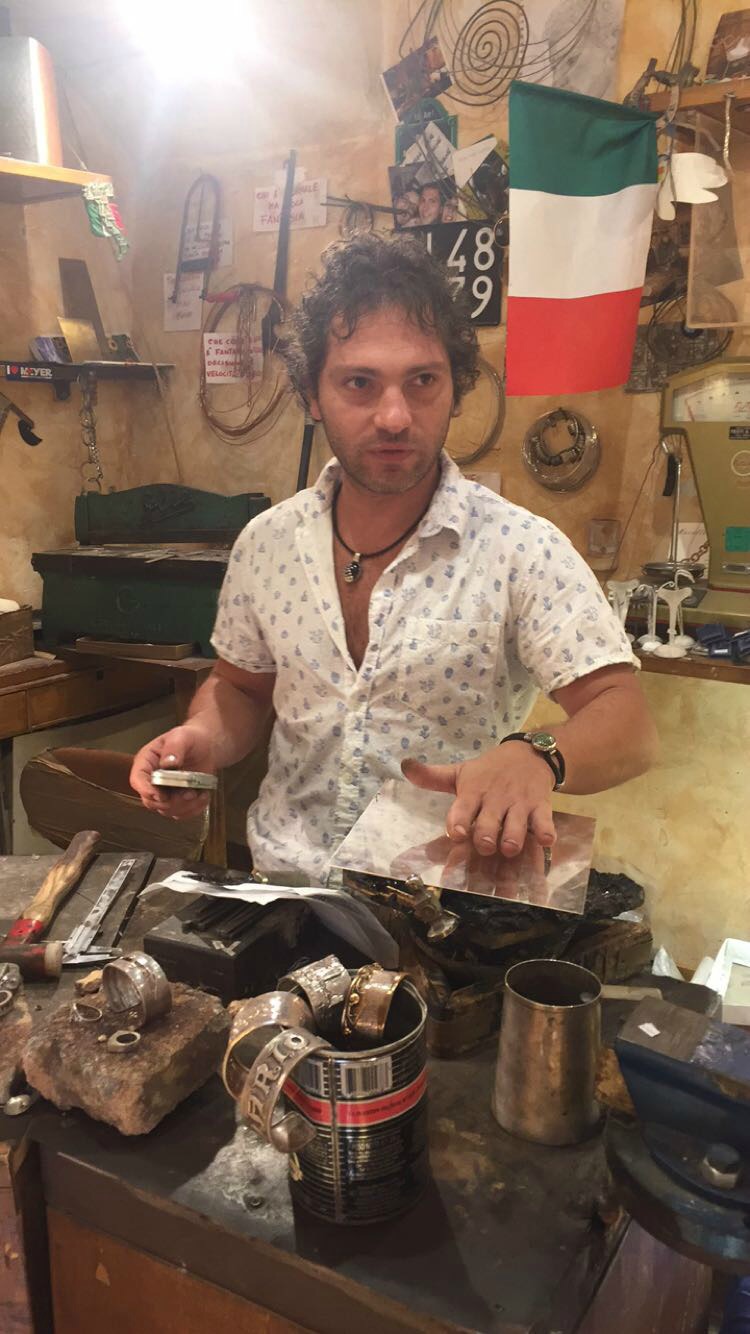 A family tradition that started in the 1950's with his grandfather, Matteo learned this trade hands-on and was kind to take time to demonstrate how he brings to life his artistic creations. It starts with a sliver from a sheet of silver, which he purchases from Florence, and with a torch, tools of the trade and his special touch, we saw the transformation of that into a ring in 30 minutes. Impressive!
I was eyeing everything in the display cases in the store and was undecided as to what piece to purchase. Fortunately, Arianna had asked if he would go grab a coffee with us, giving me time to ponder while enjoying coffee and a conversation with Matteo at a nearby cafe. And yes, when we got back to the shop I had a better idea of what I wanted and love it!
All the visits we've had felt like we were visiting friends rather than an organized tour, and I believe that's what Arianna and Alessio intended for their guests to leave with. One where they connect with locals, develop a relationship and know they have friends in the area.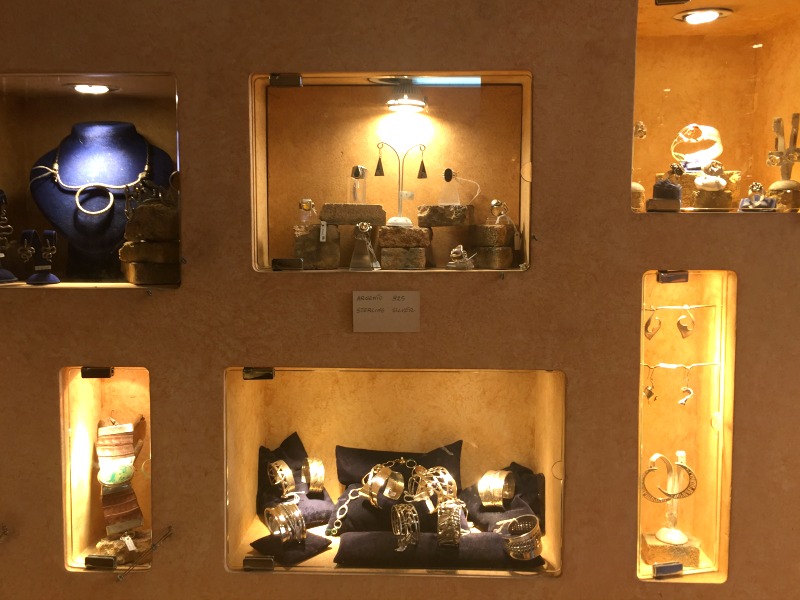 Vernaccia di San Gimignano, Tuscany 
Remember that we started the day early so we'd be out of San Gimignano before the crowds descended upon the city? I didn't how crowded it could actually get until we left and saw a ridiculously long line of cars making their way into the town. Further away from the town, we even came others who have just decided to park a distance away and trek in. I was shocked and certainly happy we started early to avoid being in that mess.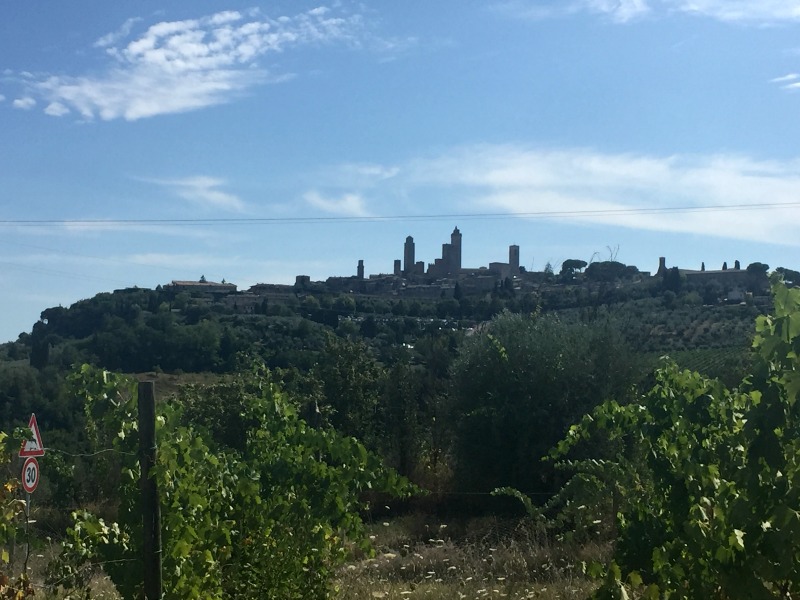 Our next stop would only be a short distance from the town as the rest of the morning would be spent learning about Vernaccia di San Gimignano, followed by lunch at the vineyard. The Vernaccia di San Gimignano is steeped in history with written evidence of this grape variety dating back to the 13th century.
We would learn more about it at an organic vineyard is run by two young lovely couple, Flavia and Francesco and now with the addition of their little one, whose hand is also part of their new marketing brochure which once only featured the hands of Flavia and Francesco.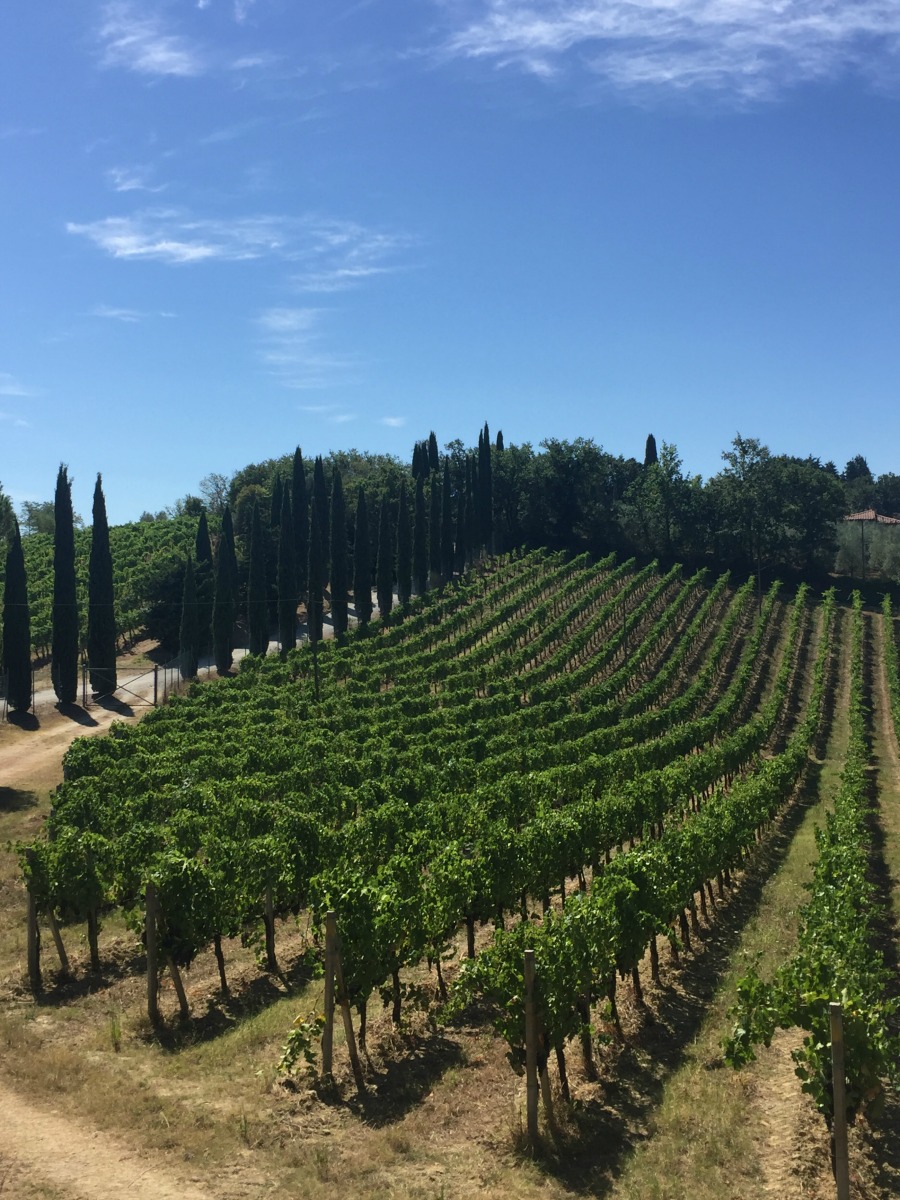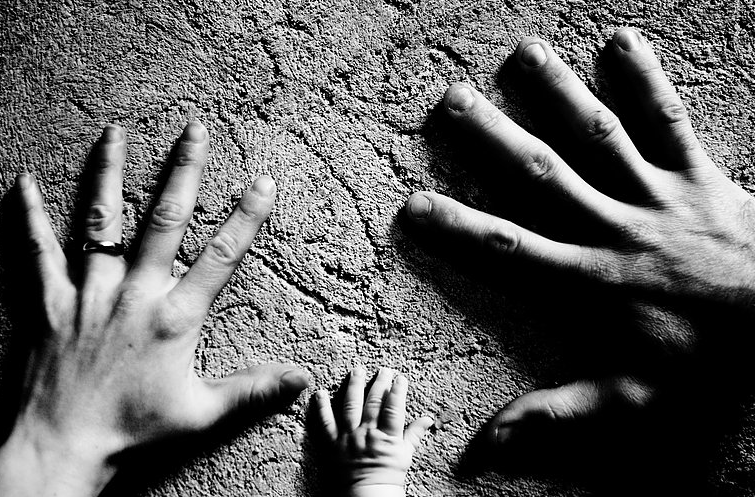 While we briefly had a chance to talk to Flavia and Francesco, it was Filippo, one of their staff, who meticulously shared the history and the activities of the vineyard. Filippo explained that the microclimate in the San Gimignano area lends to the successful cultivation of Vernaccia where they experience dry summers and winters which aren't too severe. He also added the land is rich in clay, and they have found marine fossils on their property, which add the the hint of saltiness and minerality to the wines.
Certified as an organic vineyard in 2010, the ground work started from 2008. Here, the Vernaccia grapes are also hand-harvested, usually in September, and pressed immediately. The vineyard produces three different types of Vernaccia: Vernaccia di San Gimignano DOCG made from grapes aged about 5-8 years, "Rialto" Vernaccia DOCG  from the oldest vines that are 48 years, and "Prima Luce" Vernaccia DOCG, made from the grapes from the vines facing east that gets the first light.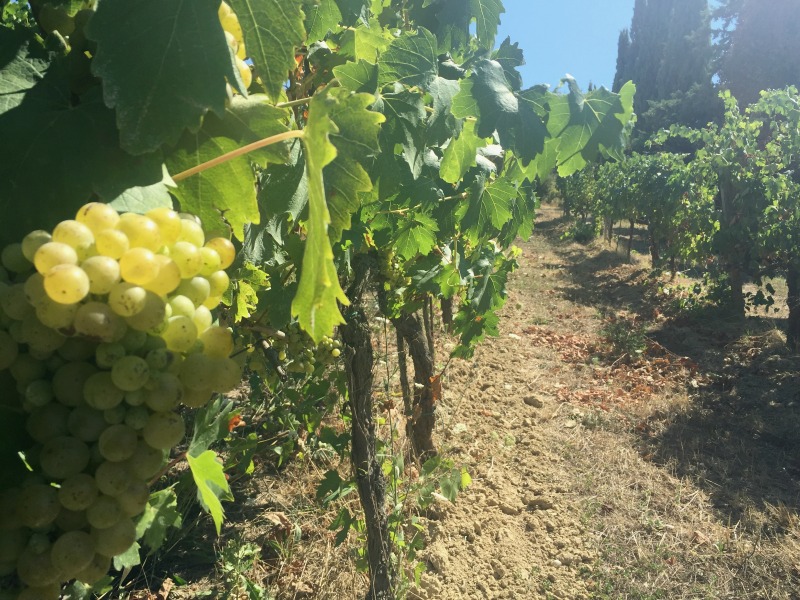 Production regulations for Vernaccia di San Gimignano DOCG requires that 85% of Vernaccia di San Gimignano and the remainder with non-aromatic white grape varieties. To show you how strict the process is, the consortium has even listed which white grape varieties are not allowed to be used such as Traminer and Müller-Thurgau to name a few.
What is fascinating at this vineyard is their willingness to experiment and be innovative. With the "Prima Luce" Vernaccia DOCG, fermentation takes place in terracotta jars for the first two weeks with the skin, then rests over the lees for a year, and finally a few months in oak barrels. We were fortunate to get a peek of the terracotta jar and the oak barrels situated in different area from their main cellar. Other exciting developments also include producing a riserva that will be aged in wood.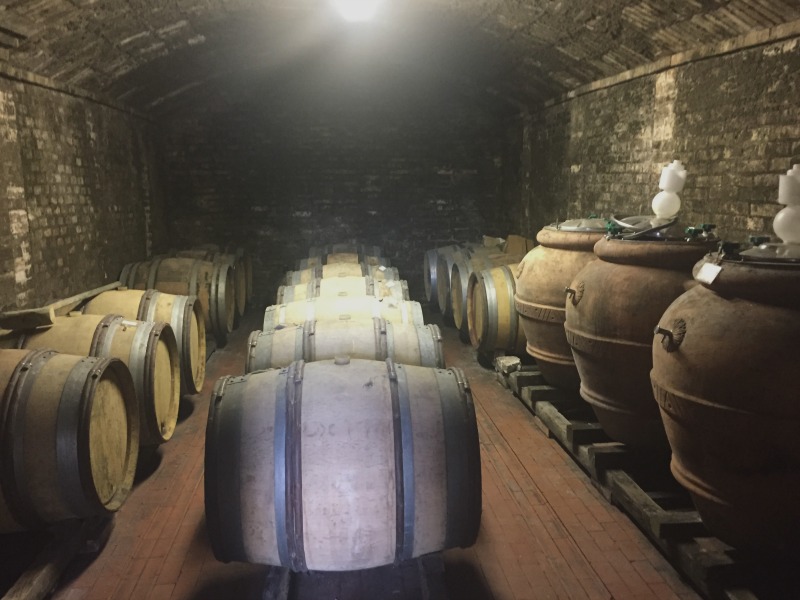 Besides Vernaccia di San Gimignano they also produce some super Tuscan IGT wines as well as vin santo. The area for the red wine production is in a different adjoining room, and instead of steel vats, you will see the use cement vats. As there are no mechanical devices used in punching down the cap, where the solid mass of skins that floats to the top are pushed back down into the wine, it has to be carried out manually.
It's a physical demanding activity as the punching down is done twice a day for 15 minutes per vat. Let's just say that that you don't need to head to a gym after your down punching down the cap for all the vats.
Lunch here, accompanied with their wines, was also a phenomenal experience. I failed to mention earlier that Filippo is a chef too, and one who loves to express his creativity. We had pasta alla norma al contrario (al contrario mean "inside out") as it was made with a creamy eggplant sauce with some chucky pieces of yellow tomatoes from the organic garden.
Following that, we tasted of some of the jams with cheeses from a nearby producer, and the apple and cocoa jam was absolutely a winner. However, Filippo saved the best for last, Vernaccia gelato. One taste and I was in awe, so much so I asked him for the recipe. We bought a few bottles of Vernaccia di San Gimignano from them and hope to try out the recipe soon.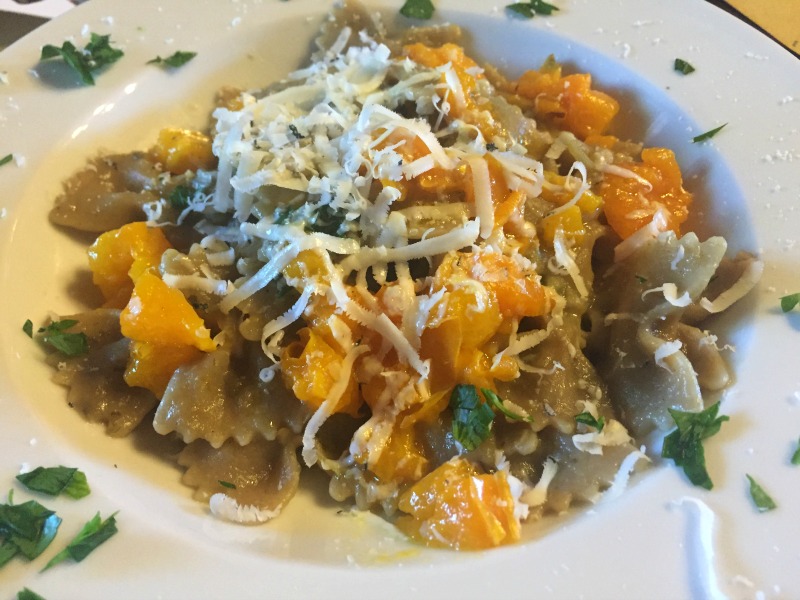 Goat Cheese Farm
Our last stop was another goat farm, but one that produced goat cheese, which are sold directly to customers who drop by, at local farmer's markets in Tuscany, and to restaurants and gourmet shops in the vicinity. A family run business with the help of woofers in peak season, this farm in Greve in Chianti started out with Marco in 2000 with just 25 goats, more specifically Chamois of the Alps goats from northern Italy.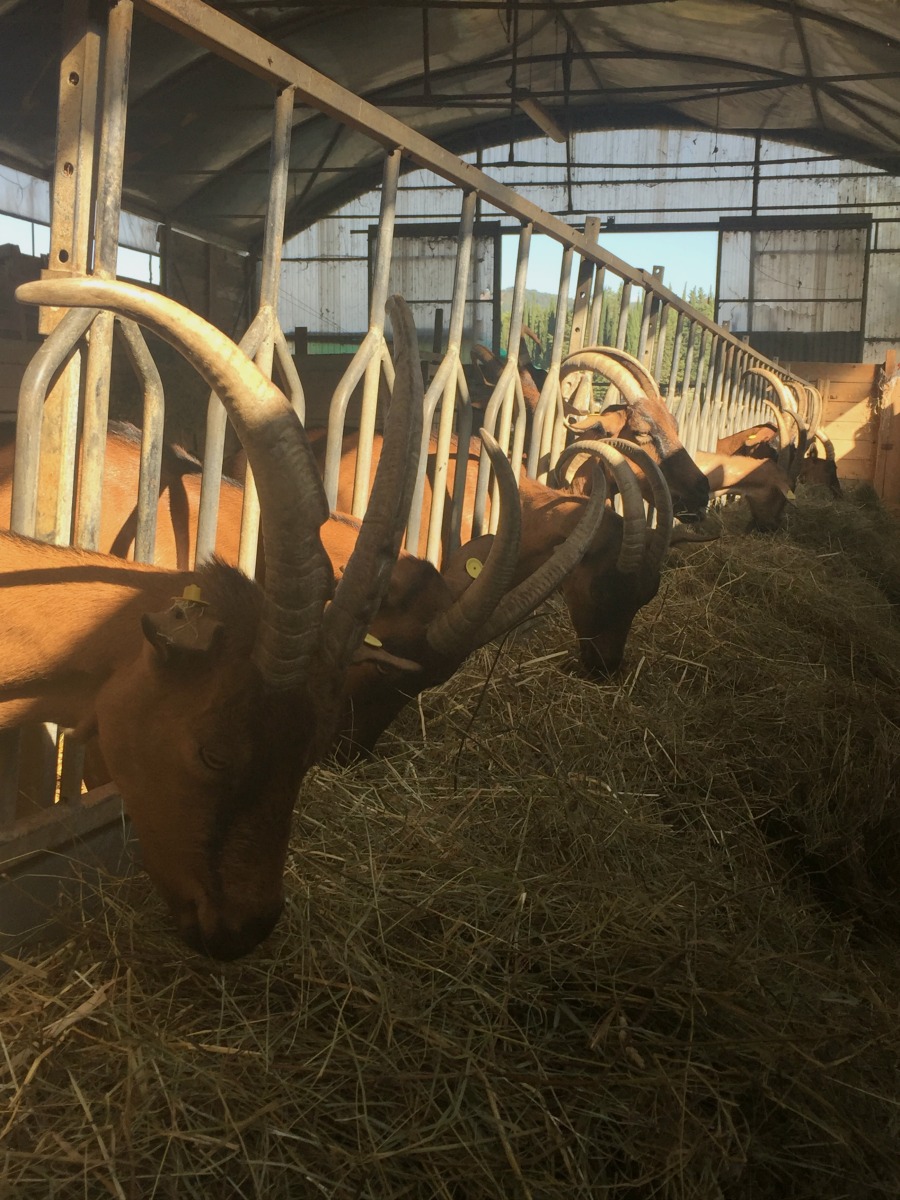 When we arrived we found Marco at the goat shed, busy taking care of the "girls". He stopped what he was doing and sat down to share how he got started and the activities today. Just listening to him tell his stories is worth the visit the alone.
He has a knack of keeping things light and humorous like the fact that while there are more than a hundred female goats on the farm, there are only two male goats and Marco hasn't quite figured out whether it's heaven or hell for the two.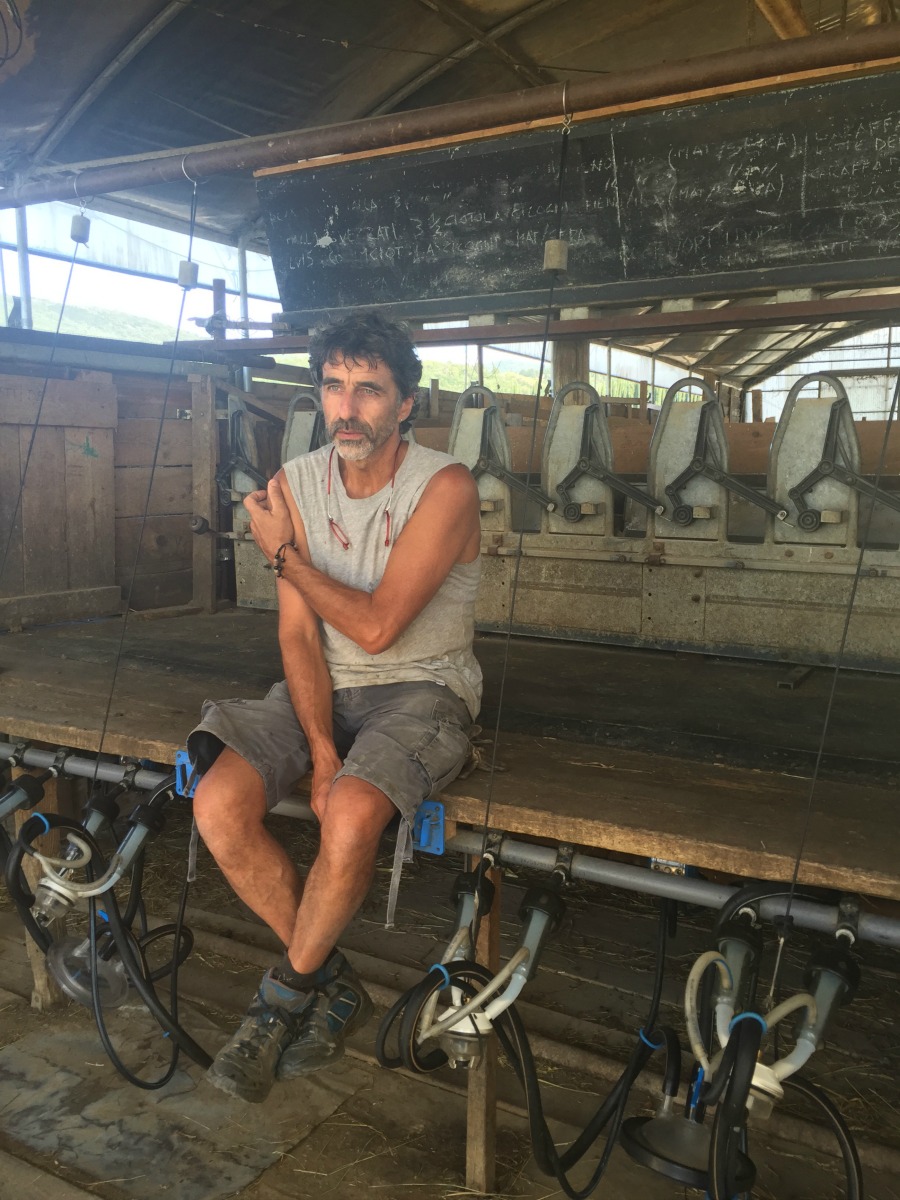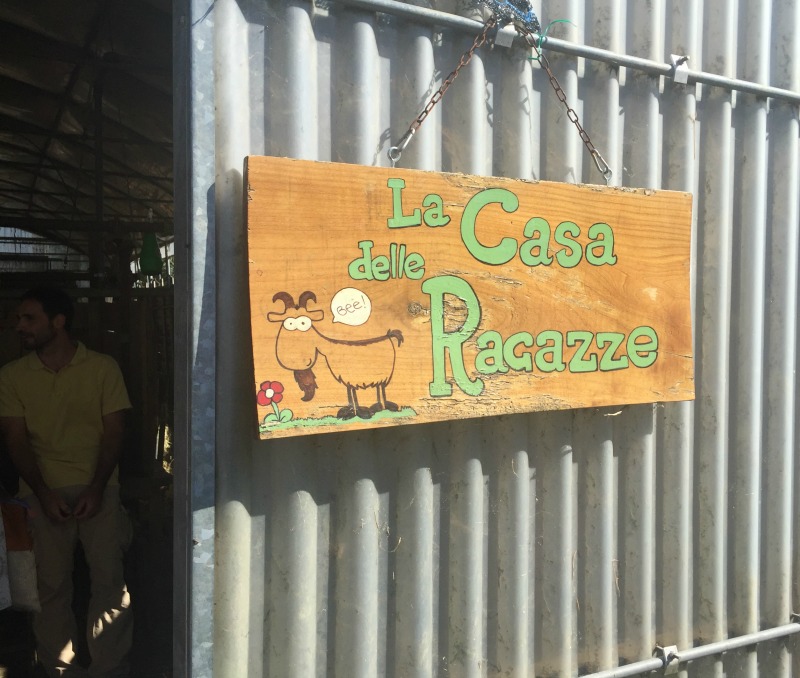 Marco was an actor in a theater and had no knowledge of goats nor cheesemaking. He laughingly told us the horrendous results they initially had experimenting with cheese and how many he had to throw away. With some advice from a friend who was a chef, they slowly improved their cheese and today, they offer a wide variety of cheeses from fresh cheese to aged ones.
Cheese production takes place only from March until mid October. From October, the breeding period begins and and when they kids are born in February, they feed on their mother's milk for 40 days before they are introduced to grass and hay. And that's the reason why the cheese production slowly starts up again in March.
The goats graze on 30-hectare property and are milked twice a day, once in the morning and again the the evening, after 12 hours. Each goat produces an average of 3 liters of milk, with about 10 liters of milk making about 1kg of cheese.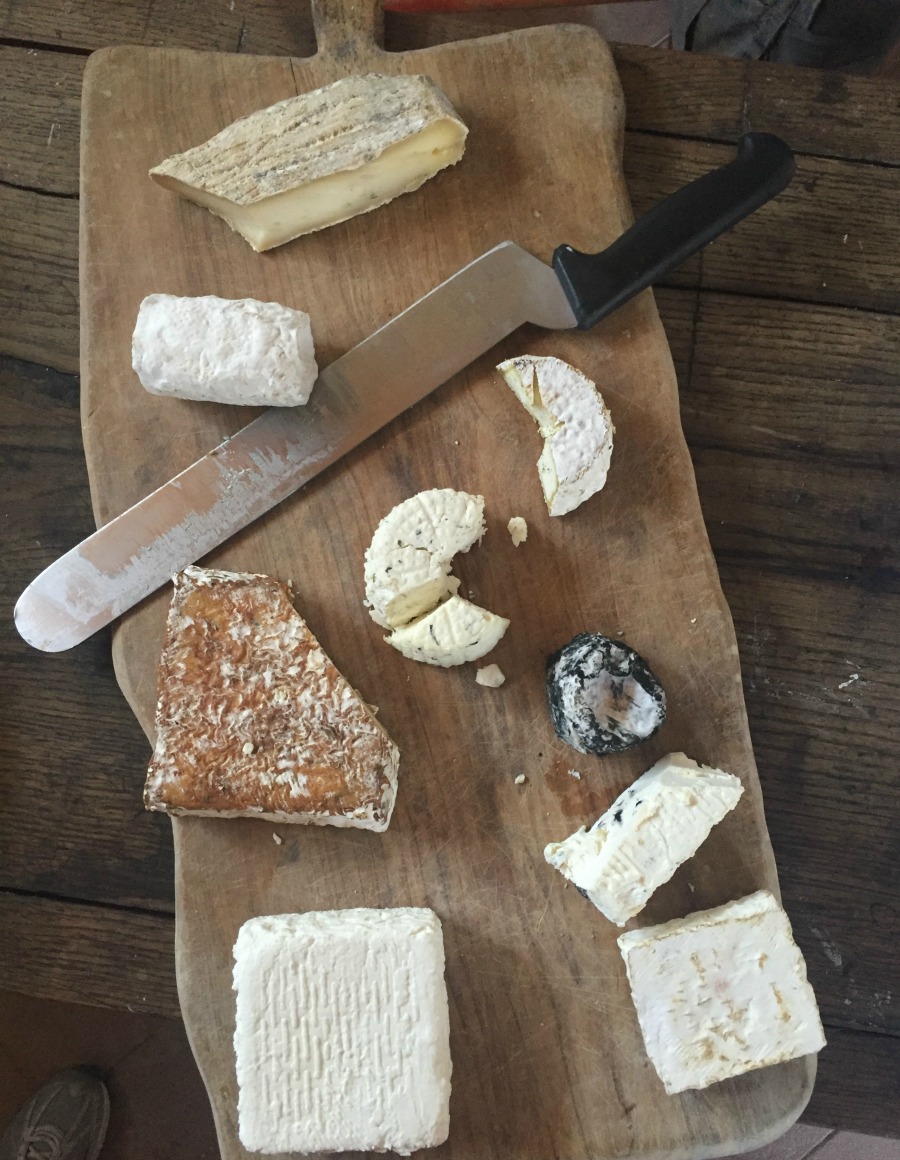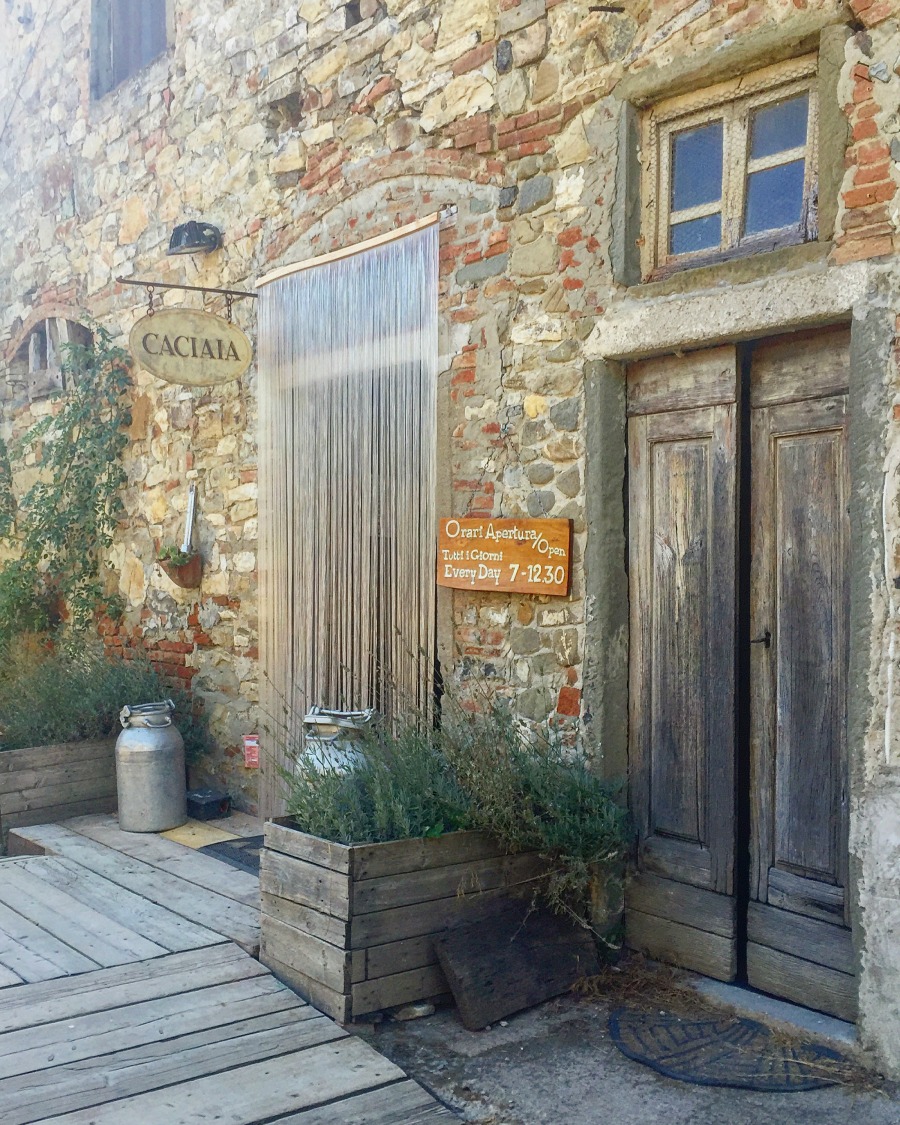 While Marco is often found outdoors with the goats, Michele, is responsible for making the cheese. We met him for a brief second but didn't get the chance to speak with him about the cheesemaking process. What I was hoping to see was the milking of the goats but that day, the person in charge of milking them was late, so we certainly have a few good reasons to be back here.
Unforgettable few days
We only got the chance to meet with a handful of the producers and artisans that Km Zero Tours work with, yet we learnt a great deal about their activities, they inspiring stories, and their labor of love. If you find these experiences fascinating, are looking for a personal connection with locals, and at the same time taking it slow, get in touch with Km Zero Tours and you'll be assured of an unforgettable time. Here's a 60-sec video of our experience in Tuscany.
Thanks Arianna and Alessio for the kind invitation and we certainly had an unforgettable experience in Tuscany, one where we really felt we got a real taste of what slow travel is about and love it. And as we have said, we'll be back!
And if you want to be part of a similar experience, Km Zero Tours is organizing a week-long exclusive vacation for a small group in Chianti, Tuscany in spring from April 22-29, 2017.