We recently had the opportunity to participate in the exciting Play Your Tuscany project where we explored Florence and Tuscany. You can read about some the many things we saw and did here.
In between all of the activities, we ate. And we ate very well. We have rounded up some of the best places to eat and stay in Florence and Tuscany.
EAT
L' Trippaio Di San Frediano
Piazza de' Nerli
Florence
I am no fan of tripe.  Or I should qualify this to I was no fan of tripe until Constanza took me to her favorite spot in Florence for a Lampredotto sandwich. I changed my mind after trying a spicy sandwich on a crunchy roll served from the small kiosk in the Oltrarano neighborhood.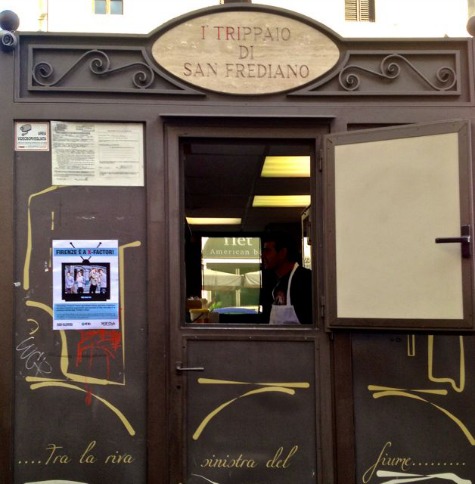 I am so happy that I did. All my previous tries at tripe had been kind of rubbery. I was surprised and delighted to find the meat was tender and the two sauces, salsa verde and a fiery red pepper, just added to the deliciousness.
Bocca di Leone
Via Pisana 39R
Florence
Pale wood tables and soft white lights make for a very comfortable dining room in this new spot on a street lined with famous restaurants.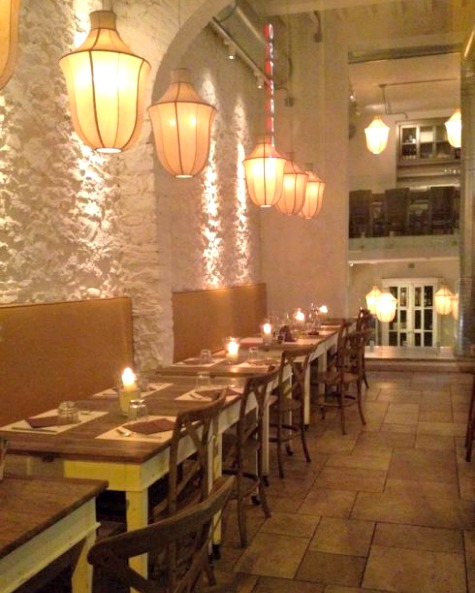 The beef served in Bocca di Leone is sourced from the owner's girlfriend's nearby farm and was deliciously served as a rich ragu on traditional pici pasta and a carpaccio topped with thin slivers of artichokes and grana padano. The meal ended with a perfect Amelie moment of cracking the crust  of the cold creamy creme brûlée with the back of my spoon.
Obika
Via dé Tornabuoni, 16
Florence
Located on one of Florence's swankiest streets this mozzarella chain restaurant occupies an enormous space. The name means "here it is"  in Neapolitan dialect. There are tables in the courtyard and two other large rooms including a mozzarella bar.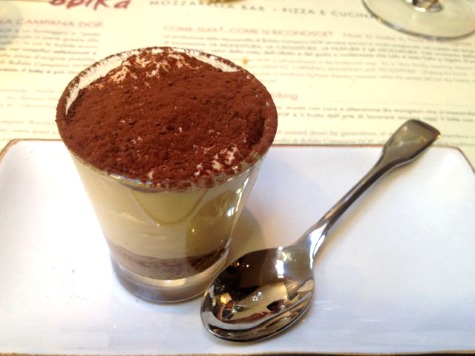 We were offered Neapolitan style pizzas, fragrant twisted trofie pasta with pesto, and schiaffoni, a large flat loop shaped pasta, with creamy chunks of fresh buffalo mozzarella and an organic chopped tomato sauce. A perfectly sized tiramisu and strong Neapolitan coffee were a perfect finish.
Tamero
Piazza Santo Spirito 11r
Florence
This vibrant spot was once a mechanics garage. The space has been transformed with an open kitchen and a stage for live music. We started our evening with plates of sliced salami and cheeses and then moved on to a traditional tagliolini, a long flat pasta with fresh porcini mushrooms.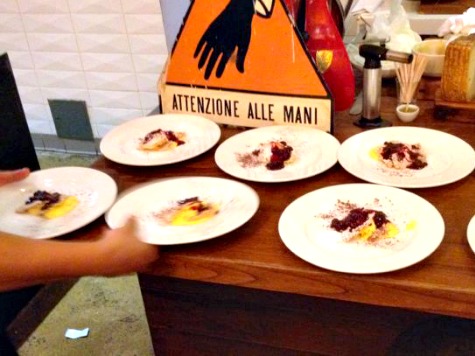 The star of the evening was an inventive twist on polpo e patate which was served as squid ink ravioli stuffed with potatoes and mint and covered with a spicy tomatoey sauce spiked with perfect tender octopus.
Libramente
Via Castel Cellesi, 3
Pistoia
The light and airy upstairs dining room with it's large table scattered with seasonal fall fruits and gourds was quite a contrast from the medieval section of Pistioa that we had just walked through.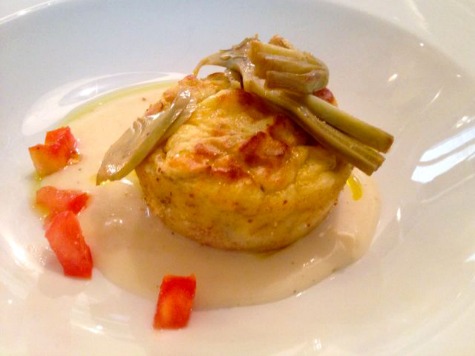 A hearty pasta topped with ragu and a plate of home style roast pork  stuffed with herbs hit the spot after a morning spent climbing the many steps of the city's bell tower. I had spied a decadent looking chocolate tart on the way in and it turned out to be every bit as delicious as it was pretty.
Osteria del Teatro
via Maffei 2
Cortona
Housed in a 16th century palazzo, the dining rooms in the Osteria del Teatro's walls are filled with pictures of theater stars and playbills. We dined on heart regional fare beginning with a warming farro soup and an enormous plate of rich rabbit ragu.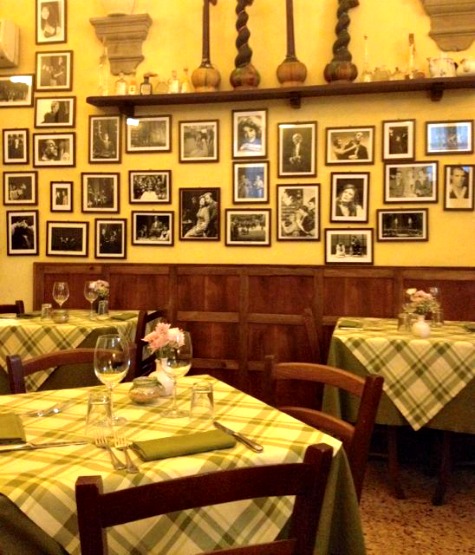 The secondi  of slow roasted pork was also a Cortona speciality.  A cold glass of crisp Tuscan white wine was the perfect foil to the rich flavors.
Lungarno 23
Lungarno Torrigiani, 23
Florence
Chianina beef hamburgers cooked to order and some of the best french fries in Italy are what's on the menu at Lungarno 23, a restaurant located along the Arno river on the Oltraarno side of Florence.  Save room for dessert because the chocolate brownie-like cakes topped with light-as-an-air chocolate whipped cream is worth the space.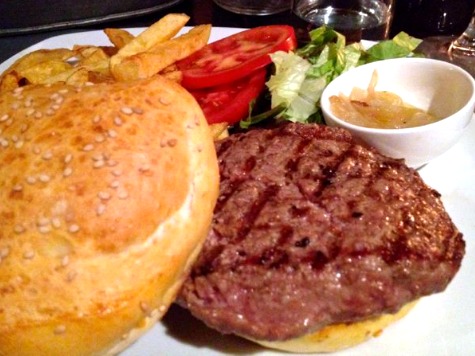 After the Play Your Tuscany activities had finished, I stayed on for a few more hours in Florence and tried a few places on my own.
Caffe Giacosa
Via della Spada 10/r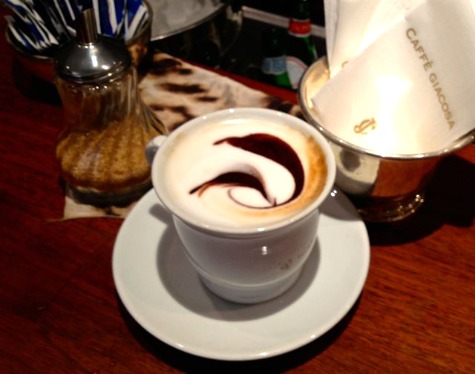 This is probably one of the most elegant places to have a cappuccino in Italy. All polished wood and gleaming silver, this spot is frequented by perfectly clad Florentines sporting silk ascots and perfect hair and important jewelry.  Stand at the bar and chat with the friendly baristas or sit down at one of the pretty round tables and watch the fashionable world go by.
Caffe Cibreo
Via del Verrocchio, 5r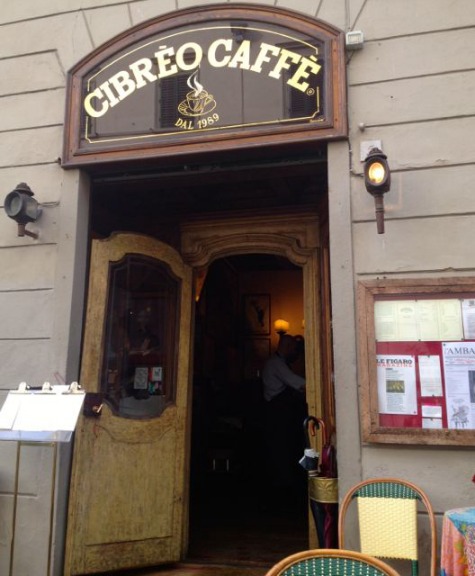 Friendly service, and a cozy inside room, warm with wood paneling and chianti colored velvet curtains made this the perfect spot to meet a friend for a a cappuccino (or two) on a rainy Sunday morning.
Osteria Belle Donne
via delle Belle Donne 16r
I had eaten a wonderful meal here years before on a rainy December afternoon. Again I found myself in Florence in the rain.  It was a very soggy Sunday, I had an early afternoon train to catch and I had spent 5 days in Tuscany and not had a Fiorentina steak yet.
Conveniently, the Osteria Belle Donne has a delicious Fiorentina T-bone steak and is only a 5 minute walk from the train station. We also tried a an dish of oven braised porcini mushrooms with melty pecorino cheese on top. All washed down with a glass of house wine.
Mostodolce
via Nazionale 114
Mostodolce was hyped to me as as having the best beer in Italy, particularly the Belgian ale-styled La Martellina that is made with chestnut honey. I was a tad skeptical as I have a palate that prefers a hoppy IPA over well, just about anything else. La Martellina starts with an intense scent of honey that then progresses to a pleasantly smooth bitterness.
STAY
Ostello Tasso
Via Villani 15
Florence
I have to admit the word hostel kind of scared me with memories of shabby pads from my Eurorail days in college. Of course I had nothing to worry about.
The Ostello Tasso took over what was once an old school near Piazza Tasso and created one of the hippest spots in town. The justifiably much talked about lobby is one of the coolest spaces I have ever seen. There is a long mirror fronted bar serving up cappuccinos in the morning and creative cocktails late into the night.Wifi and plenty of comfortable seating make it a great place to linger.
A piano and guitar await musicians to play them and there is even a stage where on one of the nights I stayed there, a popular Italian band was filming a music video. There is a large garden/patio area with tables and chairs with even more lounging space. The rooms are simple and spotless as are the shared bathrooms.
Podere di Pomaio
Loc. Pomaio, 19
Arezzo Italy
A stone villa atop a high hill in the Tuscan countryside is a vacation dream.  Add delicious wines made by a young and dynamic winemaker with a fascinating family history that has roots in Tuscany, Ethiopia and Texas and it borders on cinematic fantasy.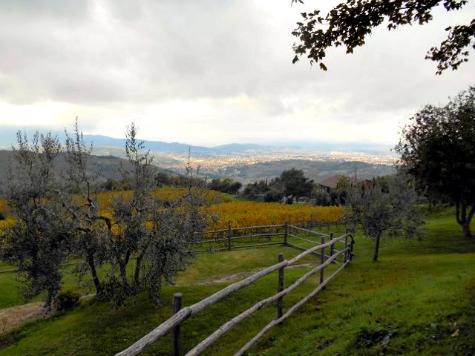 Our all too brief stay began with a tasting of olive oil that had been pressed earlier that afternoon. Sharp and green this was a perfect start to our classic Tuscan meal. Over dinner, we learned about the organic wines crafted in one of the most beautiful wine cellars I have ever seen.
The low environment impact space is decorated with black lava fired tiles and a mix of gleaming stainless steel and oak casks.  Samples of every vintage of Pomaio wine are stored in the stone walls that maintain a perfect wine storing temperature.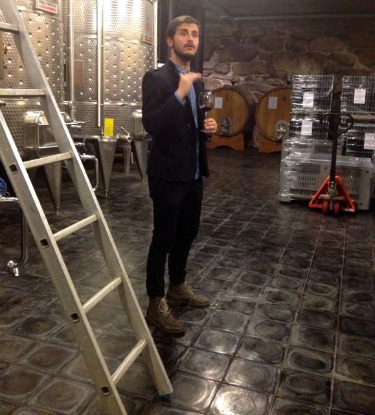 I stayed in a room called il nido, the nest, that had views from both sides of the vineyards and out over Arezzo. I wish I could have stayed long enough to light the fireplace. I awoke to a blustery wind that was clearing the clouds and watched the sun burn off the misty morning from the golden leaves of the vines. Breakfast was strong coffee and a still-warm from the oven crostata.
You can rent the house, book a wine tasting or cooking class at the comfortable and relaxed Podere di Pomaio and have a little bit of your own Tuscan dream.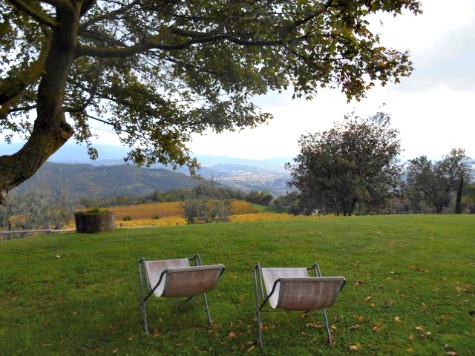 Disclosure: BrowsingItaly was the invited guest of Regione Toscana with the Play Your Tuscany project but all opinions are our own.
What other places to eat and stay in Florence and Tuscany would you add to this list?
Updated: After sharing this post on Twitter, here were some other suggestions by residents in Florence. 
.@BrowsingItaly for burgers in Florence Drogheria (largo pietro annigoni) is great! & The Diner – not fancy, but good @Ggnitaly84

— Krista Ricchi (@allafiorentina) January 9, 2014
I heard ringo's on borgo san jacopo is pretty good too! @BrowsingItaly @allafiorentina

— georgette (@Ggnitaly84) January 9, 2014
.@BrowsingItaly For where to stay I'm a fan of Palazzo Guadagni (santo spirito) & B&B Il Bargello (duomo area)

— Krista Ricchi (@allafiorentina) January 9, 2014
Il Principe for burgers, Uscio e Bottega wine bar… @BrowsingItaly 😉 I love Tamerò and Cibrèo so your list is solid!

— Tiana (@TianaKaiMiami) January 9, 2014
@BrowsingItaly Other fav restaurants in #Florence, #13Gobbi and #Gargani…perfect for vegan&veggies too

— Lisa Condie (@BetterWayItaly) January 9, 2014