In the Apennine hills in Alto Molise is the town of Agnone, home of my ancestors. Here my grandfather's cousins are still creating bells at the oldest bell foundry in the world, and the only one by Papal appointment.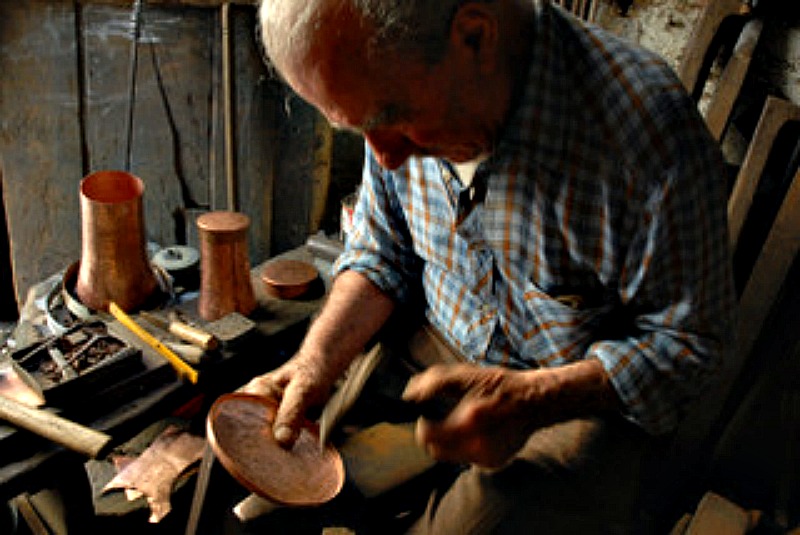 But the main industry of Agnone, bringing it wealth and prosperity in the middle-ages, was copper. With 13 copper foundries, it was a town famous for its artisans. Today, most of the workshops are silent, but then, the centro storico buzzed with the sound of little hammers lightly and deftly refining and decorating the many utensils and vessels.
Work in the foundries along the Verrino river was extremely hard. Water turned huge wheels, pounding the copper into basic shapes. Cold winters and fresh springs in the mountains facilitated the craft, as hours were spent before a hot furnace and over a constant flame.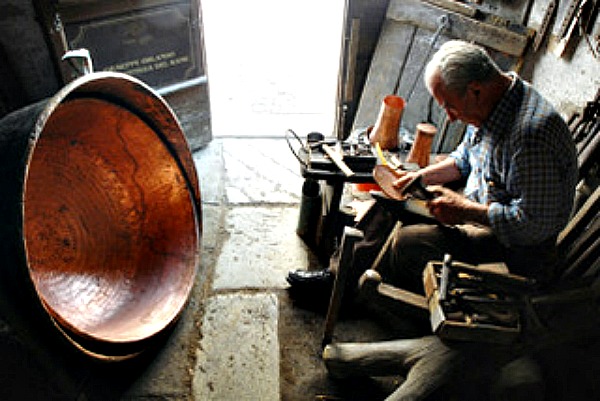 Rough articles were brought to the master coppersmiths in town for hand finishing. Copper stamped "Agnone", achieved the highest price in the marketplaces of Italy because the town fathers had brought in strict rules of manufacture for all the trades – bronze sculptors, stonemasons, jewellers, watchmakers, blacksmiths, tailors, shoemakers, and many more.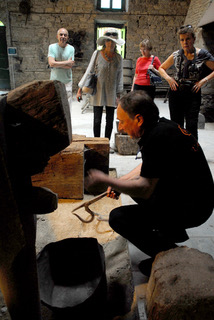 Agnone maintained its position as one of the 5 Italian cities producing the best artisan work. Today every house proudly displays inherited copper utensils. Wine, marmalade and tomato sauce are still made in vast copper pots, handed down through the generations.
The Museo del Rame of master coppersmith, Franco Gerbasi, is right next door to his workshop in Agnone. Franco is 4th generation, and has taught the trade to his sons who work beside him. They sell copper vessels all over the world, the most popular being for distillation but so many other items, impossible to list.
Franco made this beautiful museum himself – taking years to collect the pieces and archive material, and to raise some financial support. When asked why, he simply responds, "Per non dimenticare………."
Author's Bio: Live & Learn Italian offers an authentic experience as part of a relaxing holiday. Daily classes, in very small groups, combine with exploring the artisans, the history, visiting family food producers, and cooking classic dishes in local homes. For more information, visit their http://liveandlearnitalian.com/ or contact Jenifer directly at jenifer@liveandlearnitalian.com