We are delighted to have Erica Firpo, a freelance writer based in Rome, back on Italy "Show and Tell" to share six of her favorite photos from around Conero in the region of Le Marche. While we have spent many summers in Senigallia, we have yet to fully explore this amazing region. Erica gives us a peek into the gems in Le Marche.
6 Favorite Photos from around Conero, Le Marche
For three days, I had full immersion in the Conero Riviera, an area of the Marche region that spans from the Adriatic sea to Monte Conero, a large mountain, and visits to neighboring hill towns. The Conero Riviera is the ultimate mare-monti– a so-to-speak surf and turf of colors, flavors and culture, an overflowing cornucopia of sights, sounds, history and nature for painters, foodies, historians, nature lovers, athletes and really anyone who wants a trip through the Italian countryside.
Important t note: on any given day, cotton candy clouds float about jewel-toned panoramas, it's no wonder Raffaele (Sanzio) included them as backdrop in every painting.
1. Arcevia:  a tiny medieval town where everything centers around the Town Hall/Mayor's office. Inside is a dedication to the victims of a World War II massacre (May 1944) where 70 citizens where slaughtered.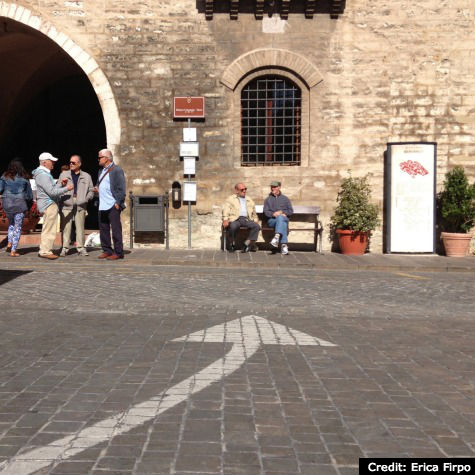 2. Loreto:  the basilica of Loreto houses the Bramante-designed Santa Casa, the house of the baby Jesus which was miraculously flown by angels to this hill town. Always a great Christmas destination.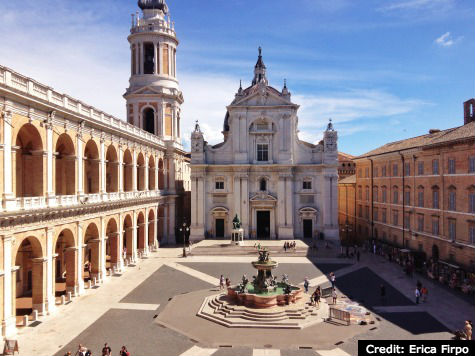 3. View From Loreto:  the view from Loreto.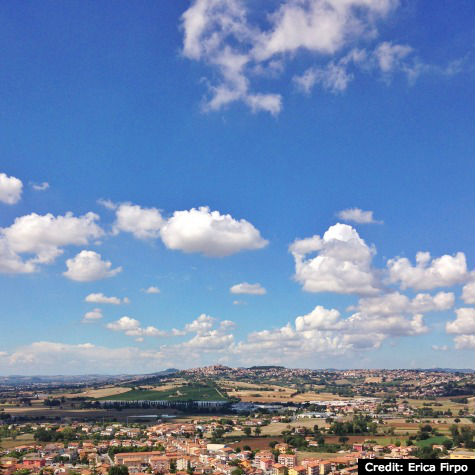 4. Osimo: the view from Osimo, a tiny town whose history begins with an ancient greek community and then repubblican era Roman fortress.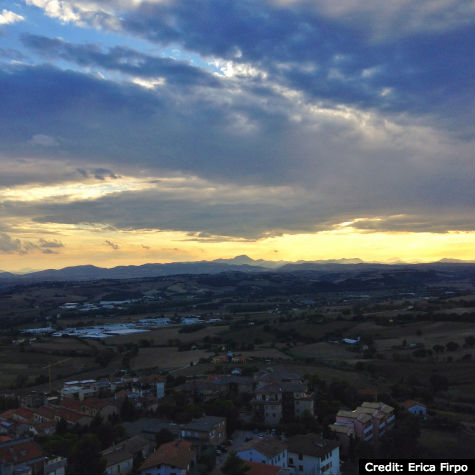 5. Porto Recanati: yes, the beaches in Italy are always this charming and so are the beach towns. The town of Porto Recanati seems like a backdrop for a film, with its late 1920s and 30s architecture and colored buildings.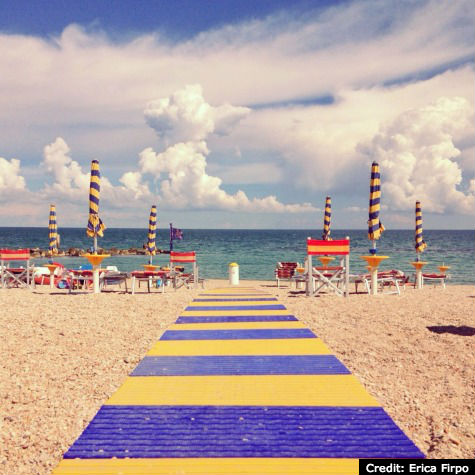 6. Senegallia: the old fishmarket in beach town Senegallia, known as Rome's first Adriatic colony.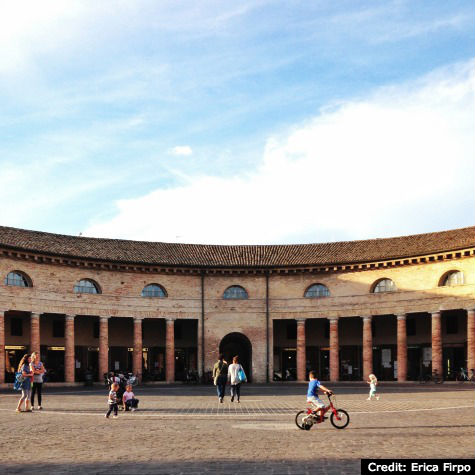 Quick thank you to http://turismo.marche.it and #aroundconero.
Thank you again Erica for sharing these wonderful photos from around Conero! For more fantastic shots from Erica, you'll find her on Instagram, and feel free to chat her up on Twitter.
Have you been to the region of Le Marche? What are your favorite towns?