When we got the invitation to spend the night in the thermal baths in Viterbo, it was too good to turn down.
A wonderful initiative organized by IgersLazio and IgersViterbo called #nottebiancaterme it was timed perfectly with the weather getting colder. The ideal anecdote for a cold winter's day. Plus from Rome, it's only about a 90-minute drive to Viterbo.
An enchanting place to stay in Viterbo: B&B Torre di Vico
The morning started with apocalyptic weather as the braved the torrential downpour and ominous clouds on our way to Viterbo. It eventually calmed down when we got to the town and our plan was to first check into Bed and Breakfast Torre di Vico situated in the heart of the historic center. Giulia, the lovely owner of the this 5-bedroom B&B had advised us to park at Parcheggio di Valle Faul, a free, vast parking area with security cameras.
With the weather all wet and cold outside, we were eager to get indoors and couldn't have asked for a warmer welcome from Giulia as we stepped into her beautiful family property. As we looked around, we can see that Giulia has poured her love into this bed and breakfast as every detail has been carefully taken care of.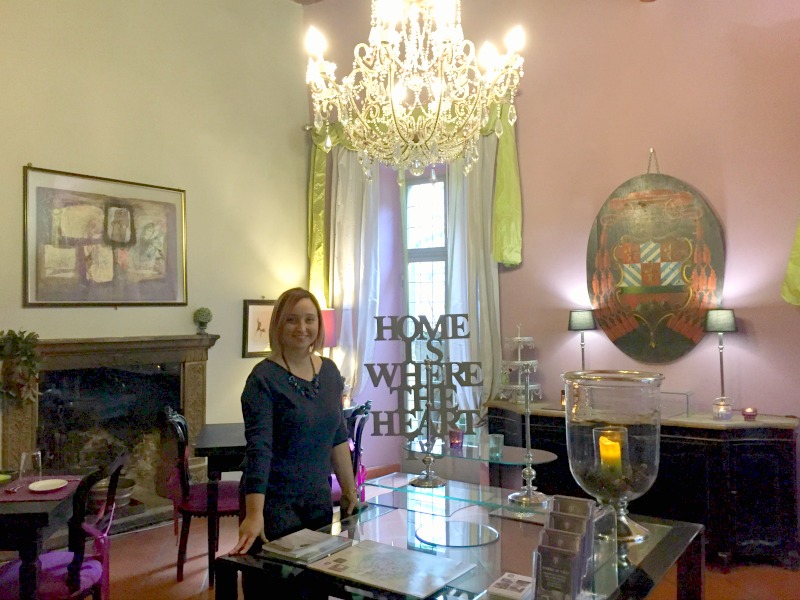 From the name of the bed and breakfast Torre di Vico, you have a hint that you're staying in a tower, more specifically one that dates back to the 12th century. And you'll notice this when you tackle the stairs to get up to your room.
That's the cool part of the experience in staying in this bed and breakfast. You can see the details and thought that Giulia has put into designing the property as she cleverly has suspending stairs and platforms that lead up to the rooms in the tower. 
Our bedroom was spacious, cozy, and clean with a stunning chandelier hanging above the bed. And it had a small study attached which would be perfect for families. The large bathroom is in the corridor and has a sun roof which brought in lots of natural light making it bright and airy.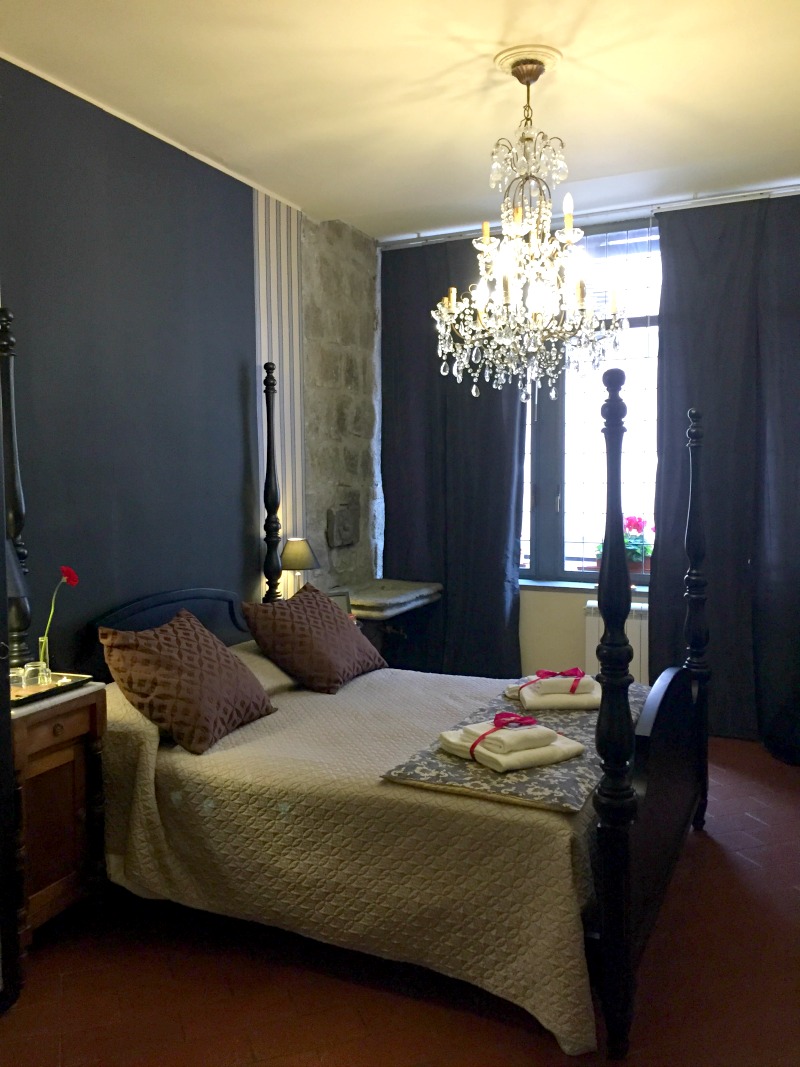 Apart from the bed and breakfast, Giulia also owns a shop called Officine di Vico in Piazza della Morte. She had just recently opened it up and since it's December, she has a Christmas theme with all items in the shop handmade by her and her mother. She sure is one talented and creative young lady.
Fabulous Place to Eat in Viterbo: Osteria del Vecchio Orologio 
When we were told that lunch was going to be at Osteria del Vecchio Orologio, owned by Paolo Bianchini, I was delighted. I've had this restaurant on my radar for a while as it subscribes to the slow food philosophy and uses seasonal produce in their menu.
Let me tell you that it didn't disappoint. Glancing through the menu, I could easily have ordered everything and would have been very happy. However, that burden of making a decision was taken off my shoulders as Paolo himself had already planned out our meal.
We started with exquisite platters of a variety of local cold cuts and cheeses served together with fried pizza to share. As enormous as the platter was, it was wiped clean. And that fried pizza…I still have the taste of it lingering in my mind.
Next came the pasta with crema of romanesco broccoli and a ragu' of susianella, a local sausage. Interestingly, the combination worked out beautifully. That's one thing I appreciate about this restaurant as Paolo brilliantly creates unique dishes using seasonal produce without getting too complicated.
At this point of the meal, we were happy to stop but it wasn't quite done yet.  I thought I would pass but the second I had a bite of the chicken thighs stuffed with potatoes, olives and a local sausage, I indulged. The meat was moist, tender and full of flavors.
It sure was a gluttonous feast we had and made even more so when an array of desserts were brought out for us to share. Don't we just love sweet endings.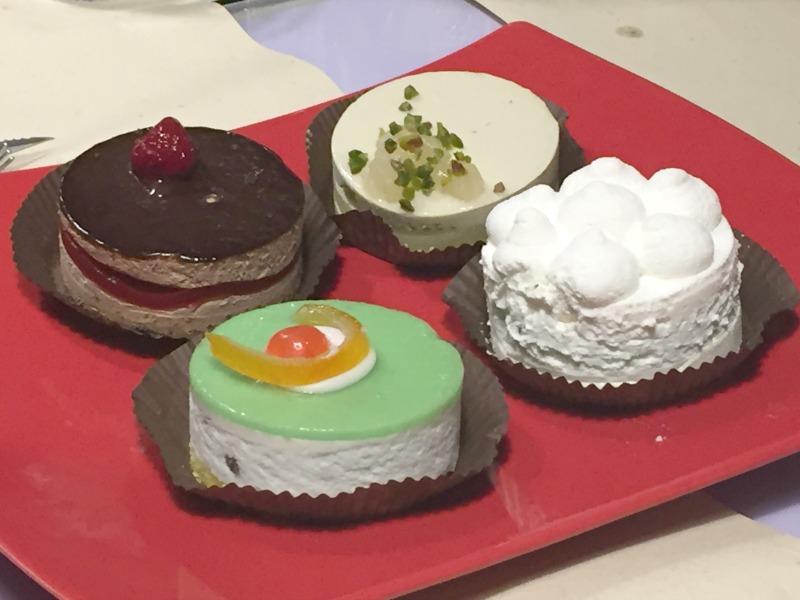 Night at the Thermal Baths in Viterbo
The evening program started first with an aperitivo at Chalet Garbini 1908 where we were handed passes for the night at the thermal baths. The rain had been persistent all day but the deluge started again.  It didn't bother me as going to the thermals meant you were going to get wet anyway. Plus it's a thermal and you'll definitely not be cold.
The thermals open only at 9pm and that evening, four different thermal baths were part of this initiative organized by IgersLazio and IgersViterbo. Two of the thermal baths, Terme di Papi and Terme Salus, are paid structures and have extensive facilities, while the other two are in a more natural setting.
Considering the weather conditions, we chose to go to Terme di Papi as it has a cover leading to the splendid monumental pool. When we got there right when it opened, we had the pool to ourselves and though it was still raining, it didn't damper the experience. It was actually the perfect time to be at the thermal baths as the warm water was such a welcoming sensation that made you feel completely at ease.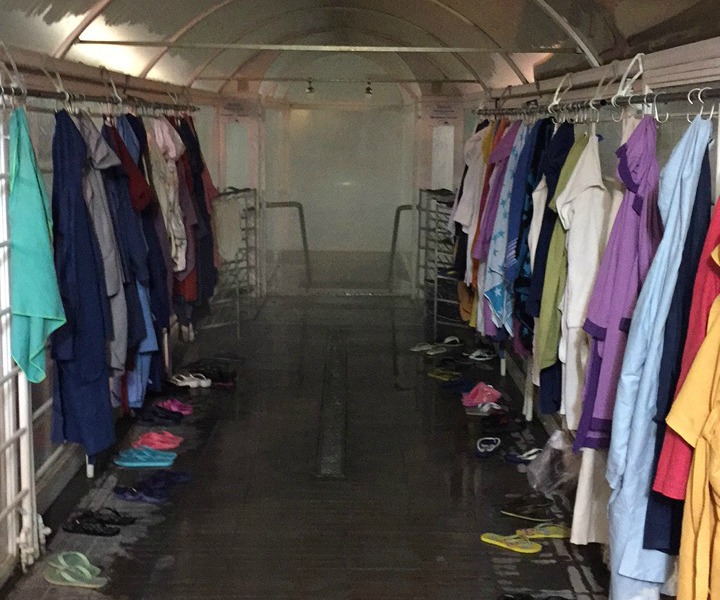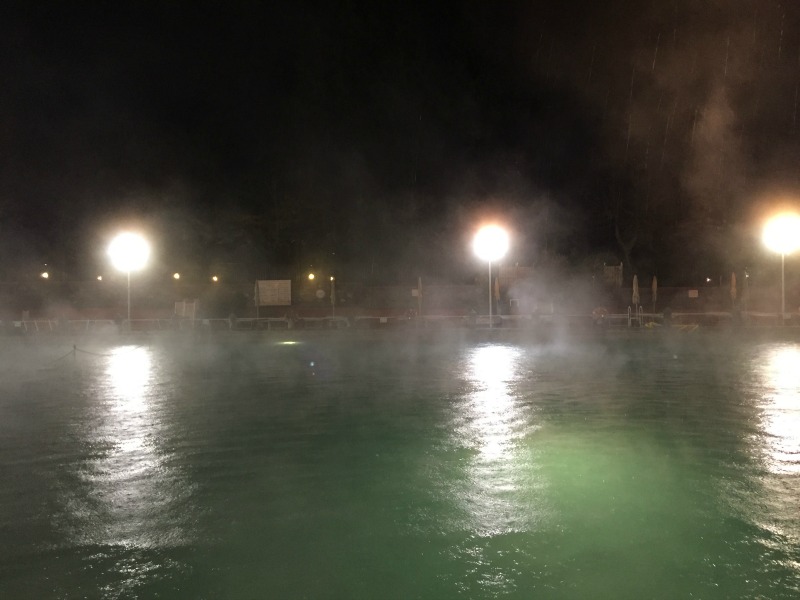 Tranquil, relaxing and blissful, it was a fabulous experience. One I would like to do again in winter. I learned that while it the night at the thermal baths is an extraordinary opening on that particular night, Terme di Papi is also open at night on Saturdays. With that information, you will definitely see me back here as it's easily to reach from Rome.
Here is the list of the thermals baths in Viterbo that were part of this event:
Terme di Papi: Not only does it boast an enormous pool but also offer various spa treatments. Facilities are clean, with showers, dressing room and lockers for rent. As mentioned, you'll see us here again this winter. You will need to bring your own swimsuit, bathrobe and slippers. 
Hotel Salus Terme: We were fortunate to have visited this thermal bath last year, thanks again to an invite by the IgersLazio team. Salus Terme is a state-of-the-art facility where you'll be pampered during your stay. Bathrobes are provided and should you need a swimsuit, you can choose from what they have available. They have different circuits which will keep you busy as you move from one to the next.
Bagnaccio: If you are looking for a natural setting, Bagnaccio has six pools spread out in the area and immersed in the countryside. Four of the pools are for adults only and the other two are also ideal for children (due to the temperature of the water). You will need to sign up for an annual membership that costs €40 to help with the maintenance of the place.
Le Masse: Set between history and nature is Le Masse, which has two thermal baths. Much smaller in size than Bagnaccio, it's easy for you to move from one bath to the other. Here you will also need to sign up for an annual membership that costs €35.
Things to see and do in Viterbo
And since you are in Viterbo, also known as the city of the Popes, make the most of your trip by exploring some of its main attractions such as the Papal Palace, the Romanesque Cathedral of San Lorenzo, Palace of Priori, and the enchanting medieval neighborhood of San Pellegrino.
If you are looking for a guide, get in touch with Daniela Stampatori and more insights into the area, check out the book Etruria by Mary Jane Cryan.
If you happen to be in Italy in September, make a note of September 3rd, when the traditional event of the "Macchina of Saint Rose" takes place every year.
It's an electrifying and eccentric event where 100 men called porters of Saint Rose hoist the Macchina, a 30-meter-high tower and carry it through the very narrow streets of the historical centre. Now that's a sight we still have to see for ourselves but from photos we have seen, it's a pretty wild and unforgettable experience.

Disclosure: We were invited to this event by IgersLazio and IgersViterbo. As always, the opinions are my own and I'm happy to write about experiences that I would personally recommend to family and friends.