I've traveled to many corners of Italy yet often forget that there are many gems in the Lazio region that I still have to visit. One such place was Terracina and it wasn't until a few weeks ago when I had the chance to explore this town that sits smack in the middle between Rome (100km away) and Naples (120 km away). Invited to join @IgersLatina for #adayinTerracina, it was a good excuse to learn more about this this popular seaside town in Riviera Pontina.
A town where the history meets the sea, Terracina is renowned for its wide stretch of golden beach which has received the Blue Flag award. The award is given "to certify the quality of the environment in coastal resorts, but also the safety and the quality of the services offered". Due to excellent facilities and services, Terracina draws more than its share of the crowds in summer.
But before exploring the town, first things first.
With an early start from Rome, we were ready for coffee when we got to Terracina. And we got that fix and more at Caffe' Somma.
We're not talking about a cornetto or two or even three.  We had a whole stretch of table with a variety of breakfast treats from panettone (it's that season), variety of pastries and their specialty, la bomba, a fluffy pillow of fried pastry dough rolled in sugar and filled with pastry cream. And yes, it certainly is a bomb.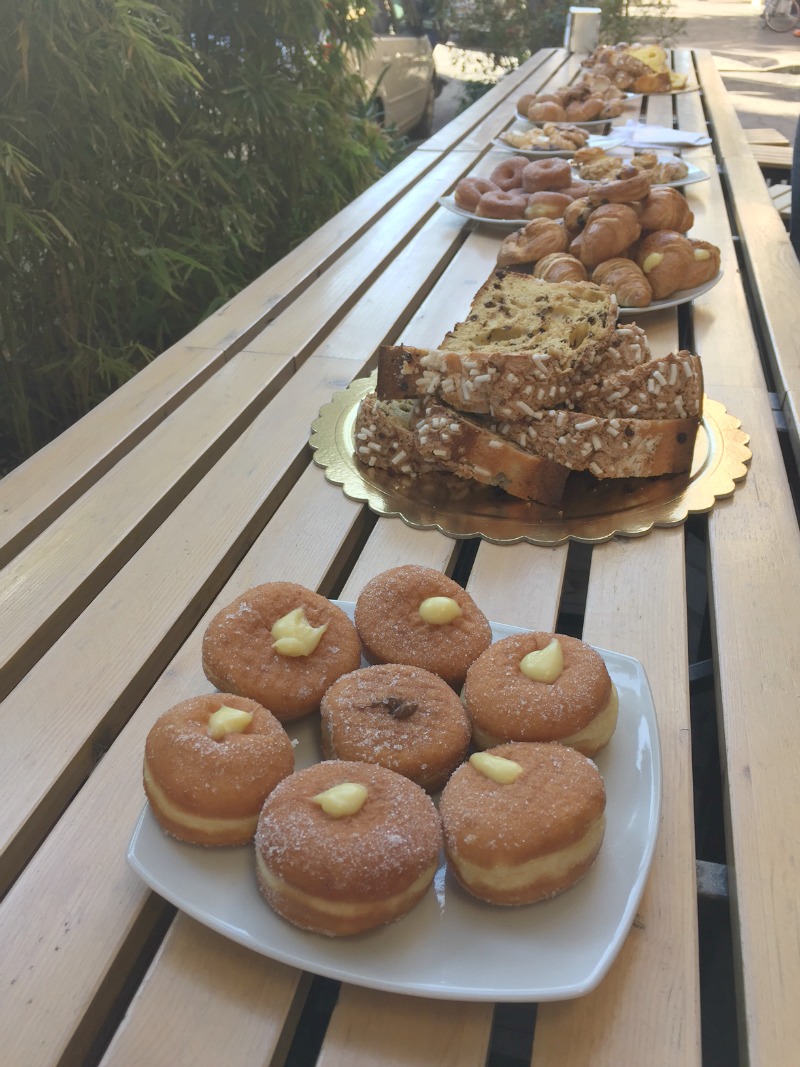 Temple of Jupiter Anxur
While the crowds flock here for the sea, the town is rich in history. As you get into Terracina, you will inevitably notice the imposing and once magnificent Temple of Jupiter Anxur sitting above the town. It is one of the most important sites in Terracina and from the town what you see are the remains of the supporting base of the temple, giving you an idea of its grandeur.
Initially, we had thought that they were the ruins of temple itself but thanks to our guide Lydia, we were told that those were the arches and porticoes created for the foundation for the temple.
When we headed up to the Temple of Jupiter Anxur, also known as the Sanctuary on Monte Sant'Angelo that sits 227 meters above sea level, we were in awe at the sweeping views. Fortunately, we had clear blues skies and from this dominant position above town we could see Mt. Circeo in the distance, the Pontine plain, as well as the Pontine islands and Ischia.
What was unfortunate was that due to restoration work taking place, we couldn't head down to visit the porticoes and arches. You can say that we have a good excuse to be back in Terracina again.
Much to my surprise, Lydia pointed out what was once the temple and not much is left. However, in the bar situated inside this sanctuary, there is a model that depicts this remarkable structure inspired by Hellenestic architecture.
Built during the late Republican period of ancient Rome, the importance of this structure is found in various literary and historical sources as it served as a defensive stronghold and a place of worship. With the name of Temple of Jupiter, you might easily be lead to think it was dedicated to Jupiter.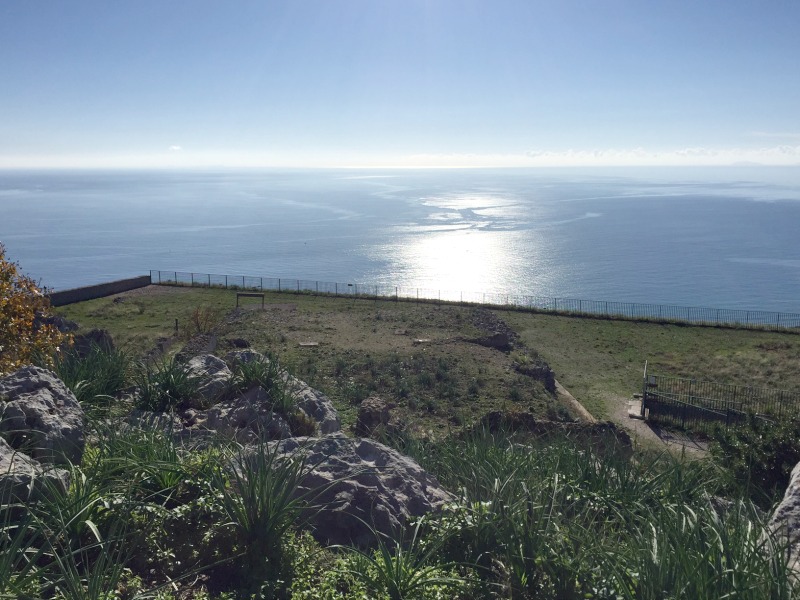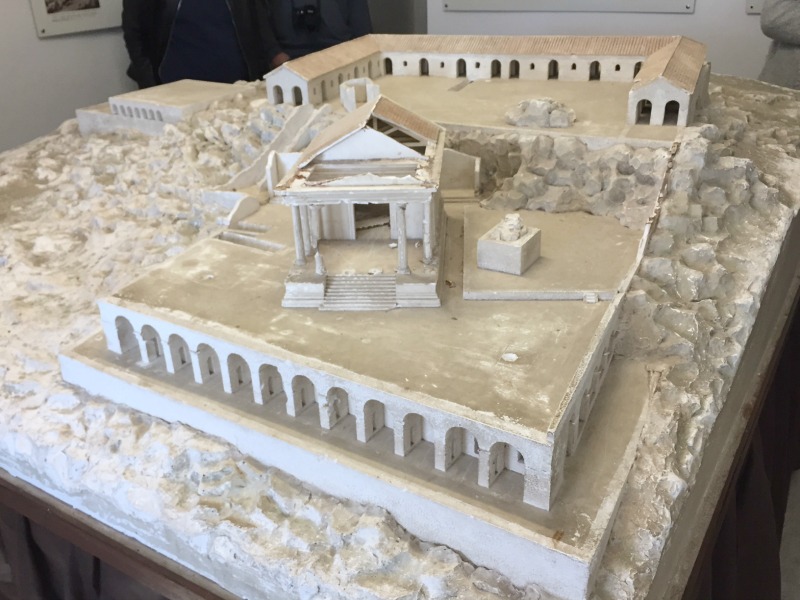 However, Lydia busted that myth.
The name Jupiter was given because it carried more weight but the temple is more likely to be dedicated to Venus or to Feronia, a local goddess revered in the area. And if you are wondering why Anxur, this was the name given to the town by the Volsci in 5BC.
Today, the Temple of Jupiter Anxur is a protected Natural Monument and during our visit, I discovered that there is a sound, and special effects light show called Anxur Lumina (lasts 40 minutes) held in summer that brings this structure to life. Another reason to be back.
Memorial Park
Before making our way to lunch, we stopped at the Memorial Park, located just a short walk from the historic part of the town. This tranquil and verdant oasis was built in 1920s to honor the fallen residents of the town in the World War I. Home to a variety of plant species, which offers plenty of shade, I can see this is a pleasant place to escape too in summer when you need a break from the crowds.
Let's talk lunch
After all that walking, we were ready for lunch by the sea hosted by Grappolo d'Uva. With perfect weather, it was a fitting venue as we eagerly took off the coats and jacket to enjoy this warm winter's day by the sea.
Lunch, as always at these events, resembles a wedding reception, where there is an abundance of food and wine. And Grappolo d'Uva was no exception.
From an appetizer buffer that could easily have been lunch, we moved to risotto with white ragu' and followed by an exaggerated amount of second dishes from cold cuts to mozzarella to deep fried seafood along with an assorted array of side dishes.
With such a feast and incredible weather, it was a long drawn out lunch as none of us wanted it to leave this cozy setting. We lingered on the beach along with others who were out to enjoy splendid day and eventually as the sun set and temperatures dropped, we reluctantly left the beach.
Piazza del Municipio
We weren't done yet. Our next stop was charming Piazza del Municipio situated in the upper part of the town where you'll find the historic center. Built on the Emilian Forum, you'll still find a few cafes in the piazza along with the Cathedral of San Cesareo, the Municipal hall and a well-preserved stretch of Via Appia. With the help of our guide, we were shown a part of the original flooring of the Emilian Forum that indicated who worked and sponsored this project.
And after a day in Terracina, there's no better way to end this incredible experience by chilling with a mug of craftbeer at Antica Dogana with great company.

How to get to Terracina
I'm not going to sugar coat it for you. While we easily got there with our car, getting there from Rome with public transport can be challenging.
By bus
The most direct route would be to take the Cotral bus from Laurentina to Terracina with stops in several town before you get to Piazza 25 Aprile. The journey, depending on the departure time of the bus, can take any where from 1h 40m to 2h 20m, and a one-way ticket costs €5.30.
By train
A faster option is by train from Rome Termini to Monte San Biagio that takes slightly over an hour and costs €6,90. From there it is a 15-minute Cotral bus ride to Terracina and the ticket costs €1,30.
Have you been to Terracina? Share your experience and tips with us in the comments below. 
Disclosure: We were invited to this event by IgersLatina and Visit Terracina. A special mention to Francesco Montefusco, Amedeo Cerilli and Zaira Coccurello for organizing this fantastic event. As always, the opinions are my own and I'm happy to write about experiences that I would personally recommend to family and friends.