Last month when my sister was visiting, I had asked if she would be interested in taking a Florence food tour as we were planning a trip to the Renaissance city. As person who learns about culture through local cuisine and only having been to Florence once before, I felt she would certainly appreciate "the other side of Florence Food Tour" by Eating Italy Food Tours.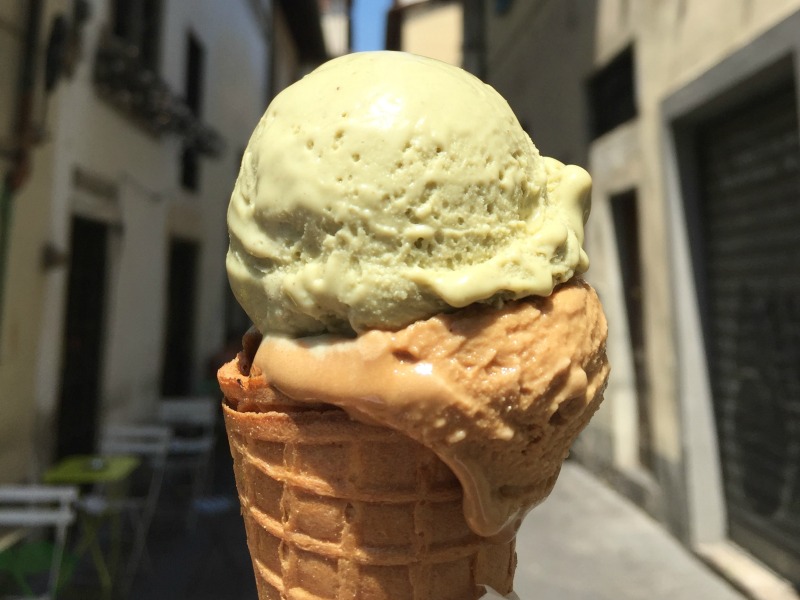 I have known Eating Italy Food Tours since it first started and after having experienced their Florence Food Tour, it is a testament to their continued commitment to offering remarkable tastings perfectly balanced with insights on local traditions and history.
My sister and I had a fascinating, delicious and fun time so if you are in Florence and love food, here are some reasons why you should take this food tour.
7 Reasons to take this Florence Food Tour 
Friendly, fun, and knowledgeable guide
From the moment we met Omar at a bar for a macchiatone, we knew we would hit it off. Friendly, passionate, knowledgeable and eager to share his knowledge about food traditions and history of the area, we felt like a friend was taking us around the neighborhood rather than being on a tour. While waiting for another guest to join us, we had brought up how challenging it was to find the meeting point as the street numbers in Florence felt random.
Check out the video below where Omar gives us a quick explanation to how it's all related to the Arno River. He was a real trooper as he was sick and still upbeat the entire time, and we never would have guessed if he had not mentioned it half way through the tour.
Explore a neighborhood full of history and character
I'm just not good with crowds and was all for taking this tour in the Oltrarno neighborhood, a quieter side to the city that is filled with antique shops, artisans and artists. It's a lovely working-class neighborhood with a vibrant atmosphere where culture, art and food enterwines.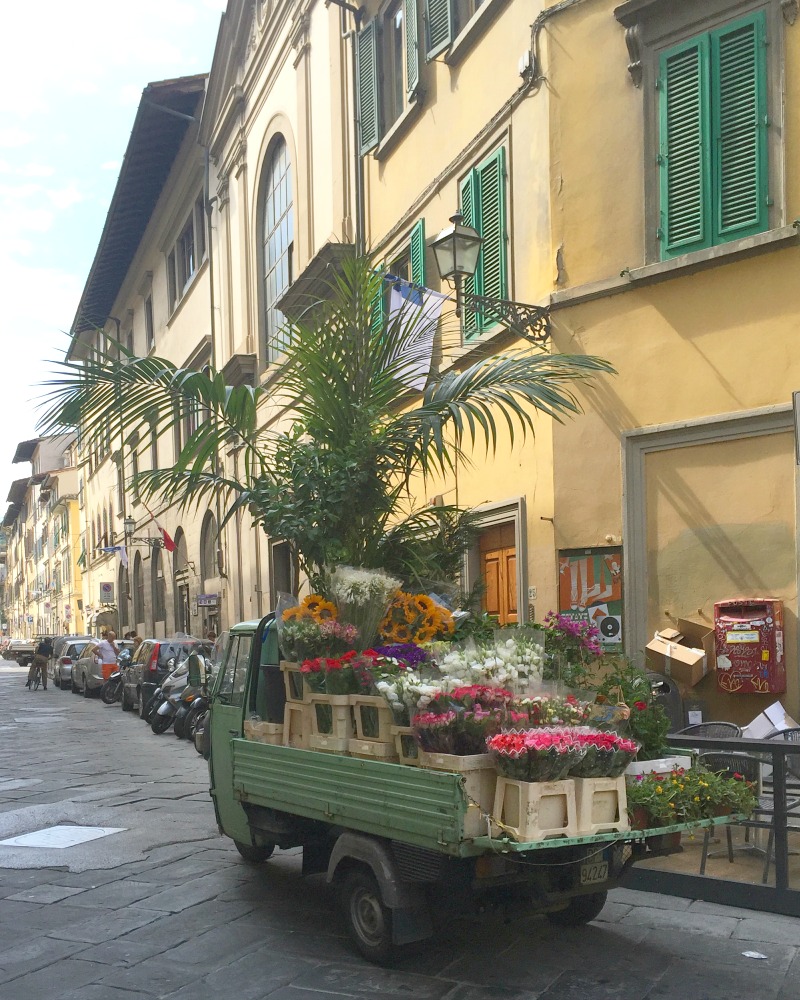 One of our stops took us past Porta San Frediano, one of the gates still evident today from 1333 when the last wall of the city was built around Oltrarno. We also got scandalous background history into Palazzo di Bianca Cappello, built by Bernardo Buontalenti with its spectacular facade decorated in sgraffito by Bernardino Poccetti, a master of this technique.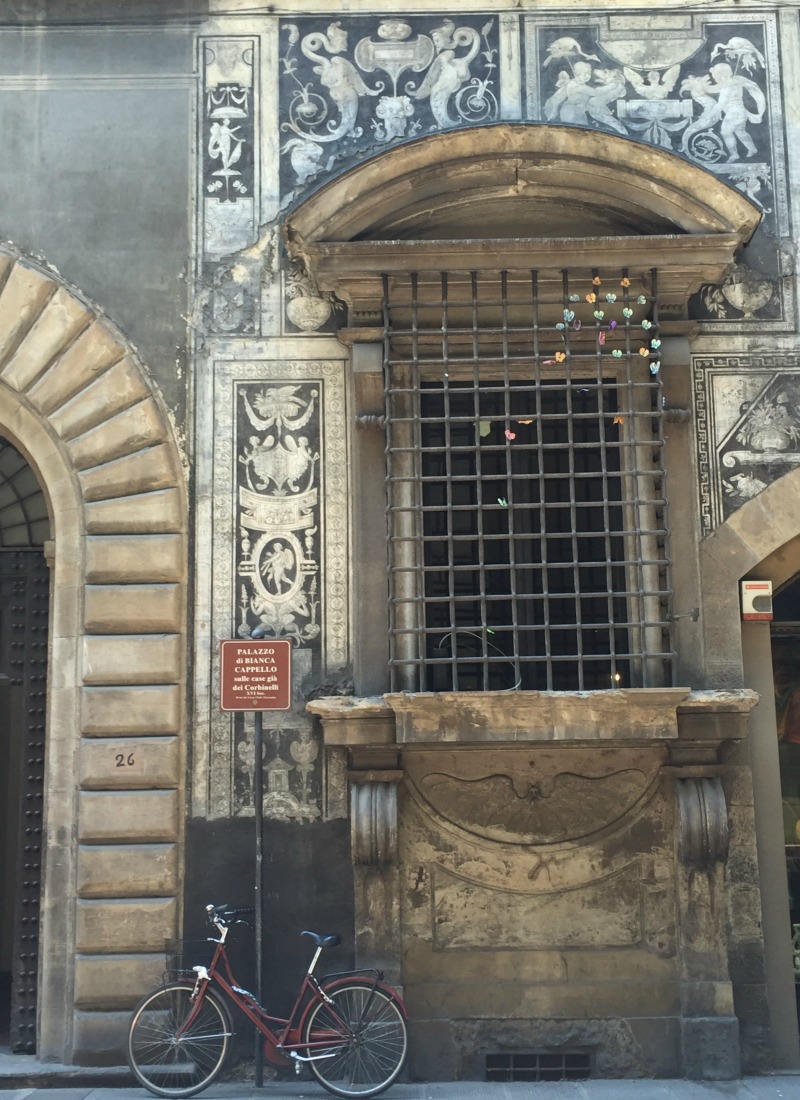 This building commissioned by Francesco Franceso I de' Medici, the Grand Duke of Tuscany, in the 16th century was for his mistress Bianca Cappello, who was married, and you don't need much of an imagination to understand why he chose this location which is close in proximity to his residence, the Pitti Palace.
Inside knowledge on lampredotto
My sister eats just about everything and was ready and eager to try lampredotto panino, a traditional street food in Florence which is considered peasant food. On the other hand, I still couldn't make up my mind if I was going to even try it at all despite it being called the king of all panini.
Why the hesitation you may wonder? Lampredotto is the fourth stomach of the cow and since I'm not an offal person, the idea of eating an offal sandwich didn't sit too well with me.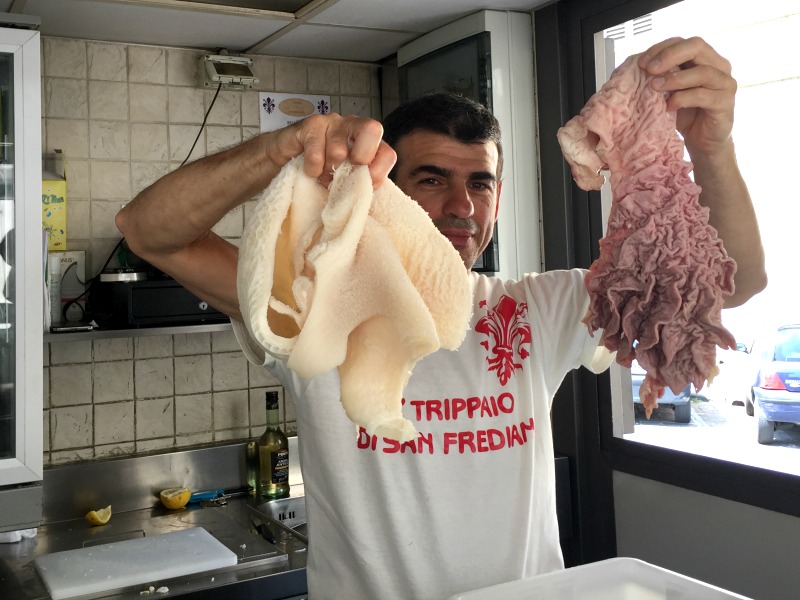 While Simone was sharing the cooking process of lampredotto in a broth together with parsley, tomatoes, onions, carrots, and then proudly holding up the lampredotto and tripe as he explained the difference between the two (tripe is one of the first three compartments of the cow's stomach, and white in color),  I somehow didn't get queasy. Instead, I strangely found myself even more keen to taste it once I understood and saw how it was prepared.
Simone started with splitting the unsalted roll in two and had removed some of the soft bread before cutting up the lampredotto and placing them on the bottom half of the bread. He then added the salsa verde (made with parsley, garlic, anchovy pate and some bread soaked in vinegar) and topped it with a drizzle of red chilli pepper oil. But he wasn't done quite yet, he took a long fork like one you would use for grilling, pierced it into the top of the roll and dipped it in the broth.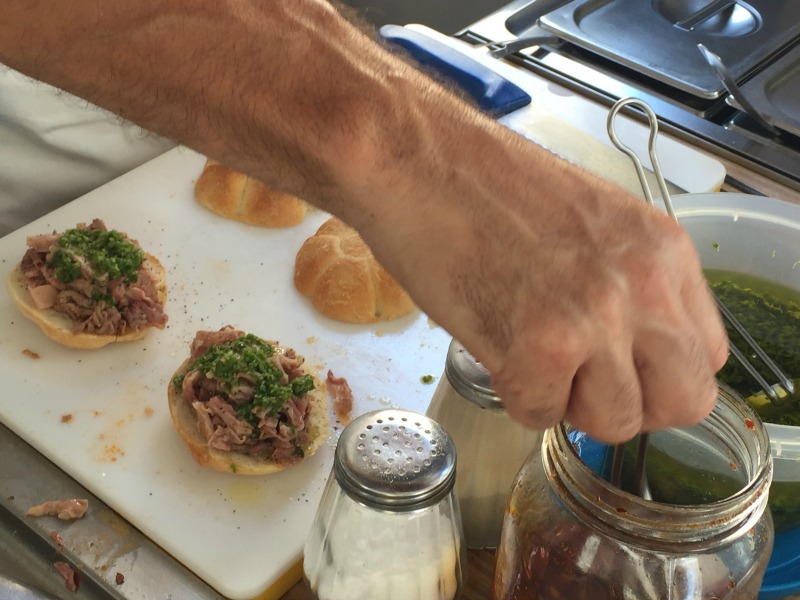 When he handed me the panino di lampredotto, I had a look at it, hesitated slightly, then took a bite. To my surprise, I enjoyed the combination of the ingredients and even more shocking, I savored it all. Truth be told, as I write this post, I'm actually craving a lampredotto! So if you have your doubts about eating offal, at least give lampredotto a try.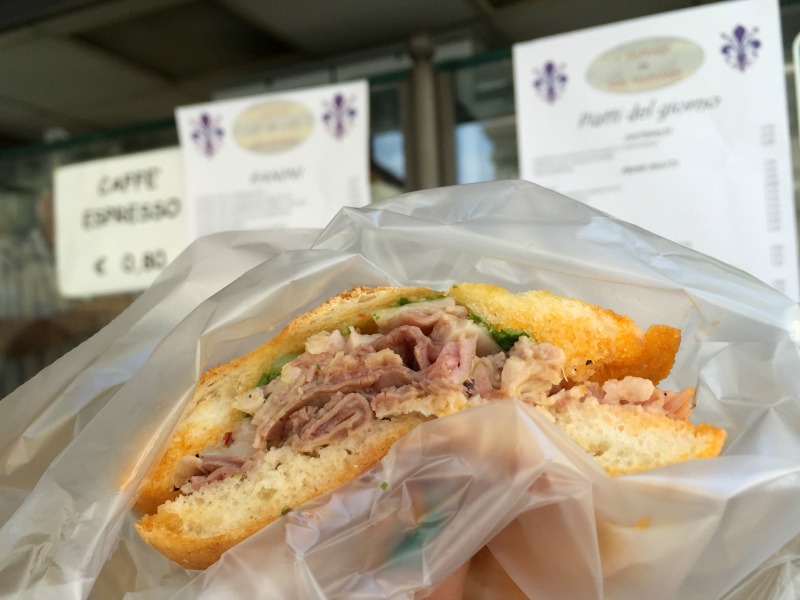 Watch how to make cantuccini and get tips from a master
I love cooking and baking and was excited to learn that we would be watching Roberto of Pasticceria Buonamici make cantuccini. Also in the shop that morning was his daughter Rossella who expressed how she hasn't been pleased with the results of the cantuccini she has made and eager to get tips from her father.
It's only recently that she started making them and while the ingredients are simple, flour, eggyolks, almonds, orange zest, salt and vanilla, she says knowing when to stop once you have the right texture is the tricky part.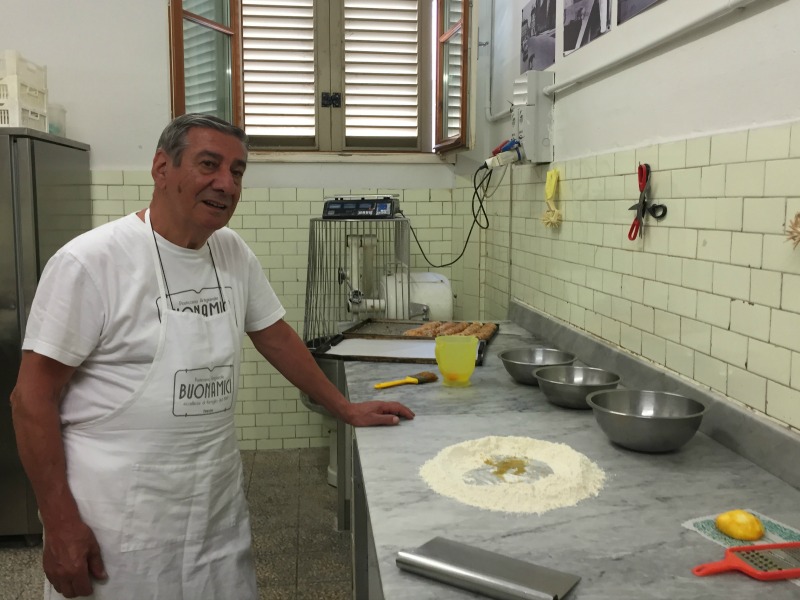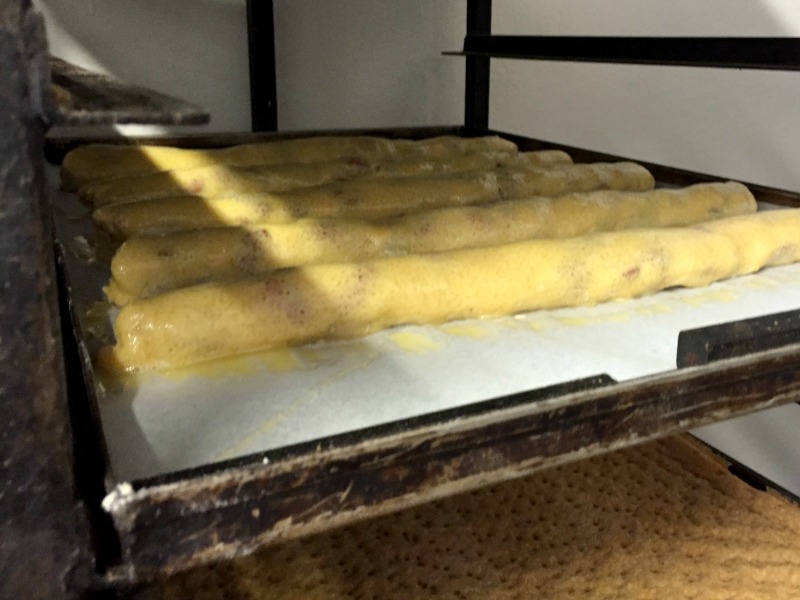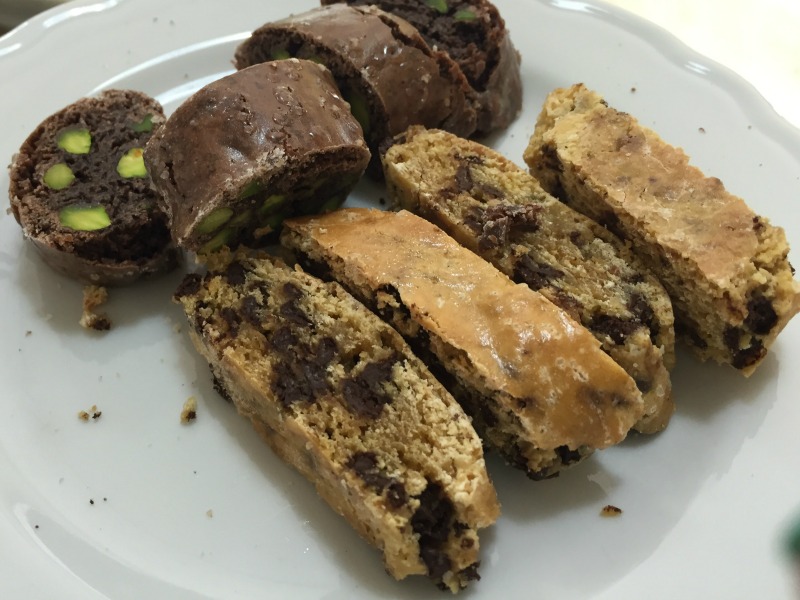 What's equally fascinating is learning about Roberto's life, the story of this pasticceria and the history of the neighborhood, which are all intricately intertwined.
A glass or two of Chianti
A stop at Fraschetteria Fantappie' to not only learn about Chianti but to drink a glass or two with crostino toscano, chicken liver pate on toasted bread. The recipe is one from the owner's grandmother and while he didn't reveal the secret, ingredients usually include chicken liver, onions, capers, anchovy fillets.
As we sat down to drink, Omar pulled out a map showing us the area that is defined as Chianti, and the fascinating story of the black rooster which is now the symbol specifically for the Chianti Classico DOCG wines. I mentioned "specifically" as there is also the Chianti DOCG wines and these do not have the symbol.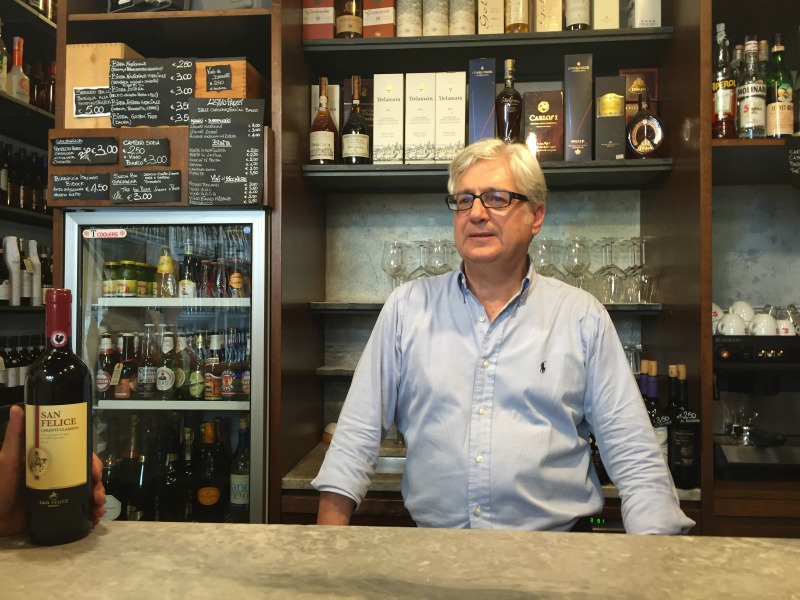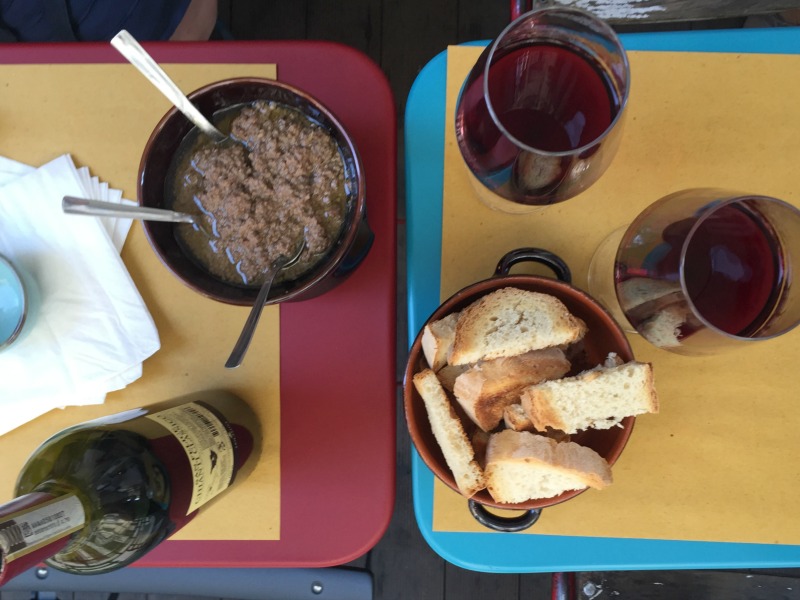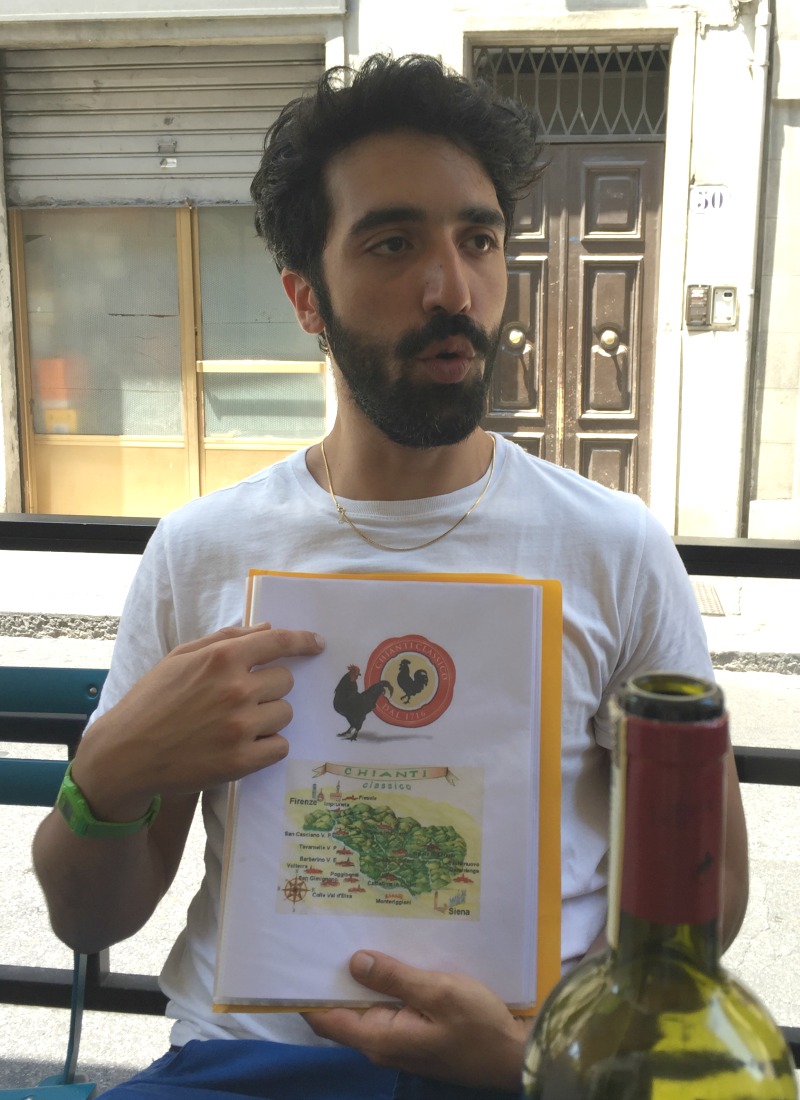 Learn about calcio fiorentino
Our stop for lunch brought us to Trattoria I' Raddi to taste two typical Tuscan dishes, pappa al pomodoro (tomato and bread soup) and peposo (peppery flavorful beef stew). The trattoria was named after a Florentine boxer but is today managed by young Tuscans, one of whom happens to be a calciante.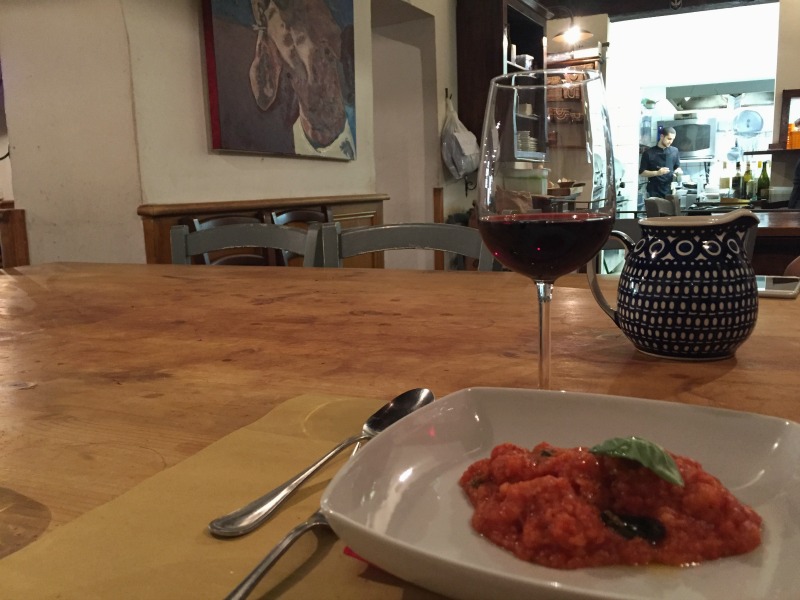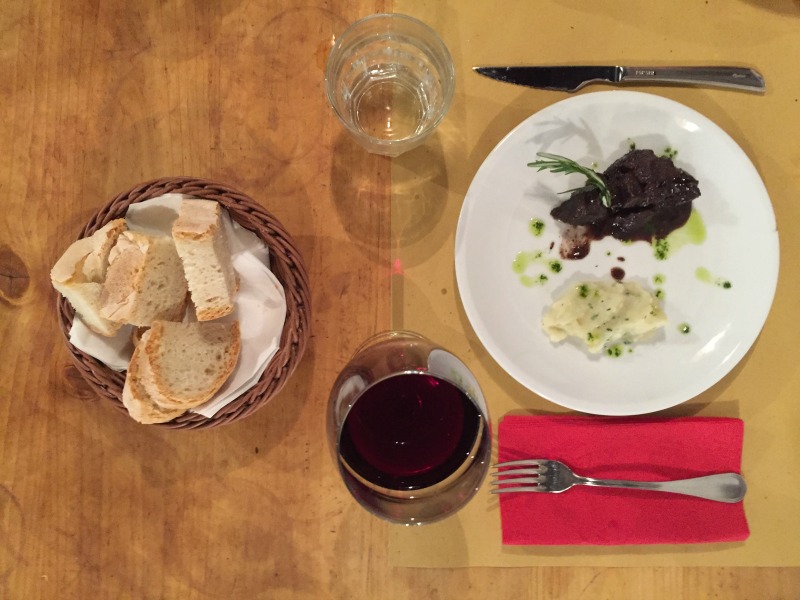 A calciante, is name given to a person who plays in the Calcio Fiorentino, a medieval version of soccer that is also a mix of rugby and wrestling. The final of this traditional event takes place every June 24, the feast of the city's patron saint, in Piazza Santa Croce, which is covered in dirt for the occasion.
Fabrizo Valleri better known as "Il Valero", is a calciante for the White team from Santo Spirito. When we met him, he was all battered from the recent event, clueing us in on how violent it can get yet we were still amazed by the ruthlessness of the video footages that Omar shared.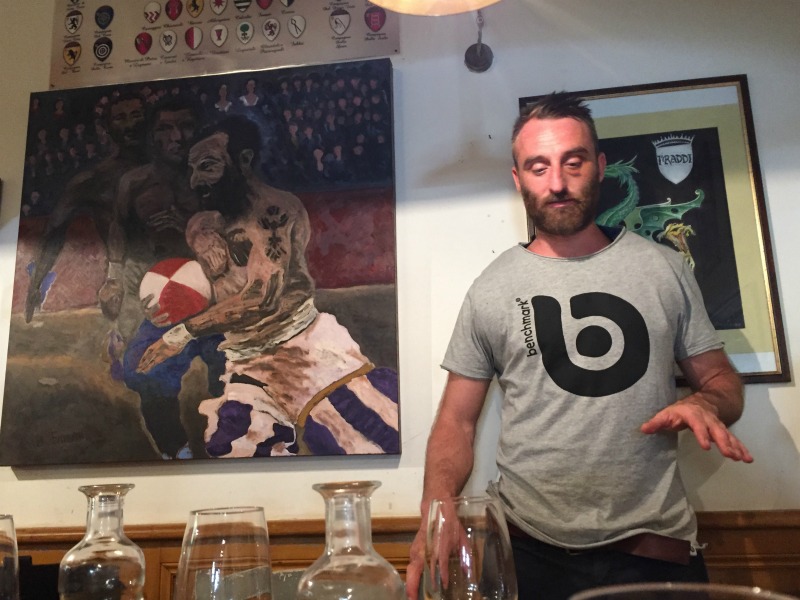 Taste award winning gelato
Tucked in a corner of a charming piazza with a legend that tells about children finding a dying sparrow that brought with it the Black Death and another belief that it was used as a brothel, Gelateria della Passera is about all things good.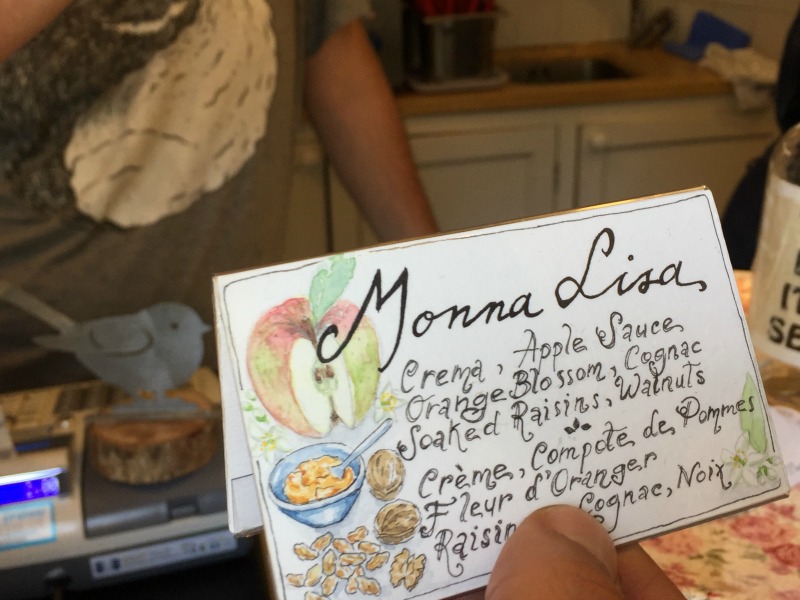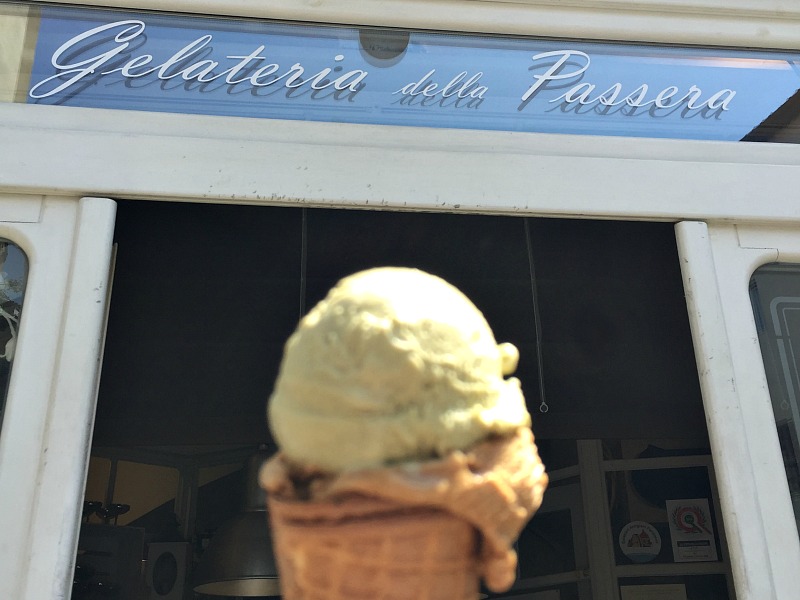 Its owner Cinzia Otri is known as the ice alchemist and thanks to her concoctions, the gelateria won the Florence Gelato Award in 2015. While you can find classic flavors, she also offers creative ones such as the Monna Lisa, a mix of crema, apple sauce, orange blossom, cognac, soaked raisins and walnuts.
A bonus…
As Eating Italy had kindly organized this tour for us and another journalist as a tour was not scheduled for that day. It didn't cover all the stops but we were invited to visit the other stops, all in the Oltrarno neighborhood, either prior or after the tour. With some time to spare before the meeting time, we dropped by Alimentari Sandro and Ivana, a grocery shop, to taste their wonderuful Maremman Tuscan cheese and cold cuts.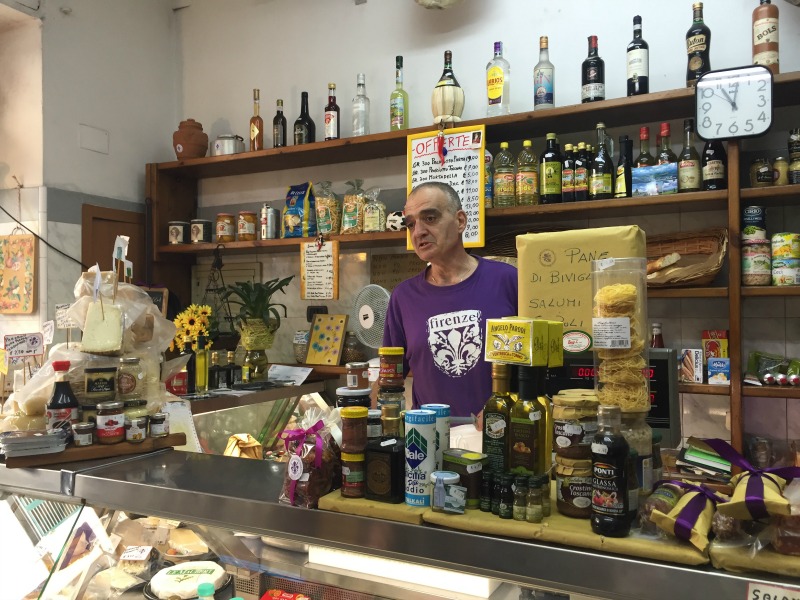 Here's the second bonus…
At the end of the tour, Omar handed out a leaflet to us listing all the stops on the food tour, which also includes their recommendation of places to eat in Florence. An invaluable resource to ensure you eat well and like a local in the city.
All that said, we highly recommend this food tour and the next time you are in the Florence, don't forget to join them.
Disclosure: We were guests of Eating Italy Food Tours on "The Other Side of Florence Food Tour" and thank them for making the arrangement for us to experience this fantastic tour. Currently, the price of the tour is €84 per person (adult) and they also have discounted rates for adolescents and children. As always, all reviews and opinions are our own.