Brisig where?
My well-traveled friend questioned and gave me skeptical stare, thinking I was pulling her leg. She has never heard of Brisighella, a town in Emilia-Romagna and when I mentioned Faenza and Ravenna, she began to get a clearer picture as to where it's situated.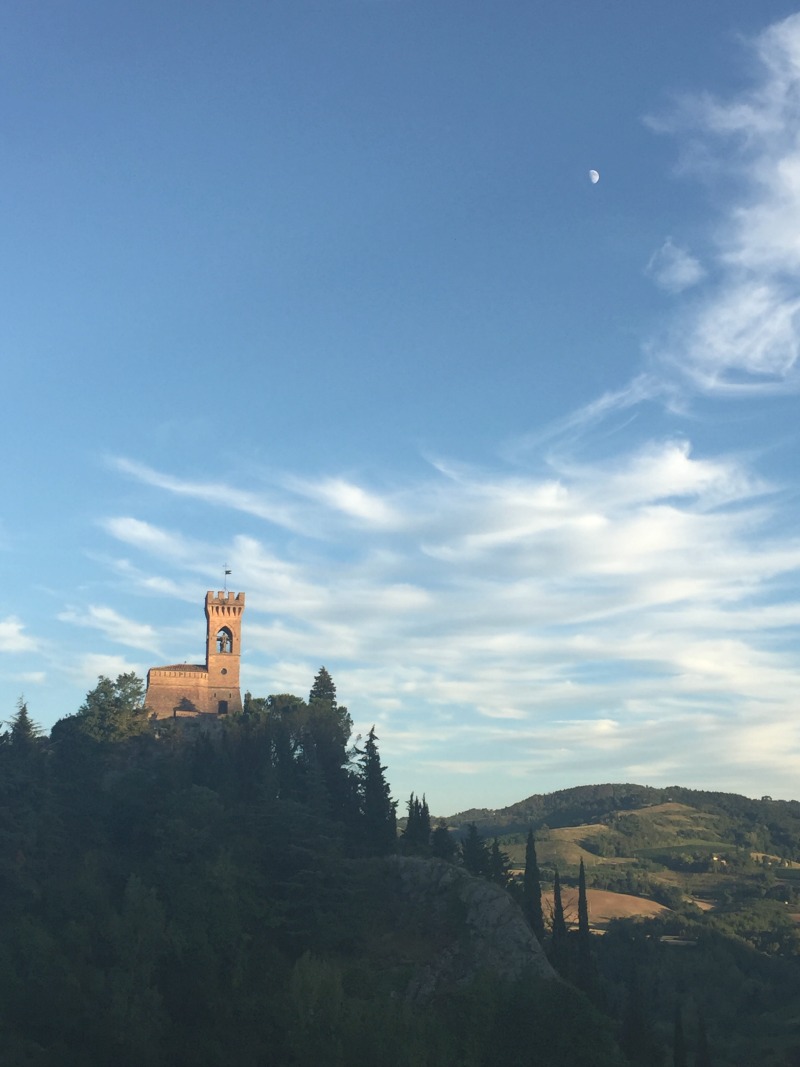 I heard of Brisighella a few years ago and this summer, as we had a few days to spare before our trip to Tuscany, we drove over to Brisighella and spent two nights in the area.
Surrounded by three rocky hills, Brisighella is known as "The three hills village" and listed as "One of the most beautiful villages in Italy". While Ravenna, gets all the attention in this area, Brisighella with its picturesque backdrop and its unique, colorful defensive walkway, deserves a visit.
7 Things To Do in Brisighella
Castle 
Sitting on one of the three hills surrounding Brisighella, a windy road leads up to the castle for those who are not willing to make the trek on foot (yes, we drove). The imposing castle was built in the 14th century and still retains the features of a medieval fortress. It has limited opening hours – for example in summer, they are open from Tuesdays to Fridays from 10am-12pm, so check ahead before going.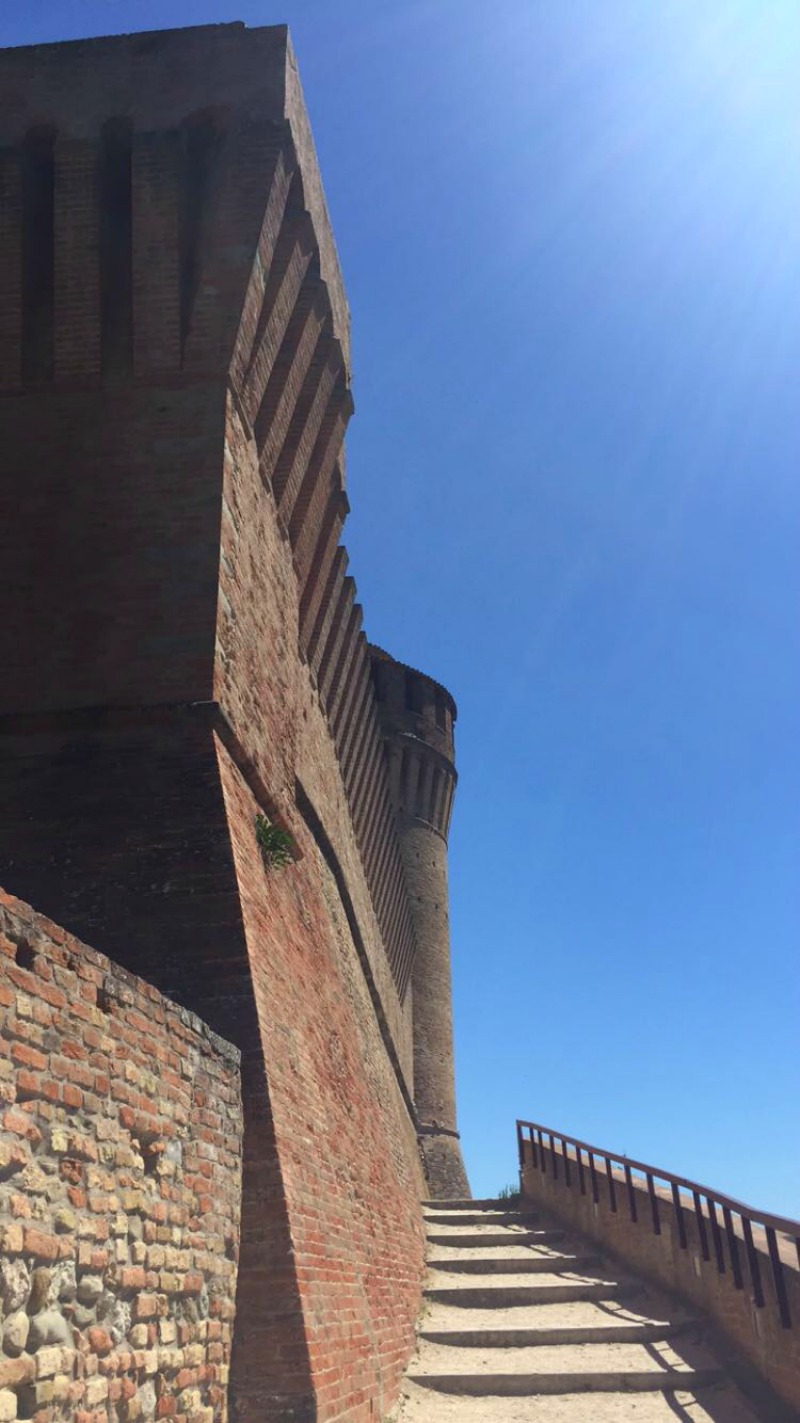 Clock Tower (Torre dell' Orologio)
Just right above the town, take the trail of stairs up  to the Clock Tower. It's a relatively easy walk up even in the heat of summer. With a medieval base, the tower has been damaged and rebuilt many times, and what you see today was built in 1850. From here you have a sweeping 360-degree view of the countryside around Brisighella and worth every step.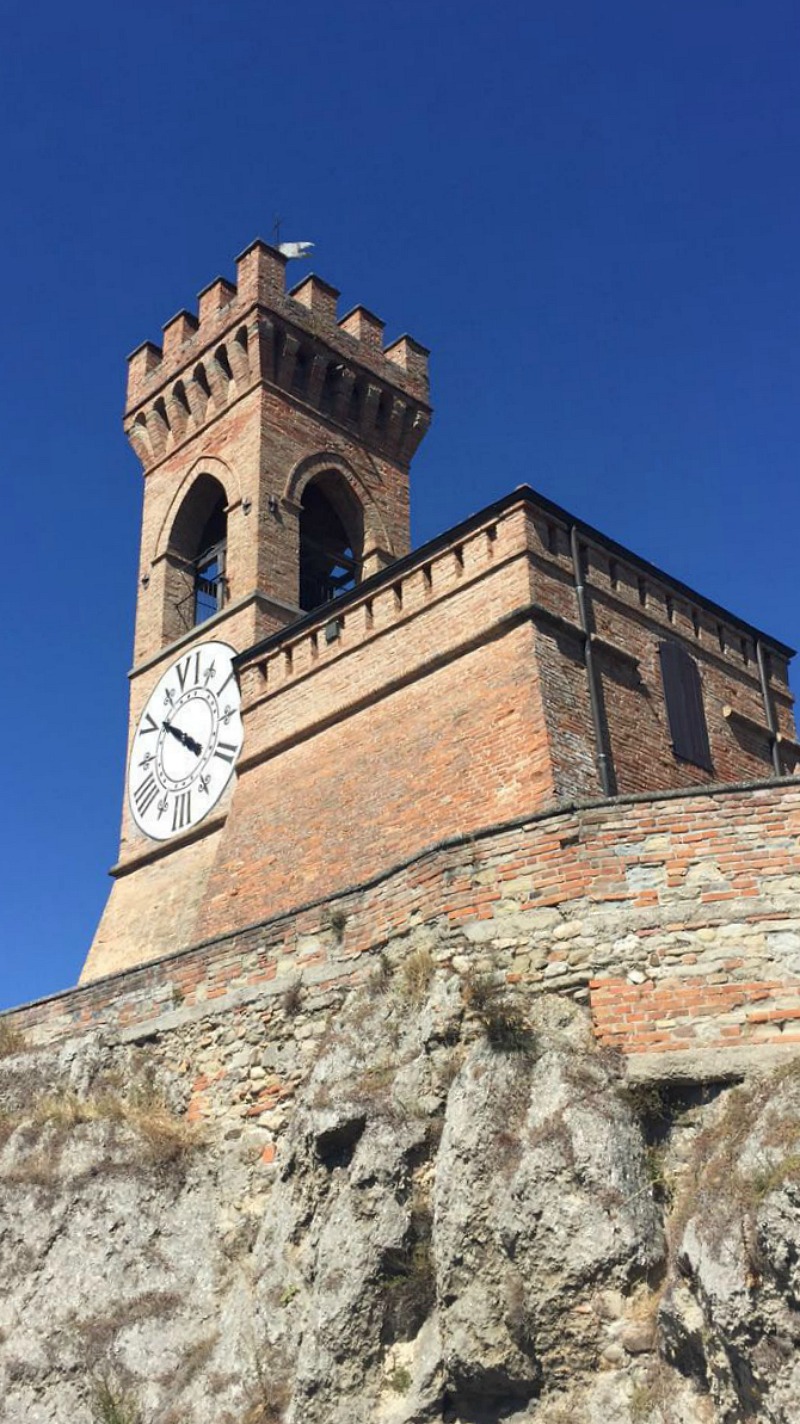 Sanctuary of Madonna del Monticino
Finally, there is Sanctuary of Madonna del Monticino sitting on the third hill and a short drive from the Castle. If you are up for a walk, we were told that you could walk from the town to the Tower and then to the Sanctuary and back to the town in half a day. In mid-August, we didn't even once consider this option.
Similar to our visit to the castle and the tower, we had the sanctuary all to ourselves. What was most interesting here is a time capsule that will be opened in 2026.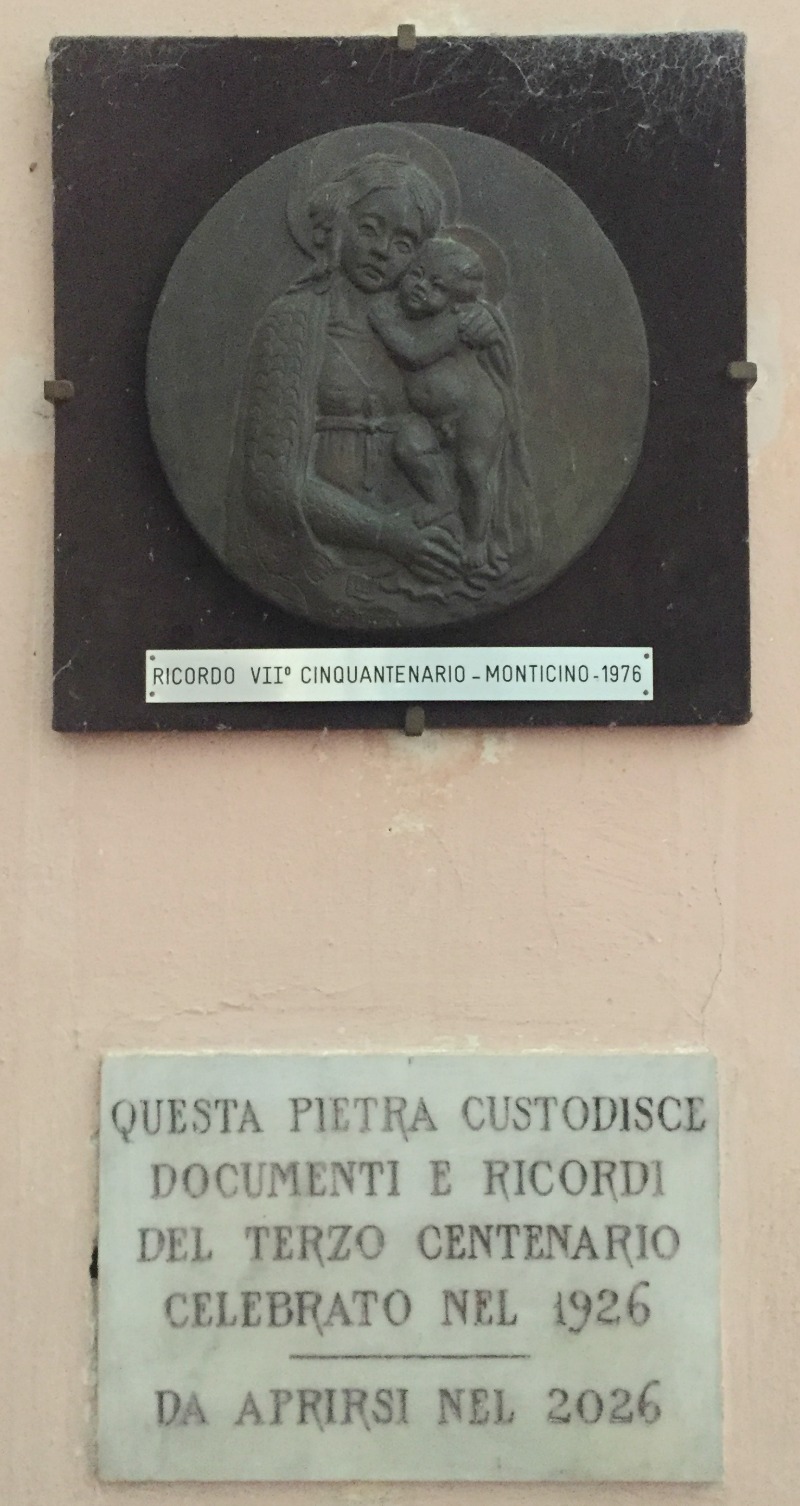 Via del Borgo or Via degli Asini (Donkeys' Alley)
The charming via del Borgo won me over with its pastel buildings lining the street. What makes this street unique is that it is an internal walkway, once used for defensive purposes. As you make your way up some stairs, you find yourself in an alley with houses on one side and arched openings on the other side that looks on to the street.
So why is it also called Donkey's alley?
When it was no longer used for defensive purposes, the alley was used by donkeys that transported carts filled with gypsum from the nearby caves.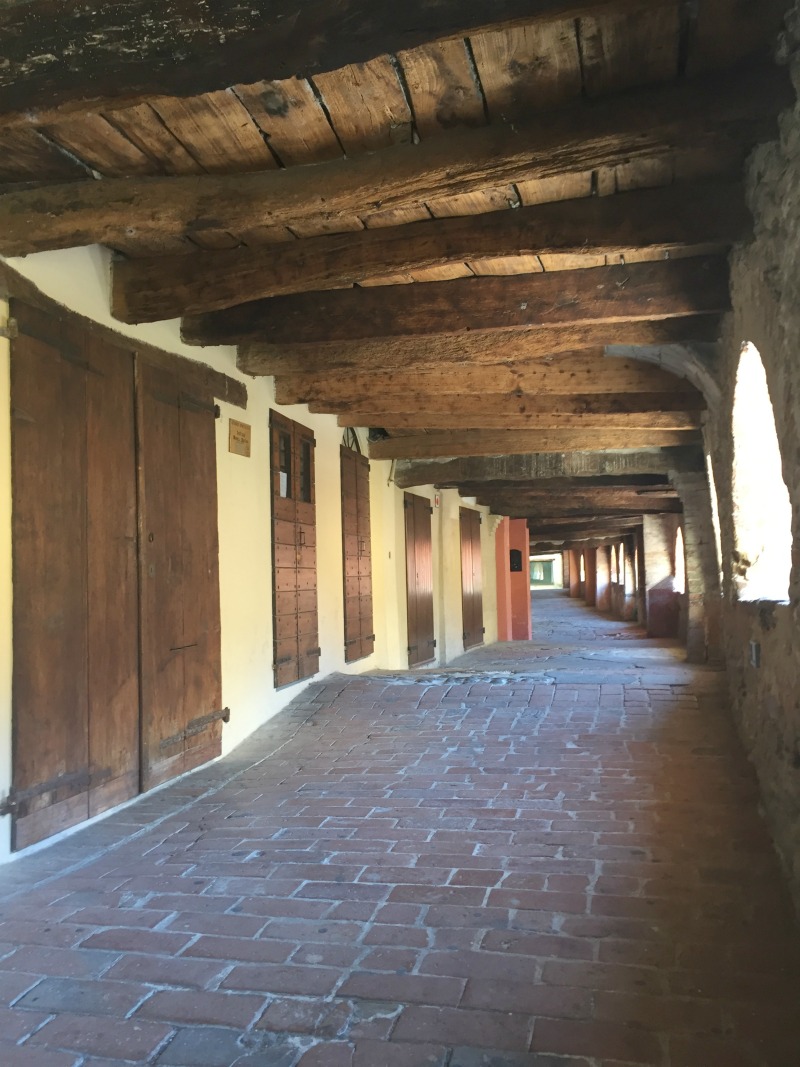 Olive oil tasting
A short walk from Via del Borgo, is Terra di Brisighella, an association of 300 olive growers in the area that sells wines and olive oil. The territory is deeply rooted in olive oil production, dating back as far as the 2nd century and in the shop, they offer tastings of the different varieties of olive oil, from delicate to peppery.
Address: Piazzetta Porto Gabolo, 8 | Website | Closed on Wednesdays.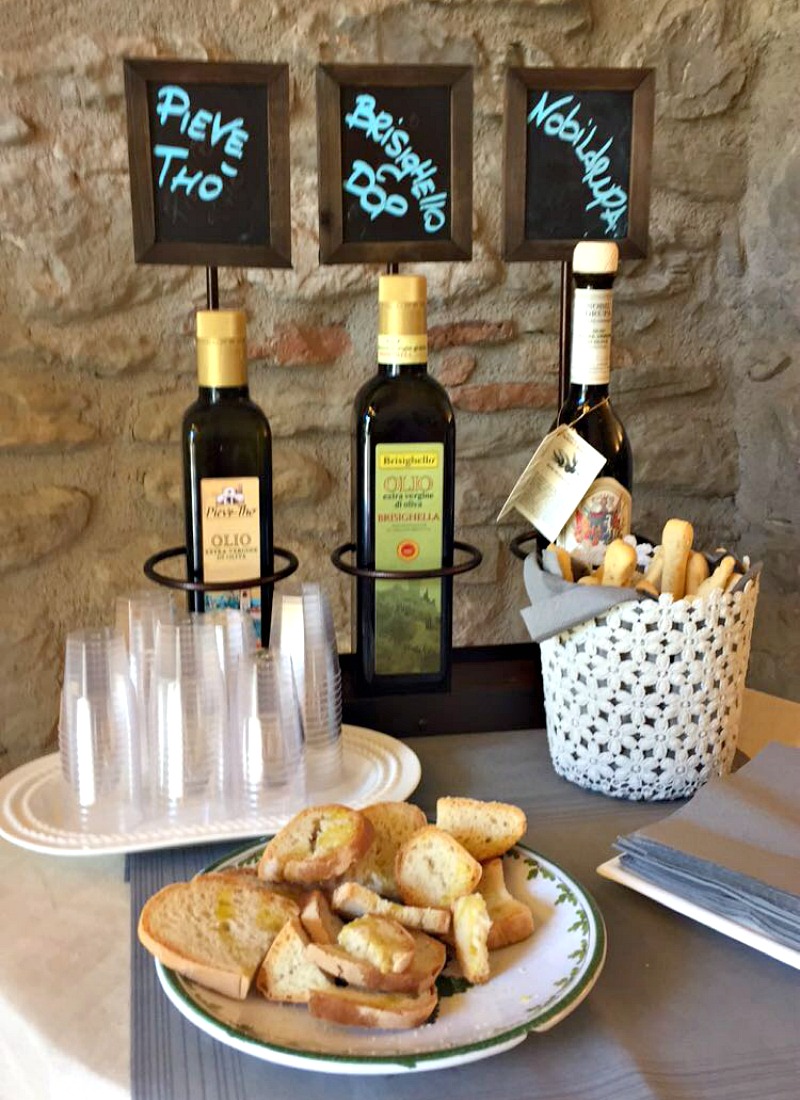 "Vena del Gesso" Regional park
Looking for a place to hike near the town? The spectacular Vena del Gesso Romagnola Park is filled with a wide diversity of flora and fauna and the perfect place for a walk, especially on a hot summer's day as the trees provide plenty of shade.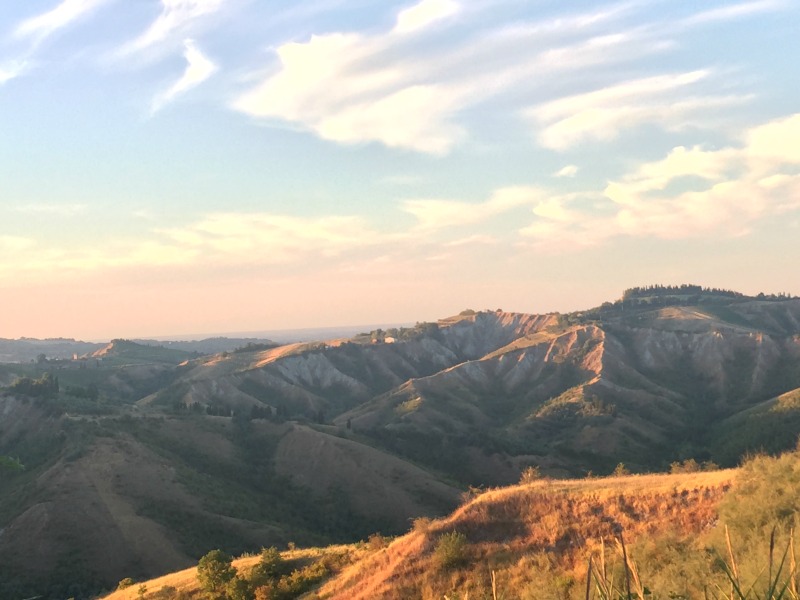 We reached the main refuge and visitor's center, Ca' Carne', where they conduct educational activities and there is also cafe' that offers simple dishes. When we were there, several groups were camping at the center and the folks at the cafe' were firing up the BBQ for lunch service.
Pieve del Tho
This Romanesque church, the oldest and most important in the Lamone valley, is also known as Pieve di San Giovanni in Ottavo as it is situated 8 miles from Faenza. Historians date the church back to the 9th century and we were fortunate to visit as the opening times of this church is limited for a few hours every Sunday.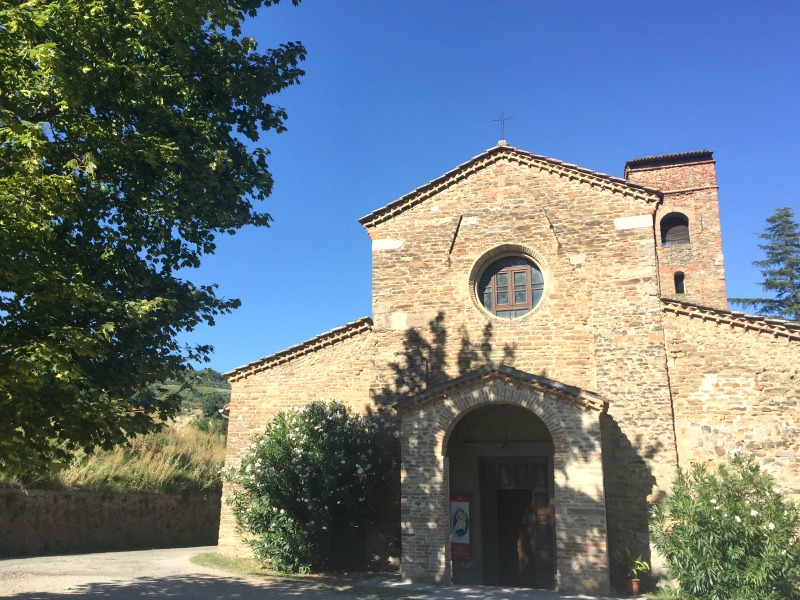 Managed by volunteers, who are more than happy to point out details, they also gave us a brief tour of the Crypt. While the church and crypt are free to visit, they would appreciate a donation to help support the preservation efforts.
Practical Information
Place to Stay:  We stayed at Corti dei Mori which boasts a wonderful pool with a gorgeous view of the valley. The food here is phenomenal, especially the fried pizza, and is reasonably priced.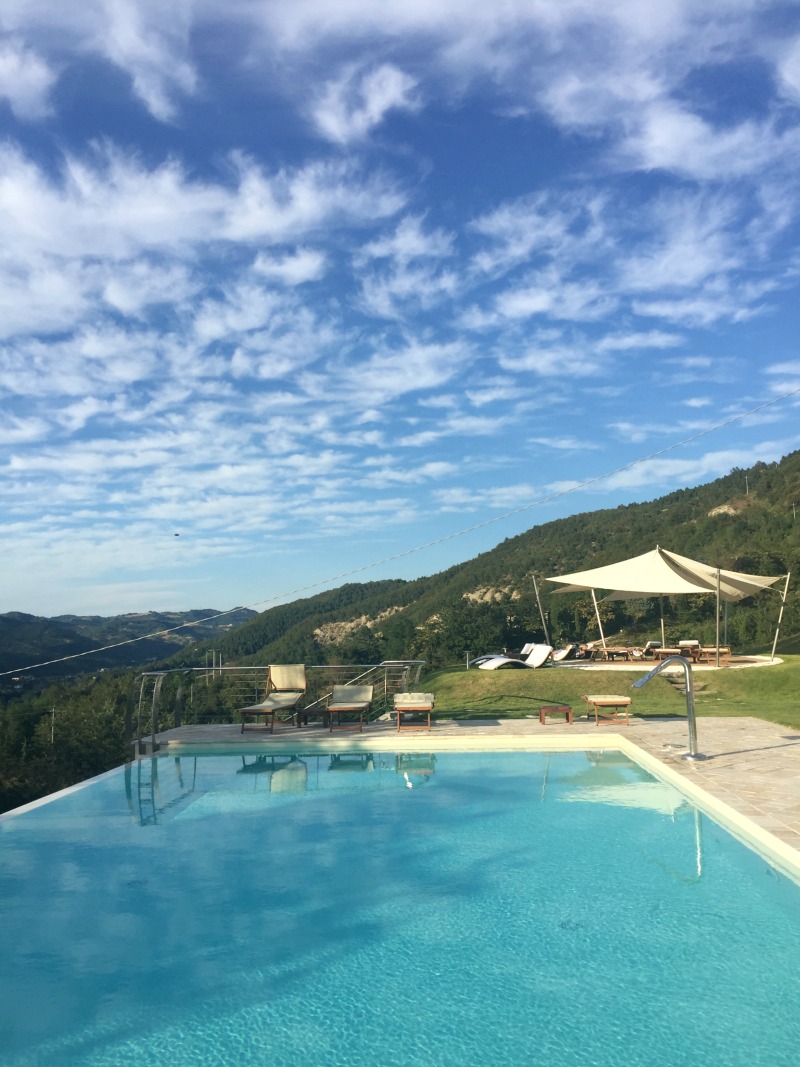 Places to Eat:
Trattoria la Casetta offers a wide range of dishes and service was efficient. Lovely outdoor seating area and excellent food.
For a quick bite, we got a delicious crescione and piadina from a shop along Via Porta Fiorentina (across from Framboise Cucinina)
Note: The trip was entirely at our expense. Many thanks to Emilia-Romagna Tourism for putting us in touch with the Tourist Office at Brisighella and to Silvia who provided us with all the necessary information during our visit to Brisighella.