We spent a long weekend in Positano last week as the Festa della Repubblica holiday, which fell on Thursday, June 2nd, meant the chance to take Friday off. While our intention to go to Positano was to finish up the work on the house, we also made sure we spent time on the beach.
Bed and breakfast in Positano
This was one of the rare occasions we didn't stay in our house and as it was a long holiday weekend, we were lucky to, at the last minute, find availability at Rosa dei Venti, a decently priced bed and breakfast.
Actually, as they didn't have the same room available for two consecutive days, we agreed to move into another room the next day. That's what happens when you travel to Positano during the peak period, most places are booked up and you'll need to be flexible.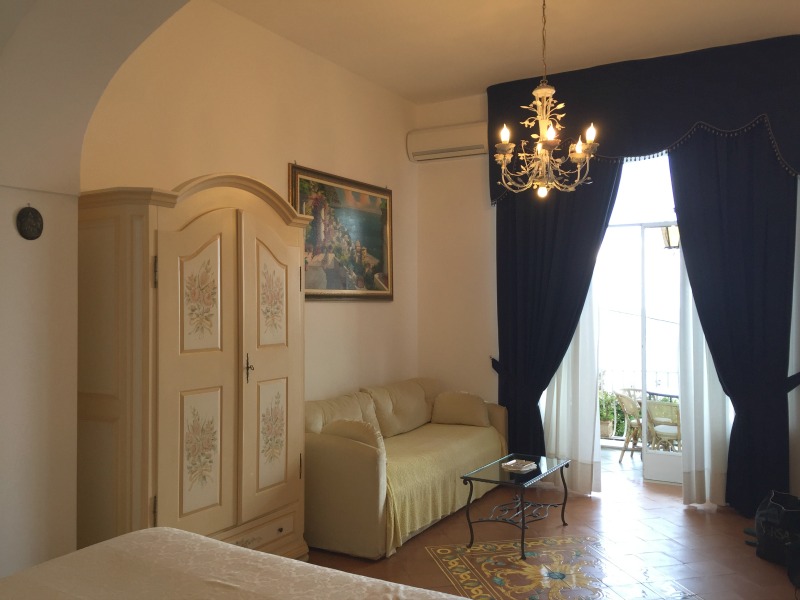 Both the rooms we stayed in were spacious and so were the bathrooms. Each one had a balcony with a fabulous sea view and most importantly, the rooms and bathrooms were clean and well-kept. If you are looking for a place to stay that's away from the crowds, Rosa dei Venti would be a good choice.
Like most places in Positano, they don't have parking but have an agreement with the parking garage that's just a short walk away. Keep in mind that you still have to pay for parking. We paid close to €64 for parking two full days + 5 hours. Note: we arrived at 9am on Thursday and we left Saturday at 5pm. As the count for a full day begins at noon, we had to pay an hourly rate after 12pm on Saturday. The rate for the full day is €22 per day and €5 per hour.
It worked out perfectly for us as Rosa dei Venti is also in Fornillo neighborhood where our house is, and near restaurants and the beach that we frequent. The staff were very helpful and friendly, and as we arrived early at 9.00am (yes, we left Rome at the ungodly hour of 5.30am to avoid any kind of traffic), they suggested we leave our bags and they would bring them to the room once it's ready.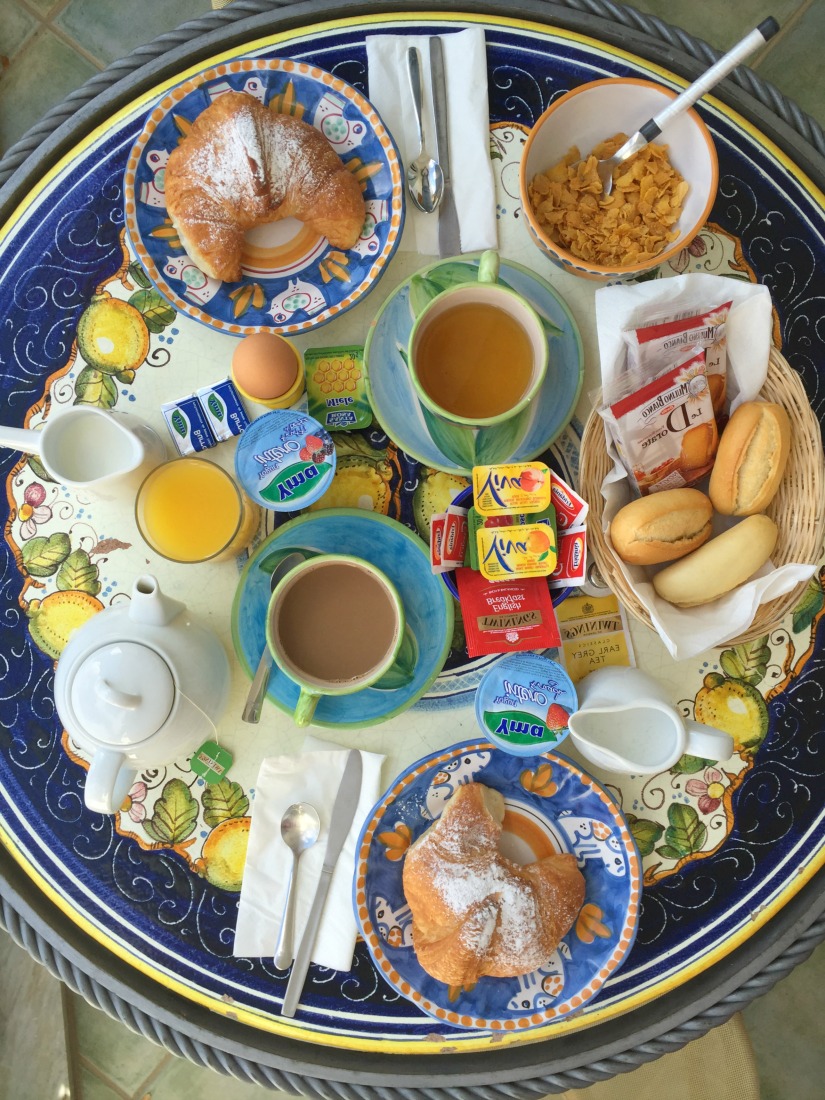 Breakfast is served on the terrace in the room and for me, it was a real treat (staying in our house, it's usually of a more "make-it-yourself" kind of breakfast). You would mark the items you would like for breakfast from a menu along with the time you would like it to be served and hang it on your door at night.
The next morning, on the dot, the door bell chimes and when you open up, you get a bright and cheery "Buongiorno" from the lady who delivers it to your room.
After breakfast, it was off to work to clear things around the house. We had checked the forecast the day before and knew it would be cloudy day but it was chilly and windy too. When we made our way to the beach, we had expected it to be deserted and was surprised to see a group kayakers who were prepping their kayaks to set off for Meta. Courageous, considering the treacherous clouds overhead.
Fornillo Beach – F.lli Grassi
From what I gathered from folks at Fll. Grassi stabilimento, this group of kayakers, arrived the evening before from further south (maybe Amalfi) and had dinner at their restaurant. Once they took off, we basically had the beach all to ourselves and could choose any sun lounger to our liking.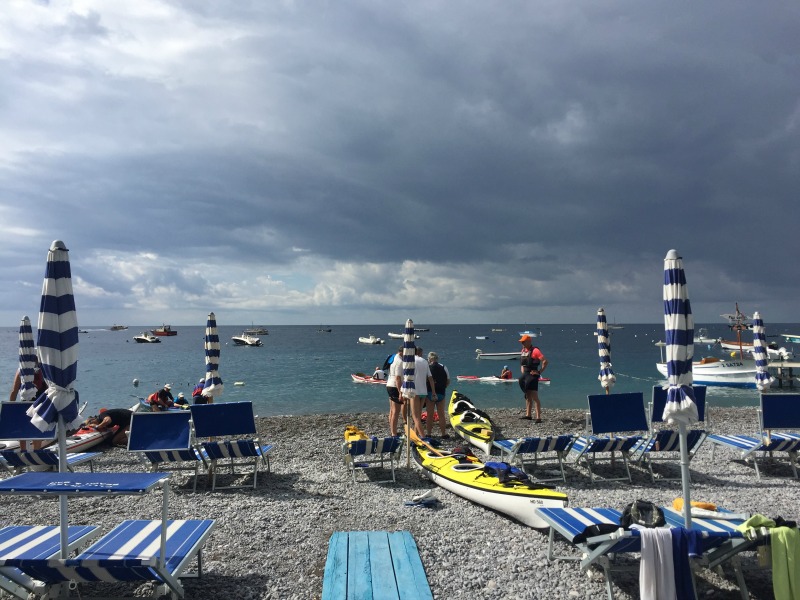 All was quiet here except for the occasional delivery of supplies and a handful of people. Note: The price at F.lli Grassi has increased to €8 per person for a sun lounger and on weekends, they, well, every beach stabilimento in Fornillo beach charges €10 for the front row. If you ask me, the second row is just fine!
I love lunch by the beach (who doesn't), and as I'm a creature of habit, I often get the same few dishes. This time, however, as temperatures were much cooler than usual, I knew I wanted something warm: pasta e fagioli con cozze (pasta with beans and mussels).
During the brief period it rained, the staff were joking about making pasta e fagioli, considered a winter dish, as the temperatures had dropped. I couldn't help but chipped in and told them that I'll be the first to order it. When it came around to taking our orders, mine was written before I said a word!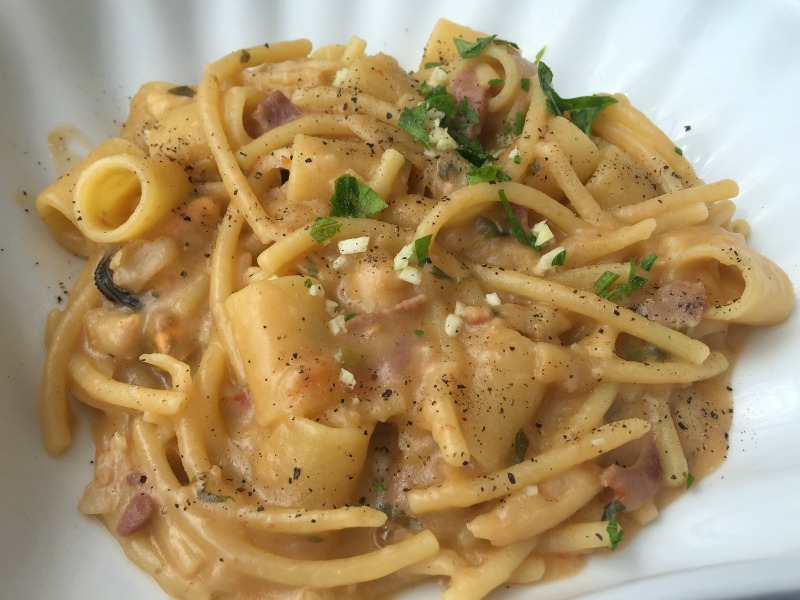 We usually don't venture past our stabilimento, but after lunch we decided to take a short walk to the far end of Fornillo beach, towards Hotel Pupetto to get a different perspective of the beach. The sun briefly cleared and a few eager people took the opportunity to jump into the water but it didn't last long.
As the weather swayed from sunny to cloudy, we figured it didn't make sense to spend the rest of the afternoon on the beach. We had been discussing a visit to the cemetery to pay our respects to family who rest there but we could never figure out its opening hours. Fortunately, I had met with Nicki the day before and as her husband is the cemetery keeper, we knew we had the right information this time around.
We took the free boat ride run by F.lli Grassi from Fornillo beach to Spiaggia Grande, the main beach and no matter how often I've done this, it's always a stunning sight. Once we got off, we made our way to Piazza dei Mulini and walked towards La Sponda to take the stairs, a short cut, to get up to the cemetery.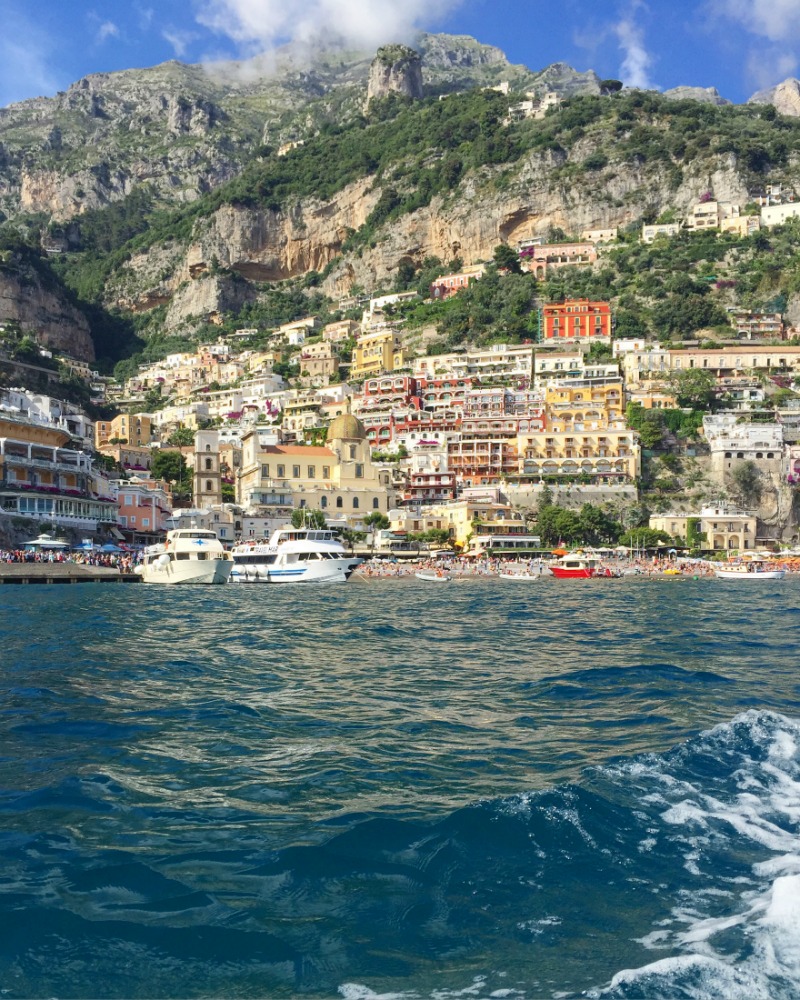 Cemetery in Positano
Situated in the Liparlati neighborhood, it's one long hike up to the cemetery but the views on the way there are spectacular. On a clear day like we had, you had a glimpse of this stretch of the Amalfi Coast to Praiano. It's also an area that few venture to and if you are looking for a quiet spot in Positano, you'll find it here.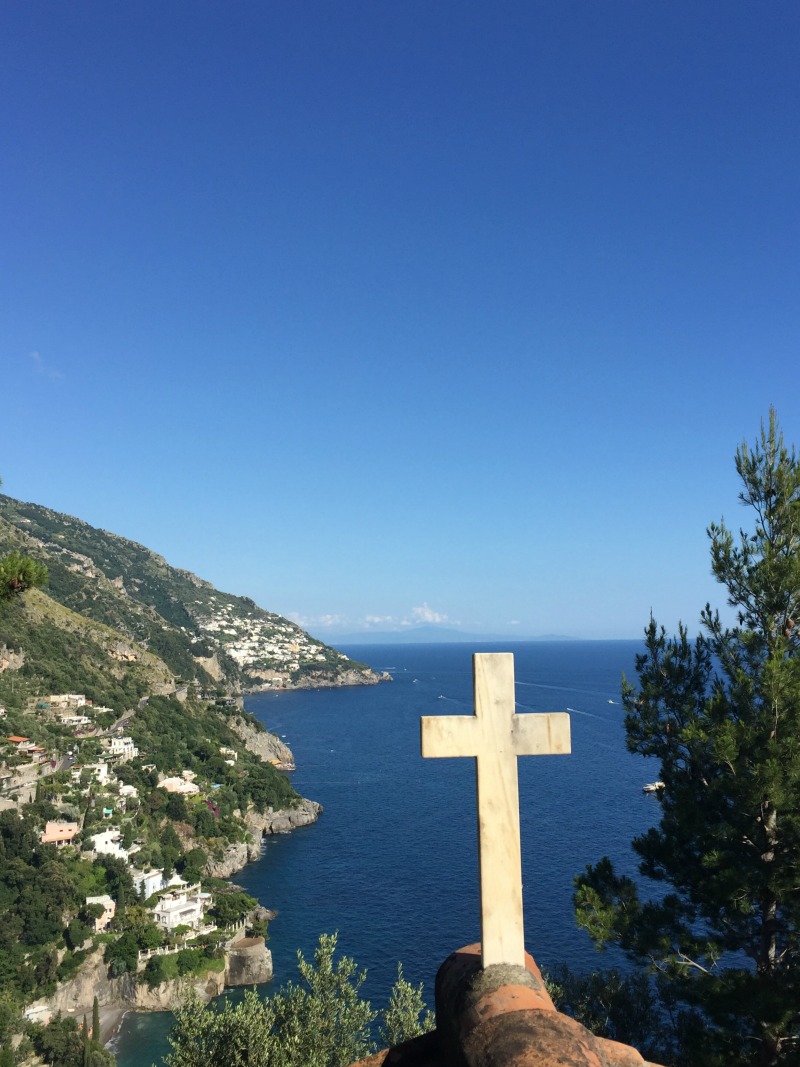 After coming down back to the main road, we had debated about taking the bus that runs internally in Positano to the bed and breakfast, which was all the way across town. Seeing that the road was chock-a-block with traffic, we weren't sure if the bus had already passed or somewhere stuck behind. We figured it would best to trek it down to Piazza dei Mulini. We were glad that we did as traffic was terrible and snaked all the way to the bed and breakfast!
La Tagliata, Montepertuso
We had time to rest our poor feet before dinner (we were in flipflops) and had made reservations at La Tagliata in Montepertuso. They arrange transport to pick you up every 30 minute interval, not sure starting from what time, as they gave us the option of either 7.30pm or 8.00pm. Unfortunately, the pick up is not in one those Mercedes van but much to my disappointment a 20-seater bus.
When I saw that, I had an inkling I might have made a mistake. Another couple who was waiting in the vicinity had a pick up by Mercedes van to Da Constantino, also in Montepertuso and I might make reservations there the next time to try it out.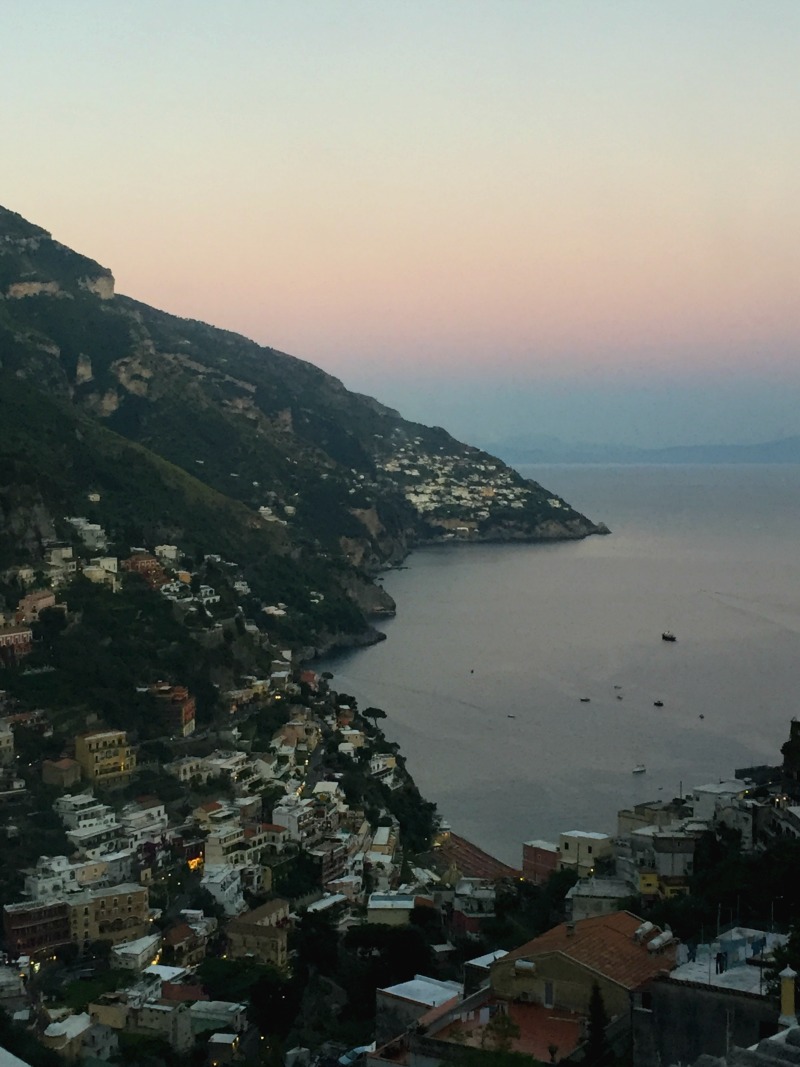 The view of the drive up to Montepertuso was spectacular especially as the sun was setting and I had my eyes glued outside the window. Most people on the bus (80% were foreigners), though, were more concerned about the tight curves and narrow road.
We got to restaurant in time for the sunset, and when we entered the restaurant it was packed. My advice is if you decide to go to La Tagliata, head there earlier to get a table by the edge as the view here is priceless and you can enjoy the sunset while dining.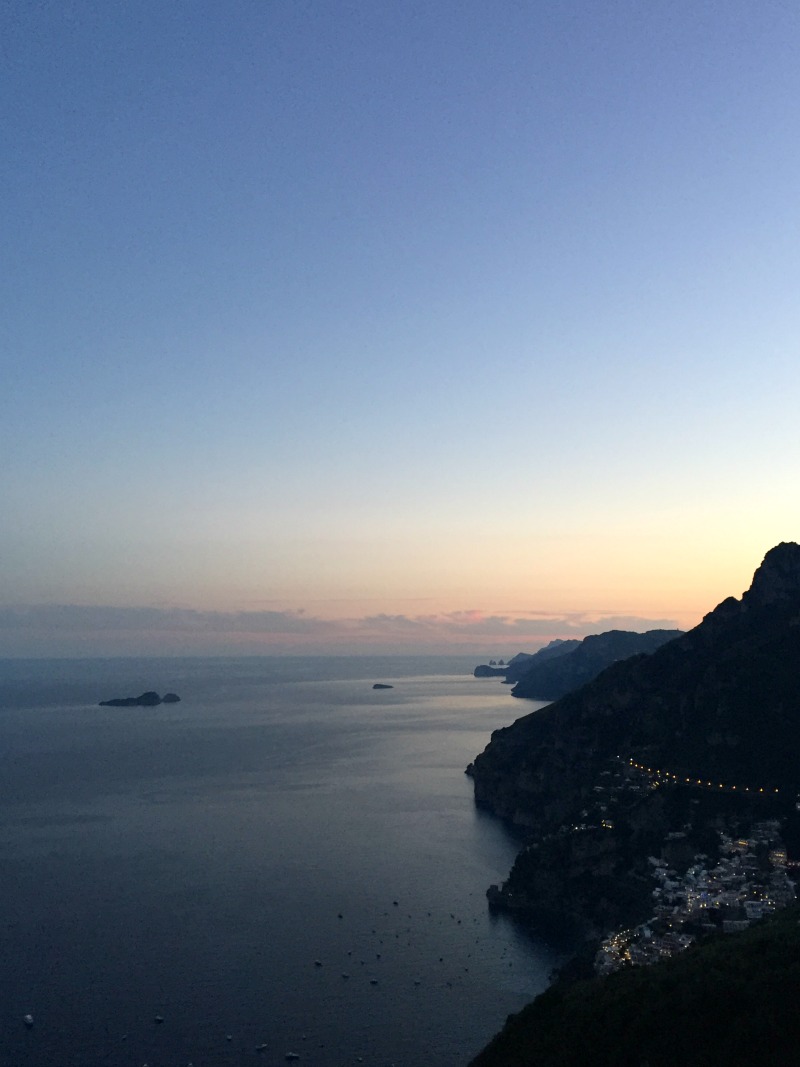 Foodwise, it was decent but not quite the type of meal we enjoy as it was a set dinner. You couldn't choose à la carte from the menu, though the website had one, and we hadn't plan on having a heavy dinner. When they told us we only had that option, they didn't even mention the price but then again there was not much we could do.
When the food came around, there was a good variety in the appetizers, then four different pastas though I wasn't sure what they were exactly as they were all served on one plate, followed by a huge plate of meat that included beef, lamb, chicken, pork and rabbit. In my opinion, dessert could be improved significantly but I have to say that the price of €40/person including wine and water was reasonable.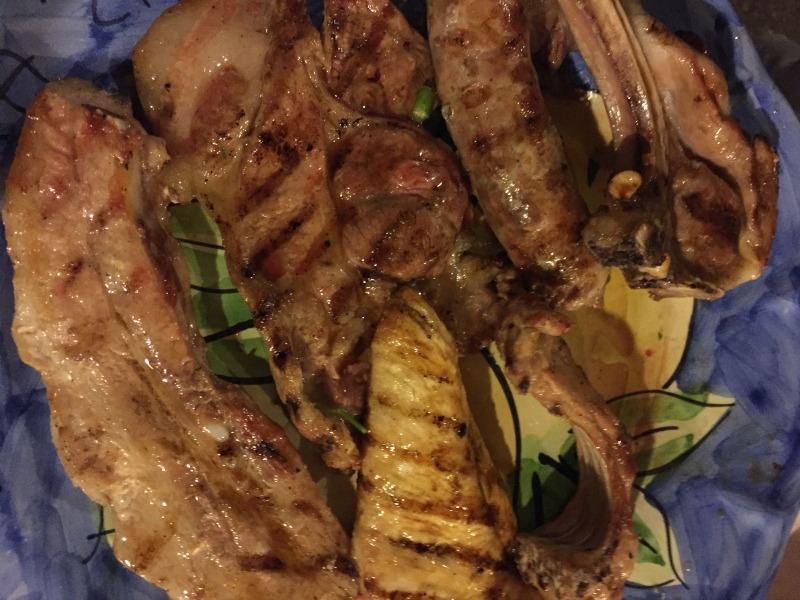 When dinner was over, we had to wait for the transport to take us back to Positano and they told us it would be about another 20 minutes. They said we could wait at the table but feeling so full, I wanted to get up and walk around so we headed up to where the bus first dropped us. There was a line outside and within a few minutes a bus arrived. As they had room and we managed to hop on without waiting for the next bus in 20 minutes.
That said, overall, it was a great day out in Positano and as the forecast mentioned sunny skies the next day, we were ready for a sizzling one.
Day 2 – Sense of summer in Positano
We checked out and left our luggage at the reception as we were leaving later that afternoon. While my husband had a meeting at the house to discuss the final things to be done, I went directly to Fornillo beach from Rosa dei Venti.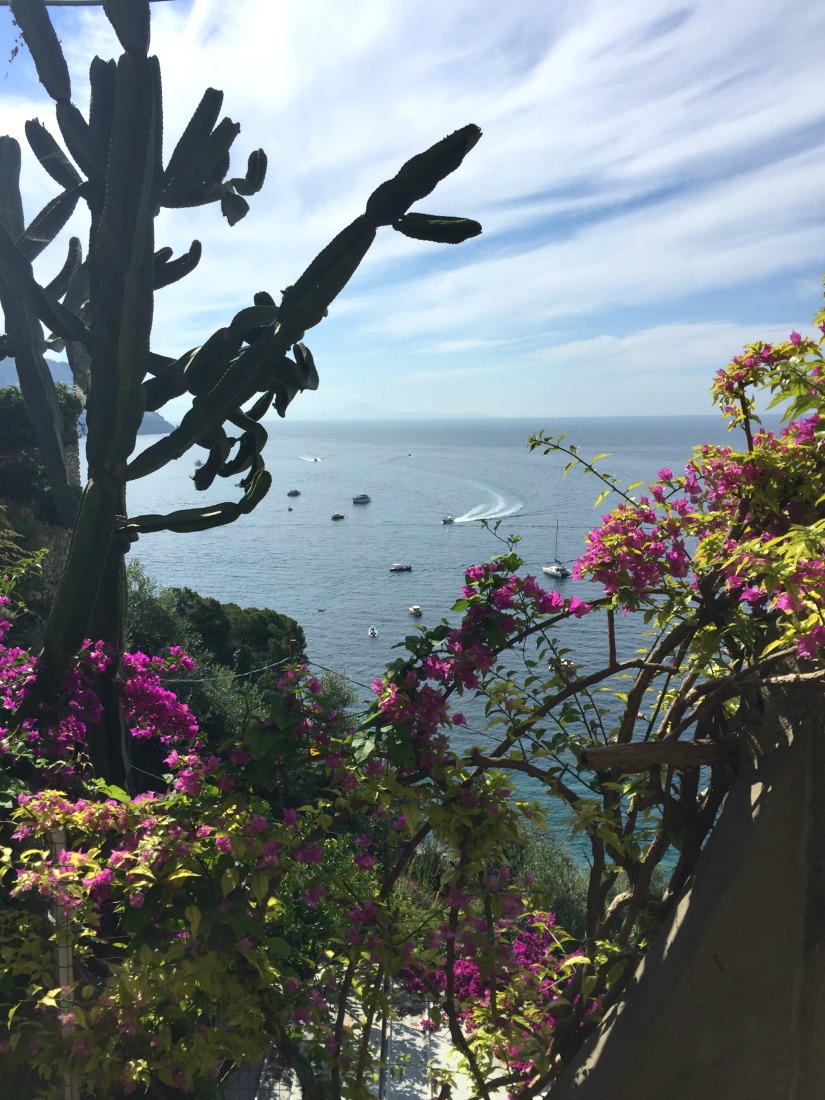 Although it's still Fornillo, I've never walked down these stairs that take you directly to Fornillo beach so it was nice to see a different side to this area. There were a lot of stairs down, then again this is Positano and the one thing you should know is that there are stairs everywhere.
We started the day earlier than most people in Positano, and had an hour of peace and quiet at Fornillo beach before the crowds arrived. It was a hot summer's day and most people took advantage of this as the beach was packed. Many, including myself, couldn't help but jump into the water though it was still a bit cold.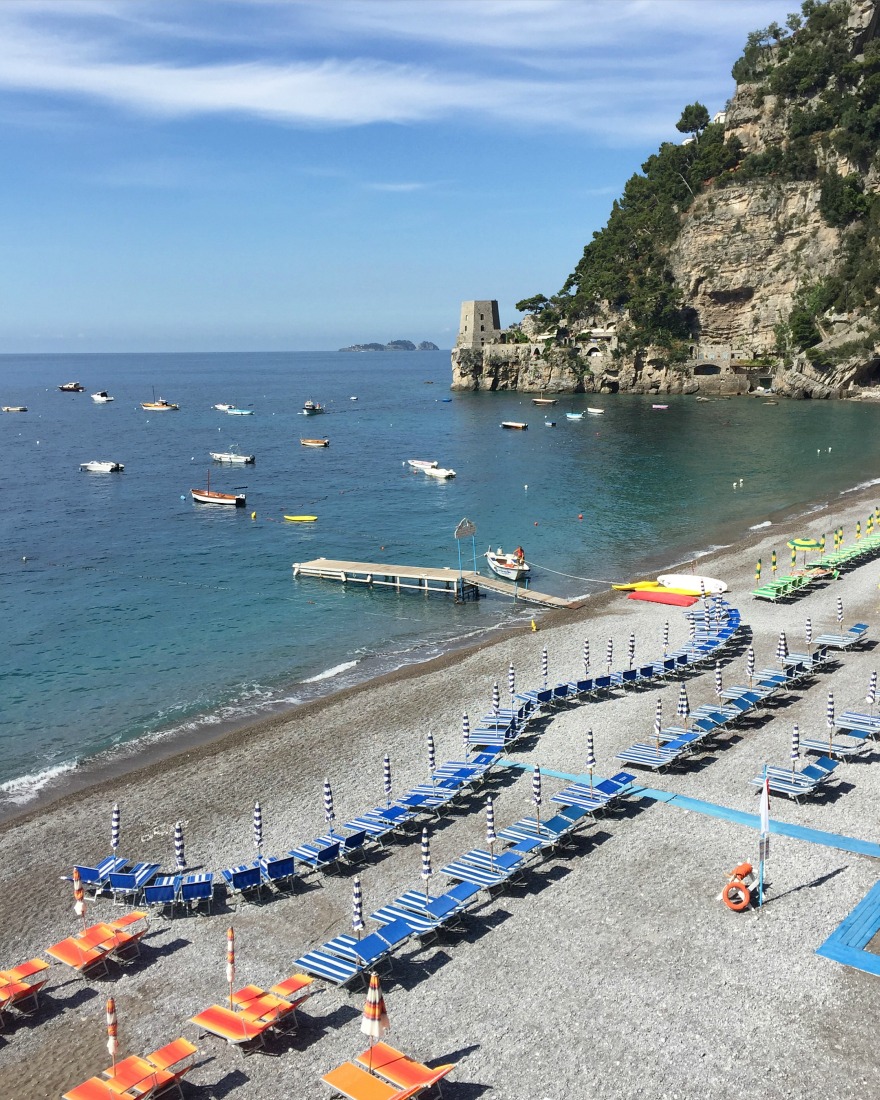 Seeing the crowds on the beach, we chose to book a table for lunch at 1pm and I'm glad we had an early one as it was delirious just right as we were about to finish lunch. From what we saw, this calmed down only after 4pm, when we got a quick coffee before heading to the bed and breakfast to get our bags.
As it was a Saturday, there was traffic getting out of town especially as foreign buses seem to have a challenging time maneuvering the tight curves. Once out of town, it was a smooth drive back to Rome and with a fabulous sunset to welcome us back!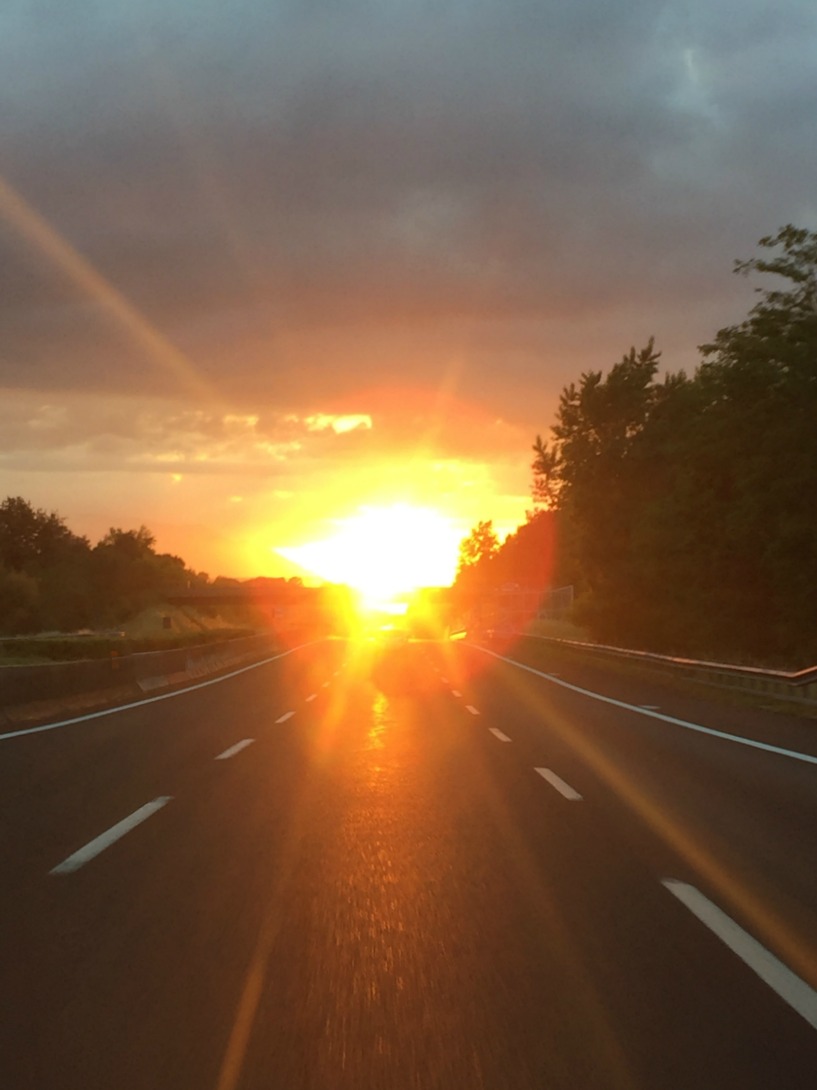 Note: While snapchatting away during our trip to Positano, my brilliant husband, who still doesn't quite get Snapchat, suggested that I share my stories in a post as not everyone is on Snapchat nor have the time to check out the snaps in 24 hours.
That way, at least all the work in snapchatting doesn't vanish into thin air. I lost my snaps from the first day and glad I am able to share the last two days of what we did in Positano. If you aren't following us on Snapchat yet, don't forget to add us: BrowsingItaly